Minnesota Wild Rice Soup
This Minnesota Wild Rice Soup is creamy and delicious with a rich broth and hearty wild rice. Perfect for a chilly winter evening!
Since we've spent the past week in Minnesota, it seems like the perfect time to share this recipe! It's the best way to warm up on a chilly evening. But even if you're not in a totally freezing climate, this soup will hit the spot! It's an easy one to make and leftovers reheat well so it's great for lunch the next day!
Minnesota Wild Rice Soup Ingredients
Wild rice– Wild rice is hearty, chewy rice that maintains its texture when cooked. Do not substitute for other rice.
Butter– A little butter adds richness to the broth.
Celery– Chopped celery adds flavor to the case of the soup.
Onion– Chopped onion adds additional flavor to the soup.
Carrots– I love the sweetness and texture of the carrots in this recipe.
Vegetable broth– I like to use a chicken-style broth.
Thyme– Fresh thyme is delicious but dried thyme will add a similar flavor.
Evaporated milk– This adds a rich flavor to the broth, but it's healthier than cream.
Salt– Be sure to add salt to taste!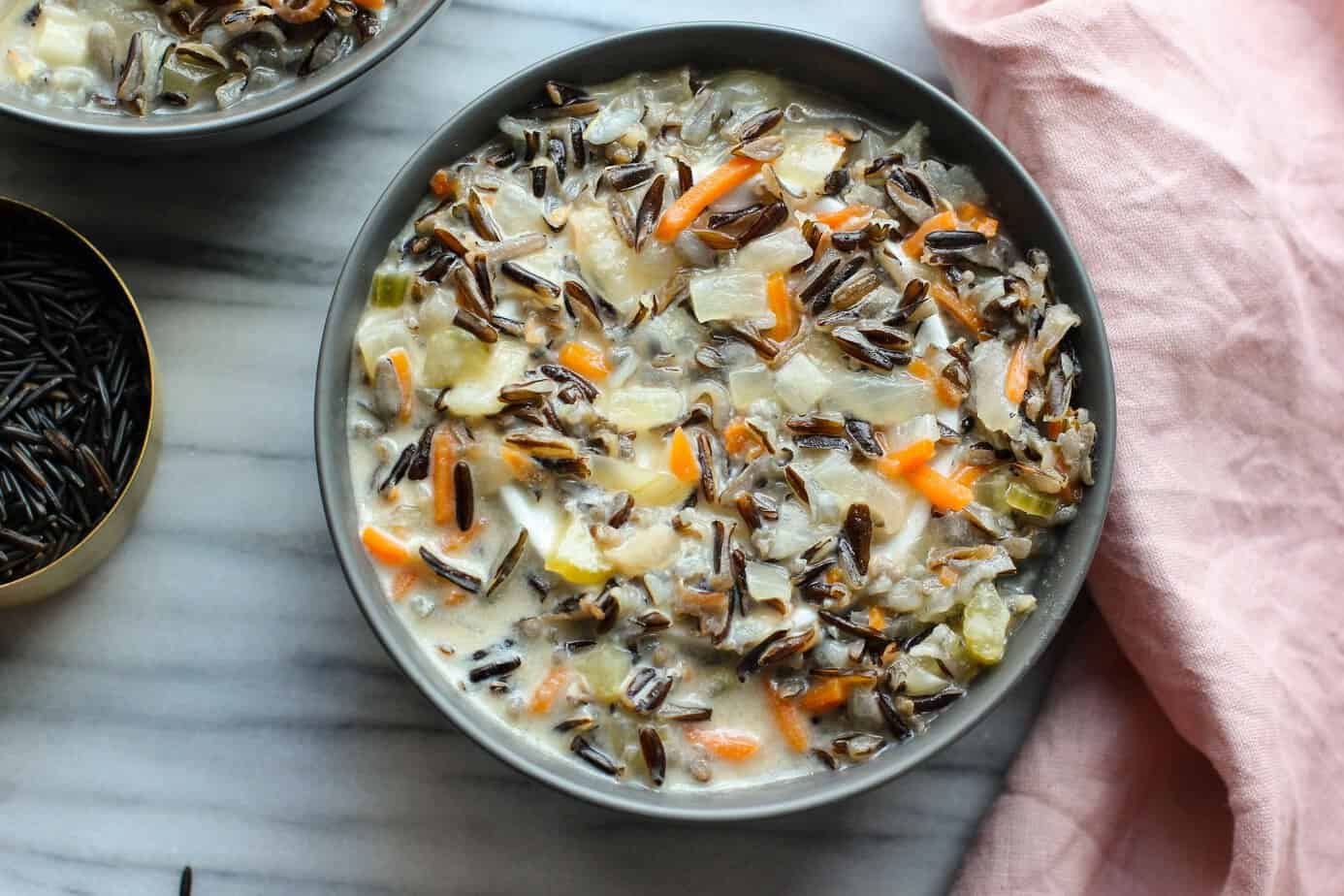 What is Wild Rice?
Wild rice is actually an aquatic grass, which is typically grown in Minnesota. It's harvested from lakes and it's not related to other types of rice. You can learn more about how it's harvested here. Wild rice has a heartier, chewier texture and it doesn't get soggy or soft when it's cooked in soup. It can be a bit more expensive and harder to find but if you go to a larger grocery store, you shouldn't have any trouble.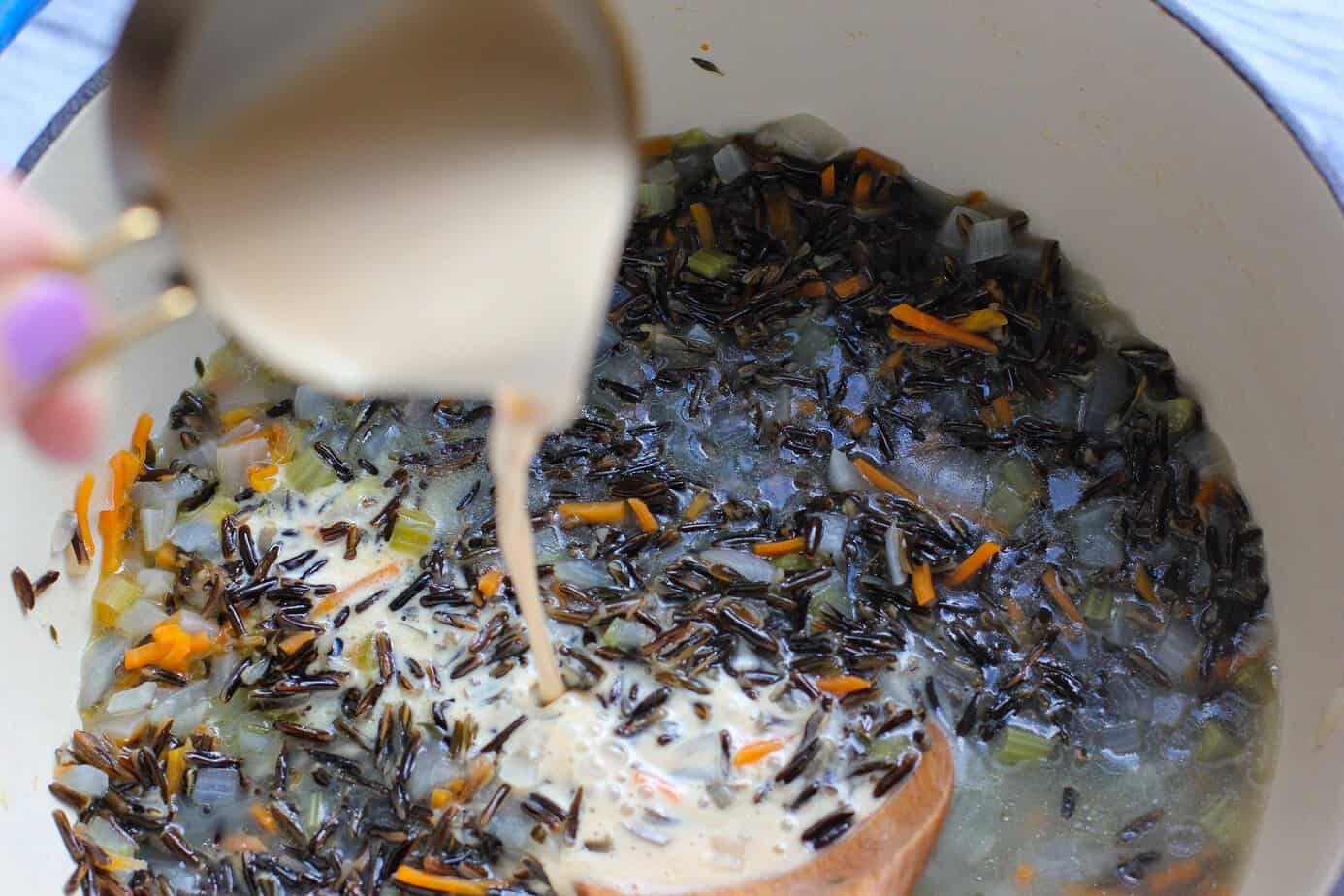 What is Evaporated Milk?
The other ingredient you might not have in your pantry is evaporated milk. I have to be honest, I don't remember the last time I bought evaporated milk until I started making this recipe. But it's a great way to create a creamy broth without using actual cream to get the right texture without a lot of additional fat and calories. If you want to make a vegan version of this soup, I highly recommend using Ripple's half and half. It's a great plant-based creamer! You can substitute Earth Balance or olive oil for the butter.
How to Make WIld Rice Soup on the Stovetop
If you make it on the stove, I recommend cooking the rice separately then adding it to the soup. I usually cook my rice in a rice cooker but you can also make it on a stovetop in a separate pot. If you want to save a little time, you can make the rice in advance. Store it in an airtight container in the fridge for 1-2 days until you're ready to make the rest of the soup.
How to Make Wild Rice Soup in an Instant Pot
This wild rice soup is one of my favorite recipes to make in my pressure cooker because the rice can cook right along with the vegetables. It's easy to throw everything into the Instant Pot, set it, and forget it. I don't even saute the vegetables first, I just add all the ingredients into the pressure cooker and turn it on. You will need to add two additional cups of water, as noted below. This is because the rice will absorb a lot of the liquid. Make sure that once the soup is done cooking, you release the pressure and turn the machine off, otherwise, it will stay on a "keep warm" function and will make the rice soggy.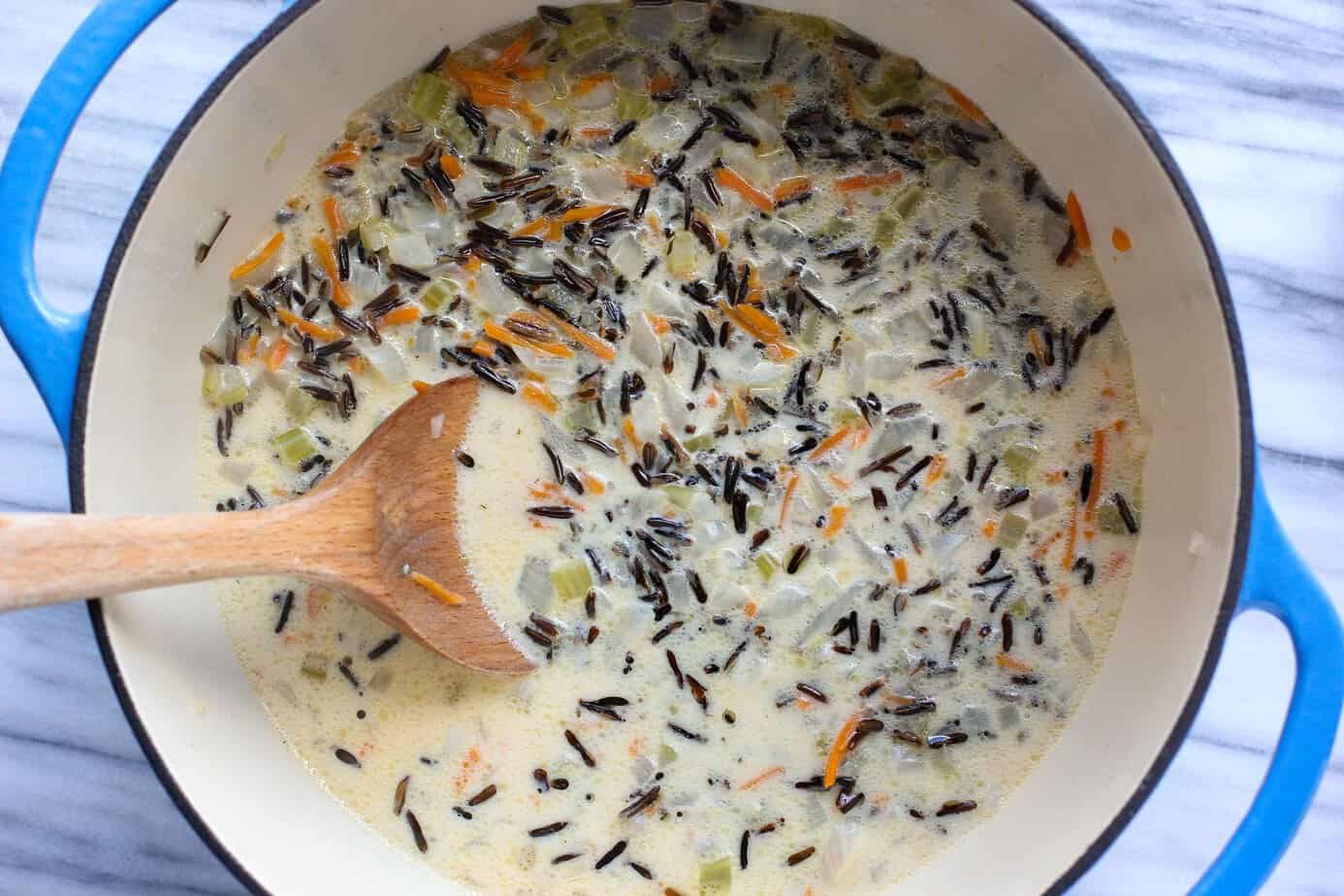 Tips for Minnesota Wild Rice Soup
I love the flavor fresh thyme adds to this soup. I use a small piece of kitchen twine to tie the bundle of stems together so it's easy to remove before serving.
If you're making this in an Instant Pot or Pressure Cooker, be sure to release the pressure, then turn it off. Some machines will try to keep the soup warm until manually shut off, and this can cause the wild rice to become overcooked and soggy. (I learned this the hard way!)
I keep frozen onion, carrots, and celery in my freezer so I can make this quickly. I just add the frozen vegetables to my Instant Pot with the other ingredients and hit start. It's so easy!
Where to Buy Wild Rice
It can be a little tricky to find wild rice, but it's worth it. I've found it at Wegmans, Publix, Whole Foods, Kroger. and even Amazon! Don't try to substitute it for regular rice in this recipe. Wild rice has a firm texture that won't get soggy in this soup. Wild rice also looks similar to black rice or forbidden rice, but it cooks differently. Wild rice is a must-have for this soup recipe.
Substitution Ideas
For a vegan version, try this with coconut milk or dairy-free half & half, like Ripple brand.
I like to use a "chicken-style" vegetable broth, like this one from Edward & Sons. I think it creates the best flavor for this soup. But you can use any type of vegetable or chicken broth.
What to Serve with Minnesota Wild Rice Soup
Try pairing this soup with this easy olive oil bread or a slice of this vegan beer bread. You could also round out the meal with a salad like this spicy kale salad. Or add a side of air fryer roasted broccoli!
Print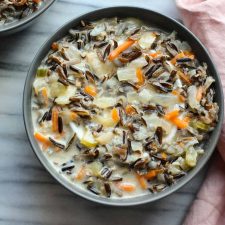 Minnesota Wild Rice Soup
Author:
Prep Time: 10 minutes
Cook Time: 45 minutes
Total Time: 55 minutes
Yield: 4 main dish servings 1x
Category: Soup
Method: Stovetop
Cuisine: Soup
---
Description
This Minnesota Wild Rice Soup is creamy and delicious with a rich broth and hearty wild rice. Perfect for a chilly winter evening!
---
1 cup wild rice
2 tablespoons butter
2 stalks of celery, diced (about ⅓ cup)
1 medium yellow onion, diced (about ½ cup)
2 large carrots, diced (about ⅓ cup)
3 cups vegetable broth
1 small bundle of thyme (optional)
1 cup evaporated milk
1 teaspoon salt (or to taste)
---
Instructions
Stovetop Method
Cook the rice according to the package directions.
In a large pot, heat the butter over medium heat for 30 seconds or until melted.
Add the celery, onion, and carrots and cook for 5 minutes over medium heat, stirring frequently.
Add the broth and thyme and bring to a boil.
Reduce heat to simmer and cook for 15 minutes.
Remove the thyme stems from the pot.
Add the cooked wild rice, evaporated milk and salt. (Note: if your rice isn't ready yet, simply turn off the heat of your soup pot and then resume cooking once the rice is ready to be added.)
Cook over low-medium heat until heated through. If you let this sit before serving, the rice will continue to absorb the broth. Simply add ½ cup of water and stir until you reach the desired consistency.
Add additional salt to taste, if needed.
Instant Pot/Pressure Cooker Method
Note: You need to add an additional 2 cups of water, as noted below.
Add the butter, wild rice, celery, onion, carrots, broth, plus 2 cups of water to the pressure cooker.
Cook on manual for 45 minutes, then release the pressure and remove the lid as soon as it is fully depressurized.
Stir in the evaporated milk, thyme, and salt. Let cool for 5-10 minutes. Remove the thyme before serving.
---
Notes
Note: If cooking in a pressure cooker, be sure to depressurize after 45 minutes and stop the cooking process. Some models will continue to keep the soup warm until manually turned off. This will cause the wild rice to become soggy.
Keywords: Minnesota Wild Rice Soup
How to Store Leftovers
As I mentioned, this soup is also great reheated. You can store leftovers in the fridge for up to 5 days. When reheating leftover soup, you may need to add a splash of water to the soup as it tends to thicken when cooled. I wouldn't recommend freezing this soup though since creamy soups tend to separate when frozen.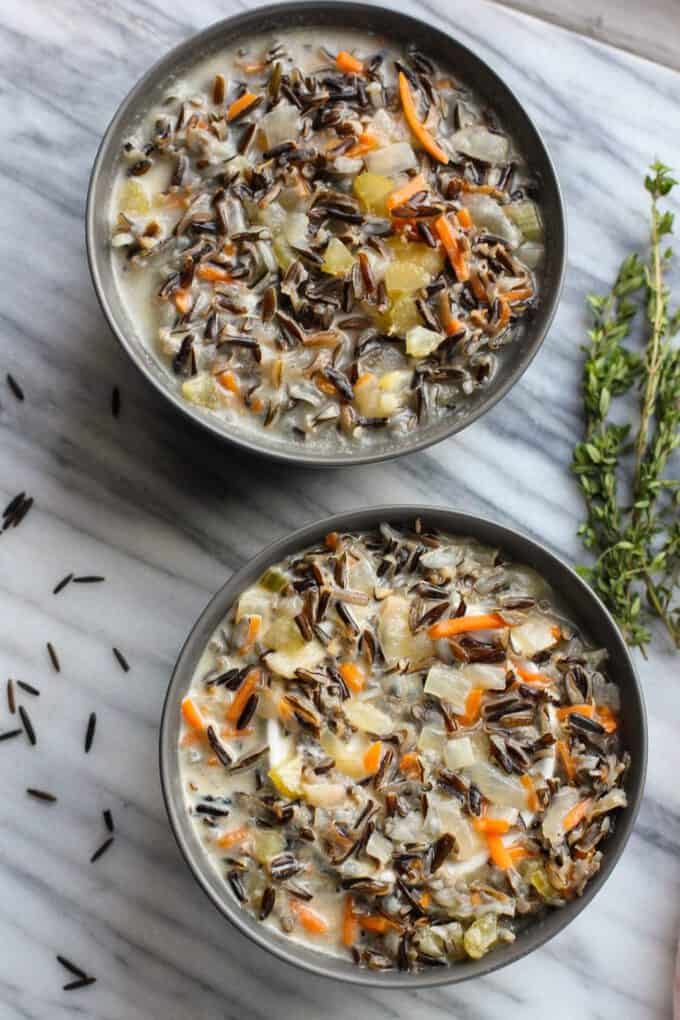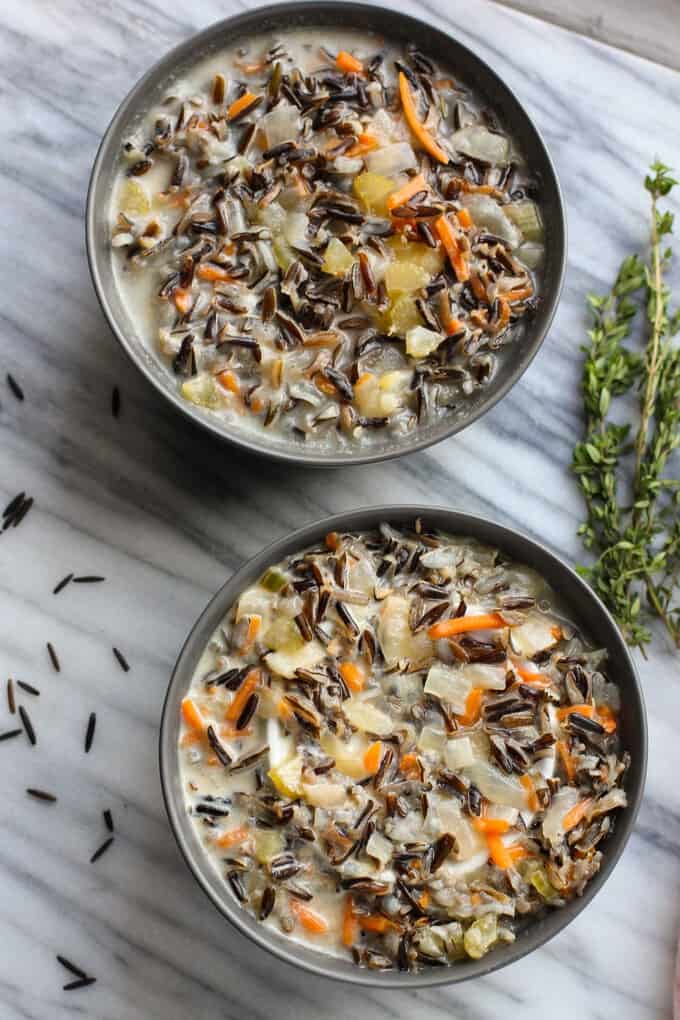 For more easy soup recipes, try some of my other favorite recipes!