Simple Spiced Lentils
These simple spiced lentils are an easy, budget-friendly dinner idea! They're packed with tons of plant-based protein for a healthy, vegan, & gluten-free meal idea!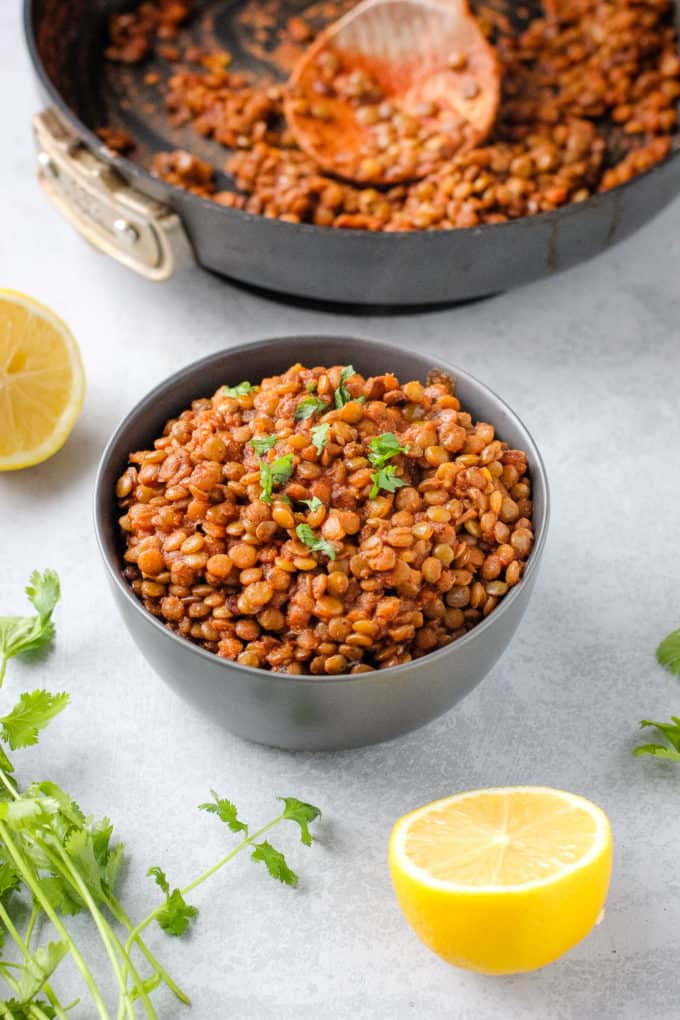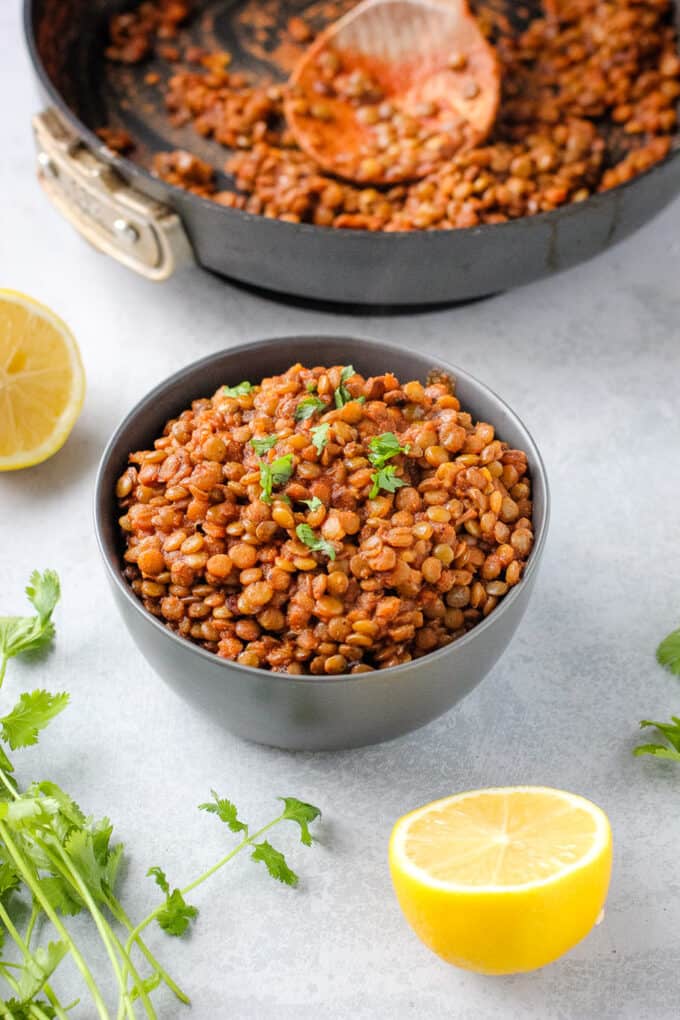 Benefits of Cooking with Lentils
Can we talk about how awesome lentils are? They contain a whopping 9 grams of protein per 1⁄2-cup serving. A bowl of lentil soup like this one can easily provide more than 20 grams of protein. Plus, they're easy on the budget.
I love showing how healthy meals don't have to be expensive. To save even more money, grab your lentils in the bulk bin! It tends to be cheaper than buying bags of lentils.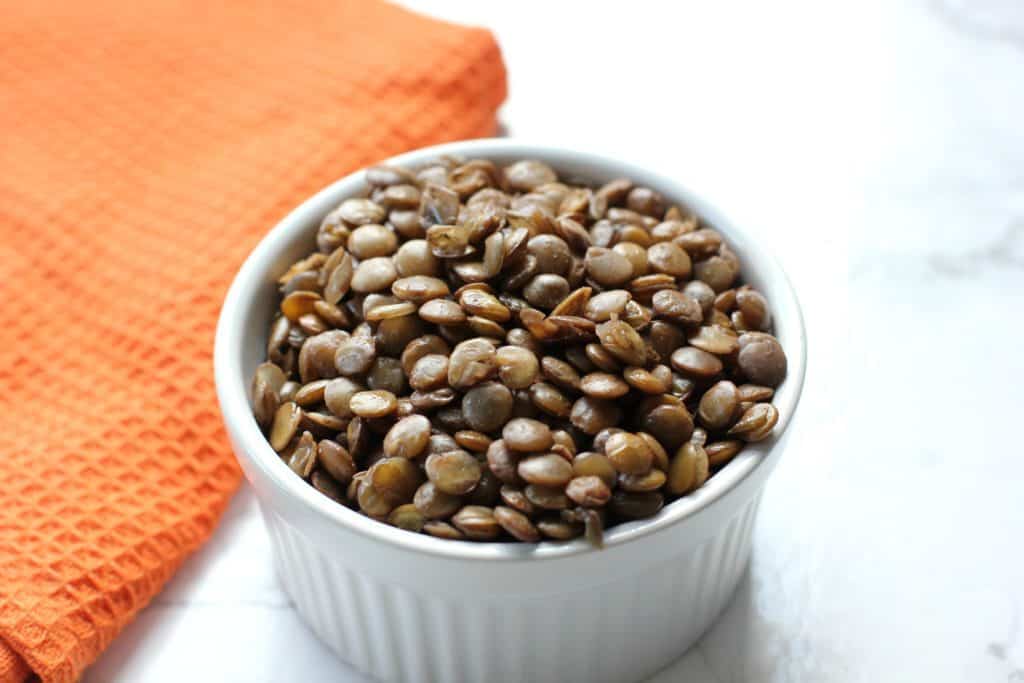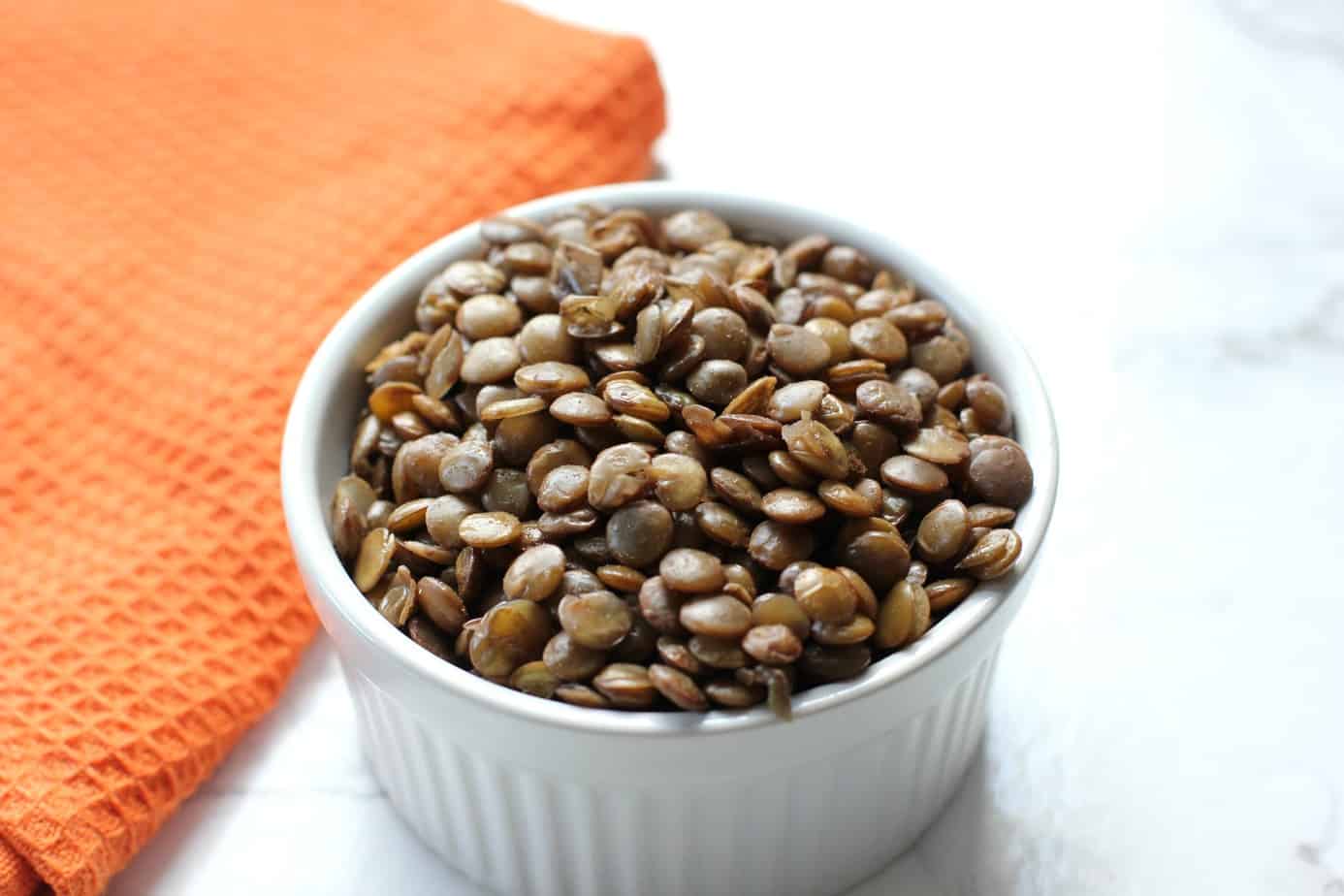 Buying Fresh Lentils
Be sure your lentils aren't too old. Although lentils don't "go bad" like a lot of other ingredients, if your lentils are old, they won't soften properly. They still last a long time, but they do eventually expire. I try to get them in the bulk bins because they tend to be fresher! You may also be able to buy prepared lentils either canned or pre-packed in the produce area. Places like Trader Joe's often sell lentils that are already cooked which can be tossed into a salad or soup with minimal preparation.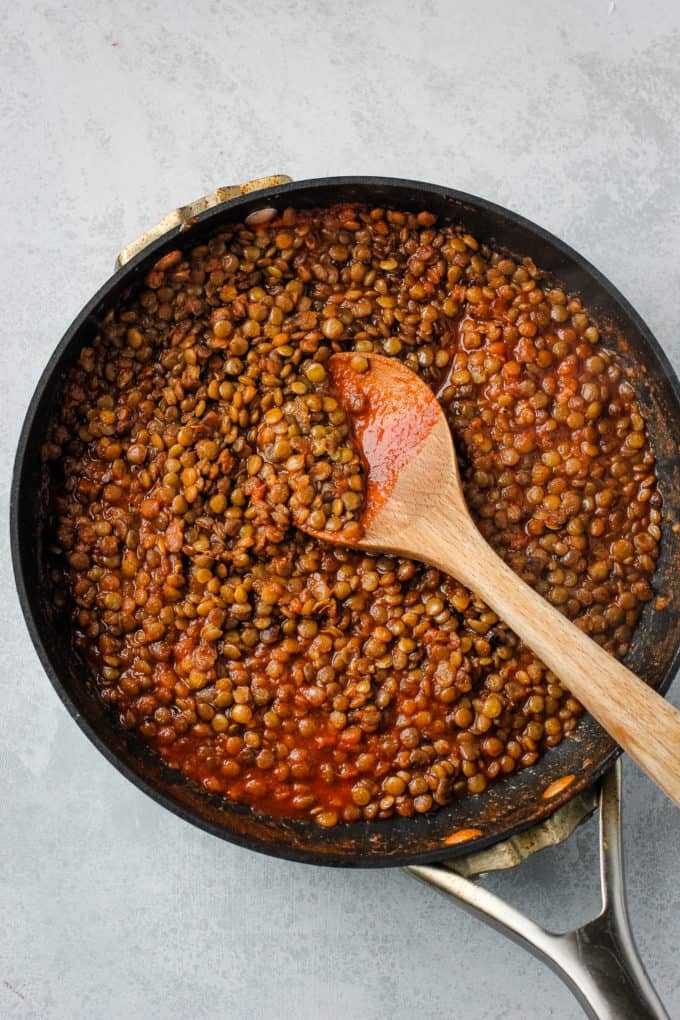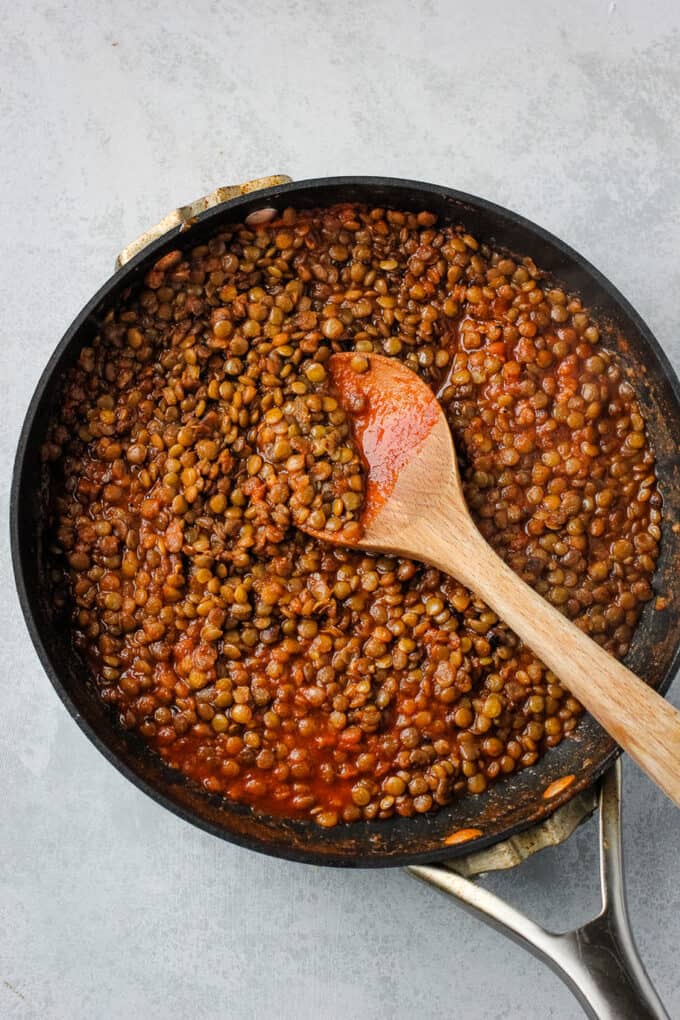 Cooking Tips
Be sure to rinse lentils under cold water before using. There can occasionally be small stones or debris mixed in with lentils, so it's a good idea to wash them in a colander first.
Different types of lentils will require different cooking times. For example, red lentils cook quickly while green and brown lentils will need to simmer longer. Be sure your lentils are tender before serving. If needed, add a splash of water or broth to the pot to continue cooking the lentils until soft.
Benefits of Eating Lentils
Lentils are a great source of plant-based protein. They contain a whopping 9 grams of protein per 1⁄2-cup serving. Plus, they're easy on the budget. In fact, they're one of the cheapest protein sources you'll find at the grocery store.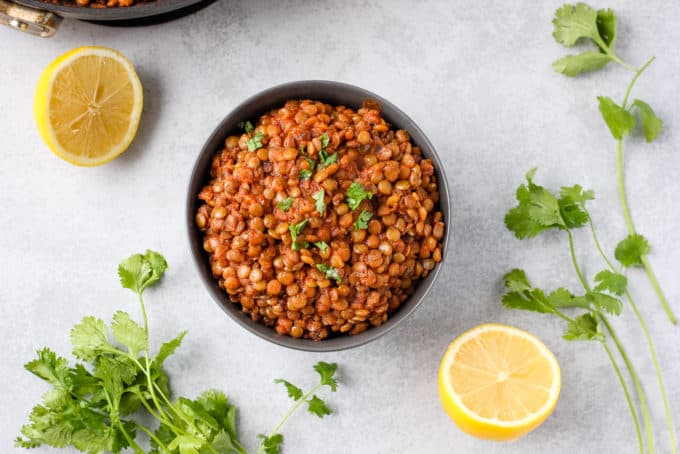 Different Types of Lentils
There are quite a few types of lentils, and they're not necessarily interchangeable.
Red lentils become very soft and breakdown when cooked. These can be great for pureed soups because they can thicken the broth.
French lentils are sometimes called lentils de puy. These small, black lentils keep their shape well, and they're great tossed on salads or in wraps. These are great for meal prepping because they won't get mushy after being cooked.
Brown or Green lentils are very similar, and that's the type of lentil we'll use for this recipe. They maintain their shape when cooked, but get soft with just enough "bite."
The Best Seasonings
Think of lentils as a blank slate. They don't have a lot of flavor on their own, but they do a great job of taking on flavors and seasonings. I like to add a combination of ginger, garlic, paprika, turmeric, garam masala, and salt. This combination adds depth and complexity to the recipe, but it's still a simple recipe. If you want to make spicy lentils, feel free to add chili powder or a pinch of cayenne pepper to the mix. But be aware, a little bit goes a long way!
How to Season Lentils
It's also important to "bloom" the spices, by cooking them in a little bit of oil. This helps enhance the flavor of the spices so you end up with a better tasting dish. And remember, salt can help bring out the flavors, so don't skimp on a sprinkle of salt. It's also important to check the dates on your spices to be sure they're fresh. Give them a sniff and if you don't smell much of a scent, they're probably past their prime.
More Simple Lentil Recipes
Print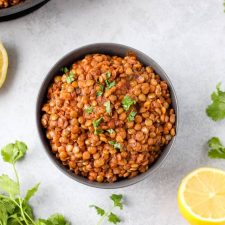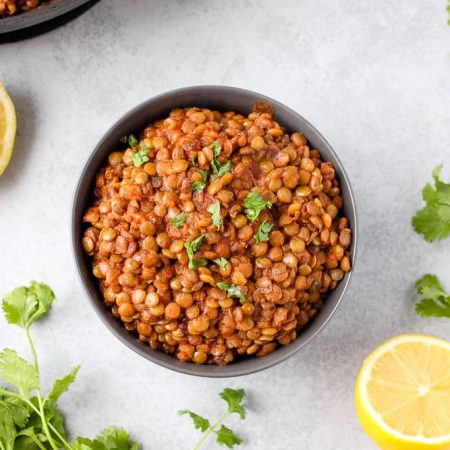 Simple Spiced Lentils
Author:
Prep Time: 5 mins
Cook Time: 25 mins
Total Time: 30 minutes
Yield: 4 1x
Category: Dinner
Method: Stovetop
Cuisine: Lentils
---
Description
These simple spices lentils are an easy and delicious main dish, made with a handful of pantry staples!
---
1 cup dried brown lentils
2 1/4 cups vegetable broth, divided
2 cups water
1 tablespoon olive oil
3 garlic cloves, minced
1/2 cup tomato sauce
1 tablespoon lemon juice
1/4 teaspoon salt
black pepper, to taste
1/8 teaspoon ground ginger
1/4 teaspoon ground cumin
1/4 teaspoon ground turmeric
1/4 teaspoon smoked paprika or paprika
1/2 teaspoon garam masala
2 tablespoon cilantro, chopped
---
Instructions
Place lentils in a medium-sized pot, with 2 cups of vegetable broth and 2 cups of water.
Bring to a boil.
Cover, reduce, and simmer 20 minutes or until lentils are just tender.
Drain any excess water from the lentils.
Heat olive oil in a medium-sized skillet, over medium heat.
Add chopped garlic cook for 1 minute, until fragrant.
Stir in tomato sauce, remaining vegetable broth, lemon juice, salt, black pepper, ginger, cumin, turmeric, paprika, garam masala, and cooked lentils.
Garnish with chopped cilantro when ready to serve.
---
Notes
This recipe serves two people as a main dish. Feel free to double the recipe for a larger group.
Keywords: simple spiced lentils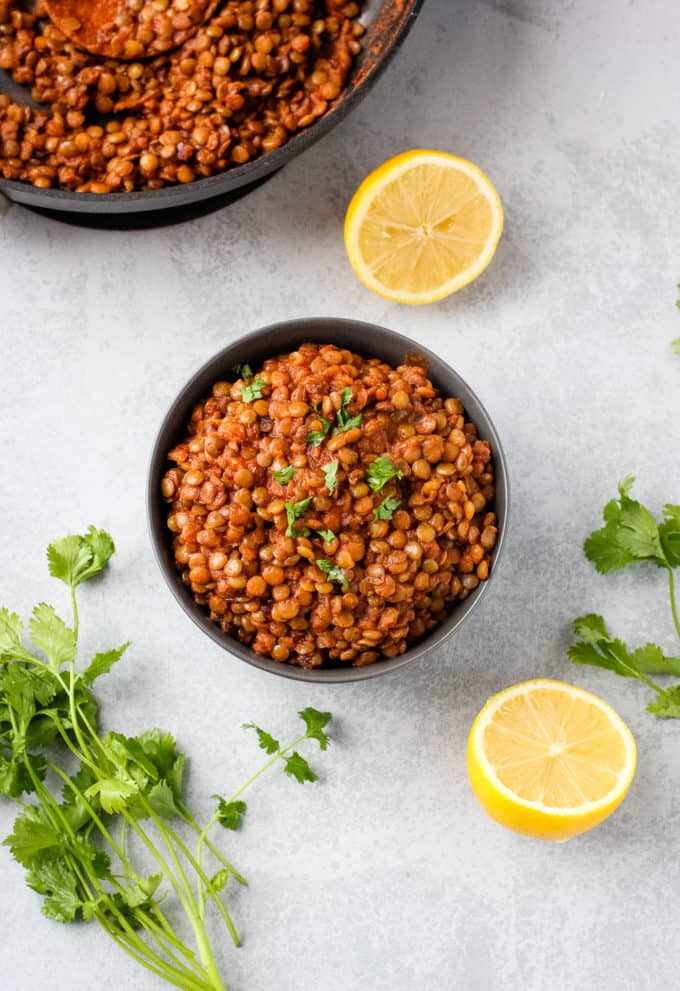 I'm kind of obsessed with lentils and how delicious they are. They're such an excellent vegetarian source of protein, and they offer the kind of heartiness that will satisfy even the meat-eaters in the family!
Looking for another simple way to use lentils? Try this garlic lentil soup! It can be made on the stovetop or in a pressure cooker for an easy meal!