Raspberry Baked Oats
These raspberry blended baked oats taste like eating cake for breakfast! Tart raspberries and rich almond butter take this easy baked oats recipe to the next level!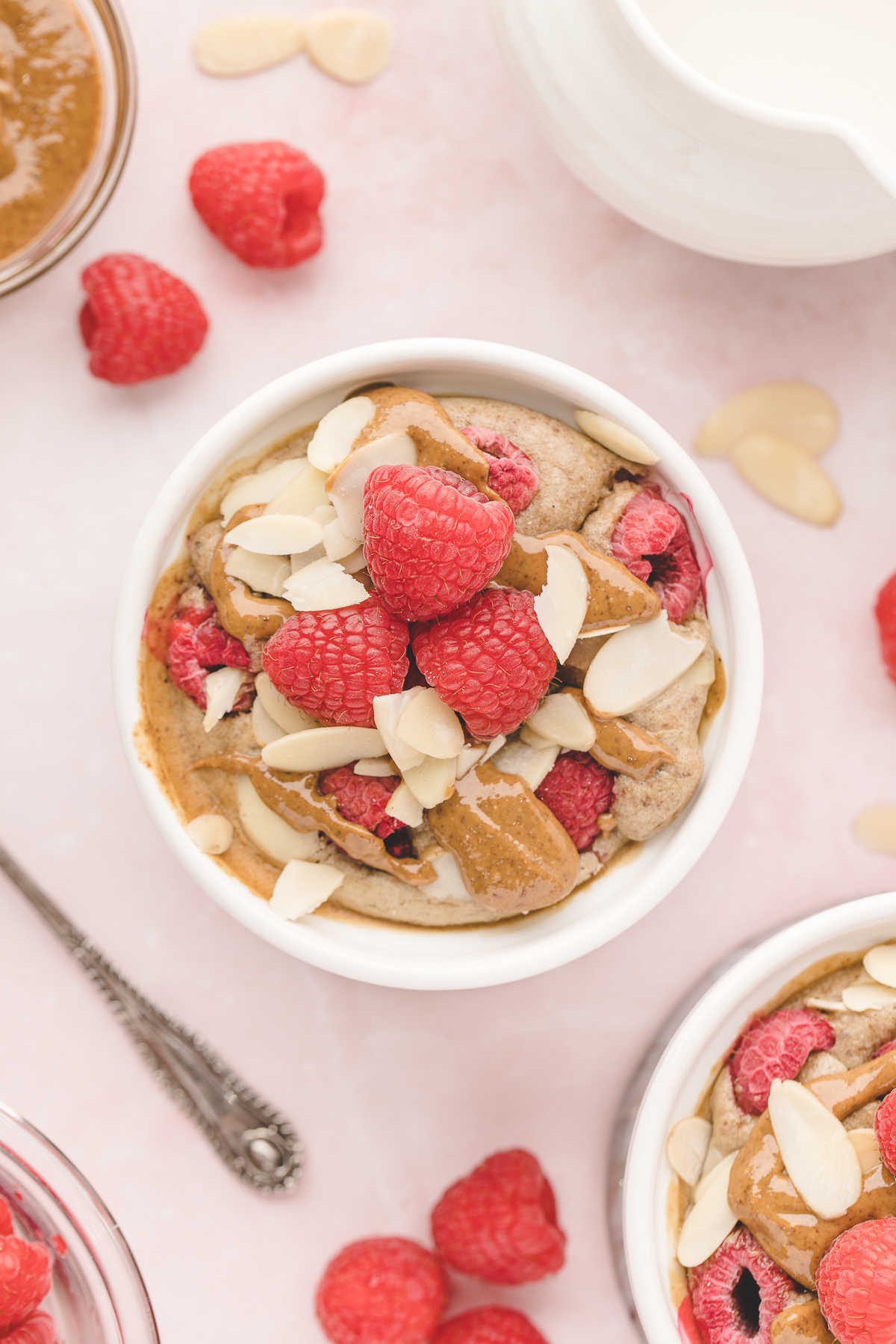 Baked oatmeal has become incredibly popular and blended baked oats really took off on TikTok this past year! Why did it become so popular? Because it's delicious! These oats are easy to make, filled with good-for-you ingredients, and the taste is amazing. If you're not normally a big fan of oats, give these blended oats a try. The texture becomes cake-like and you'll feel like you're starting the day off with a treat!
What exactly are blended baked oats?
These baked oats are made from blending raw oats with milk, eggs, banana, sweetener, and baking powder. Blending the oats creates a soft, cake-like texture. Because we are using oats instead of flour you do not need to worry about over-mixing the ingredients. Add all the base ingredients to the blender and blend until everything looks really smooth. The final mixture will look fairly runny, but will firm up upon baking.
The Best Blender for Blended Oats
This recipe has been tested in a Magimix blender, a Vitamix, and a KitchenAid blender, however this recipe will work in any blender, smoothie maker, or Nutribullet. You could even use a food processor. Check out my blog post on how to get the best results from your blender for more tips.
The Best Oats for Blended Oats
This recipe works with rolled oats (also called old fashioned oats) or quick oats. This recipe does not work with steel cut oats. Oats do not contain gluten, but be sure to check the package to ensure it's gluten-free if you're preparing these for someone with a gluten allergy. If you have steel cut oats, try my Baked Steel Cut Oats recipe.
Are blended oats healthy?
Yes! Oats are a whole grain which means they're a good source of protein and fiber. These blended oats also contain vitamin C from the raspberries and healthy fat thanks to the almond butter and sliced almonds. This is definitely a healthy breakfast!
How to Make Blended Oats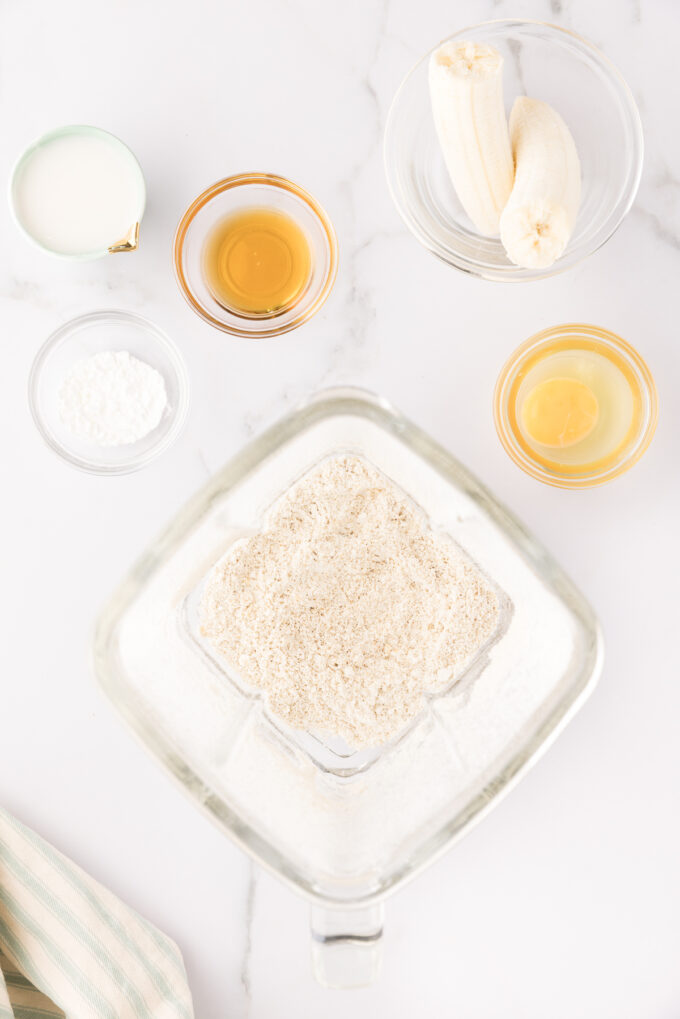 Frequently Asked Questions
How should I store leftovers? Cover and refrigerate for up to 2 days. Reheat in the microwave until piping hot.
Can I make this recipe vegan? Yes! To make this recipe vegan use maple syrup and not honey. You can use flaxseed egg instead of egg. Combine 1 tbsp of flaxseed and 3 tbsp of water, allow to sit for 5 minutes then use in place of the egg in the recipe. You can even skip the egg altogether, it just won't rise quite as much.
Can I lower the sugar? Yes. For a less-sweet oatmeal, you can skip the maple syrup or honey or you can substitute stevia or monk fruit sweetener instead.
Can I double the recipe? This recipe can be increased easily. If you are making it in a larger dish with double the quantities, increase the baking time by ten minutes. You will know the oats are cooked when they have risen, feel springy to the touch and are shrinking away from the edges of the dish.
Can I use dairy milk? Yes! I've tested this with cow's milk and oat milk and the recipe works just as well. You can use whichever milk you like.
Can I skip the banana? You can substitute the banana for 1/2 cup applesauce.
Print
Raspberry Baked Oats
Author:
Prep Time: 5 minutes
Cook Time: 25 minutes
Total Time: 30 minutes
Yield: 2 servings 1x
Category: Breakfast
Method: Baked
Cuisine: American
Diet: Vegetarian
---
Description
These raspberry blended baked oats taste like eating cake for breakfast! Tart raspberries and rich almond butter take this baked oats recipe to the next level!
---
1 cup rolled oats or quick oats
1 ripe banana
1 egg
1/2 cup unsweetened almond milk
1 tablespoon maple syrup or honey
1/2 teaspoon baking powder
1/2 cup raspberries
2 tablespoons almond butter, plus extra for drizzling
2 tablespoons sliced almonds
---
Instructions
Preheat the oven to 350 degrees.
Grease two 8 ounce ramekins with butter or spray cooking oil.
Add the oats to a blender and pulse for a few seconds until the oats are fine and look like flour.
Add the banana, egg, almond milk, maple syrup, and baking powder to the blender. Blend on high for a minute or so until all the ingredients are fully combined.
Divide the ingredients between the two ramekins.
Add 1 tablespoon almond butter and a few raspberries to each ramekin and mix to combine. 
Bake in the center of the preheated oven for 20-22 minutes or until the oats have risen and are springy to the touch.
Top with sliced almonds, remaining raspberries and a drizzle of almond butter.
Serve immediately and enjoy!
---
Keywords: raspberry baked oats, baked oatmeal, blended baked oats
More Oatmeal Recipes
If you're loving the blended oats trend, try my Biscoff Baked Oats or my Banana Nutella Baked Oats. Those blended oat recipes are just as tasty! Looking for more traditional baked oatmeal recipes? Try my vegan Blueberry Baked Oatmeal, no blending required!
If you have some leftover raspberries, try my Vegan Raspberry Muffins!