Slow Cooker Steel Cut Oatmeal
These creamy steel cut oats are made in the slow cooker for an easy, hands-off method! With this recipe, you can wake up to a delicious breakfast in the morning!
I love my slow cooker, and lately, I've been looking for ways to use it for more than just soups and stews. I thought it would be fun to find a few ways to use my slow cooker for breakfast and these steel cut oats came to mind! Normally I bake my steel cut oats, but it turned out to be just as easy to prepare them in my Crockpot!
This recipe works great because steel cut oats need a long time to cook. That means you can set your slow cooker on low and wake up to delicious oats the next morning! These oats can also be customized based on your favorite toppings and mix-ins, so whether you're looking for a low-sugar breakfast or high-protein start to your day, you can create the meal you want!
What are steel cut oats?
Steel cut oats are technically the least processed version of oats. They have a little more texture and flavor than rolled or quick oats and also take the longest to cook. That's what makes them great for the slow cooker! The benefit of using steel cut oats is that they retain the most nutritional value! And when they're prepared the right way, I think they have the best natural texture and flavor.
Rolled oats, also known as old-fashioned oats, have been steamed or flattened ahead of time. This means they cook faster, so they can't be substituted in this recipe. They'll get too mushy if cooked for too long.
Are steel cut oats good for you?
Steel cut oats and old fashioned oats are both a great, healthy option! They're a whole grain, which means they're a good source of both protein and fiber. This combination is what makes a bowl of oatmeal so satisfying.
Aside from the health benefits, I also love that steel cut oats are so budget-friendly. They'll last in the pantry for a long time, so you can buy them in bulk without stressing about the expiration date. I typically find my steel cut oats at Aldi, Kroger, or Publix.
Do I need to soak my oats?
For this recipe, you don't need to soak your oats. All you have to do is add the ingredients to your slow cooker and hit start! It only takes a few minutes to assemble.
Tips and Tricks
Be sure to spray your slow cooker with non-stick cooking spray. This will help prevent the oats from sticking.
If you're not making these overnight, the oats could benefit from a quick stir halfway through cooking to avoid any burning on the edges. But if you want to make these overnight, don't worry! You may have a few spots on the edges that stick to the pot, but a quick soak on the sink will take care of it.
If you hate cleaning your slow cooker, try these slow cooker liners, which make it fast and easy to clean up, no scrubbing required!
If you want to double the recipe to feed a crowd, you can do that if you're using a large slow cooker. I recommend a 6qt oval style Crockpot.
If you want to make these oats faster, try my Instant Pot Steel Cut Oats.
You can also make this recipe in advance and reheat the leftovers.
How to Store and Reheat Leftovers
Once the steel cut oatmeal has cooled, transfer it to an airtight container and store the oatmeal in the refrigerator. It should stay fresh for up to 5 days. You can also store these oats in the freezer for up to 3 months! If you plan to freeze leftovers, I recommend dividing them into single servings, so it's easy to thaw the portion you need.
When you're ready to enjoy your leftover oats, microwave the individual portions for 20-30 seconds or until heated through. Top with an extra drizzle of maple syrup if you like, and enjoy!
The Best Toppings for Steel Cut Oats
If you're serving these oats to family or friends, I like to create a simple little topping bar so everyone can add their favorite toppings. Here are some ideas to get you started:
Almond butter or peanut butter
Brown sugar or maple syrup
Chopped fruit or berries
Granola, chopped nuts, or shredded coconut
More Oatmeal Recipes
Print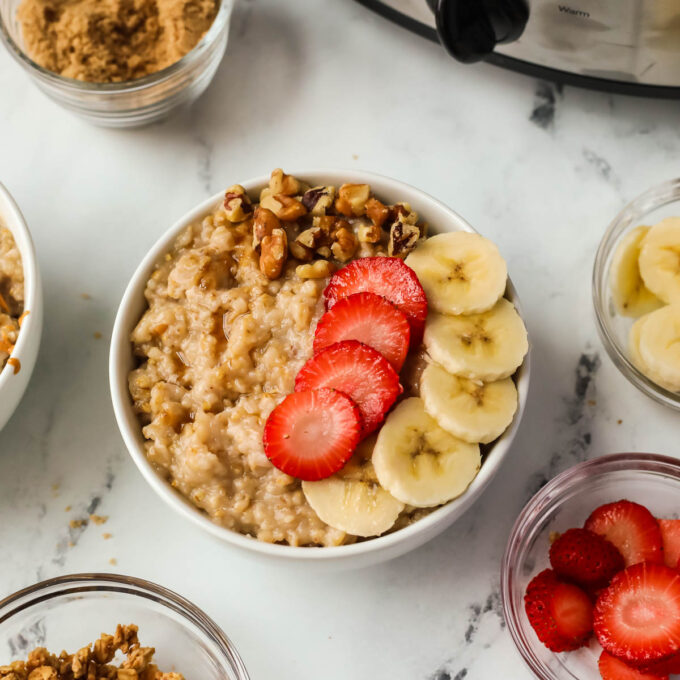 Slow Cooker Steel Cut Oatmeal
Author:
Prep Time: 5 minutes
Cook Time: 8 hours
Total Time: 8 hours 5 minutes
Yield: 4 cups 1x
Category: Breakfast
Method: Slow Cooker
Cuisine: American
Diet: Vegan
---
Description
These creamy steel cut oats are made in the slow cooker for an easy, hands-off method! With this recipe, you can wake up to a delicious breakfast in the morning!
---
1 1/2 cups steel cut oats
6 cups water
1/4 teaspoon salt
1/4 cup brown sugar (optional)
1 teaspoon cinnamon (optional)
---
Instructions
Spray a large slow cooker with non-stick spray.
Add the steel cut oats, water, salt, brown sugar, and cinnamon and stir to combine.
Set the slow cooker to low and cook for 7-8 hours.
---
Keywords: slow cooker steel cut oats