Vegan Raspberry Muffins
These vegan raspberry muffins are soft and fluffy with a sweet crumble topping! They're perfect for a quick breakfast on busy days. No one will guess these muffins are vegan!
I love making muffins because it makes the rest of the week easier! Both Alex and our toddler enjoy muffins for breakfast so making a batch of these on Sunday helps me feel prepared for the week ahead! These soft and fluffy muffins are so tasty, studded with plenty of juicy raspberries. If you want to make them extra sweet, add the crumble topping!
Ingredients & Substuttions
Milk– I used almond milk but you can use soy milk, oat milk or dairy milk.
Coconut oil– I used coconut oil but this recipe has also been tested with canola oil, so you can use that in the muffins if you prefer. For the crumble, use butter or vegan butter in place of coconut oil.
Raspberries– You can use fresh or frozen raspberries.
How to Make Vegan Raspberry Muffins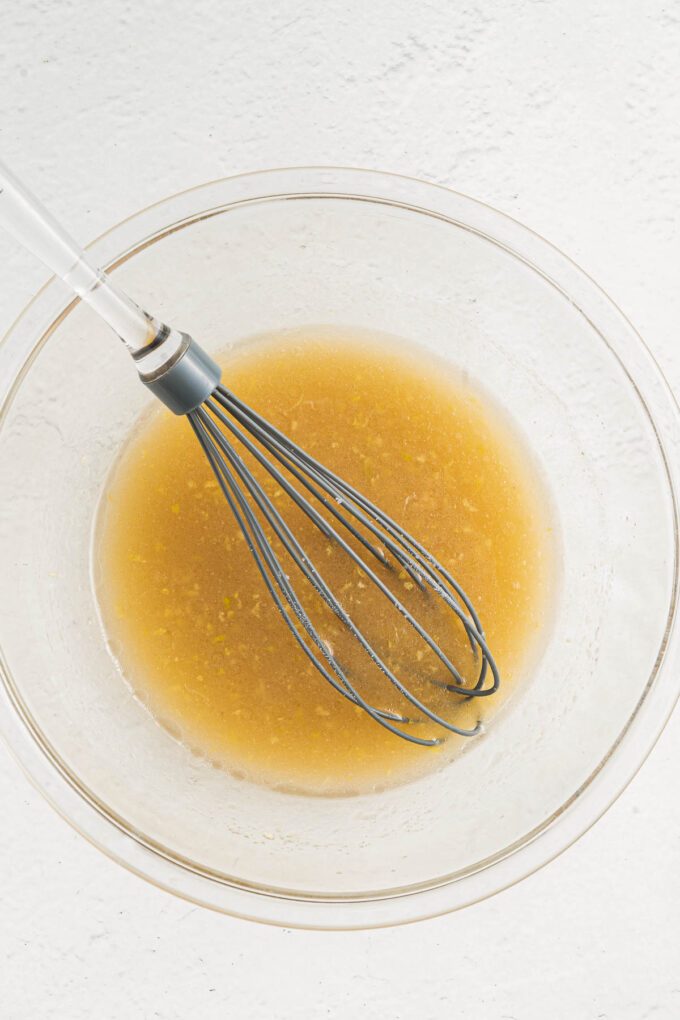 Can I use frozen raspberries?
For this recipe, yes! I've tested these muffins with fresh raspberries and frozen raspberries and either one works great! I did notice that frozen berries tended to "bleed" into the batter a little bit. Sometimes this would darken the muffin color slightly. But the taste was the same!
Do you need to defrost frozen raspberries?
No, it's best to mix the raspberries in while frozen. If you thaw them, they have a tendency to get soggy, and they'll be more difficult to incorporate into the batter. Take the berries directly out of the freezer and add them to the muffin batter.
Tips for Perfect Muffins
Do NOT overmix the batter. When mixing in the dry ingredients, mix until just combined. It's okay if there are a few streaks of flour. This helps the muffins rise and stay fluffy.
Check for hot spots in your oven. If your oven heats unevenly, you may want to rotate the pan during baking.
Once the muffins are done let cool for 1 minute in the pan, then transfer to a wire rack to finish cooling. This helps prevent soggy muffins.
How to Store Leftover Muffins
You can store these muffins in an airtight container for up to 4 days, which means they're perfect for breakfast on the go! You can also store leftover muffins in the freezer and simply thaw them in the microwave for 15-20 seconds, then enjoy!
More Vegan Muffin Recipes
Print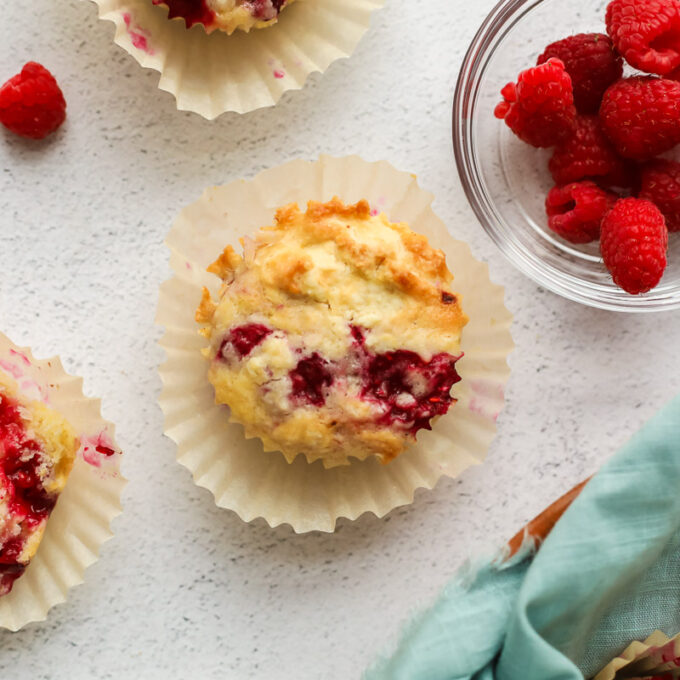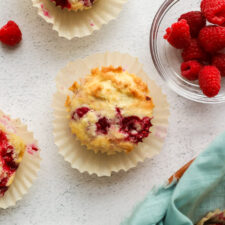 Vegan Raspberry Muffins
Author:
Prep Time: 15 minutes
Cook Time: 25 minutes
Total Time: 40 minutes
Yield: 12 muffins 1x
Category: Breakfast
Method: Oven
Cuisine: American
Diet: Vegan
---
Description
These vegan raspberry muffins are soft and fluffy with a sweet crumble topping! They're perfect for a quick breakfast on busy days. No one will guess these muffins are vegan!
---
For the muffins:
1/2 cup almond milk
2 tablespoons lemon juice
3/4 cup granulated sugar
1/2 cup melted coconut oil
1 tablespoon lemon zest
1 teaspoon vanilla extract
2 cups all-purpose flour
1 1/2 teaspoons baking powder
1/4 teaspoons salt
3/4 cup frozen raspberries
For the crumble:
2 tablespoons all-purpose flour
1/4 granulated cup sugar
1 tablespoon melted coconut oil
1 tablespoon shredded coconut
---
Instructions
Preheat the oven to 350 degrees.
Prepare a muffin pan with 12 muffin papers. (Optional: Spray non-stick cooking spray over each muffin paper for easier paper removal.) Set the tray aside.
Mix the almond milk, lemon juice, sugar, melted coconut oil, vanilla extract, and lemon zest in a large bowl.
In a different bowl, mix all-purpose flour with baking powder and salt. Then combine it with the wet mixture. Do not overmix.
Next, fold in the raspberries. Gently stir to combine.
Divide the muffin batter into the prepared muffin liners.
Mix all ingredients in a medium-sized bowl to make the crumble. The result should be a grainy crumble. 
Spread the crumble on top of each muffin.
Bake the muffins for 25 to 30 minutes, or until the crumble is golden brown and when you insert a toothpick, it comes out clean.
Let the muffins cool slightly, then transfer to a cooling rack.
Let the muffins cool to room temperature before removing the paper liners or their edges will break. 
---
Keywords: vegan raspberry muffins