Banana Oat Muffins
These delicious, tender banana oat muffins are easy to make and filled with healthy ingredients. They're vegan, gluten-free, and perfect for breakfast on the go!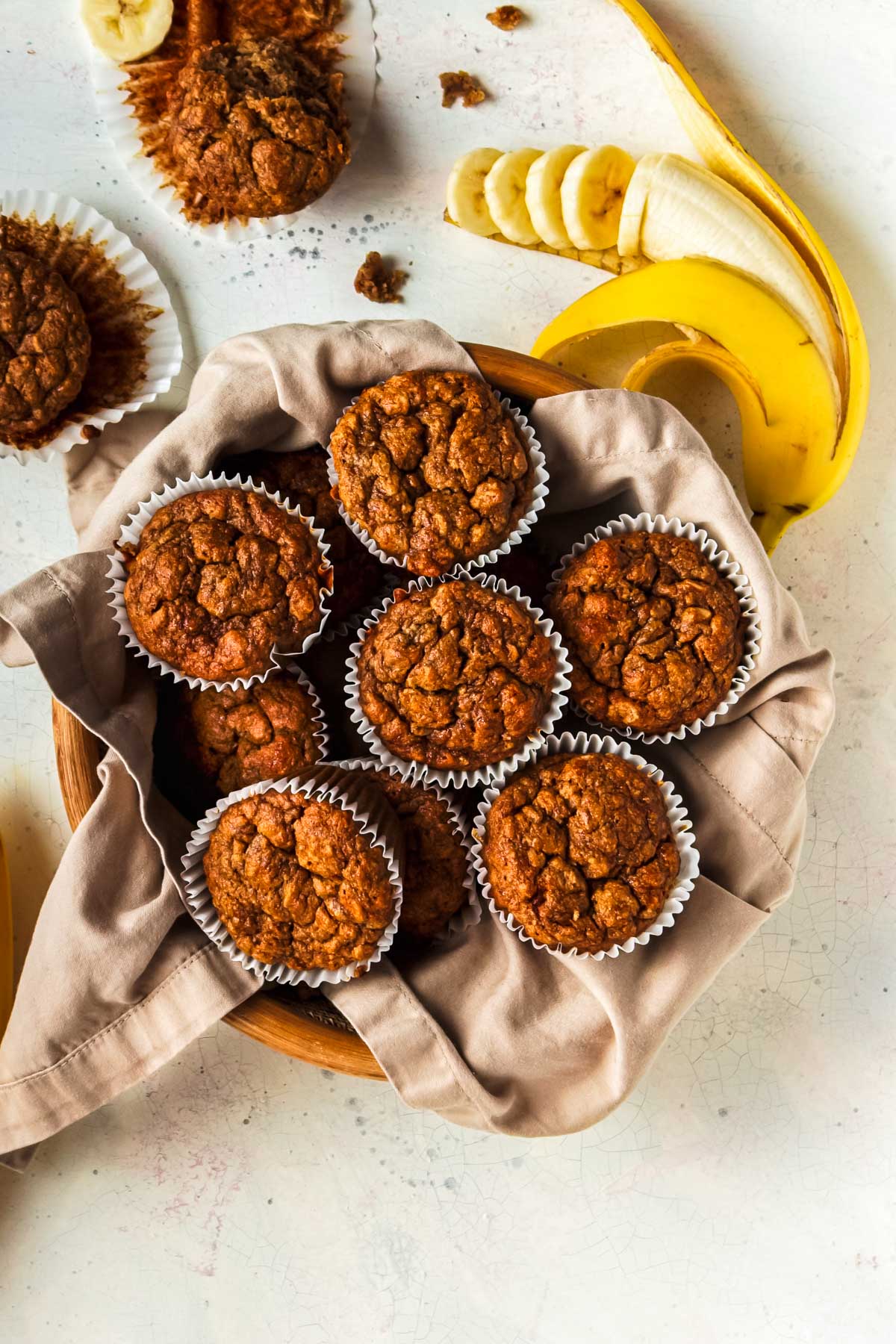 I've been making lots of muffins these days since they're a favorite food of my very selective toddler. Because of this, I'm always looking for ways to sneak in healthy ingredients! These banana muffins are a great one because they're made with oats for an extra filling snack. The bananas add sweetness, and it's a great way to use up those speckled bananas that are on the verge of being tossed. Most of these ingredients are pretty common pantry staples, but I've included a few substitution options and tips below.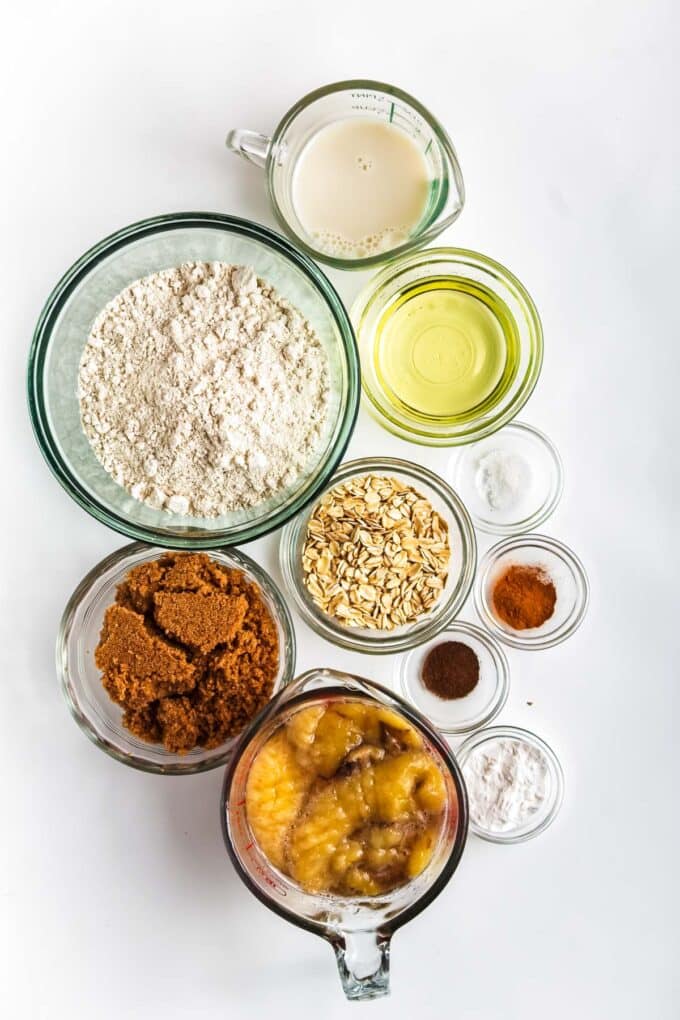 Ingredients
Oat flour– This is made from ground oats. See below for instructions on how to make oat flour at home.
Baking powder– This is essential for helping the muffins rise.
Salt– Table salt is fine. This helps balance the sweetness.
Cinnamon- I love the subtle flavor of cinnamon in these muffins, but if you don't have any you can leave it out.
Brown sugar– You can use light or dark brown sugar. You can also substitute it for coconut sugar, if desired.
Bananas– Be sure you're using very ripe bananas. They should be heavily spotted.
Almond milk– You can use almond milk or any non-dairy milk.
Neutral oil– You can use melted coconut oil, avocado oil, or vegetable oil.
Rolled oats– You'll also want to add rolled oats for texture.
What is Oat Flour?
Oat flour is simply ground oats. You can buy oat flour in the store or even on Amazon. Bob's Red Mill and Arrowhead Mills are two common brands. It's often sold near the gluten-free flour. But don't worry about making a trip to the store. You can make it at home with rolled oats, quick cooking oats, or steel cut oats.
How to Make Oat Flour
If you don't have oat flour, don't worry. It's easy to make your own using rolled oats or quick cooking oats! Simply blend the oats in a blender or food processor until it creates a coarse flour. It doesn't need to be as fine as all-purpose flour. One cup of old-fashioned oats or quick-cooking oats weighs 100 grams, and will make just over one cup oat flour after its blended.
Can You Use Steel Cut Oats?
Steel cut oats can also be blended into flour, but it tends to take longer since steel cut oats are so coarse. The measurements of steel cut oats are slightly different as well. Blending one cup of steel-cut oats will create two cups of oat flour.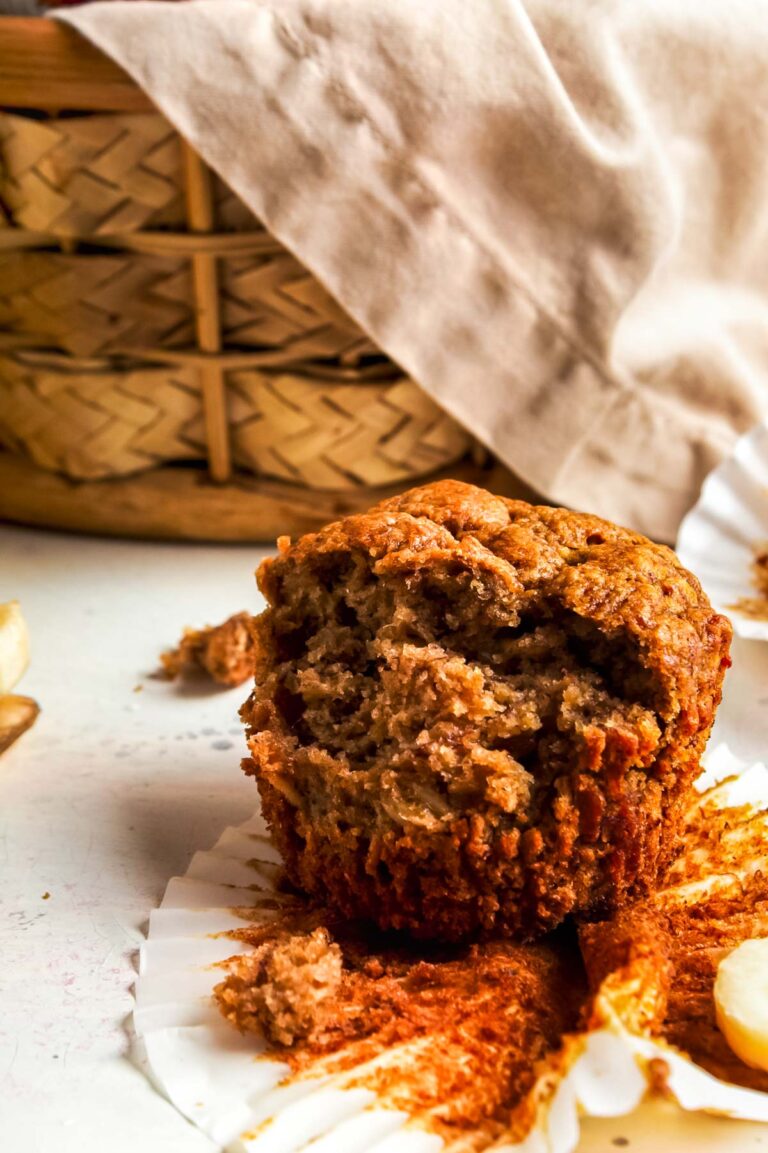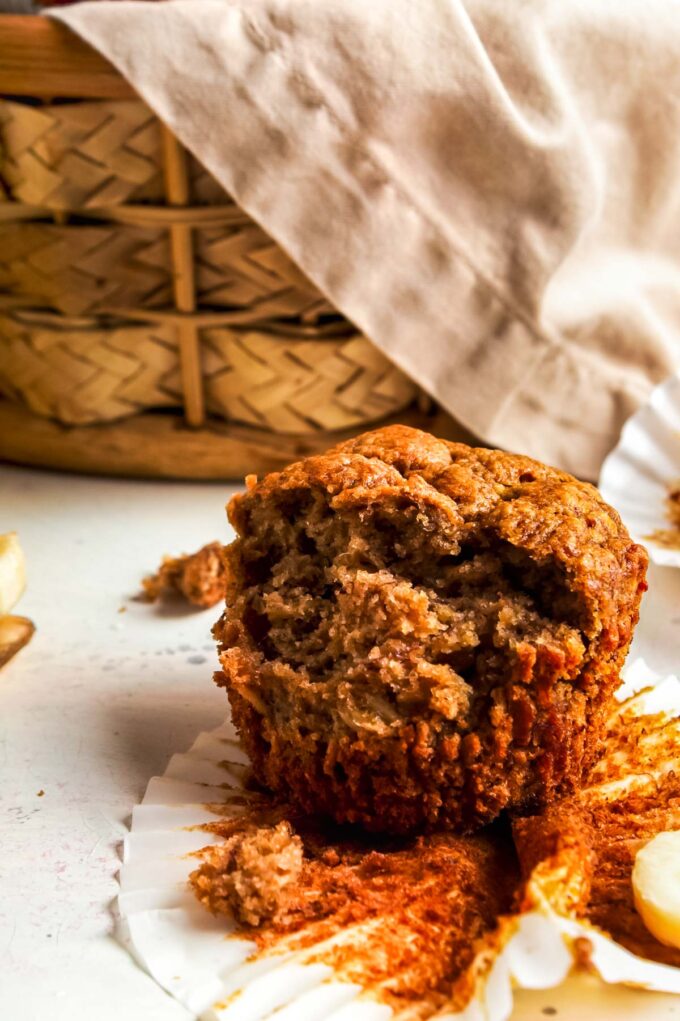 Additions and Mix-Ins
Feel free to get creative with this recipe! You can add chocolate chips or dark chocolate chunks for more sweetness or try chopped walnuts for a slightly different texture. You could also top these muffins with chopped pecans or add a smear of peanut butter on top after baking.
How to Store Leftover Banana Oatmeal Muffins
I recommend storing these muffins in the refrigerator, as they tend to spoil faster at room temperature. They should last 4-5 days in the fridge. These muffins can also be frozen for up to one month. To enjoy the frozen muffins, microwave for 10-15 seconds until warm.
How to Make Banana Oat Muffins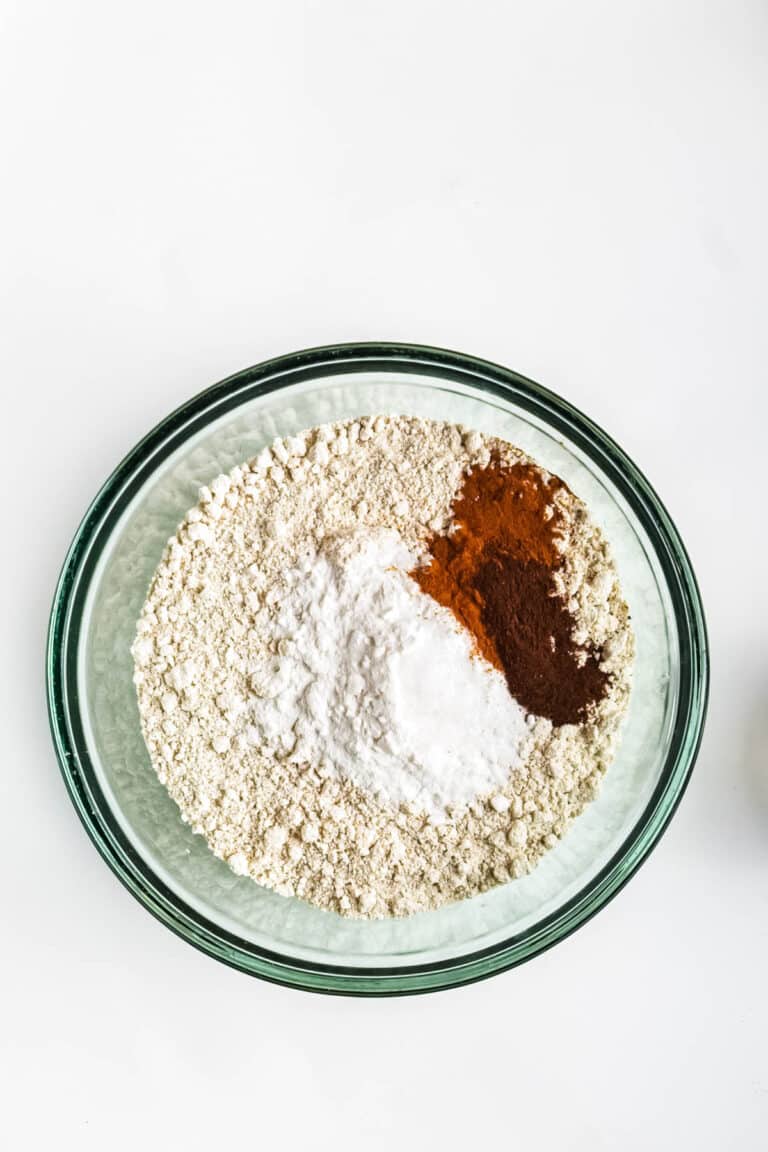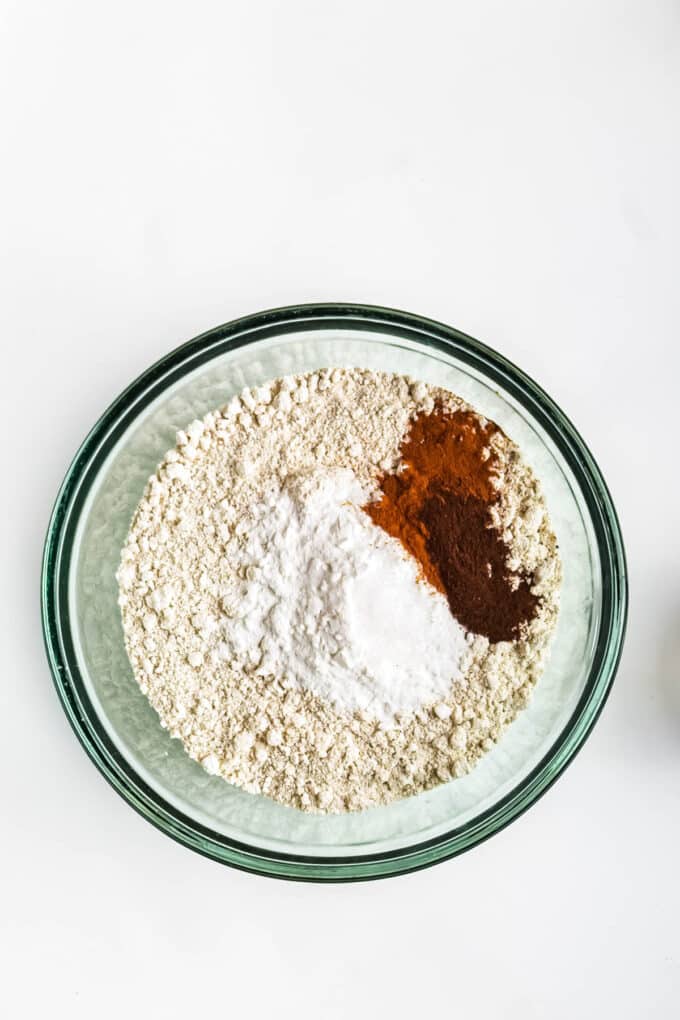 Frequently Asked Questions
Are these muffins gluten-free? Rolled oats do not contain gluten, but be sure to check the package to ensure it's gluten-free if you're preparing these for someone with a gluten allergy. It's important to note that some people with a gluten intolerance can be sensitive to the protein found in oats, avenin. (Although it's a small percentage of people.)
Are these muffins vegan? Yes, this recipe does not require any dairy or eggs.
Tips and Tricks for Perfect Muffins
I often use silicone muffin liners which can be re-used again and again.
After you remove the muffins from the oven, let them cool in the pan for 1-2 minues then carefully transfer the muffins to a cooling rack and allow them to cool completely before enjoying.
Keep an eye on the muffins while baking. If your oven has hot spots, you may want to rotate the baking pan halfway through baking.
It's important to follow specific measurements in baking. 2 1/2 cups of oat flour should weigh about 230g. It can be helpful to use a small kitchen scale, to measure properly.
Print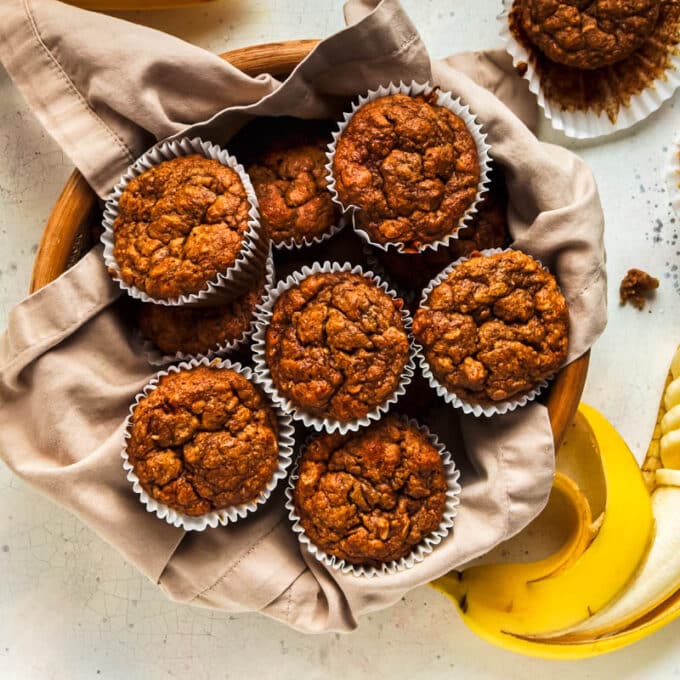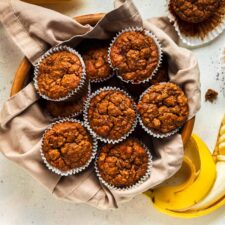 Banana Oat Muffins
Author:
Prep Time: 15 minutes
Cook Time: 30 minutes
Total Time: 45 minutes
Yield: 12 large muffins 1x
Category: Breakfast
Method: Oven
Cuisine: American
Diet: Vegan
---
Description
These delicious, tender banana oat muffins are easy to make. They're vegan, gluten-free, and perfect for breakfast on the go!
---
2 1/2 cups oat flour
1 tablespoon baking powder
1/4 teaspoon salt
1/2 teaspoon cinnamon
1 cup firmly packed dark brown sugar
1 1/2 cups mashed overripe banana (2-3 large bananas)
1/2 cup almond milk (or other non-dairy milk)
1/3 cup neutral oil (avocado oil, vegetable oil, or melted coconut oil)
1/2 cup old fashioned rolled oats
---
Instructions
Preheat oven to 350°F. Line a muffin pan with paper liners.
In a small bowl, combine the oat flour, baking powder, salt, and cinnamon. Stir to combine and set aside.
In a large bowl, combine the brown sugar and mashed banana. Beat with a hand mixer or stand mixer on low until smooth and no large lumps of banana remain.
Add the almond milk and oil. Beat on low until combined. 
Stir in the flour mixture and rolled oats by hand until just combined.
Scoop 1/3 cup of batter into the prepared muffin tins. It should make 12 large muffins.
Bake for 30-35 minutes until a toothpick inserted comes out clean.
Allow to cool for 30 minutes before serving.
---
Keywords: vegan banana oat muffins
More Recipe Ideas