Quinoa and Black Bean Tacos
These hearty quinoa and black bean tacos are seasoned to perfection for a plant-based meal that is deliciously satisfying. Try this tasty recipe for your next taco night!
Why I Love This Recipe
I'm always looking for new things to add to my tacos. When I realized I didn't have a quinoa taco recipe on the blog, I knew I needed to change that. I love the texture of quinoa, and it was so good in my quinoa taco skillet, I knew I needed to create a taco filling that would let the quinoa shine! This recipe does require a few steps, but it's worth the effort! I've also provided shortcuts if you need to get dinner together faster.
Ingredients and Substitutions
Quinoa– While quinoa is technically a seed, it cooks like a grain! It's similar to rice and it makes a great base for the taco filling.
Tomato paste– This adds an umami flavor to the quinoa, which helps to make this meatless meal extra satisfying.
Vegetable broth– I prefer a chicken-style broth like Edward & Son's "not chicken" broth. But any vegetable broth is fine.
Garlic– I used fresh garlic but you can substitute with garlic powder if necessary.
Cumin– A little cumin adds a warm, earthy flavor to the quinoa.
Salsa– I like using a chunky tomato salsa in this recipe. Feel free to grab a medium or spicy salsa for more heat!
Black Beans– These add plenty of protein and fiber to make these tacos extra filling.
Nutritional yeast– This adds a savory, slightly cheesy flavor, but it's completely vegan.
Tortillas– I used flour street taco sized tortillas, but you can use any taco shells you like.
Toppings– My favorites are avocado, extra salsa, fresh cilantro, and/or diced red onion.
What is quinoa?
Quinoa is technically a seed, but it cooks like a grain. Quinoa has a light, fluffy texture when cooked, similar to rice. Quinoa is available in a range of colors, including: white, red, and tri-color, and can be found in most supermarkets and health food stores, near the rice. It's gluten- free and it's a good source of protein and fiber. For more information, check out this post about quinoa.
What is nutritional yeast?
Nutritional yeast is a type of deactivated yeast that is often used as a condiment or seasoning. It's unique because it has a cheese-like flavor but it's plant-based. Nutritional yeast is a good source of protein, fiber, and vitamins, especially B-complex vitamins, which are essential for energy, metabolism and a healthy nervous system. You can find it at most grocery stores in the health food section. You can even find it at Trader Joe's and Amazon. For more ways to use it, check out my post about nutritional yeast.
How to Make Quinoa and Black Bean Tacos
Recipe Shortcuts
If you have a rice cooker, make your quinoa in the rice cooker (stir in the garlic, tomato paste, and cumin right into the broth and quinoa) for a hands-off option.
If you want to skip the step of baking the quinoa, you can continue to cook it on the stove until the quinoa dries out slightly. You'll need to keep a close eye on it and stir frequently for about 5-8 minutes. (I prefer the oven method because it's more hands-off, but the stovetop can work!)
You can use storebought guacamole if you don't have time to make my 4 ingredient guacamole or you can use sliced avocado instead.
Taco Topping Ideas
I topped mine with guacamole, red onion, and cilantro but feel free to get creative! Try these with my cilantro sauce or burrito sauce for extra flavor. Or try sliced jalapeños or hot sauce on top to give it more of a spicy kick. If you aren't vegan, feel free to add shredded cheese or sour cream on top.
Frequently Asked Questions
Is this recipe vegan? Yes! This recipe is plant-based without needing substitutions. But be sure to check your tortillas, as some tortillas can contain lard.
Is this recipe gluten-free? To make this recipe gluten-free, use corn tortillas or gluten-free tortillas.
Are these tacos healthy? These tacos are a good source of protein and fiber thanks to the quinoa and black beans, making them a healthy meatless meal! If you're watching your sodium intake, be sure to use no-salt-added black beans and low-sodium vegetable broth.
More Tasty Quinoa Recipes
Not sure what else to do with your quinoa? Here are a few of my favorite quinoa recipes!
Quinoa Taco Skillet– No tortillas? No problem! Try your quinoa in this skillet recipe!
Mexican Quinoa Bake– This oven baked recipe comes together quickly and it's a great option if you love cheese!
Southwestern Quinoa Salad– Want something with even more veggies? Try this quinoa salad, which is packed with a rainbow of vegetables.
Print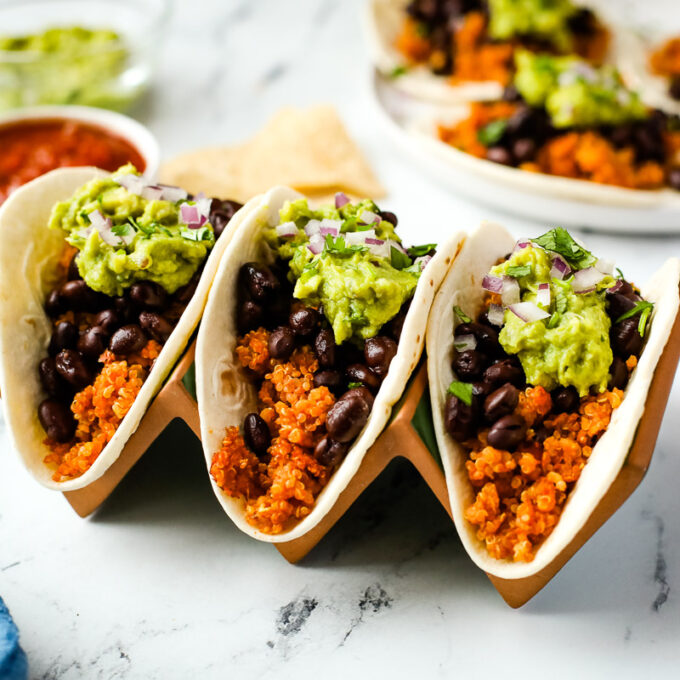 Quinoa and Black Bean Tacos
Author:
Prep Time: 10 minutes
Cook Time: 45 minutes
Total Time: 55 minutes
Yield: 6 tacos 1x
Category: Dinner
Method: Stovetop and Oven
Cuisine: American
Diet: Vegan
---
Description
These hearty quinoa and black bean tacos are seasoned to perfection for a plant-based meal that is deliciously satisfying. Try this tasty recipe for your next taco night!
---
2 teaspoons olive oil
1 cup uncooked quinoa, rinsed
2 tablespoons tomato paste
4 cloves minced garlic
2 cups vegetable broth
1/4 teaspoon cumin
1/2 cup salsa
1/4 cup nutritional yeast
1 15oz can black beans, drained and rinsed
8 small "street taco" sized flour tortillas or corn tortillas
1/2 cup guacamole
2 tablespoons diced red onion
2 tablespoons chopped cilantro
---
Instructions
Preheat the oven to 350 degrees.
Line a baking sheet with parchment paper or a silicone baking mat and set aside.
In a large skillet, add the olive oil, uncooked quinoa, and tomato paste and sauté over medium heat for 2 minutes, stirring frequently.
Add the garlic and continue to saute for 1 minute.
Add the broth, salt, and cumin. 
Cover with a lid and bring to a boil.
Reduce heat to medium-low and continue to cook for 10-12 minutes until the quinoa is fluffy.
Sitr in the salsa and nutritional yeast.
Transfer the quinoa mixture to the prepared baking sheet and bake for 20 minutes until the edges are slightly crispy.
Place the black beans in a microwave-safe bowl.
Microwave the black beans for 30 seconds until heated.
Divide the quinoa and black beans evenly between the tortillas.
Top with guacamole, red onion and cilantro.
---
Keywords: quinoa tacos, vegan tacos, quinoa taco meat