Parmesan Sweet Potato Chips
These Parmesan Sweet Potato Chips are an easy, tasty side dish. Salty Parmesan and savory garlic transform a simple sweet potato into an addicting snack!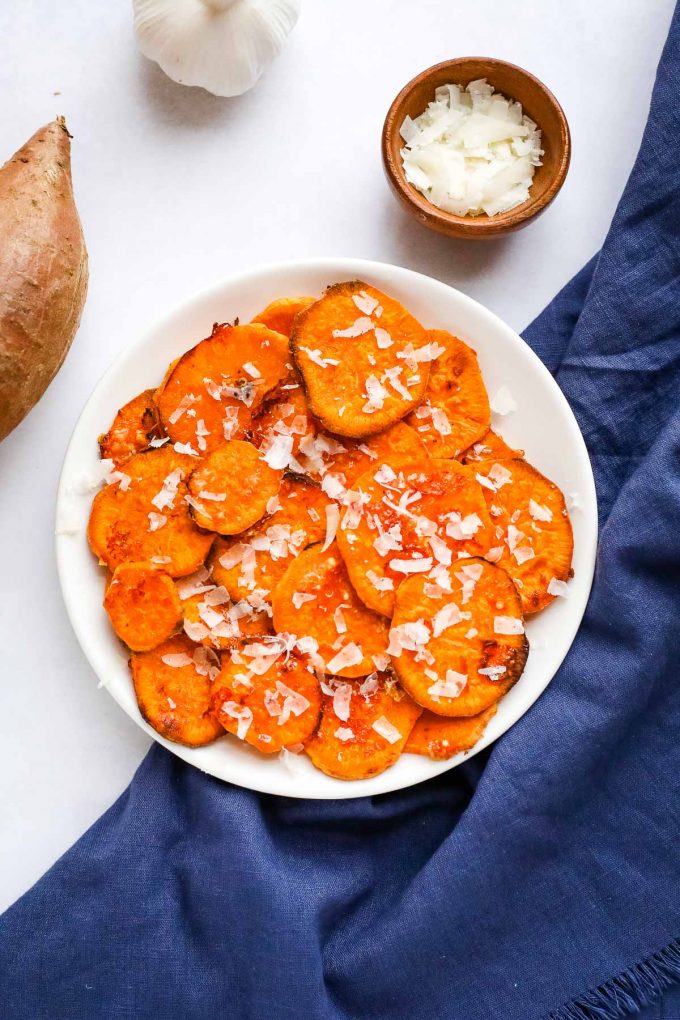 Sweet potatoes are one of my favorite vegetables. They're good for you, relatively inexpensive, and they last for a long time. Not to mention they're delicious in everything from soups to grain bowls! Lately, I've been loving these Parmesan sweet potato chips. My husband Alex doesn't normally like sweet potatoes, but he enjoyed these simple chips!
How to Make Sweet Potato Chips
Slice the sweet potato into thin, even slices.
Toss the sweet potato with olive oil, Parmesan cheese, and seasoning.
Spread the sweet potatoes on to a baking sheet in an even layer, being sure not to overlap the sweet potatoes.
Bake until golden brown. Transfer to a plate and sprinkle with additional Parmesan cheese.
Tips for Perfect Sweet Potato Chips
Try to cut the slices as evenly as possible, so they cook at the same rate. If you like your chips crispy, try to slice them as thinly as possible. If you have a mandoline slicer, this is an easy way to create uniform slices.
Be sure that the chips aren't overlapping on the baking sheet. It's important for them to be in a single layer so they cook evenly.
If your oven has hot spots, you may want to rotate the pan halfway through cooking to prevent certain areas of the pan from burning.
The Best Dips for Chips
If you're looking to dip your chips into something sauce, whip up a batch of this easy cilantro sauce. It's delicious with sweet potatoes! Or try a curry dip recipe for a unique flavor combination. You can also serve these chips with ketchup, which is my personal favorite!
Frequently Asked Questons
Can I store leftover sweet potato chips? For the best flavor and texture, I recommend eating these chips as soon as they come out of the oven. But if you do have leftovers, you can reheat them in the oven or the air fryer. They tend to have a softer texture when reheated.
Can I use a different kind of potato? Yes! Although the cooking times may vary slightly depending on the size of the potato.
Can I make these sweet potato chips vegan? Yes! Simply skip the Parmesan cheese. You could also add a little nutritional yeast to replace the cheesy flavor, if you like.
Print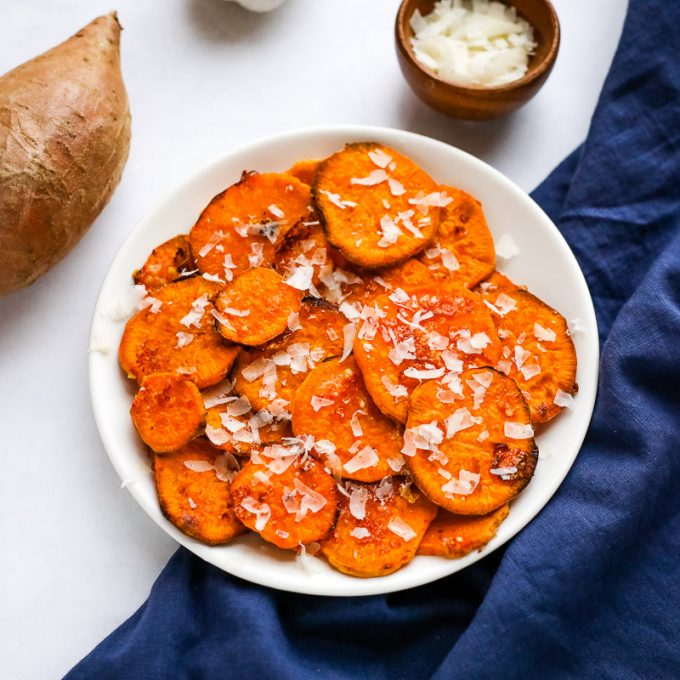 Parmesan Sweet Potato Chips
Author:
Prep Time: 10 mins
Cook Time: 20 mins
Total Time: 30 mins
Yield: 2 1x
Category: Appetizer
Method: Baked
Cuisine: Vegetarian
---
Description
These Parmesan Sweet Potato Chips are a tasty side dish. Salty Parmesan and savory garlic take these simple chips to the next level!
---
1 large sweet potato, peeped and sliced into thin rounds
1 tablespoon olive oil
1/4 teaspoon salt
1/4 teaspoon garlic powder
1 oz Parmesan cheese, grated plus more for finishing
---
Instructions
Preheat the oven to 400 degrees.
In a large bowl, toss the sweet potato slices in a bit of olive oil until they're lightly coated.
Toss with the salt, garlic powder, and Parmesan cheese until evenly coated.
Spread out on a greased baking sheet and sprinkle with the Parmesan mixture.
Bake for 20 minutes or until lightly brown and crispy.
Add additional Parmesan cheese, if desired.
---
Keywords: Parmesan Sweet Potato Chips
I love how crispy and salty these are! We had ours with some roasted red pepper and tomato soup and it was delicious.
I wish I'd made a double batch of the chips because we ate them up pretty quickly! I'm pretty sure those will be a veggie burger side dish on the regular.
If you like things spicy, try these chipotle spiced sweet potato fries!
What's your favorite way to eat a sweet potato?