These spicy sweet potato fries are baked in the oven until they're crispy and delicious!
I love sweet potato fries and I love spicy food so I'm scratching my head why it's taken me so long to put these things together. We recently had some deliciously spicy sweet potato fries that came from the freezer and while I loved them, I figured it wouldn't be that hard to recreate them on my own!
One of the tricks to making these fries nice and crispy is to toss them with cornstarch before you toss them in oil. The cornstarch helps soak up extra moisture and it encourages browning. That's part of why these sweet potato fries become brown and crispy in the oven without needing to be fried. It's like magic! But if you don't have cornstarch, you can still make these fries and they'll be nice and spicy. Just be sure you bake them long enough to become brown!
The other tip is to try to cut your sweet potato into even-sized pieces. I know it can be a little tricky depending on the shape of your sweet potato, but try to cut them to a consistent size and thickness. This helps all the pieces to cook and brown at the same speed. You'll end up with crispier fries in the end!
Print
Spicy Chipotle Sweet Potato Fries
These spicy sweet potato fries are oven baked but deliciously crispy!
Ingredients
1 large sweet potato (about 1lb)
1 1/2 teaspoons cornstarch
1 tablespoon olive oil
1/4 teaspoon garlic powder
1/4 teaspoon onion powder
1/4-1/2 teaspoon chipotle chili powder (depending on how spicy you like it)
1/4 teaspoon salt
Pinch of paprika
Instructions
Preheat oven to 400 degrees
Slice the sweet potato into thin, even slices
In a large bowl or zipper-top bag, toss the sweet potato slices with cornstarch
Toss with olive oil until evenly coated
In a small dish, whisk together the garlic powder, onion powder, chipotle chili powder, salt, and paprika
Sprinkle the spices over the sweet potato slices and continue to toss in the bag until evenly coated
Cover a large baking sheet with parchment paper and spray with non-stick spray
Spread the sweet potato fries in a single layer on the sheet
Bake for 15 minutes then flip and continue to bake for 15-20 minutes or until browned on both sides
Notes
You can easily double this recipe if you'd like to make enough to serve 4!
I used 1/2 teaspoon of chipotle chili powder on this first batch and they were quite spicy. Not so spicy I couldn't eat them but I definitely needed some ketchup on the side! (Then again, I have a secret love affair with ketchup and there is never enough to satisfy me, so maybe it wasn't the spice?) If you're not sure about how spicy you'd like these to be, you may want to start with just 1/4 teaspoon and increase it later.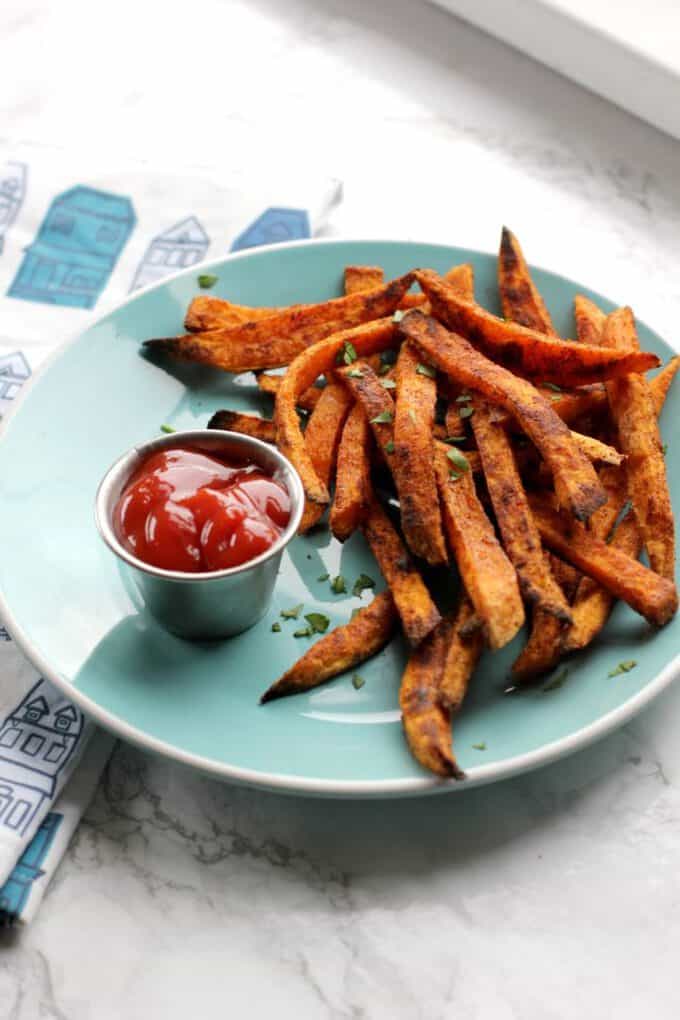 This made enough for the two of us as a side dish but if you're making these for the whole family, I'd double the recipe! You may need to spread them out onto two different baking sheets to be sure you can fit them into a single layer. When you're flipping the fries halfway through the baking time, swap the placement of the baking trays, for more even cooking.
Do you like spicy foods?