Crispy Potato Tacos
These crispy potato tacos are topped with shredded cheese, lettuce, and a spicy chipotle sauce for an easy dinner that is packed with flavor.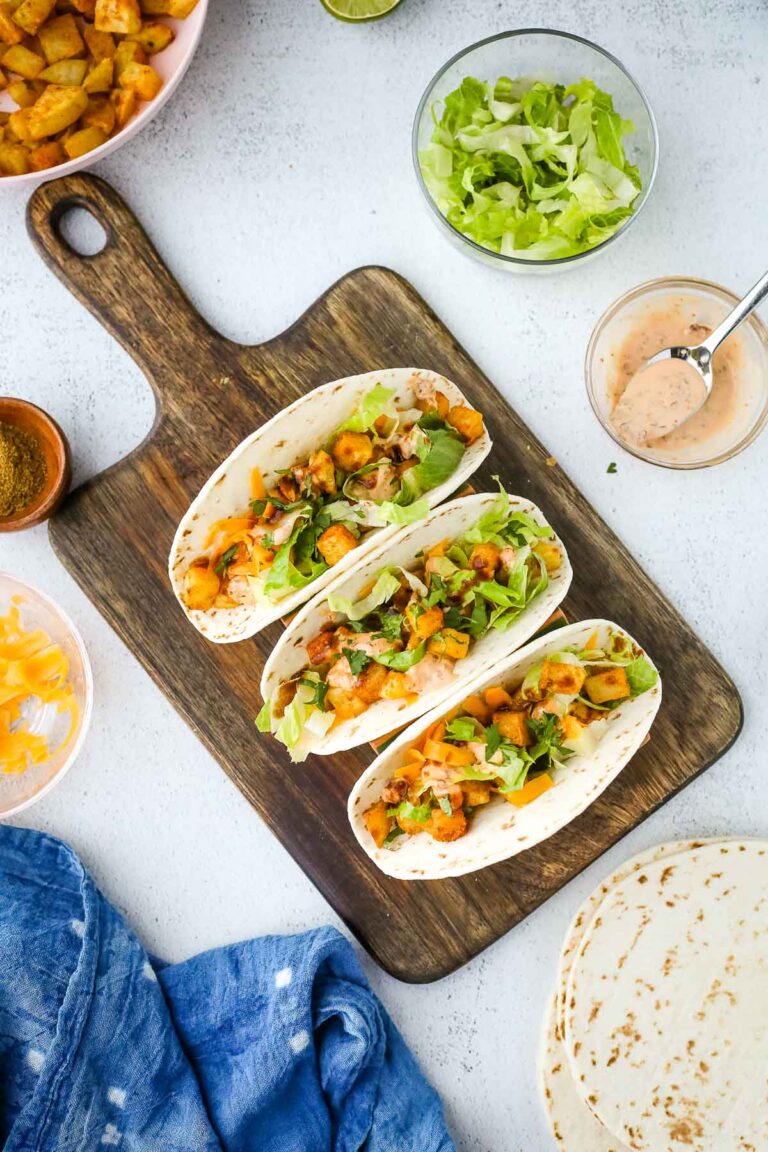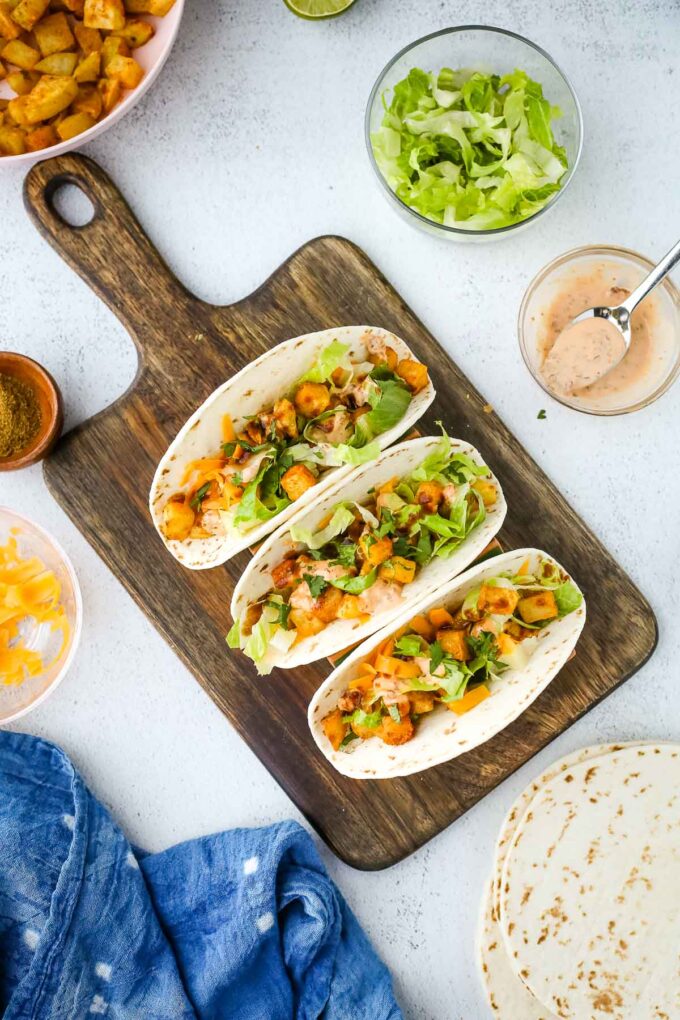 The inspiration for these potato tacos actually came from Taco Bell. Some friends brought over the Taco Bell potato tacos and I had to admit they were pretty good. I figured it wouldn't be too hard to recreate it at home and the results were absolutely delicious. (Plus, I felt a little better about the ingredients!) These crispy potato tacos quickly became a favorite at our house!
The ingredients list is simple, but the sky is the limit with toppings. You can add salsa, avocado, shredded cabbage, pico de gallo, sour cream, or any other toppings you like!
Ingredients & Substutions
Tortillas- I used flour tortillas but you can use corn tortillas or whole wheat tortillas.
Potatoes– I recommend using a russet potato because they're high in starch and they get nice and crispy on the outside while staying soft in the center.
Seasoning– I used a combination of smoked paprika, garlic, onion powder, and cumin. This added a nice balance of flavors. You could substitute the spices with your favorite taco seasoning if you like.
Cornstarch– A little cornstarch makes the potatoes extra crispy. You can skip it if you don't have any, but your potatoes won't be quite as crispy.
Cheese– I used sharp cheddar cheese. I prefer to buy a block of cheese and shred it, so it melts easier. Pre-shredded cheese contains anti-caking agents that prevent it from melting smoothly.
Lettuce– I like the crunch of shredded romaine, but iceberg lettuce works great too.
How to Make the Sauce
For the sauce, you'll combine chopped chipotle chilis in adobo sauce with mayonnaise and lime juice. You can find canned chipotle chilis near the salsa at most grocery stores. You can also find jars of adobo sauce if you want to skip chopping the chili and make a smooth sauce. The sauce is easy to make, but if you want to use a pre-made sauce, try Sir Kensington's Chipotle Mayo.
How to Make Crispy Potato Tacos
Frequently Asked Questions
Can I add protein? Absolutely! These tacos are great with crispy chickpeas or these Mexican black beans, which are an easy way to add protein to the meal. You can also use whole wheat tortillas which are a good source of protein.
How can I store leftovers? These tacos are best eaten right away but if you do have leftovers, keep the taco components in separate containers in the fridge. Reheat the potatoes in the oven or in an air fryer to get them crispy. Leftover tortillas can be stored in the fridge and reheated in the microwave.
Can I make this vegan? Yes! You can either skip the cheese or substitute it with vegan cheese. Use vegan mayo in the sauce.
What to Serve with Tacos
I love serving these tacos with Mexican Black Beans for protein and this Street Corn Salad as a side dish. If you want an easy salsa recipe, my 5 Minute Corn Salsa is a winner. This Black Bean Dip would also be great with chips!
Variations & Topping Ideas
Feel free to get creative with your taco toppings! We've added avocado, salsa, and sour cream. You could also add black beans right into your taco. The chipotle sauce is spicy but sometimes I still find myself adding some extra hot sauce on top. You can also turn this into a taco salad! I just use a bed of lettuce in place of the tortillas. Wondering if you can make this recipe with shredded potatoes? Try my Vegan Potato Tacos!
More Taco Recipes
Print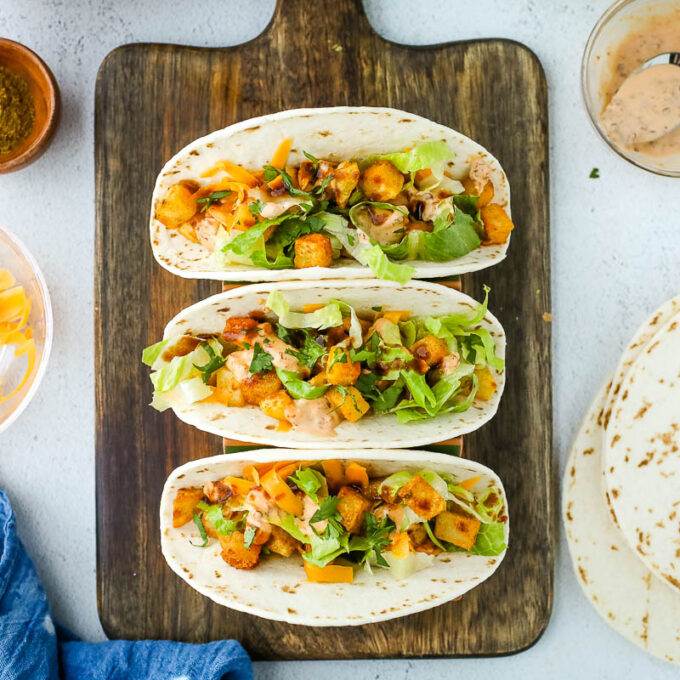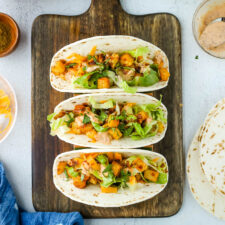 Crispy Potato Tacos
Author:
Prep Time: 10 minutes
Cook Time: 30 minutes
Total Time: 40 minutes
Yield: 5–6 tacos 1x
Category: Dinner
Method: Oven
Cuisine: American
Diet: Vegetarian
---
Description
These crispy potato tacos are topped with shredded cheese, lettuce, and a spicy chipotle sauce for an easy dinner that is packed with flavor.
---
For the tacos:
1 1/2lbs russet potatoes, cut into 1/2″ pieces
2 tablespoons cornstarch
1/2 teaspoon smoked paprika
1/2 teaspoon garlic powder
1/4 teaspoon onion powder
1/4 teaspoon cumin
1/4 teaspoon salt
1 tablespoon olive oil
5–6 small flour tortillas
For the sauce
2 tablespoons mayonnaise
1 tablespoon chipotle chili adobo sauce, chopped finely
1 teaspoon lime juice
---
Instructions
Preheat the oven to 450 degrees.
Line a baking sheet with parchment paper and set it aside.
In a large bowl, toss the potatoes with the cornstarch and spices until the potatoes are evenly coated.
Spread the potatoes on the prepared baking sheet in a single layer.
Drizzle with olive oil and toss to coat the potatoes evenly.
Bake for 15 minutes, then flip the potatoes and continue to bake for 10-15 minutes until the potatoes are crispy.
While the potatoes are cooking, whisk together the mayonnaise, chipotle chilis, and lime juice.
Fill each tortilla with potatoes then top with cheese, lettuce, and chipotle sauce.
Keywords: crispy potato tacos