Warm Taco Dip
This post is sponsored by McCormick Gourmet™. The opinions and text are all mine.
This Warm Taco Dip is creamy and cheesy with plenty of spices for a deliciously spicy flavor. This is the perfect dip to serve with your favorite tacos or enchiladas!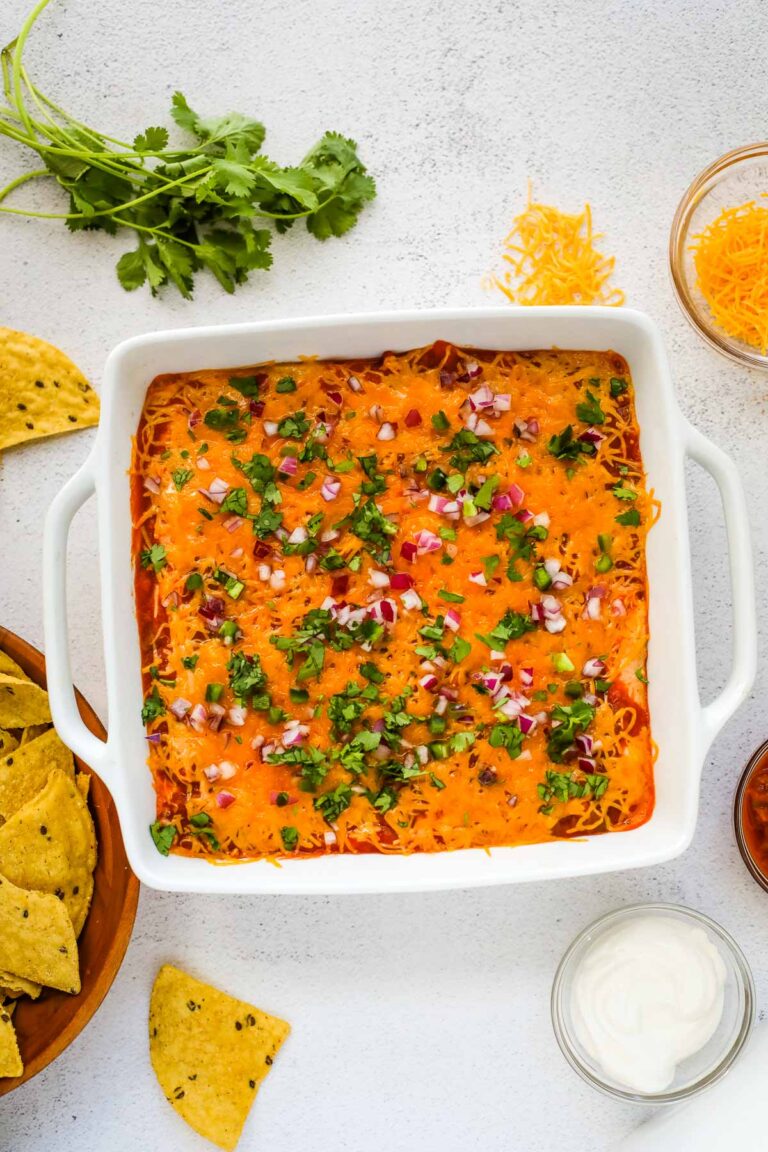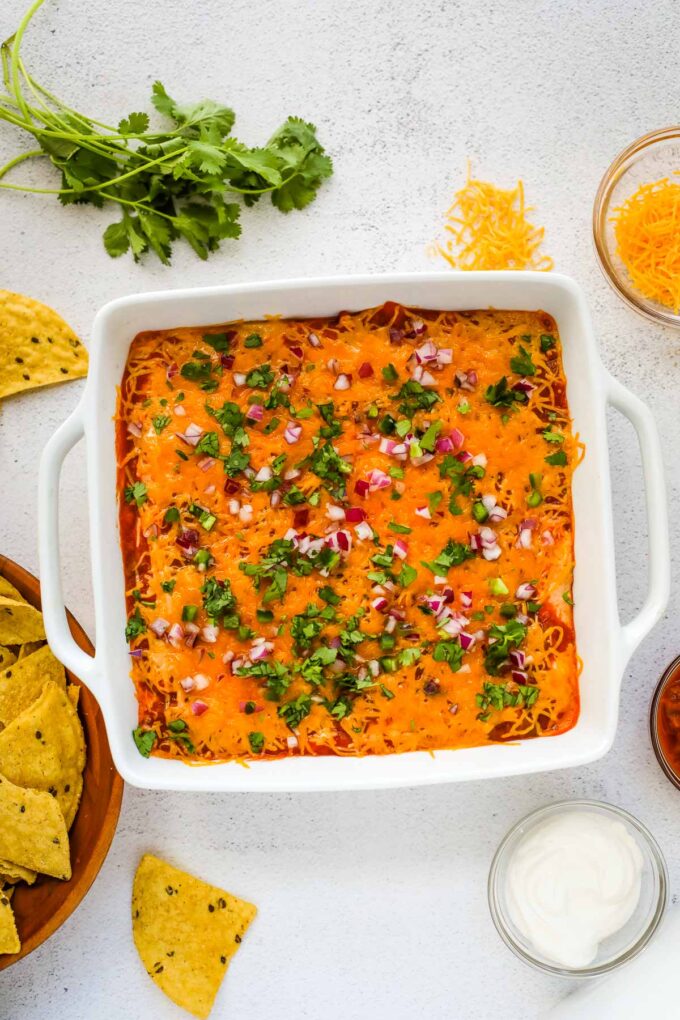 I'm so excited to partner with McCormick Gourmet™ for this recipe, because my pantry is always stocked with their spices! This Warm Taco Dip is made with their Ancho Chile Pepper, Chipotle Chile Pepper, and Cayenne Pepper, so you can be sure each bite is filled with heat! To balance out the flavor, I also added McCormick Gourmet™ Ground Cumin and plenty of Garlic Powder.
Tips for Stocking Your Spice Cabinet
It's no surprise that spices can add tons of flavor to your favorite dishes, but most of us reach for the same familiar spices, and I want to challenge you to add a few new ones into the mix! Quality spices make a huge difference, and McCormick Gourmet™ Spices are a great way to liven up everyday recipes.
If you love spicy flavors, stock your pantry with Ancho Chile Pepper, Chipotle Chile Pepper, and Cayenne Pepper! Each of these spices adds a different dimension of heat to your dish. Play around with these flavors to see which one, or which combination, is your favorite!
I'm a huge fan of Garlic Powder and Ground Cumin, and I love keeping these on hand for dips and hummus. If you haven't replaced these in a while, give them a sniff. If you don't smell a strong scent, it's probably past its prime, and it's time to replace it!
I picked up all of these McCormick Gourmet™ spices in the spice aisle at Publix!
How to Make Warm Taco Dip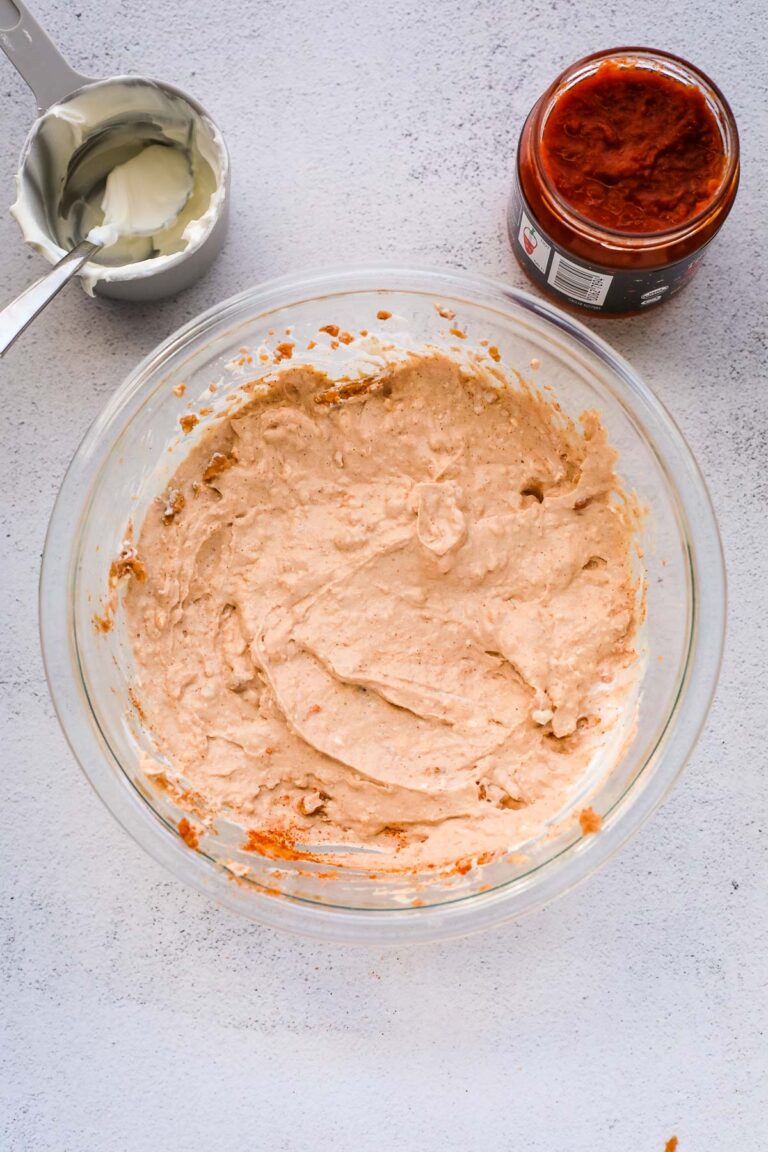 Frequently Asked Questions
Are refried beans vegetarian? Not always. Many retired beans are made with lard. Be sure to buy vegetarian refried beans or fat-free refried beans. I recommend checking the ingredients just to be sure.
How should I store leftovers? Keep leftovers covered in the fridge for up to 3 days. See below for reheating instructions.
Can I make this in advance? Yes! You can make it in advance and then bake it just before you're ready to serve it. You can also reheat it, although I recommend serving it fresh out of the oven, if possible. To reheat, microwave on 50% power for 3-4 minutes until heated through, or place it back in the oven at 350 degrees for 12-15 minutes. Avoid adding the cilantro, onion, and jalapeño if you plan to reheat the dip.
Can I make this lower in fat? Yes! You can substitute Greek yogurt for the sour cream, and you can use reduced fat cream cheese and cheddar cheese. Don't worry, this dip will still have tons of flavor!
Serving Suggestions
Obviously, tortilla chips are the most popular thing to serve with Taco Dip, but feel free to get creative! This dip is also delicious served with slices of bell pepper or plantain chips. You could also add this directly on to your favorite tacos or enchiladas or serve it with this Mexican Lasagna.
More Dip Recipes
Print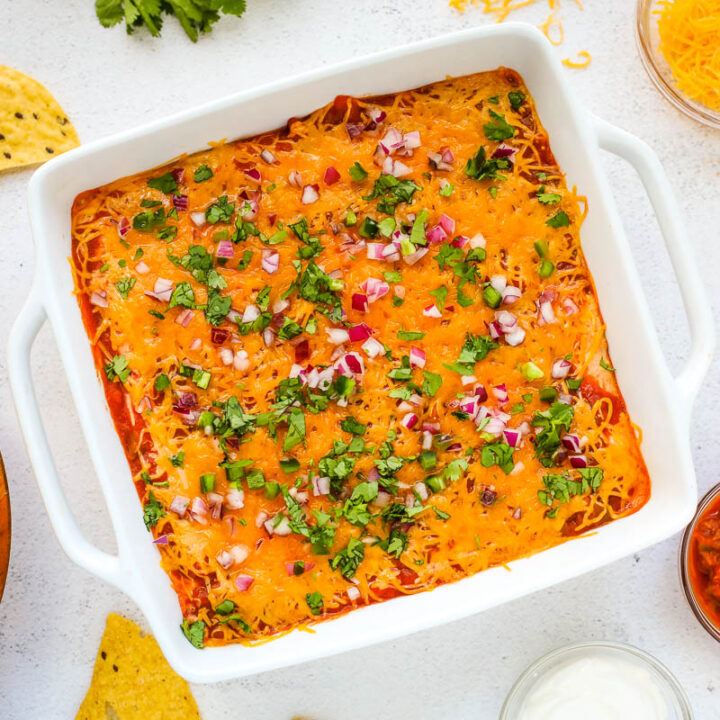 Warm Taco Dip
Author:
Prep Time: 5 minutes
Cook Time: 25 minutes
Total Time: 30 minutes
Yield: 10 servings 1x
Category: Dip
Method: Baked
Cuisine: Mexican
Diet: Vegetarian
---
Description
This Warm Taco Dip is creamy and cheesy with plenty of spicy flavor. It's the perfect side dish to serve with your favorite tacos or enchiladas!
---
8 oz. cream cheese, softened
1 cup sour cream
1 can (15 oz.) vegetarian refried beans
1 teaspoon garlic powder
1/4 teaspoon cumin
1/2 teaspoon cayenne pepper
1/4 teaspoon ancho chile pepper
1/4 teaspoon chipotle chile pepper
1 cup salsa
2 cups shredded cheddar cheese
2 tablespoons diced red onion (optional)
1 tablespoon chopped fresh cilantro (optional)
1 tablespoon diced jalapeño (optional)
---
Instructions
Preheat oven to 350 degrees.
In a large bowl, combine the cream cheese and sour cream.
Mix in the refried beans and seasonings. Stir until combined.
Scoop the mixture into the bottom of a small casserole dish.
Top with salsa, then cheese.
Bake for 25-30 minutes until cheese is melted and bubbly.
Top with avocado, jalapeño, red onion, and cilantro.
Looking for a main dish to serve with this warm taco dip? Try these delicious buffalo chickpea tacos!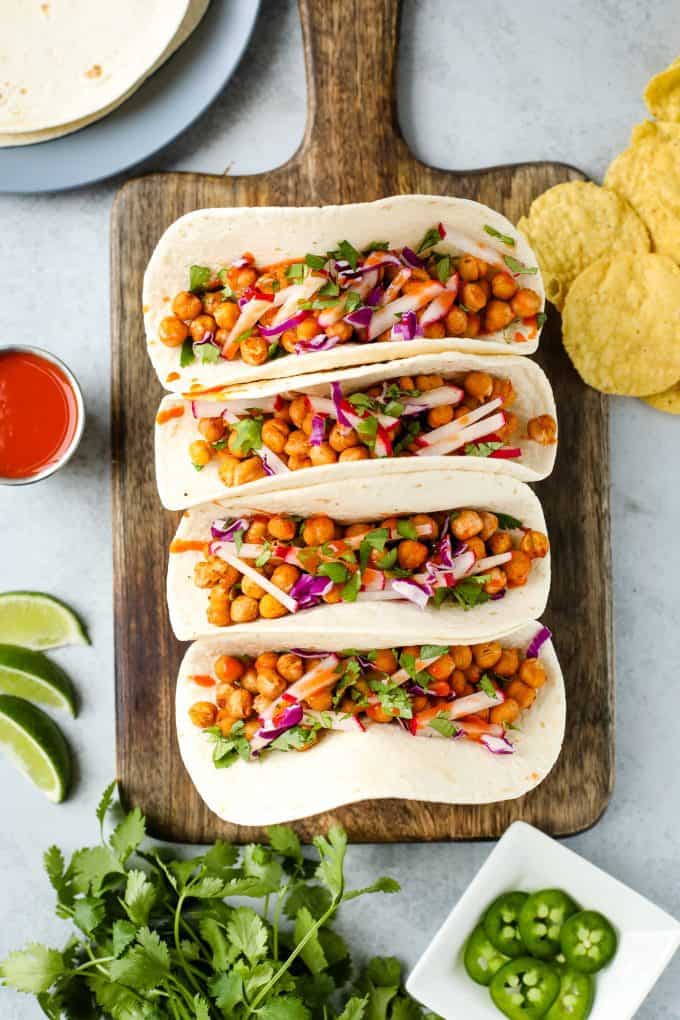 This Warm Taco Dip is definitely going to be a new Taco Tuesday staple at my house! Leave a comment below and let me know what kind of tacos you'd serve this with!