Vegan Tortilla Wrap
This simple vegan tortilla wrap is filled with chickpeas, carrots, cabbage, avocado, and a simple tahini dressing. It's easy to make but this wrap doesn't skimp on flavor!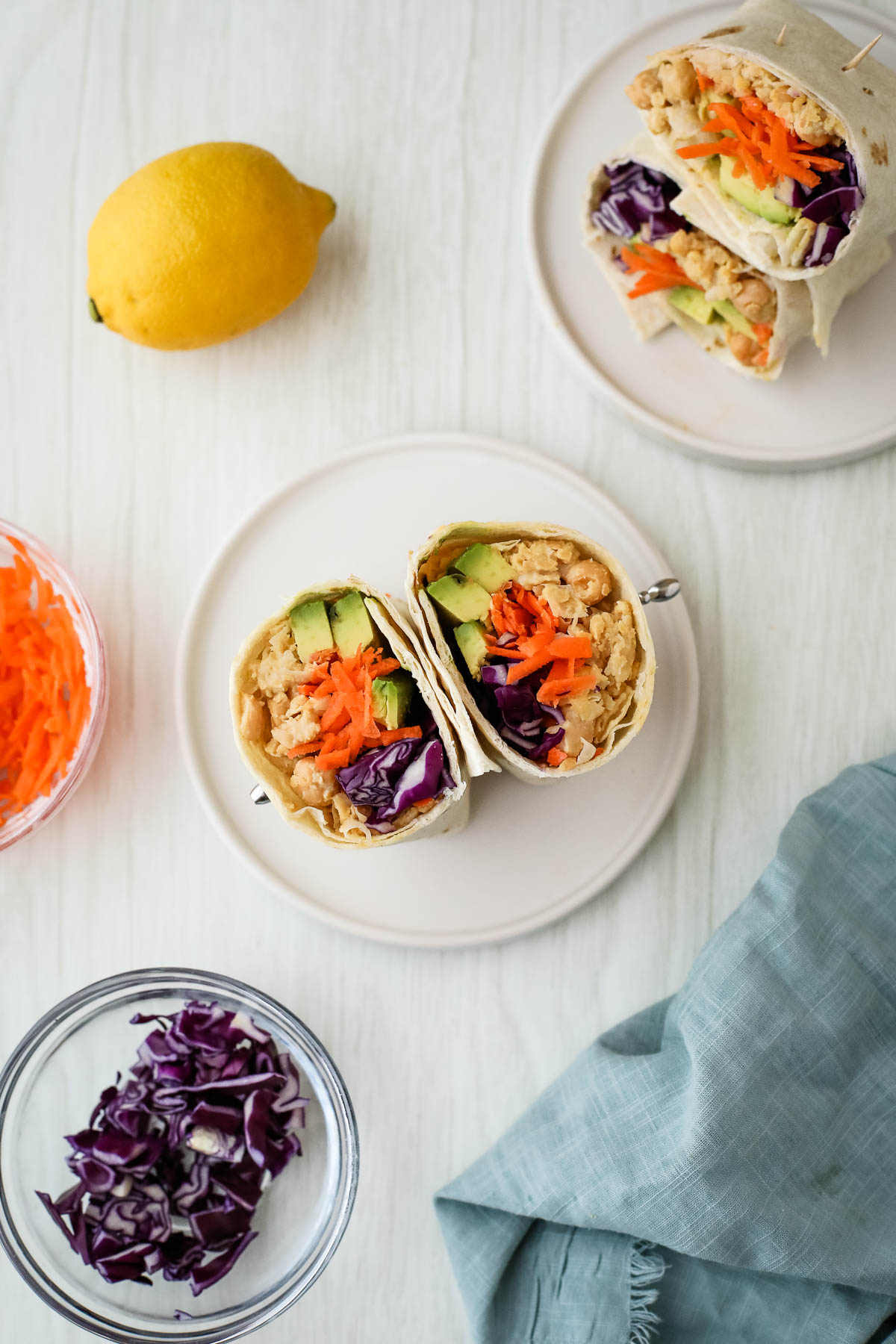 I have to admit I don't eat a lot of sandwiches or wraps. It can be hard to find meat-free sandwich options. But I know I'm not the only one who needs quick and easy lunch ideas, so I played around with a few different wrap ideas. Ultimately, this was my favorite because it was filling, flavorful, easy, and flexible. No matter what you have in your fridge and pantry, I have plenty of substitutions so you can make this wrap work for you!
Ingredients and Substitutions
Wrap– I used large burrito sized flour tortillas for this wrap but you could also use a lettuce wrap, a gluten-free wrap, or a whole wheat wrap. You could even eat this as a salad without any wrap.
Beans– I used chickpeas but this recipe could work with other white beans like cannellini beans or great northern beans. You could also substitute this for crispy tofu, edamame, or tempeh bacon. As long as you have a source of protein to make this wrap filling, it can be flexible.
Vegetables– I did a combination of shredded carrots and cabbage because I like the color and crunch! But you could use diced celery, chopped romaine, cooked sweet potatoes, bell pepper strips, thinly sliced red onions, and/or spinach.
Avocado– I love the creaminess of the avocado but if you don't have any, don't worry. You could substitute it with hummus or your favorite sandwich spread. Vegan mayo could also replace some of this creaminess.
Dressing– I made a simple tahini dressing to mash with the chickpeas, but feel free to use a bottled dressing if you prefer. You could use your favorite ranch dressing, my vegan Caesar dressing, this cilantro sauce, or even this quesadilla sauce. Alex had it with the quesadilla sauce and liked it!
How to Make Tortilla Wraps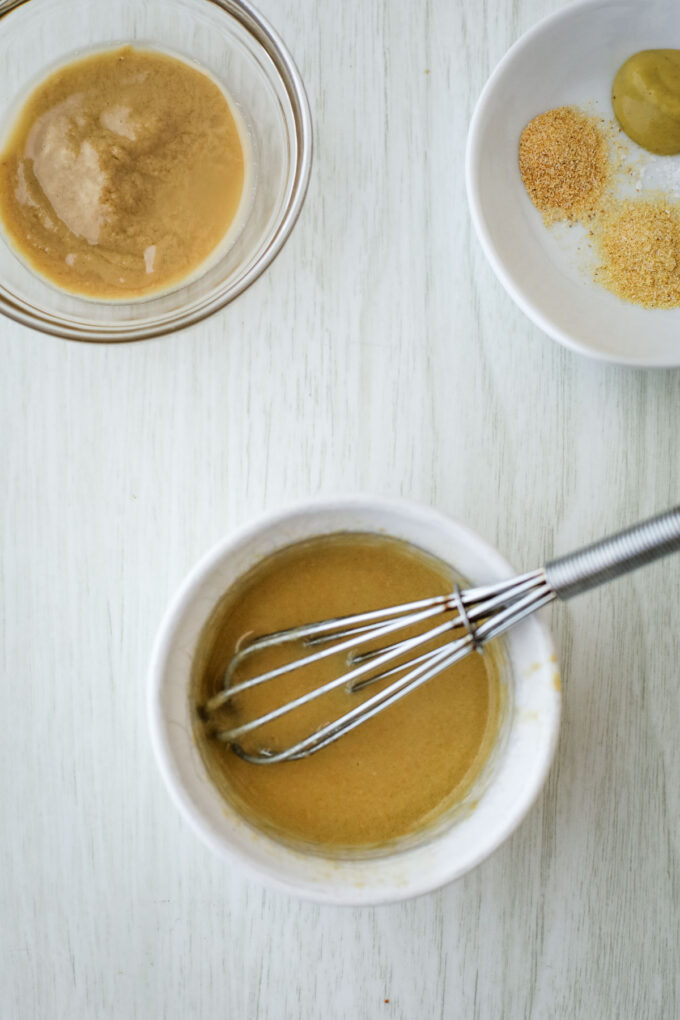 Tips for the Perfect Wraps
I recommend warming the tortillas before rolling them to make them more flexible. Place the tortillas on a microwave safe plate. Cover with a damp paper towel and microwave for 15-20 seconds. This will make them more pliable and easier to work with.
Taste the mashed chickpeas before adding them to the wrap. You may want to add additional salt and pepper or seasonings.
I recommend sticking a toothpick in at each end of the wrap before slicing it in half. That way it stays together, and it's easier to eat.
Frequently Asked Questions
What tortilla wraps are vegan? It depends on the brand so be sure to check the packaging. Some tortillas are made with lard, which is not vegetarian. I also have a recipe for vegan whole wheat tortillas if you want to make them at home!
How should I store leftover wraps? I recommend storing the fillings separately in air tight containers in the fridge. Wait to assemble the wrap until ready to eat. (Although you can assemble the wrap in the morning and enjoy it at lunch!)
Print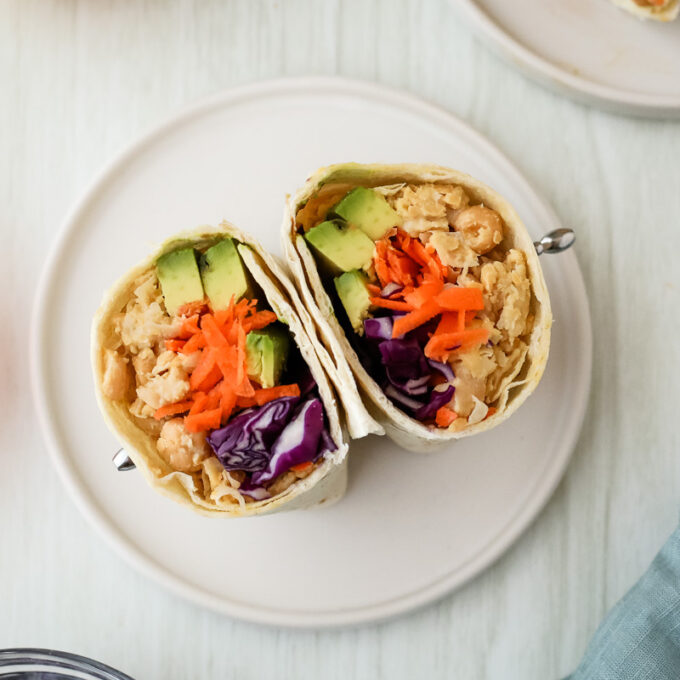 Vegan Tortilla Wrap
Author:
Prep Time: 15 minutes
Cook Time: 0 minutes
Total Time: 15 minutes
Yield: 2 large wraps 1x
Category: Dinner
Method: No Cook
Cuisine: American
Diet: Vegan
---
Description
This simple vegan tortilla wrap is filled with chickpeas, carrots, cabbage, avocado, and a simple tahini dressing. It's easy to make but this wrap doesn't skimp on flavor!
---
1 15oz can chickpeas, drained and rinsed
1 tablespoons olive oil, divided
1/4 teaspoon garlic powder
1/4 teaspoon onion powder
1 tablespoon lemon juice
1 teaspoon Dijon mustard
1 tablespoon tahini
1/4 teaspoon salt
1 avocado, sliced into thin strips
1/2 cup shredded carrots
1/2 cup thinly sliced cabbage
2 large tortillas

---
Instructions
In a large bowl, whisk together the olive oil, tahini, dijon, lemon juice, and spices.
Add the chickpeas to the dressing and mash the chickpeas with a fork.
Spread the wraps on a large plate. Divide the chickpeas, veggies, avocado, and dressing between 2-3 large tortillas.
Wrap tightly, slice in half, and enjoy.
---
Keywords: vegan tortilla wrap
More Wrap Recipes