30 Plant Based Lunch Ideas
With back to school season around the corner, it seemed like the perfect time to share some inspiration for plant based lunch recipes! Whether you're cutting back on meat and dairy, or you're looking for vegan lunch options, this list should give you lots of inspiration to get started! All of these recipes are 100% vegetarian, and many of them can be made vegan!
Plant Based Wraps & Sandwiches
These chickpea salad sandwiches are one of my favorite lunch recipes! They can easily be made vegan, and you can put the chickpea salad in a lettuce wrap if you're looking for a lower-carb option! Make a double batch for easy lunches all week long!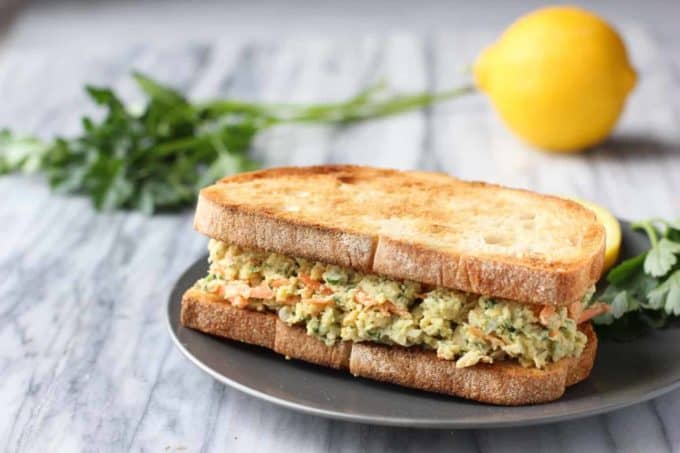 This vegan eggplant sandwich is so delicious that you'll keep making it over and over again. Layers of smoky eggplant and fresh vegetables are packed in panini bread, then toasted till perfection! Ideal for lunchboxes, picnics, and lunches on the go!
This simple veggie wrap is loaded with healthy veggies, crunchy apples, and a spicy hummus for a burst of flavor. It makes a super fast and easy lunch!.
Pita pockets with roasted veggies are a healthy and delicious meal you will look forward to. These vegan rainbow pita pockets are effortless and quick to make and can be eaten warm or cold.
This isn't your usual "egg" salad. This flavorful Tofu Egg Salad is stuffed into cozy, toasty pita pockets for its own, delicious spin on the lunchbox staple!
These avocado salad sandwiches come together in just minutes! Add a squeeze of lime juice or lemon juice to keep these fresh from morning until lunchtime.
Try these crunchy vegan wraps filled with oven-roasted chickpeas, BBQ sauce, lettuce, and tomatoes. It's a super tasty tortilla wrap that makes a deliciously healthy plant based lunch.
This curried chickpea salad is packed full of flavor, and the chickpeas are super satisfying. If you love curry flavors but need a sandwich option to grab and go, this is the answer!
These Vegan Taco Wraps have all the tastiness of tacos in a convenient wrap form. They're perfect for those days when you're craving a taco but want it in something other than a taco shell.
Plant Based Power Bowls
You can meal prep these Cuban black beans and rice for easy lunches all week long. These are quick to reheat, and they're packed with flavor! Plus, they're vegan and gluten-free.
Use leftover lentils in this easy lentil power bowl recipe for a plant based lunch that takes less than 5 minutes to assemble!
Chana masala is packed with plant based protein thanks to the chickpeas. This recipe reheats really well, so it's a great one to meal prep!
These vegan corn chowder can be made days in advance and warmed up when you're ready to enjoy it!
This easy Gazpacho Soup is made with fresh tomatoes, cucumbers, and bell peppers. Gazpacho is served cold, which makes it a great soup for a packed lunch! No heating is required.
15 minutes is all you need to prep this Mediterranean couscous and chickpea salad! It's a great make-ahead recipe that can be enjoyed chilled or at room temperature.
Forget takeout! 15 minutes is all you need to make these vegan Thai peanut noodles! They're full of flavor for a quick and easy lunch.
Try this make-ahead Mediterranean style pasta dish for a delicious, nutritious, and easy lunch. You can serve it cold, so there's no need to find a microwave!
This southwestern quinoa bowl is perfect for a cold lunch! Plus, it's packed with protein and fiber to keep you full.
This Mediterranean Chickpea bowl is one of my favorites! And the flavors are even better after it's been chilled for a couple of hours, making this the perfect packed lunch!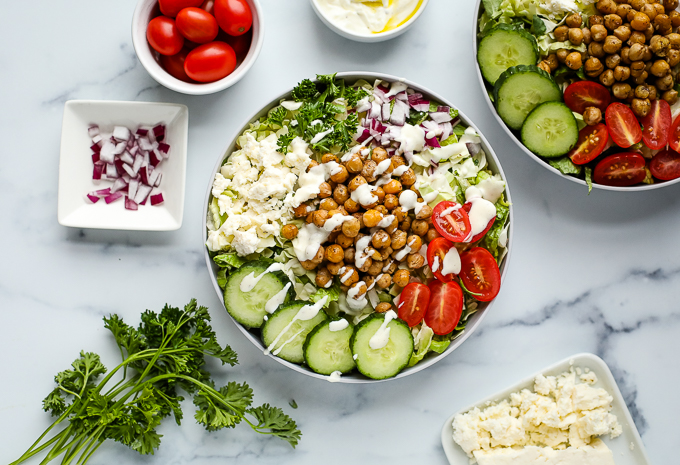 Plant Based Salads
This delicious, vegan salad is made with quick-cooking couscous, spinach and tomatoes, and a light orange dressing. Perfect for a quick and easy packed lunch!
This delicious orzo pasta salad combines Greek flavors for a delightful lunch that can be served chilled or at room temperature!
This Mexican Mason Salad jar salad is like a deconstructed version of tacos. It is loaded with the goodness of homemade salsa, kidney beans, corn, guacamole, and much more!!
Make this lemony whole wheat Kamut Tabbouleh Salad with fresh cucumber, tomatoes, and lots of fresh herbs. It's a perfect plant based lunch that doesn't need to be reheated.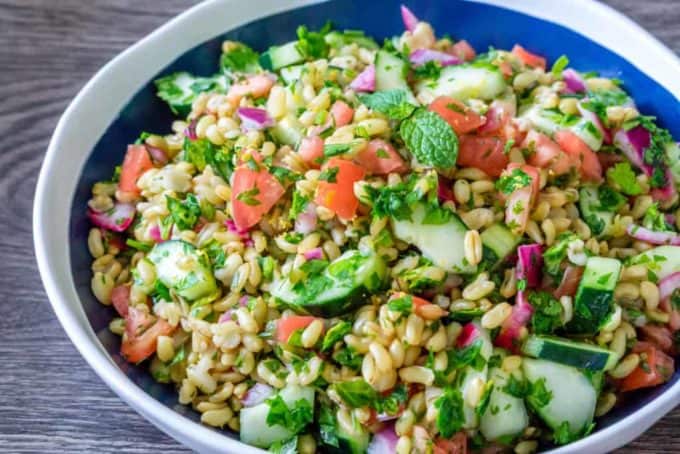 Are you bored of the same old salads? Try this easy and quick apple chickpea salad. Pan-roasted chickpea is combined with apples, celery and served with avocado peanut butter dressing for an unexpected flavor combination!
This delicious vegan Panzanella salad is made with crusty bread, avocado, and tomatoes! It's a tasty and filling lunch recipe!
This quinoa chickpea salad is like summer in a bowl and comes together in less than 30 minutes! Plus, it can be enjoyed cold or at room temperature for a relaxed lunch.
Skip the boring salad and try this Mediterranean butternut squash salad instead! The olives and sun-dried tomatoes give this salad plenty of flavor, and it's loaded with vegetables so you'll feel amazing!
Salada de Grao de Bico is a delicious Portuguese Chickpea Salad. Chickpeas, bell peppers, onions, garlic, and parsley are tossed with oil and vinegar to make a fantastic salad that is perfect for potlucks!
A cold pasta salad is a perfect dish for a lunchbox because you don't have to worry about reheating! You can't go wrong with such a simple yet delicious meal.
What's you're favorite lunch recipe? Leave a link in the comments below!