Street Corn Salad
This Street Corn Salad is my favorite side dish to serve with tacos or fajitas! It's great for a crowd because you can make it ahead of time and you can make it as spicy or as mild as you like.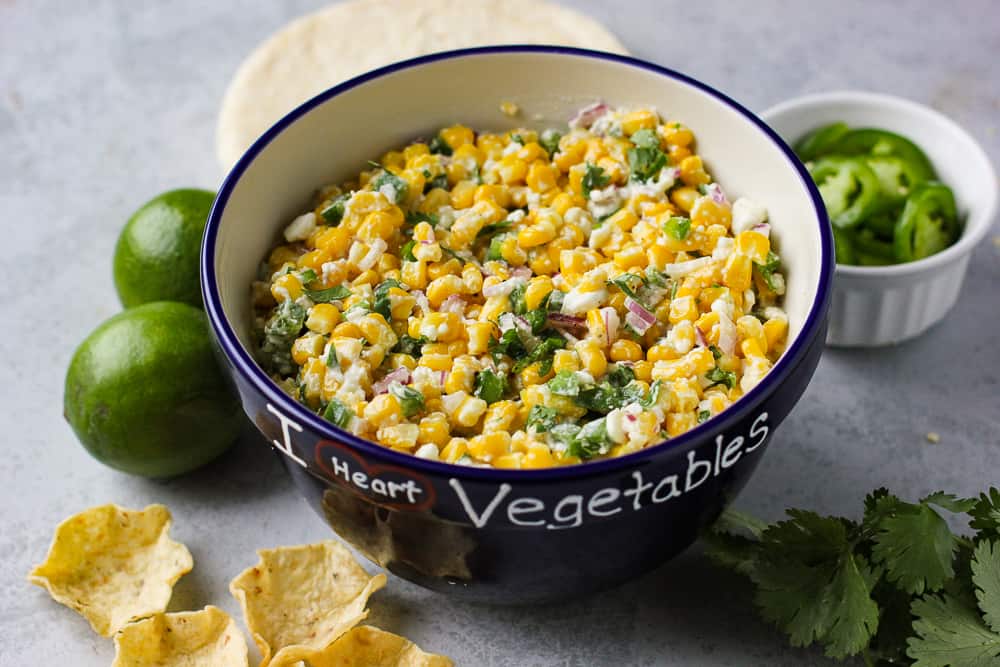 The first time I tried street corn, I was hooked. But I didn't love how messy it was to eat! So I was excited to learn about a dish called Esquites. It's Mexican street corn served off the cob in a cup. It's the perfect side dish for your favorite Mexican food and you're less likely to end up with cheese on your chin. This isn't an authentic recipe, but it's easy to make and it's a tasty side dish for tacos! If you're looking for an authentic Esquites recipe, try this one.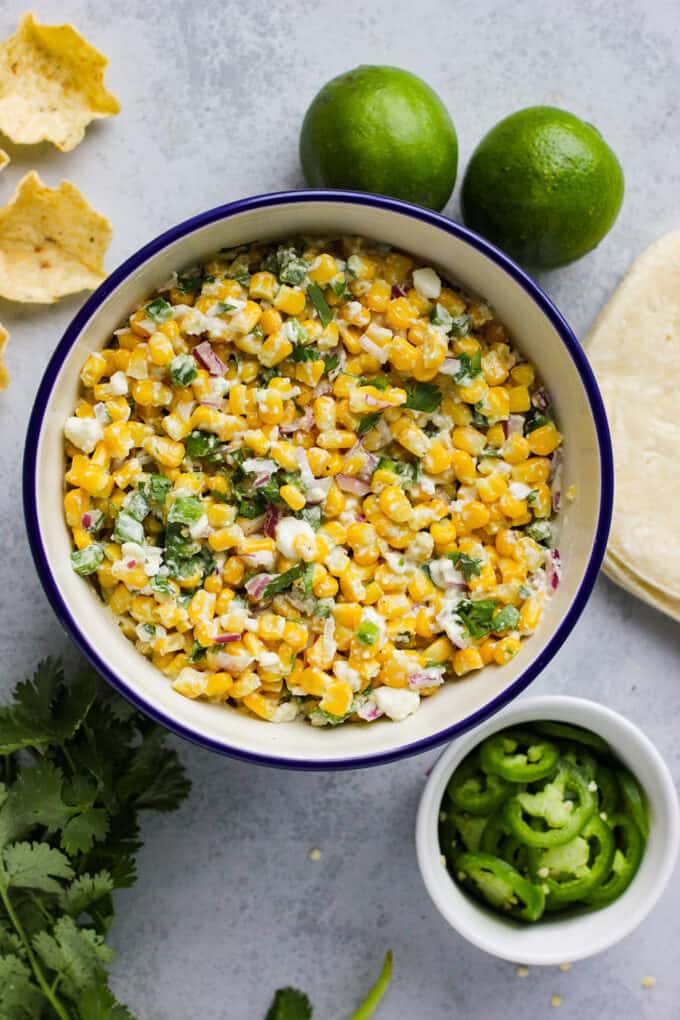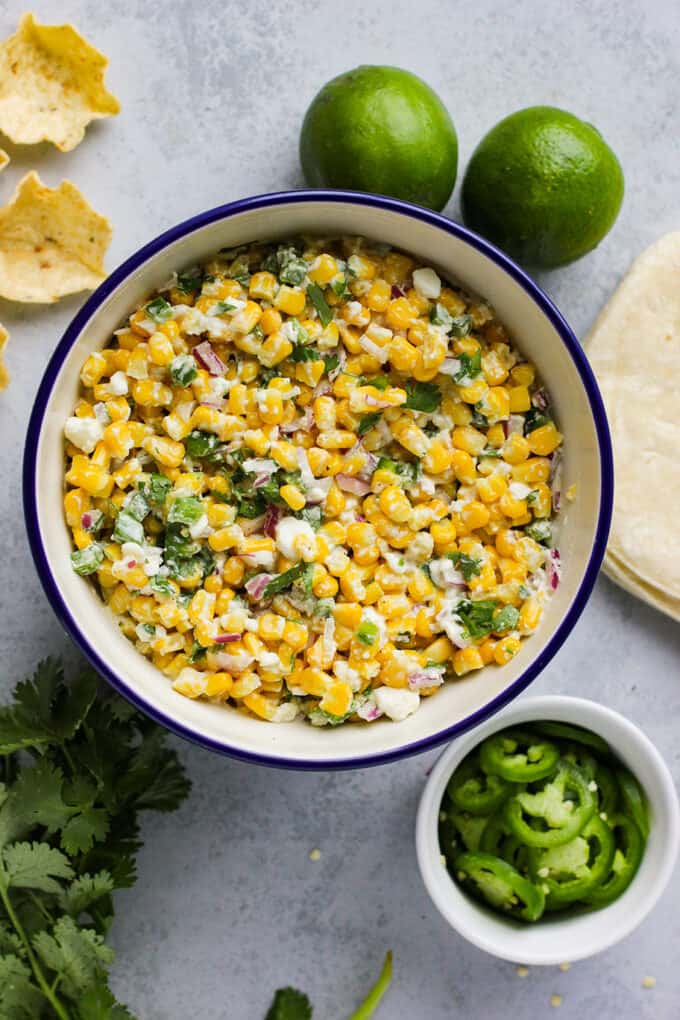 Tips for Making the Perfect Street Corn Salad
If you like it spicy, you can add a whole jalapeño! Just be sure to finely dice it so the heat is evenly distributed.
This is great served with tacos or fajitas as a side dish but it's also great as a chip dip!
Be sure not to overcook the corn. You want it slightly toasted but not mushy. If you don't have a really large skillet, heat the frozen corn in batches to avoid overcooking the corn. I usually use frozen corn so once it's thawed and bright yellow, I remove it from the heat. It should look like the corn below.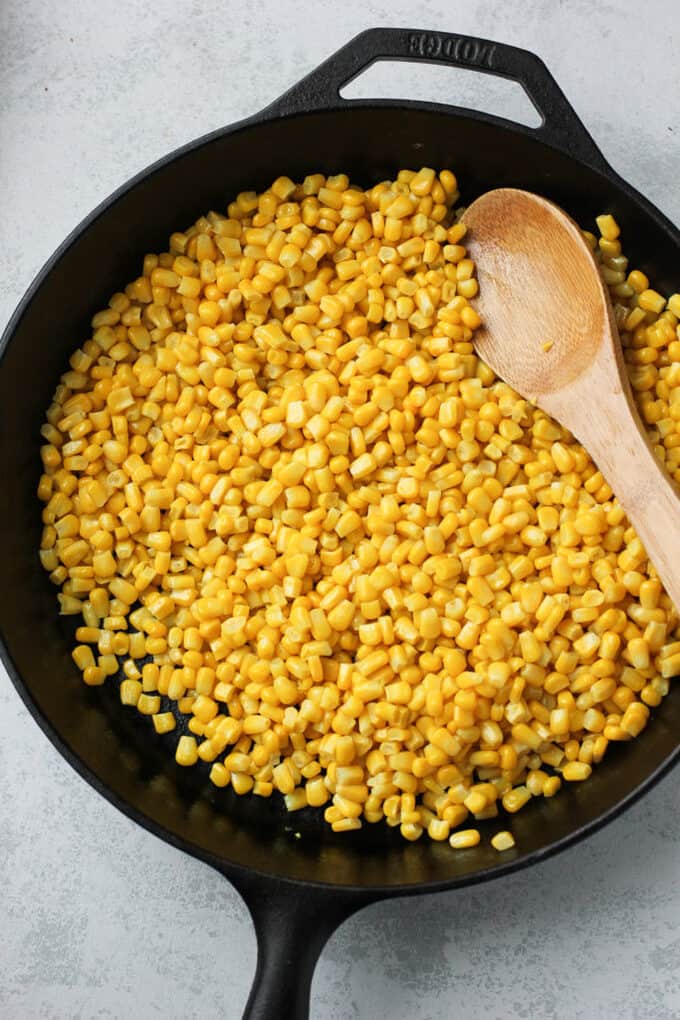 How to Serve Street Corn Salad
Serve it as a dip with tortilla chips
Enjoy it on top of your favorite tacos or taco salad!
How to Store Leftovers
This salad is actually better when it's made a few hours in advance because it gives the flavors time to combine! So feel free to prepare it in advance. If you have leftover salad, store it in the fridge in a sealed container or with plastic wrap.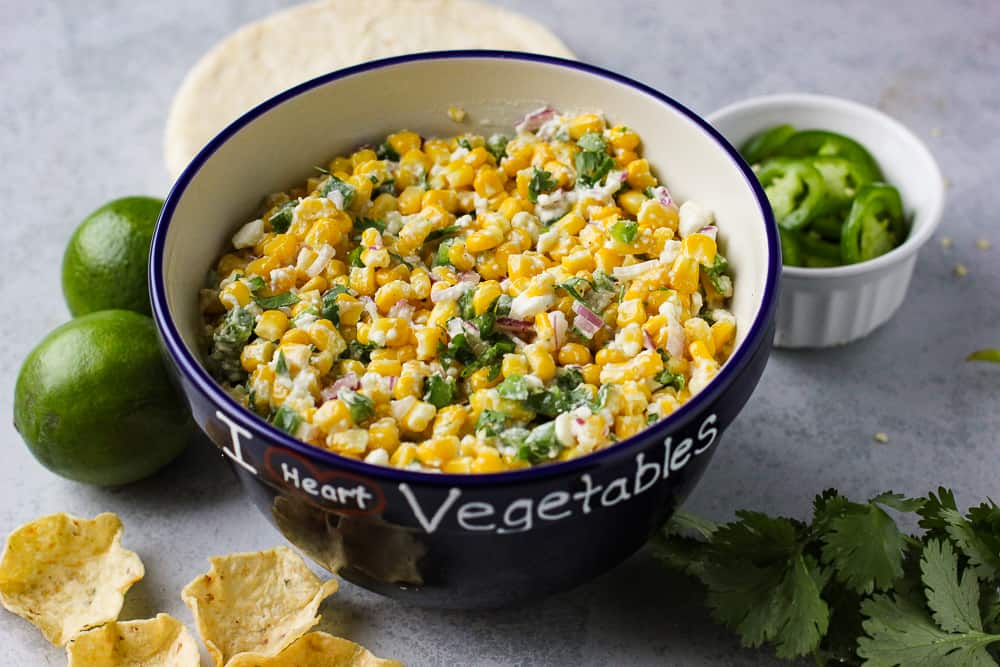 Substitution Ideas
If you don't have any fresh limes, substitute a squeeze of lemon juice instead. It can work in a pinch! You can also buy lime juice and store it in the fridge. Santa Cruz makes a great lime juice that tastes just like fresh squeezed lime juice!
This recipe calls for feta cheese because that's usually easier to find. But if you have cotija cheese, feel free to use that for a more authentic flavor! You can also use queso fresco.
You can use fresh, frozen, or canned corn. Look for sweet corn, if you can find it. Do not use creamed corn.
Print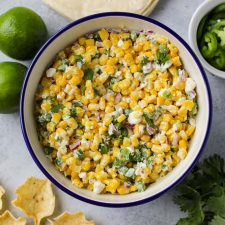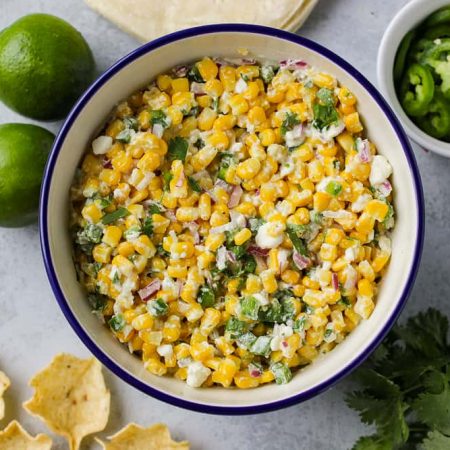 Street Corn Salad
Author:
Prep Time: 10 mins
Cook Time: 10 mins
Total Time: 20 minutes
Yield: Serves 12 1x
Category: Side Dish
Method: Stovetop
Cuisine: Mexican Inspired
---
Description
This Street Corn Salad is a great side dish to serve with tacos or fajitas!
---
1 tablespoon olive oil
24 oz frozen corn (about 5 cups of corn)
1/4 cup mayonnaise
8 oz queso fresco or feta cheese, crumbled
2 tablespoons fresh lime juice
1/2 jalapeño, diced
3 tablespoons diced red onion
1/2 cup chopped cilantro
1/4 teaspoon chili powder
3 cloves garlic, finely minced
Pinch of red pepper flakes
1/2 teaspoon salt (or to taste)
---
Instructions
Heat the olive oil in a large skillet over medium heat, for 30 seconds.
Add the frozen corn and cook over medium heat for 8-10 minutes, stirring frequently. (The corn should be warm but don't overcook the kernels or they'll become mushy.)
In a large bowl, combine the mayonnaise, cheese, and lime juice.
Stir in the diced jalapeño, red onion, cilantro, chili powder, garlic, and red pepper flakes.
Add in the corn into the cheese mixture and stir until well coated.
Add salt to taste, then serve.
Notes
This street corn salad can be served warm, cold, or at room temperature.
Keywords: Mexican Street Corn Salad, Mexican Side Dish, taco side dish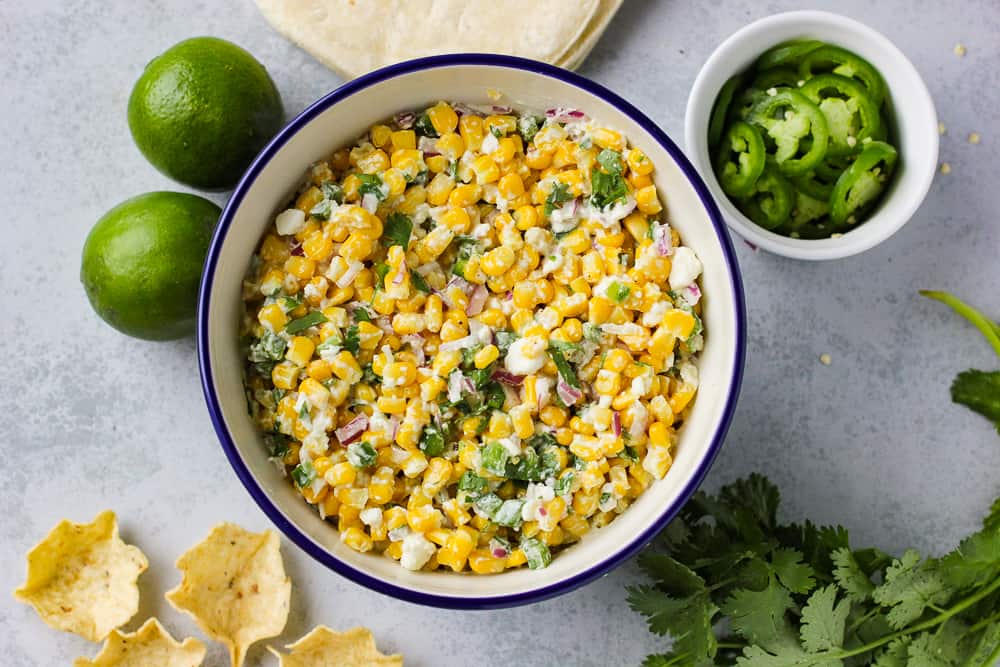 One of the things I love about this side dish is that you can make it ahead of time and then just pop it in the fridge for a couple of hours. This recipe makes a huge batch and it always gets eaten. I think that's a pretty good sign!
Looking for something to serve it with? This spicy street corn salad goes perfectly with these 5 ingredient black bean enchiladas!
Need a vegan side dish option? Make this black bean and corn salad or try it with a side of Cilantro Lime Rice or Mexican Brown Rice, or make seasoned rice in your rice cooker!
What is your favorite taco side dish?