Save Money and Be Eco-Conscious with These Cleaning Tips

This post is sponsored by Infuse. As always, all thoughts & opinions are my own.
As a full-time food blogger, I make a mess in the kitchen on a daily basis. I often make 2-3 recipes at once, which means cleaning the kitchen can be quite a task. I wanted to share a few of my best tips for keeping your house clean while saving money and being gentle on the planet.
Clean your surfaces before you disinfect.
Remove any dirt and grime before you use disinfectant. It will help the disinfectant work better and it'll save you from wasting more disinfectant than you need. Also, be sure you're cleaning top to bottom. For example, clean countertops first and then the floor, so you don't accidentally wipe crumbs onto a clean floor.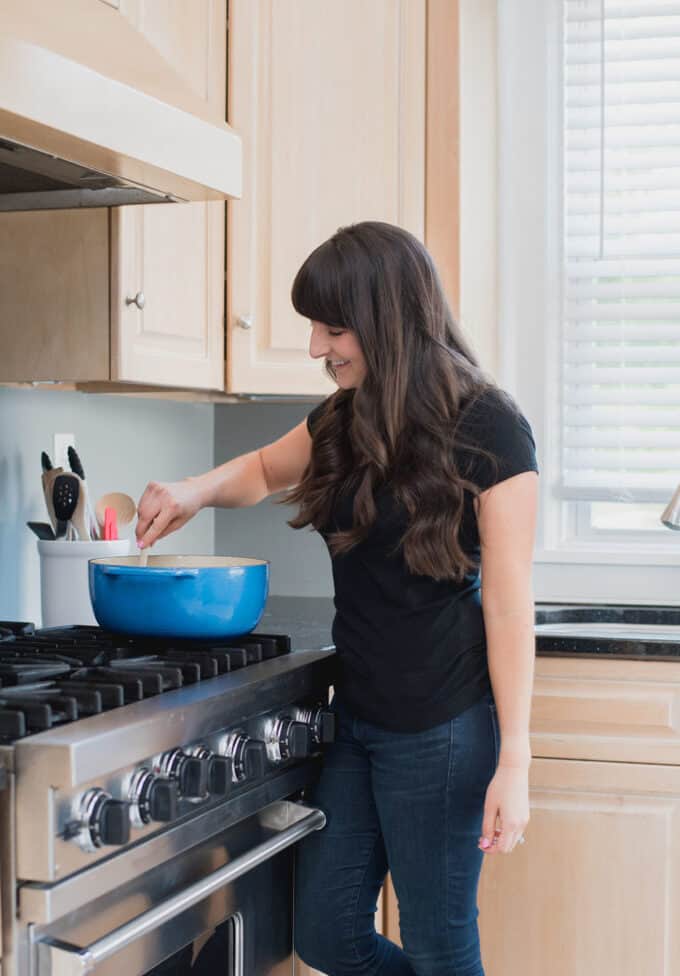 Save money (and reduce waste!) by using reusable cleaning items.
Using things like a washable mop pad, refillable spray mop, and refillable spray bottles can help you avoid single-use plastics. For example, 1 reusable mop pad from Infuse costs $7.99 and lasts over 100 uses. Whereas disposable mop pads cost around $12.50 for 24! Infuse cleaning products come with a cleaning concentrate that you mix with water which means lower shipping costs and a smaller carbon footprint. It's better for the environment and better for your wallet!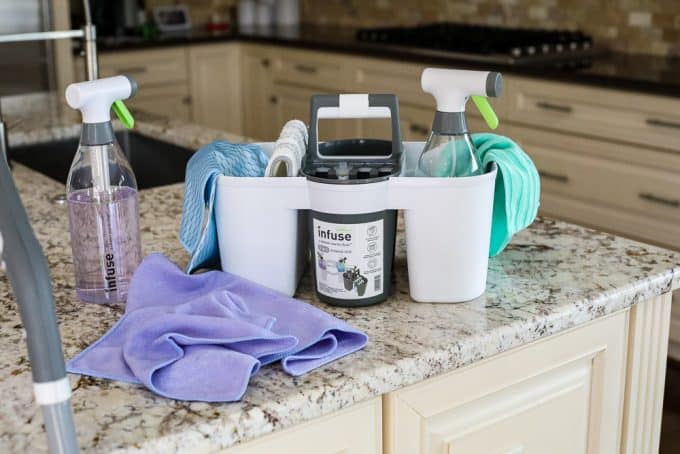 Another big way to cut down on waste is to switch to a reusable cloth instead of paper towels. This was a hard habit for me to break. I reached for paper towels constantly. Whether I was wiping down the countertops or just drying my hands, I found myself reaching for the paper towel roll a dozen times a day. To change my habits, I make sure that I always have a towel near the sink to dry my hands and I keep a microfiber cloth hanging in the sink so it's easy to wipe down countertops. After a day or two, it gets tossed into the washing machine and I set out a new one!
Look for non-toxic products with proven cleaning ability.
I love Infuse cleaning products because they're powerful and effective but they're also non-toxic so they are safe to use around pets and kids. The non-toxic SaferShine formula is free from carcinogens, phthalates, and parabens. Now that Alex and I are parents, it's made me more aware of the need for non-toxic products.
Don't forget to clean surfaces like cutting boards, the sink, and sponges.
To clean a wooden cutting board, slice a lemon in half. Sprinkle coarse salt over the cutting board and rub with half a lemon. Rinse clean and then let it dry!
For the sink, I like to give it a good scrub with soap and water.
For sponges, soak them with water, then microwave for 1-2 minutes, depending on the type of sponge.
Following these tips can keep your kitchen clean and your family healthy! Stock your cleaning basket with these Infuse products and you can save money while being gentle on the planet! You can find all of these items at Target or Target.com.
This is a sponsored post written by me on behalf of Infuse.