Instant Pot Mexican Quinoa
This Instant Pot Mexican-inspired quinoa is an easy "dump and go" recipe. Simply add the ingredients to your pressure cooker, turn it on, and dinner is ready in minutes!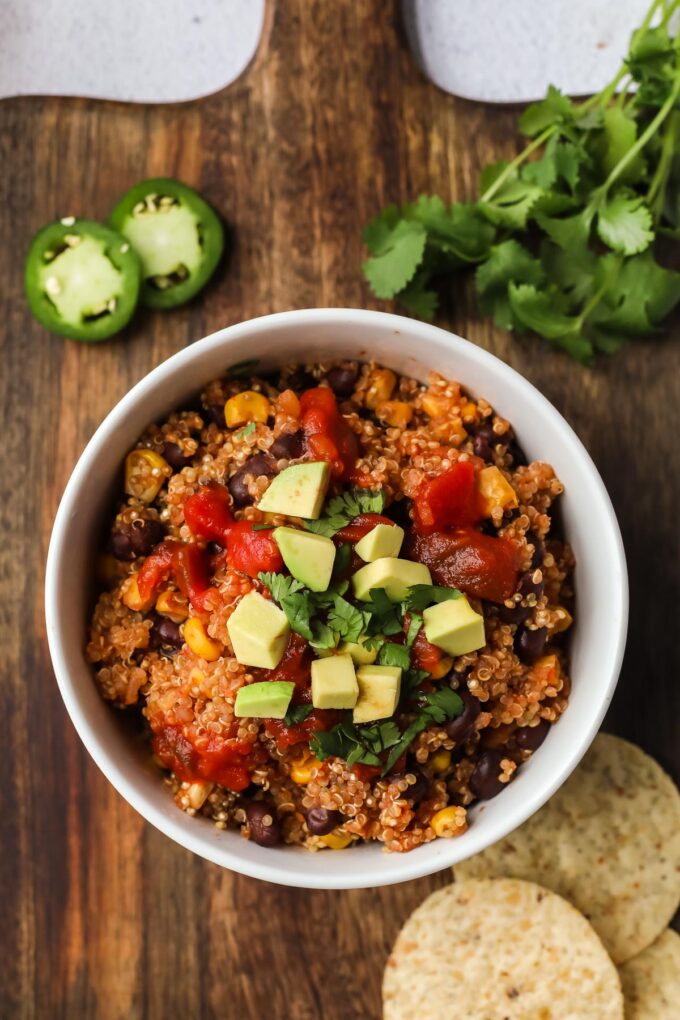 I love this recipe because it requires almost no prep! You simply add all of the ingredients to the Instant Pot, press start, and in minutes, your dinner is ready. There's no chopping and no sautéing, so it's almost completely hands-off!
This recipe is also great for meal prep because it can be made in advance and reheated throughout the week. It's filled with plant-based protein and fiber thanks to the quinoa and the beans. It's perfect for a healthy and filling lunch or dinner!
What is Quinoa?
If you're not familiar with quinoa, it's a seed that cooks like a grain. Check out my post about quinoa to learn more about what it is, where to buy it, and how to use it. I love it because it's a great source of protein and nutrients. It's affordable and it lasts a long time in the pantry. You can typically find it by the rice and dried beans at the grocery store. You can even get quinoa on Amazon. You can use white, red, or tri-color quinoa in this recipe.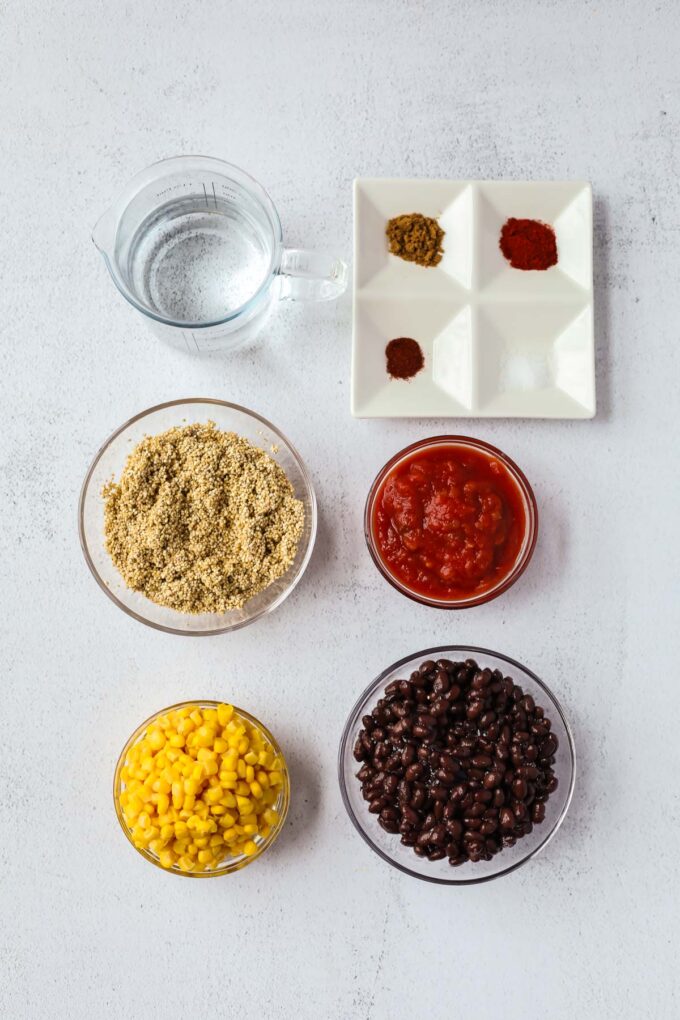 Ingredients & Substitions
Quinoa– The quinoa does not need to be pre-cooked. Be sure to rinse your quinoa if it's not pre-rinsed.
Black Beans- I recommend using no-salt added black beans, if you can find them.
Corn– You can use fresh or frozen corn.
Salsa– I recommend using a mild red salsa. If you like it spicy, feel free to use medium salsa.
Spices– I used smoked paprika, cumin, and chili powder. I didn't find this recipe to be spicy but for a more mild flavor, you can leave out the chili powder.
How to Rinse Quinoa
Most quinoa should be rinsed before cooking. Some bagged varieties will come pre-rinsed but if you're not sure, give it a rinse just to be safe. I place it in a fine mesh strainer and then run it under cool water. Be sure it's a very fine mesh strainer so the quinoa doesn't fall through. This strainer on Amazon is a great one for quinoa!
How to Make Instant Pot Mexican Quinoa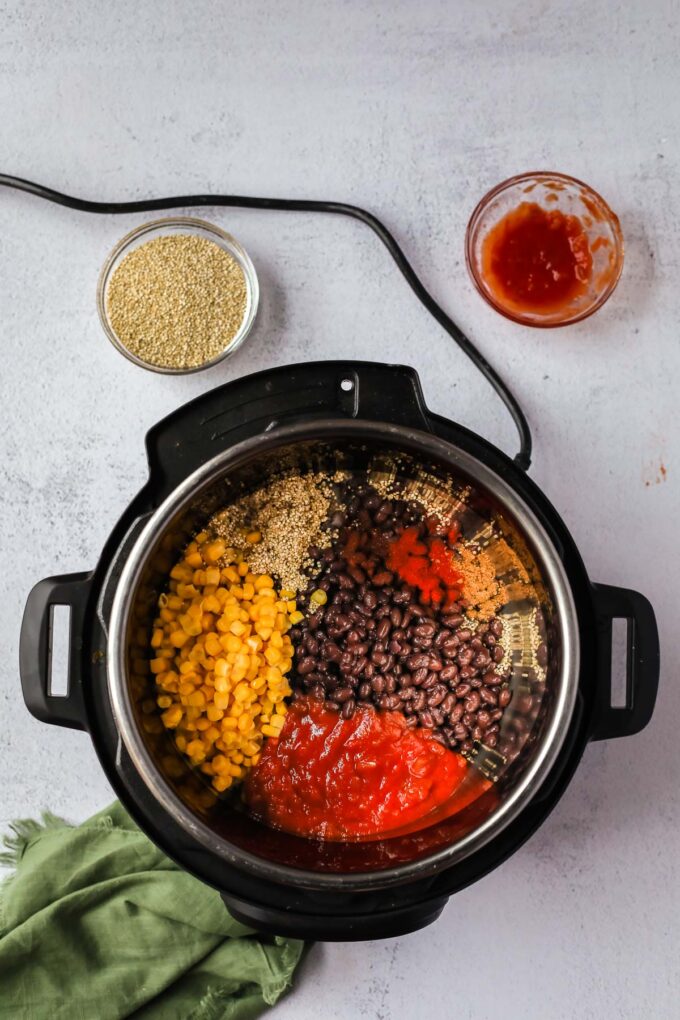 Can I make this recipe on the stovetop?
The ratios aren't exactly the same for the stovetop, as the water will evaporate differently. But if you want a stovetop version of this recipe, I recommend trying my Quinoa Taco Skillet.
How to Store and Reheat Leftovers
These leftovers can be stored for 4-5 days in the fridge, so it's perfect for a meal prep recipe. To reheat, divide into portions and microwave for 2-3 minutes or until heated through. You can also freeze leftovers. To reheat, transfer to a microwave-safe plate and microwave on 50% power for 4-5 minutes, stirring each minute, until heated through.
Mexican Quinoa Toppings
Feel free to customize this recipe with your favorite toppings! Here are some of my favorites:
Diced avocado
Fresh cilantro
Extra salsa
Fresh or pickled jalapeños
Shredded cheddar cheese
Sour cream
Diced red onion
Lime wedges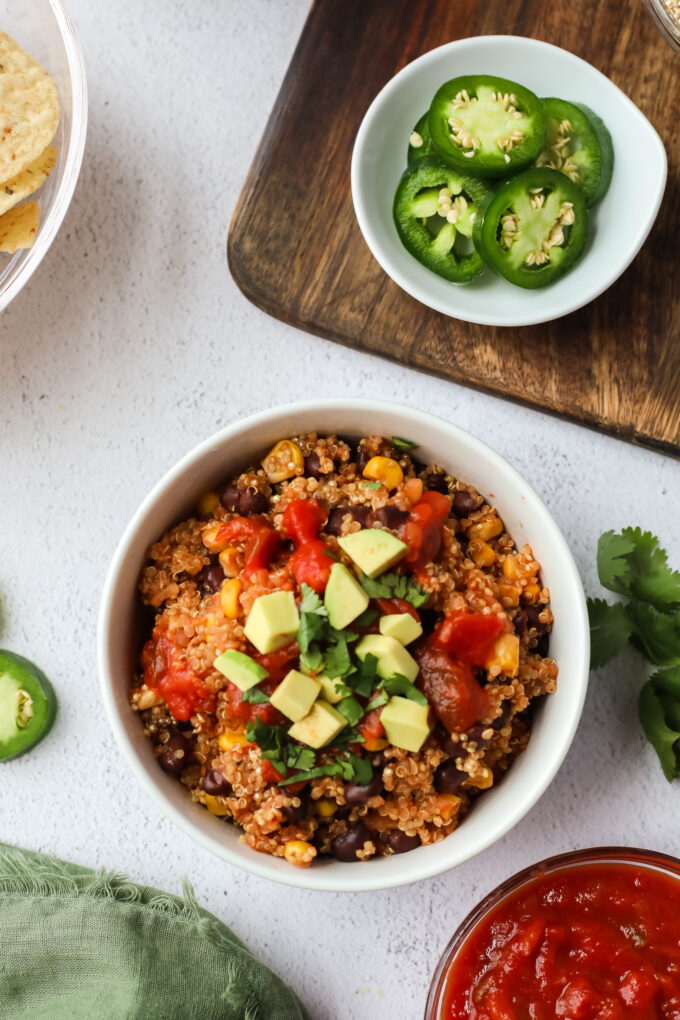 Frequently Asked Questions
Does the quinoa need to be cooked first? Nope! Just add the rinsed, uncooked quinoa right into the Instant Pot.
Is this recipe healthy? Yes! This is a great plant-based recipe that doesn't require any oil. It's a great way to get lots of vegan-friendly protein.
What about the sodium? If you're watching your salt intake, be sure to use no-salt added beans and check the salsa, which can be high in sodium.
Is this recipe gluten-free? Yes! Quinoa is a seed, not a grain, so it's naturally gluten-free.
Is this recipe vegan? Yep. All the ingredient are plant-based. Keep an eye on the toppings, though, if you're preparing this for a vegan friend. Cheese and sour cream are not vegan.
What to Serve with Mexican Quinoa
Looking for the perfect side dish to pair with this dish? Try my Mexican Street Corn Salad! It can be served as a standalone side dish or as a dip with chips. If you're looking for a vegan side dish option, try my vegan queso! It's so creamy, you'd never guess the sauce was made from vegetables!
More Quinoa Recipes
Print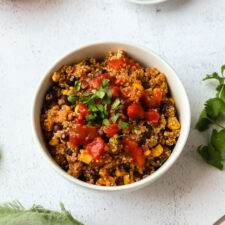 Instant Pot Mexican Quinoa
Author:
Prep Time: 5 minutes
Time to Pressurize: 10 minutes
Cook Time: 3 minutes
Total Time: 18 minutes
Yield: 4 servings 1x
Category: Dinner
Method: Instant Pot
Cuisine: American
Diet: Vegan
---
Description
This Instant Pot Mexican Quinoa is an easy "dump and go" recipe. Simply add the ingredients to your pressure cooker, turn it on, and dinner is ready in minutes!
---
1 cup quinoa, rinsed
1 15oz can black beans, drained and rinsed
1 cup corn (frozen or canned)
1 cup salsa
1/2 teaspoon ground cumin
1/2 teaspoon smoked paprika
1/4 teaspoon chili powder
1 1/2 cups water
Salt to taste
Optional toppings: Tortilla chips, fresh cilantro, avocado
---
Instructions
Add the quinoa, black beans, corn, salsa, cumin, smoked paprika, chili powder, and water to the Instant Pot.
Stir until combined.
Secure the lid and ensure the valve is in the "sealed" position.
Set the Instant Pot to "Manual" and pressure cook for 3 minutes.
Let the pressure naturally release (it should take about 10 minutes) then remove the lid and fluff with a fork.
Add salt to taste.