Peach and Burrata Crostini
This peach and burrata crostini is the ultimate summer appetizer! Sweet peaches, creamy burrata, and crispy toasted bread make a deliciously simple snack.
What is Burrata Cheese?
If you've never had burrata, you must try it. The outside of burrata is made from mozzarella, and the inside is a combination of curds and cream. The inside is a bit like super creamy ricotta! This recipe just uses one ball of burrata, but if you need something to do with the other, try it on top of this ratatouille! If you can't get your hands on burrata, this works well with ricotta, too.
Where to Buy Burrata Cheese
Burrata is typically sold with the "gourmet" refrigerated cheese at the grocery store. You'll typically find it in a container near fresh mozzarella. It's sold in similar ball shapes, usually two per container. I can usually find it at Kroger, Whole Foods, Publix, and Wegmans.
I love that this crostini is a combination of so many delicious flavors. I wasn't sure if it would be too many, but it works so perfectly! The basil and honey give it a little bit of earthy sweetness, and a pinch of salt just takes it over the top. This recipe only takes a few minutes to assemble, but it's a perfect appetizer for a party.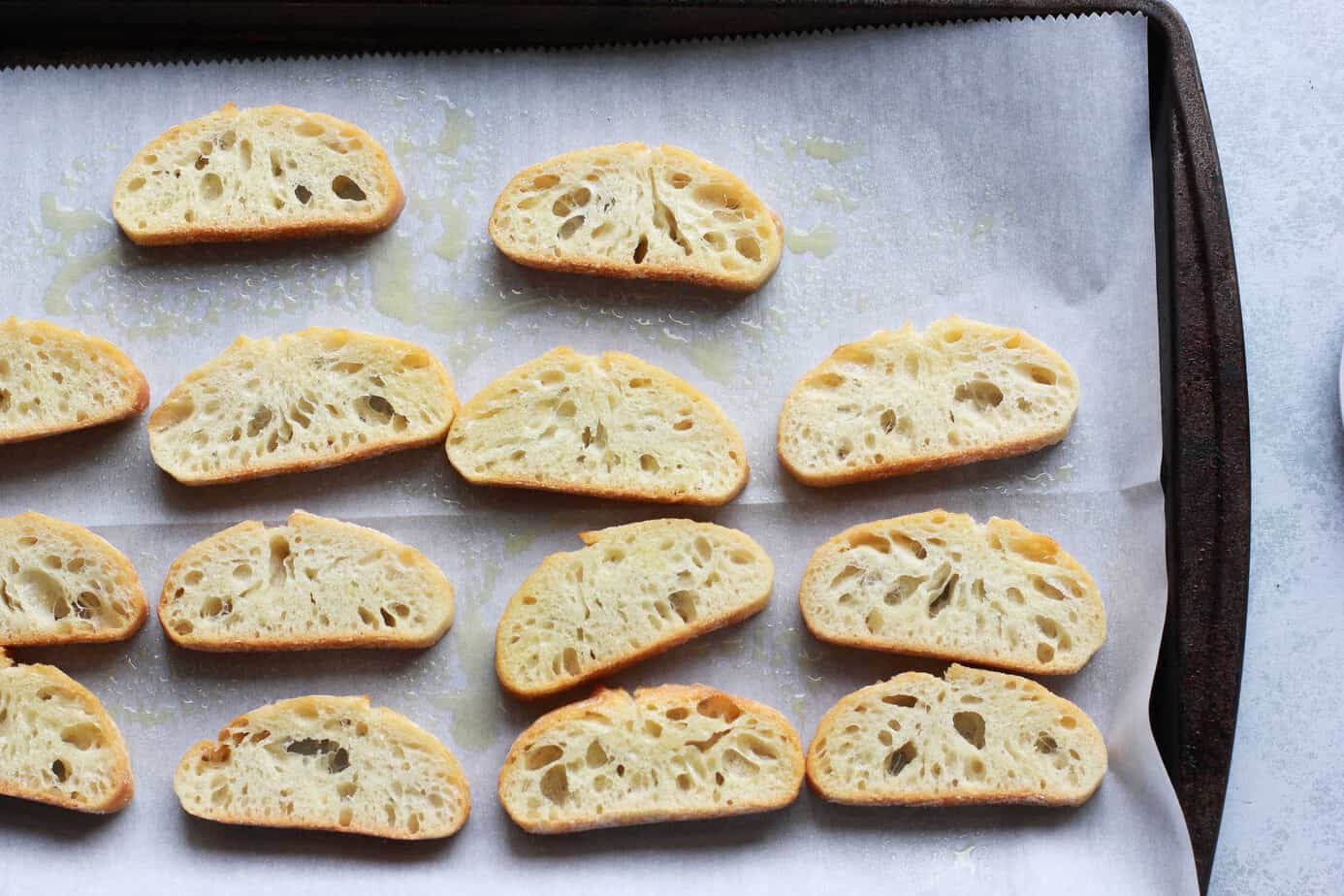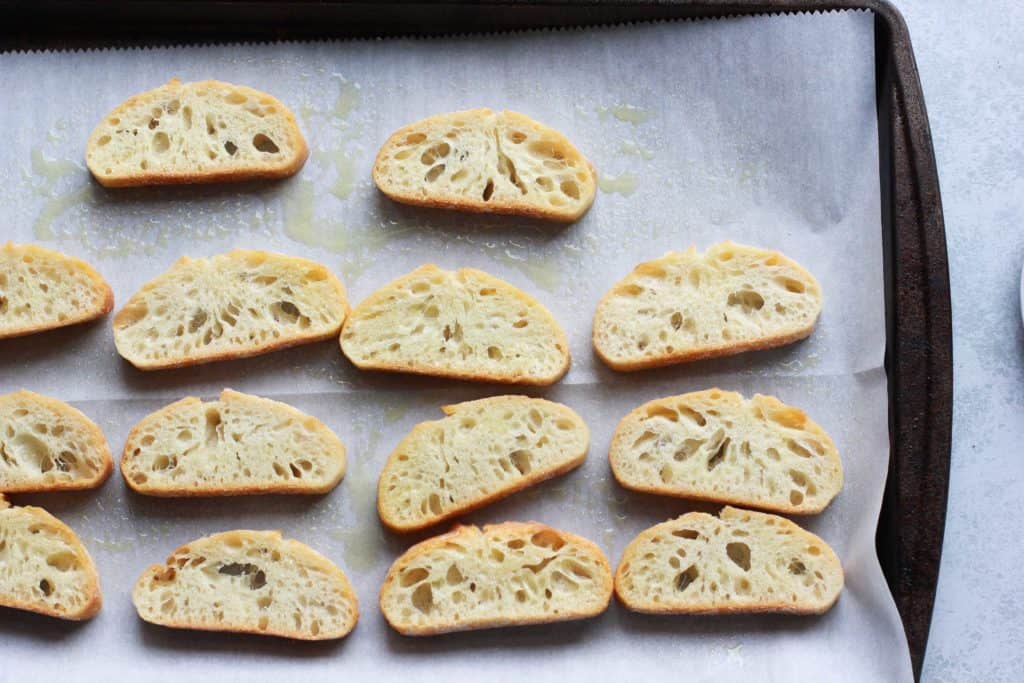 The Best Bread for Crostini or Bruchetta
I like using a crusty, fresh baguette. Because the bread will be toasted, this is a great way to use leftover bread. You can also use ciabatta bread or a sourdough baguette.
Tips for Making Peach Burrata Crostini
While it's delicious served while the bread is still warm, you can easily make this recipe ahead of time and serve it at room temperature. Just be sure not to leave it out for more than two hours, since you don't want the cheese to spoil.
If you can't find burrata cheese, you can substitute fresh mozzarella. Just be sure to use fresh mozzarella cheese, which is typically sold in a container of water. Shredded mozzarella cheese will not be the same!
Feel free to substitute nectarines, if you prefer.
Give this one a try with those fresh summer peaches!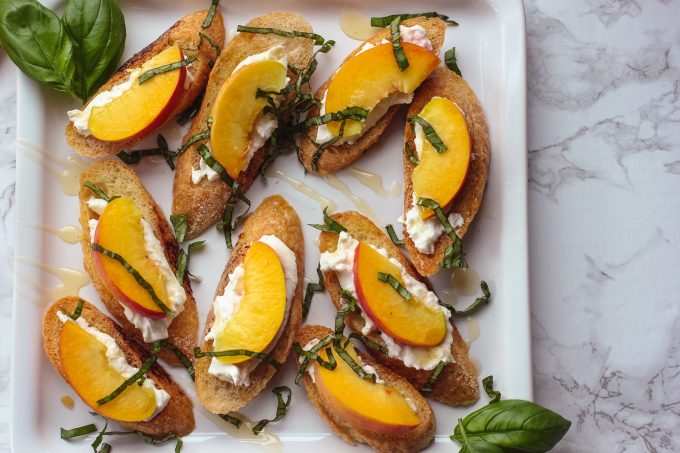 Print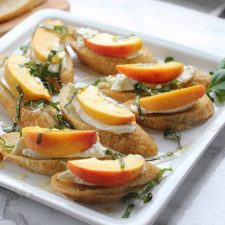 Peach and Burrata Crostini
Author:
Prep Time: 10 minutes
Cook Time: 2 minutes
Total Time: 12 minutes
Yield: 8–10 pieces 1x
Category: Side dish
Method: Baking
Cuisine: Appetizer
---
Description
This peach and burrata crostini is the ultimate summer appetizer! Sweet peaches, creamy burrata, and crispy toasted bread make a deliciously simple snack.
---
1 teaspoon olive oil
1 french baguette or crusty Italian bread, sliced into 1" pieces
¾ cup of burrata (1 ball of fresh burrata)
1 large peach, thinly sliced
1 teaspoon honey
6–7 large basil leaves, cut into ribbons
Salt to taste
---
Instructions
Preheat the oven to broil
Brush the slices of bread with a tiny bit of olive oil. (Spray olive oil works really well here, if you have it!)
Toast the bread for 1-2 minutes until golden but not browned.
The burrata can be a bit tricky to cut, but don't worry about making it perfect. Cut it in half, then slice each half into wedges.
Spoon a slice of burrata on to each slice of bread and gently flatten with a spoon.
Top each slice of bread with a slice of peach.
Drizzle with honey and sprinkle basil on top.
Add a sprinkle of salt.
---
There's nothing better than a fresh peach, especially when it's on top of creamy burrata cheese!
Wishing you could eat this for breakfast? I'm not going to stop you, but if you want a bit of a healthier breakfast idea, try this almond butter and peach toast combination! It's one of my favorite toast recipes!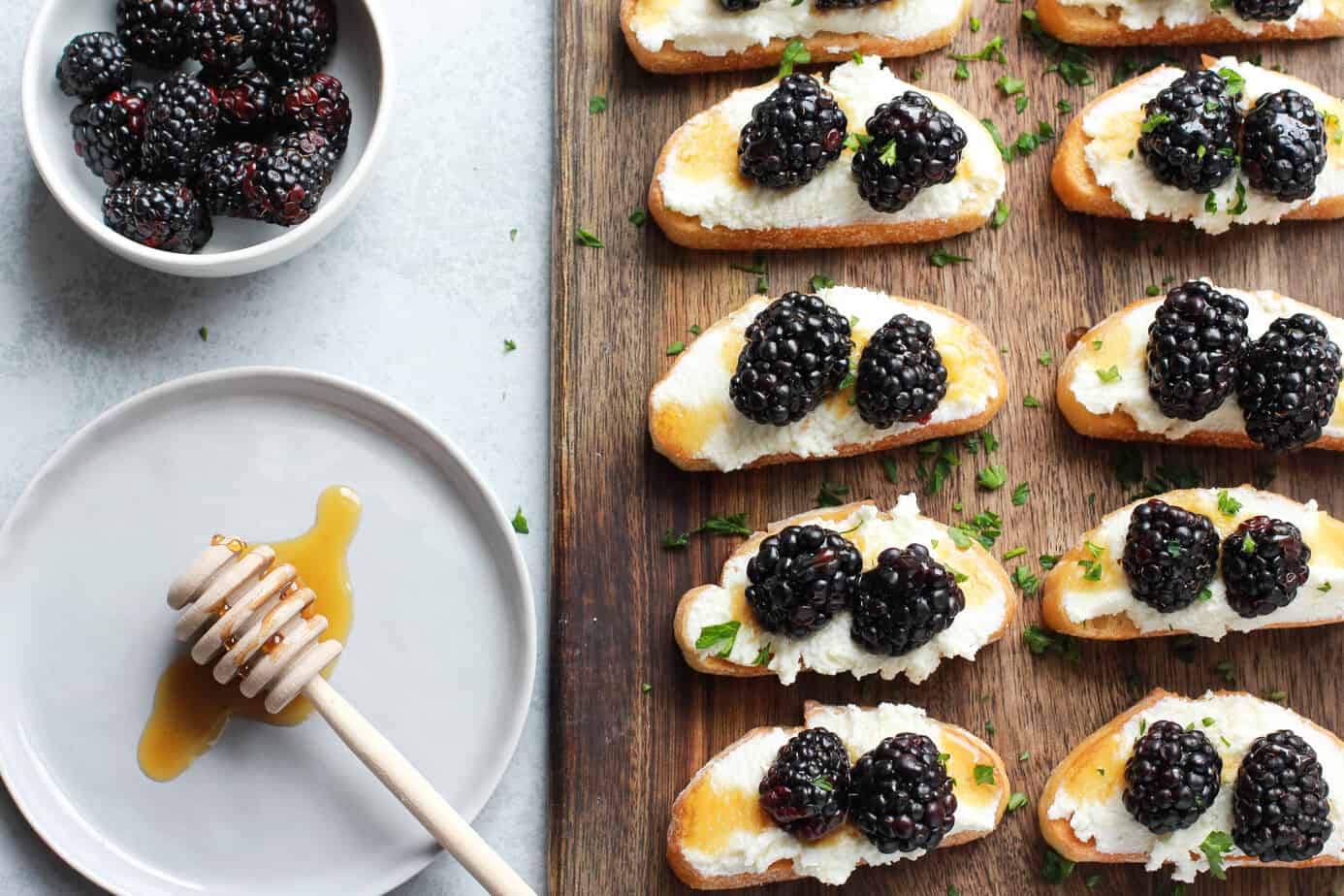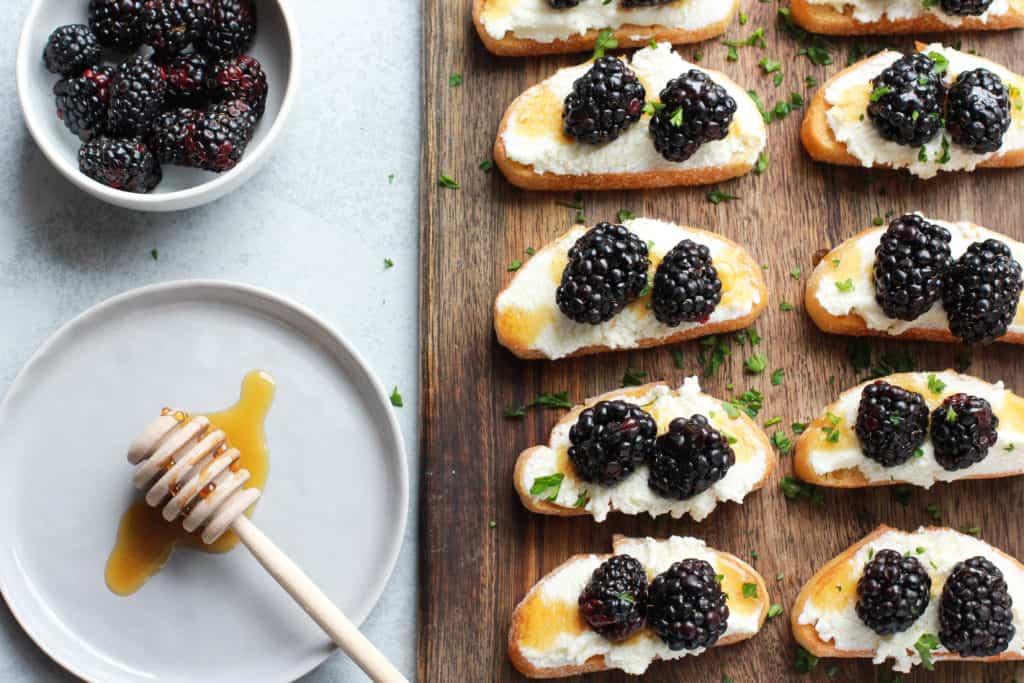 If you're looking for other easy fruit and cheese appetizers, be sure to check out this blackberry and ricotta crostini and my apple fontina crostini.
If you have leftover peaches, try one of these delicious recipes!