Fitbit vs. Garmin: Which Fitness Tracker is Best for You?
I've been into the whole "fitness tracking" thing since 2010, when the only option on the market was huge, had to be worn on your upper arm, and could only tell you how many calories you burned when you plugged it into a computer. Needless to say, these things have come a long way. For the past few years, I've been a Fitbit user but recently switched to a Garmin so I wanted to weigh the pros and cons of both.
Both Fitbit and Garmin have lots of watch options so I won't try to cover them all, but I'll share the details on my personal favorites: the Fitbit Alta & the Garmin Vivomove HR.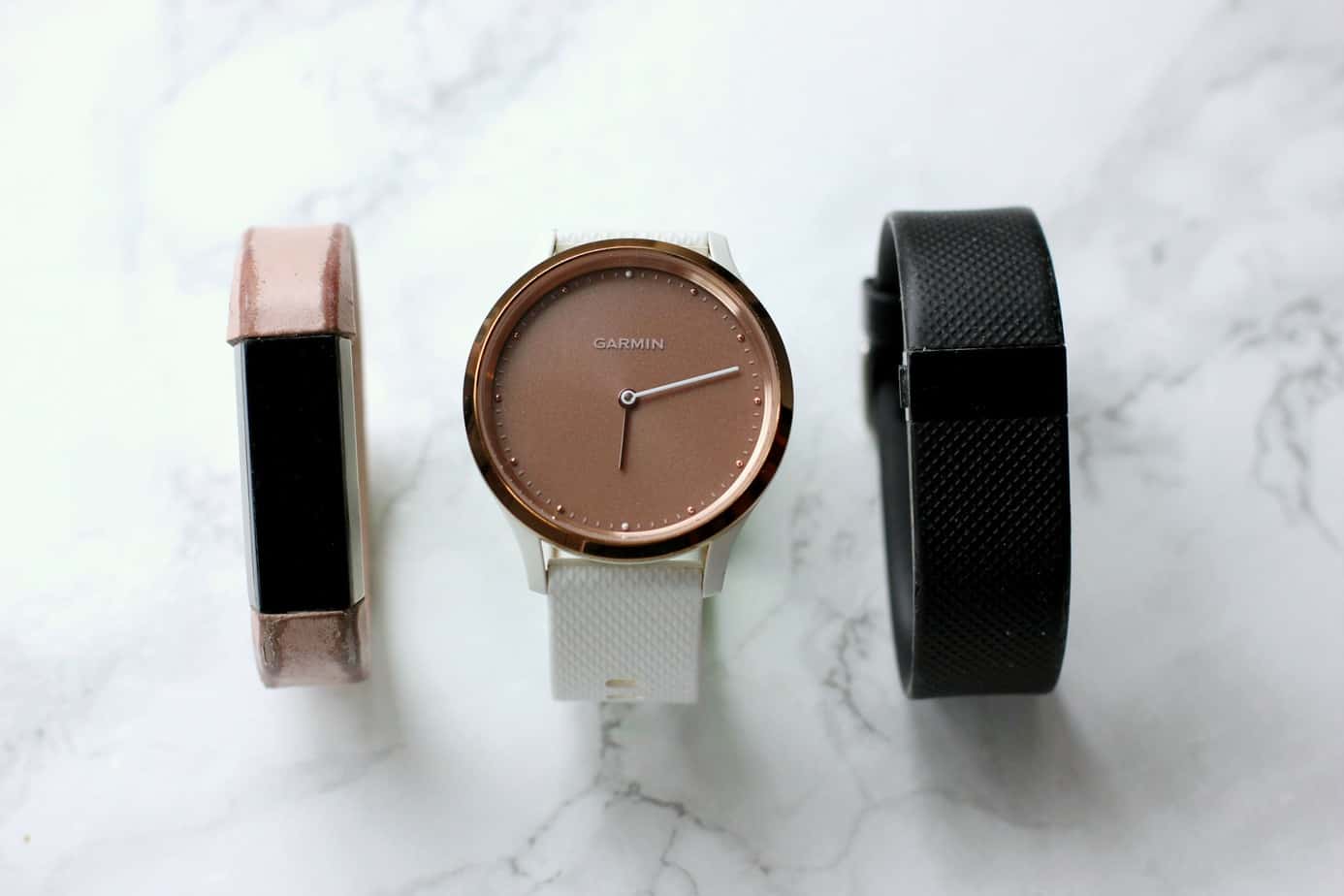 Fitbit vs. Garmin Appearance
I originally used the Fitbit Charge HR which wasn't the most beautiful fitness tracker. It was pretty bulky and it didn't have any interchangeable band options. It was matte black with a small rectangular interface.
After a couple years with the Charge HR, I switched to the Fitbit Alta. I liked the Alta because it was slim and had interchangeable bands. It was a little easier to wear without feeling like you had a bulky fitness tracker on your arm. I had the black and purple rubber bands which were durable and easy to clean, plus the pink leather band. The pink one was my favorite but it got dirty easily and didn't look great after a couple of months.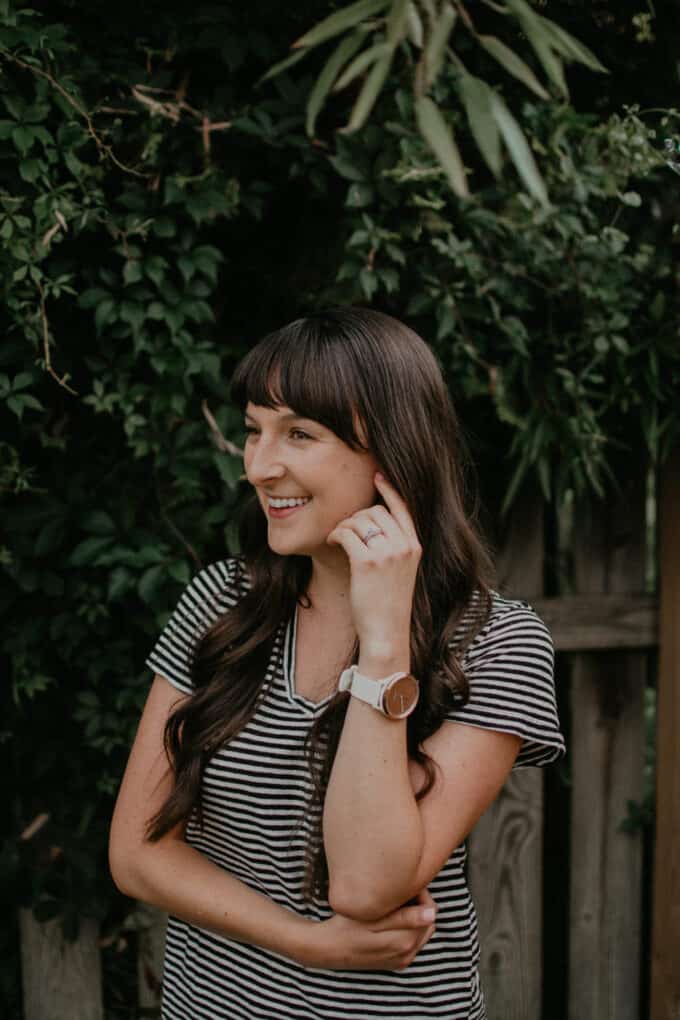 At the time, the Alta didn't have a heart rate option, so mine was just the regular Alta. The face was larger than the Charge HR, but it required you to tap the screen to "wake it up" and sometimes the taps didn't register which could be frustrating.
Garmin has a wide range of bands and many of them are clunky and "sporty" (I'm being generous calling them sporty), but they recently came out with the Vivoactive line and in my opinion, they're beautiful.
The look of the watch was the main reason I switched from Fitbit to Garmin, because the rose gold watch face was just so much prettier than anything I've seen from Fitbit. It's a little on the large side, but that's my only complaint.
The watch band is white but the rubber material is easy to clean so it doesn't look dingy, even after six months of wear.
Fitbit vs. Garmin Interface
Both Fitbit and Garmin offer mobile apps that are easy to use and sync with your phone. They each display steps, heart rate, calories, floors, and sleep.
The Garmin has an additional stress option which will tell you if you've had enough "restful moments" in the day. To be honest I don't find it super helpful. Fitbit recently released stress metrics, but it wasn't available on the Fitbit that I've tried, so I can't say if it's any better.
In terms of sleep, I feel like both the Fitbit and the Garmin aren't super accurate. I wake up a lot during the night and it rarely registers. I do think the Fitbit was slightly more accurate at knowing when I was asleep vs. awake.
Both interfaces let you click into the categories to see more specific data. I think my stair count was more accurate with FitBit compared to Garmin but both of them can be wildly inaccurate. It's not really a metric I care about so I don't mind too much.
Challenges of Fitbit vs. Garmin
Both Fitbit and Garmin have "challenge" options where you can invite your friends to step and activity challenges. I used to do these a lot when I had a FitBit and I really enjoyed them. I've only tried it once with Garmin and I didn't like the user interface as much. I also don't know as many Garmin owners, whereas lots of my friends have Fitbits.
Fitbit also has a bunch of different "badges" which are kind of fun. It'll tell you when you've walked the distance of the Great Wall of China or when you've climbed enough stairs to reach the top of the Eiffel Tower. Most of them are kind of silly but it was fun breaking certain records!
Overall, I found Fitbit's challenge option to be more fun and useful for me, but if you had a lot of serious running friends I think Garmin would be a good pick.
Cost of Fitbit vs. Garmin
Basic Fitbit models (with no digital interface) start at just $59.99 and the most expensive option is $299. They have 8 different options so it's easy to find something in your price range. Fitbit has a handy comparison chart on their site that can help you pick the right model based on the features you care about. I found the options to be a bit overwhelming so having this chart helped a lot.
Garmin has 30+ options which can make it harder to find the perfect one. The Vivo series seems to be the most similar to Fitbit, although they have a range of options. Some of the "luxury" models go up to $899, so they can be quite an investment. Garmin definitely has some unique options for people looking for very specific features (like comprehensive boat connectivity… whatever that is.) But they don't have as many inexpensive options. If you're a serious marathon runner or athlete, you might want to consider a Garmin.
Band options for Fitbit vs. Garmin
Both Fitbit and Garmin offer interchangeable bands. This is nice for style reasons but also because the bands can get a little grimy. I found that overall, the bands that they come with are pretty durable. But I really liked getting a leather band to make it look a little less like a fitness tracker. They're pretty similar in terms of price and style:
Overall Comparison: Fitbit vs. Garmin
As someone who isn't a hardcore runner or athlete, I feel like Fitbit is generally better suited to my needs and price range. The interface feels a little easier to navigate and they have plenty of features for the average person. Garmin definitely has more options in terms of functionality and specifications, but they tend to be more expensive and a bit more complicated.
If I hadn't totally fallen in love with the look of the Vivomove, I probably would have stuck with Fitbit. (I do miss the challenges!)
If you're looking for a basic fitness tracker, I'd start with Fitbit. If you need advanced features or you want a tracker that looks more like a traditional watch, I'd check out Garmin.
Ready to make a purchase? Get it in a flash with Amazon Prime!