Easy Baked Burrata Cheese
Creamy burrata cheese is served on top of warm marinara with a crusty baguette for a delicious yet simple appetizer! You won't believe how easy this recipe is!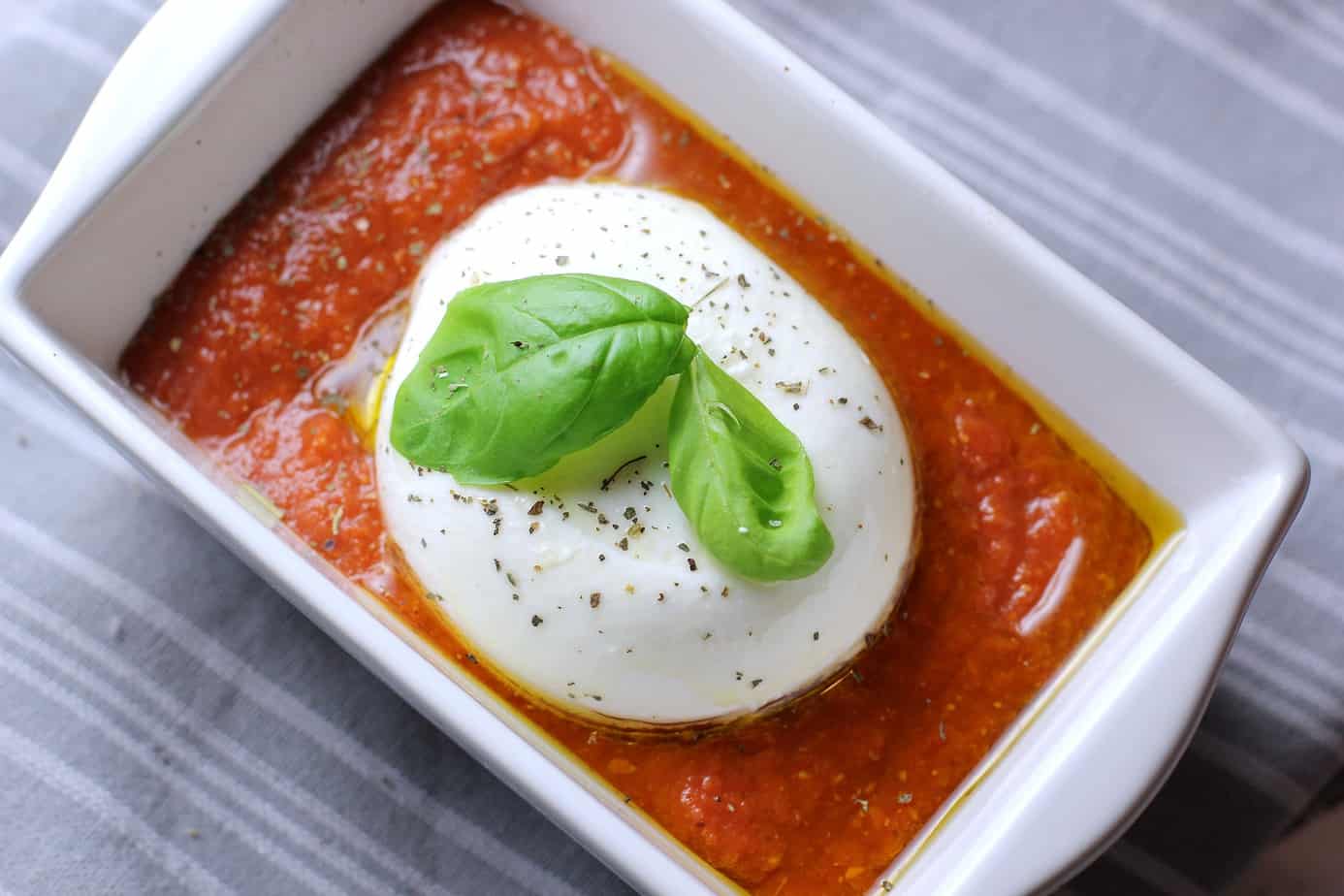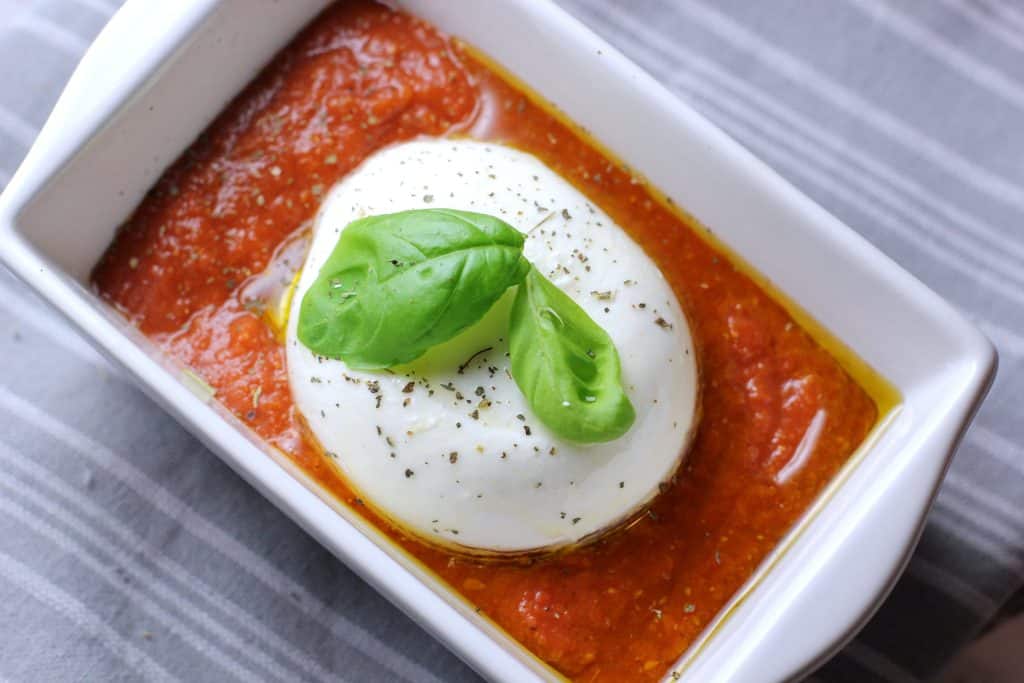 I remember the first time I tried burrata cheese. I went to a wine bar with a few girlfriends and we ordered burrata cheese to share. Burrata is basically a creamier version of fresh mozzarella. This dish had been on my mind for a while so when I picked up some burrata to use for this ratatouille recipe, I knew exactly what I'd do with the rest of it! Burrata was on the menu.
Although I'm calling this recipe baked burrata, it's a bit of a misnomer. Burrata cheese is best served at room temperature, so we're not really baking the cheese. We're baking the sauce and then adding the cheese to the warm sauce. But trust me, it's so yummy!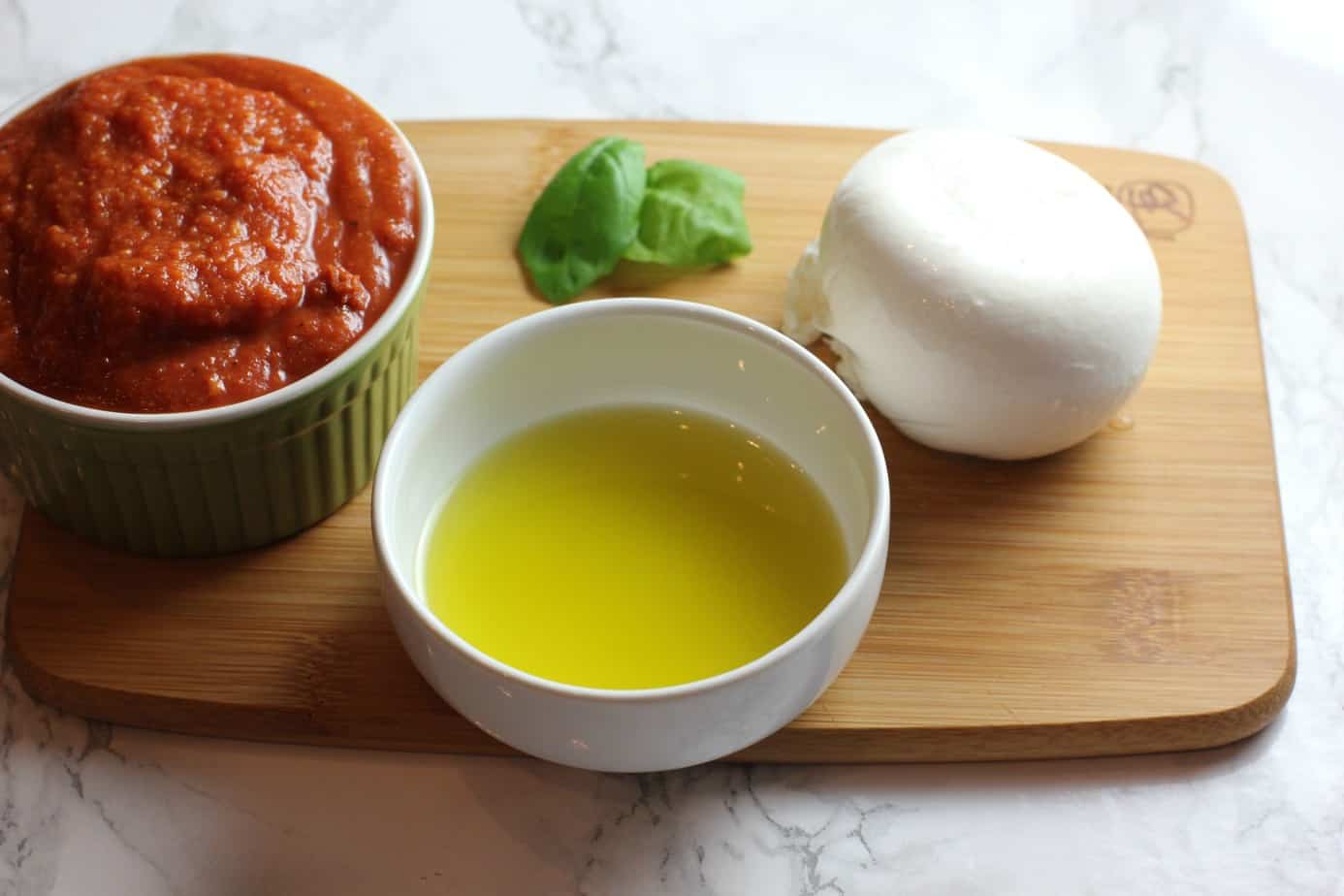 Ingredients & Substitutions
Marinara sauce- Since this recipe is only a handful of ingredients, it's important to use flavorful products. I recommend using a high-quality marinara sauce like Rao's Tomato Basil sauce.
Burrata– Burrata cheese is a cow's milk cheese made from mozzarella and cream. The outer part of the ball is firm while the inside is filled with stracciatella and cream. While we're calling this recipe baked burrata, we actually only want to bake it just enough to warm it up.
Baguette– I recommend a sourdough french style baguette or a crusty ciabatta bread.
Olive oil- A little olive oil helps create a rich, crispy texture for the baguette without drying it out.
Where to Buy Burrata
Burrata cheese is typically sold in the specialty cheese section near the fresh mozzarella cheese. It typically comes in a plastic container with one or two balls of burrata per container floating in water or whey to prevent it from drying out. There are many different brands, but I typically find myself buying BelGioioso's burrata. It's rich and creamy with a lot of flavor, but it's not too expensive and I can typically find it at a regular grocery store. You can even find it on Amazon!
The Best Bread to Serve with Burrata
I liked using a crusty bread that gets crispy when toasted. It's a nice contrast with the creamy burrata. If you want to make your own bread at home, try my no-knead dutch oven bread! In general, a sourdough baguette or crostini.
How to Toast the Bread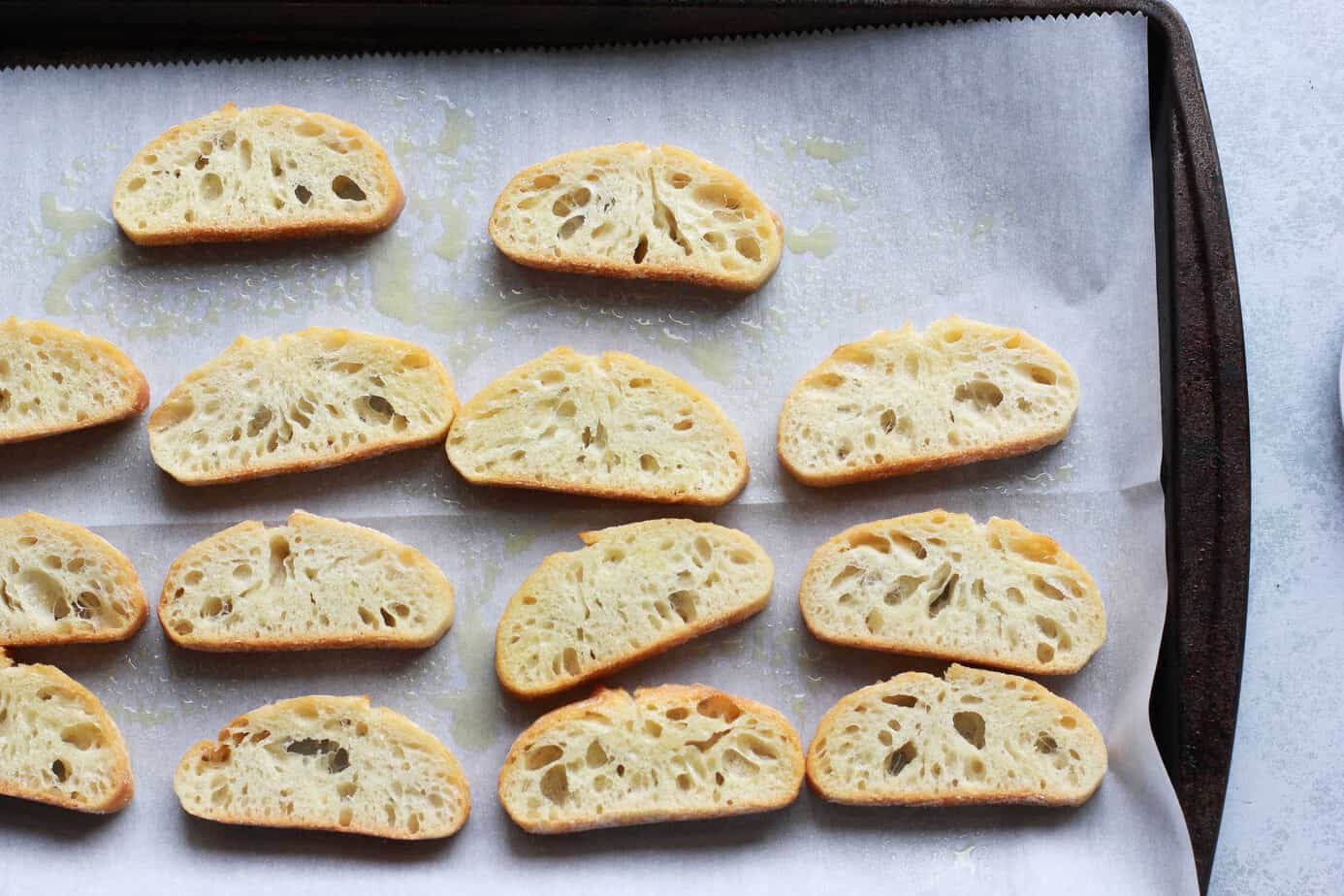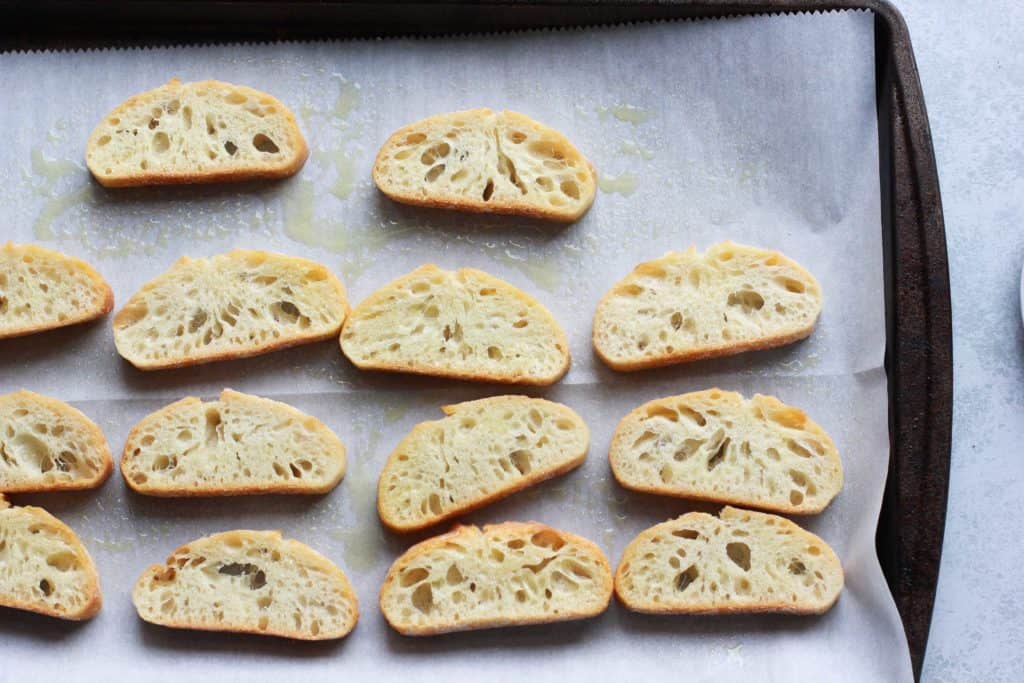 Can't get enough burrata cheese? Try my peach and burrata crostini! It's a summertime favorite and it will disappear quickly! If you have a favorite burrata recipe, let me know in the comments!
Frequently Asked Questions
What should I bake this in? I have a very small casserole dish that's 4×6 inches, which is perfect, but any small oven-safe dish is fine! Many glass storage containers (such as Pyrex) are oven-safe up to a certain temperature. Be sure to check the bottom of the container for safety.
Can I make this recipe with mozzarella? You can, but it won't be quite as creamy as burrata. I highly recommend seeking out burrata for this recipe!
Can I make this recipe gluten-free? Absolutely! Just serve this with gluten-free crackers or a gluten- free baguette.
Can I make this recipe vegan? No. Unfortunately, there isn't a great vegan substitute for burrata cheese.
What else should I serve with this? Try this as an appetizer and enjoy it with my pasta alla norma recipe as the main event!
More Cheesy Appetizer Recipes
Print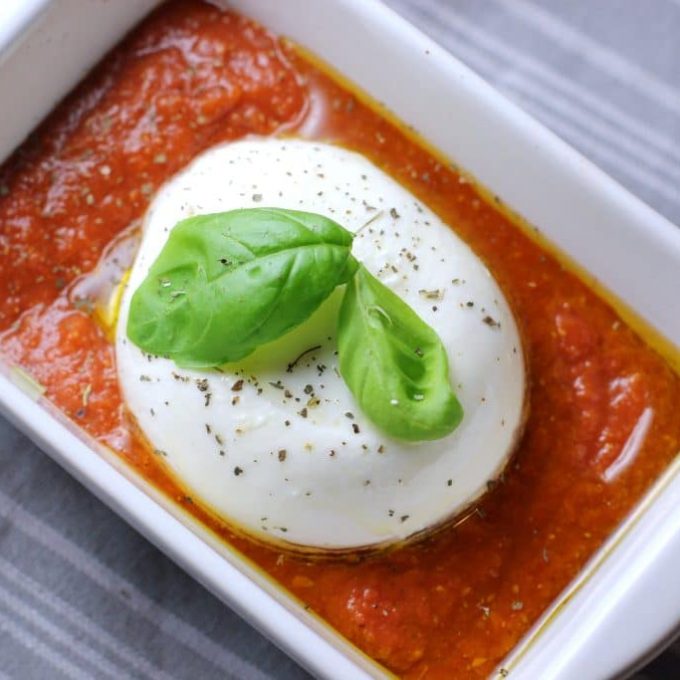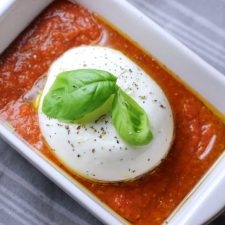 Easy Baked Burrata Cheese
Author:
Prep Time: 5 minutes
Cook Time: 10 minutes
Total Time: 15 minutes
Yield: Serves 4
Category: Appetizer
Method: Oven
Cuisine: American
Diet: Vegetarian
---
1 baguette, sliced into 1" pieces
1 tablespoon olive oil
3/4 cup marinara sauce
8 oz fresh burrata cheese
---
Instructions
Preheat the oven to 400 degrees.
Brush the bread with olive oil and sprinkle with salt.
In a small, oven safe dish, add the marinara sauce.
Bake the bread and the marinara sauce for 7-8 minutes until the sauce is very warm and bubbling and the edges and the bread is golden brown.
Remove the baking dish and baguette from the oven.
Carefully place the burrata on top of the marinara and serve it with the baguette.
---