Blackberry Ricotta Crostini
This blackberry ricotta crostini is a simple and delicious appetizer. It's for a party because it only takes a few minutes to make but it's a beautiful dish!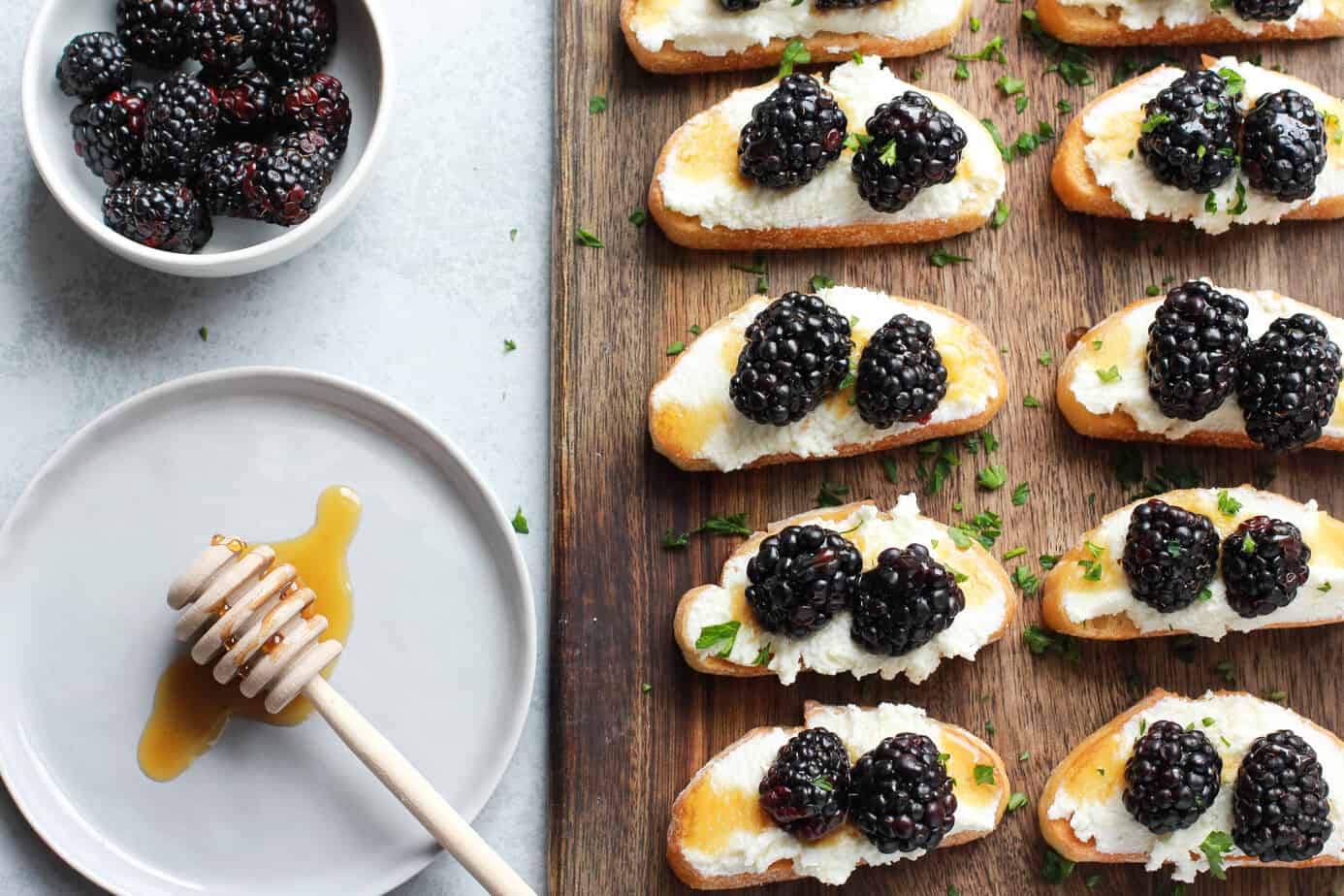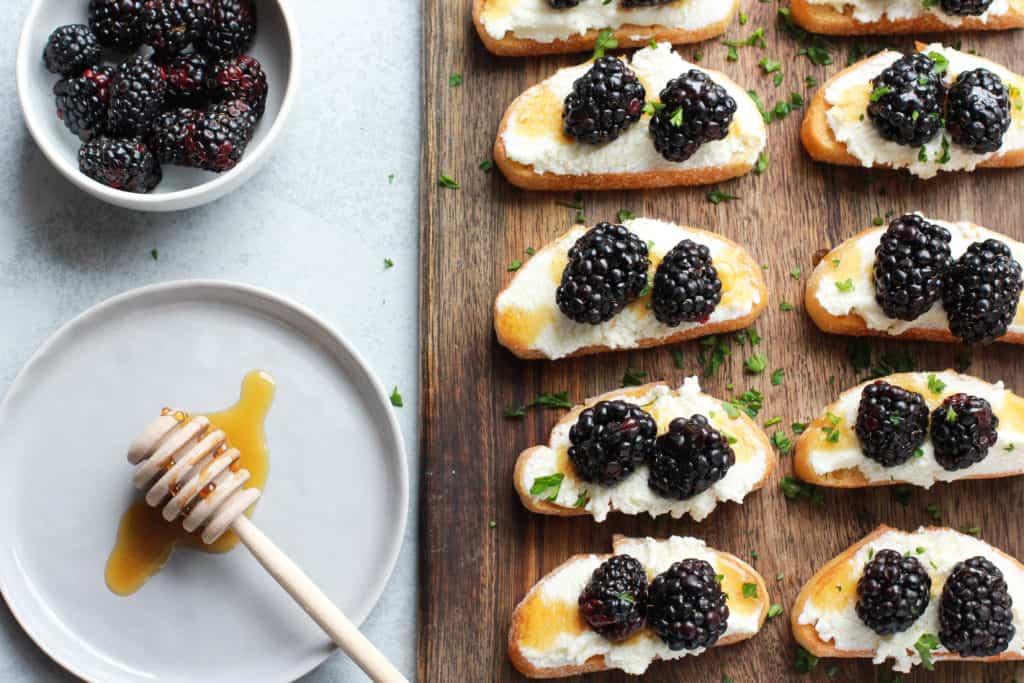 I love quick and easy appetizers because when I'm having friends and family over, I don't want to spend a lot of time in the kitchen. These crostini might look fancy, but it only takes a few minutes to assemble!
Blackberry Ricotta Ingredients
Bread– I recommend a crusty loaf of bread like french bread or a ciabatta baguette. Slice it into 1″ pieces, then toast it.
Ricotta– I recommend using a whole milk ricotta which will be extra creamy.
Blackberries- Sweet juicy blackberries are such a perfect thing to pair with ricotta. If you can't get your hands on blackberries, try this with strawberries instead.
Honey– A drizzle of honey helps enhance the sweetness of the berries.
What's the difference between crostini and bruschetta?
You may be wondering, what exactly is crostini? Is it the same thing as bruschetta? Kind of! Both crostini and bruschetta is made by toasting bread and piling it with toppings. Bruschetta is typically made with a heartier bread like sourdough or rustic Italian bread. Crostini are usually made from softer white bread, like a french baguette. Crostini is perfect for a spread of cheese and a few toppings. Bruschetta, since it's made with large hearty pieces of bread, is great for piling on lots of tomatoes!
How to Make Blackberry Ricotta Crostini
Simply slice a baguette into 1″ slices and drizzle with olive oil.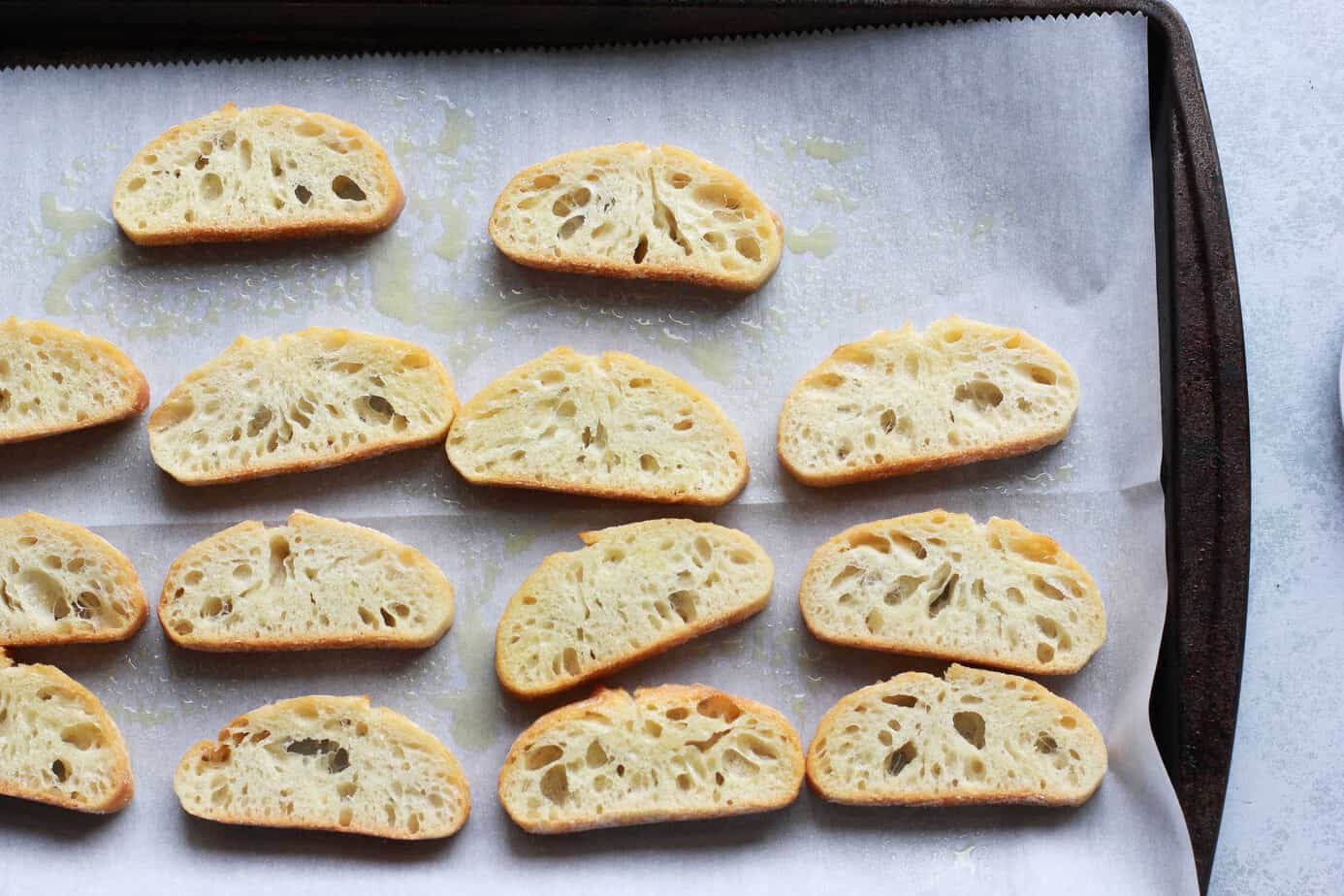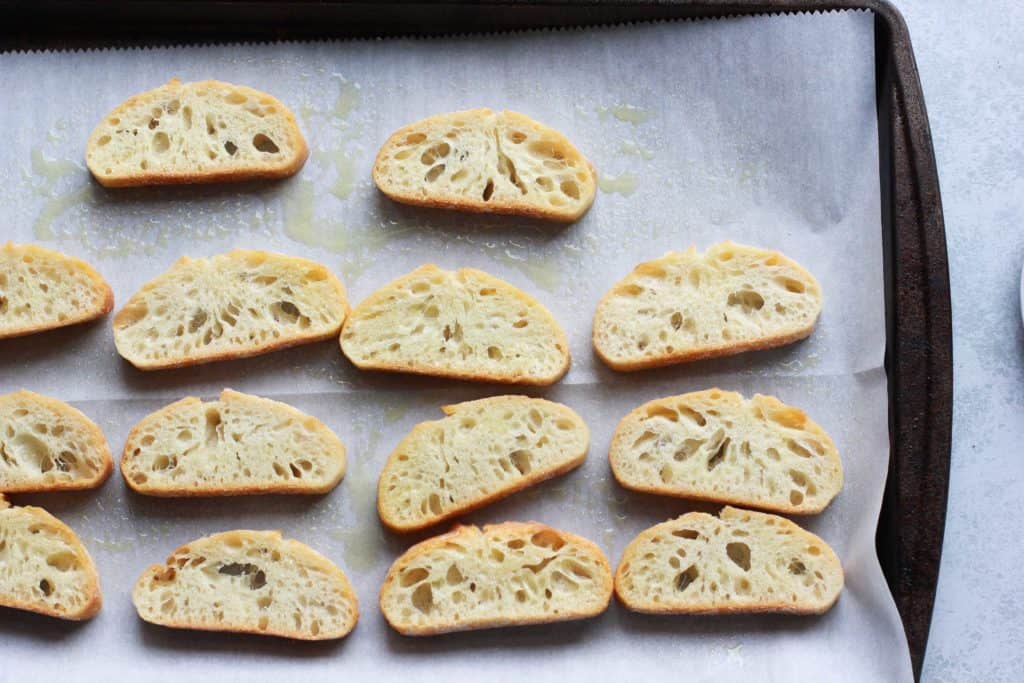 Then toast the baguette until it just begins to brown.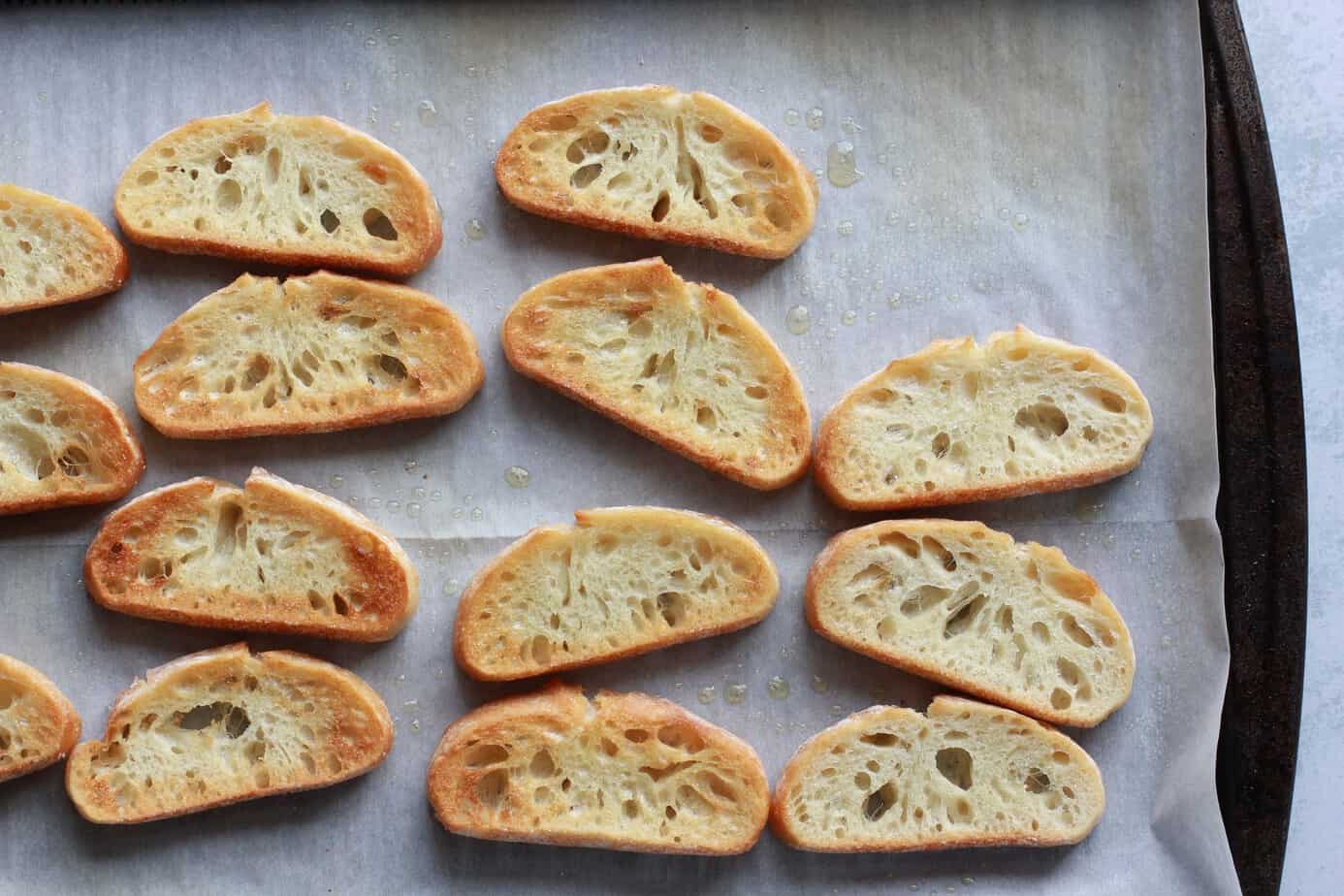 Top each baguette slice with a scoop of ricotta cheese.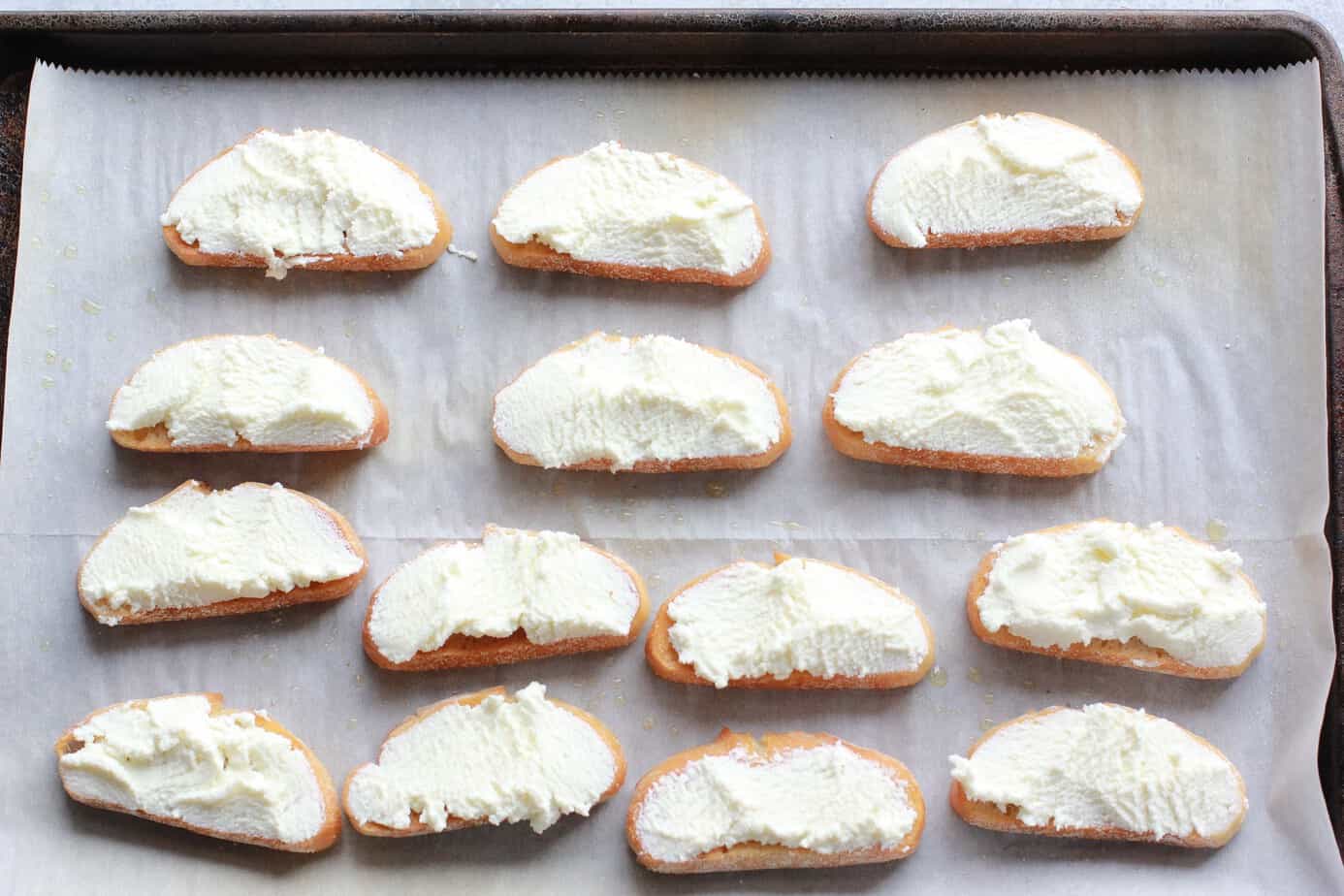 Then top each slice of bread with blackberries, a drizzle of honey, and a sprinkle of fresh herbs!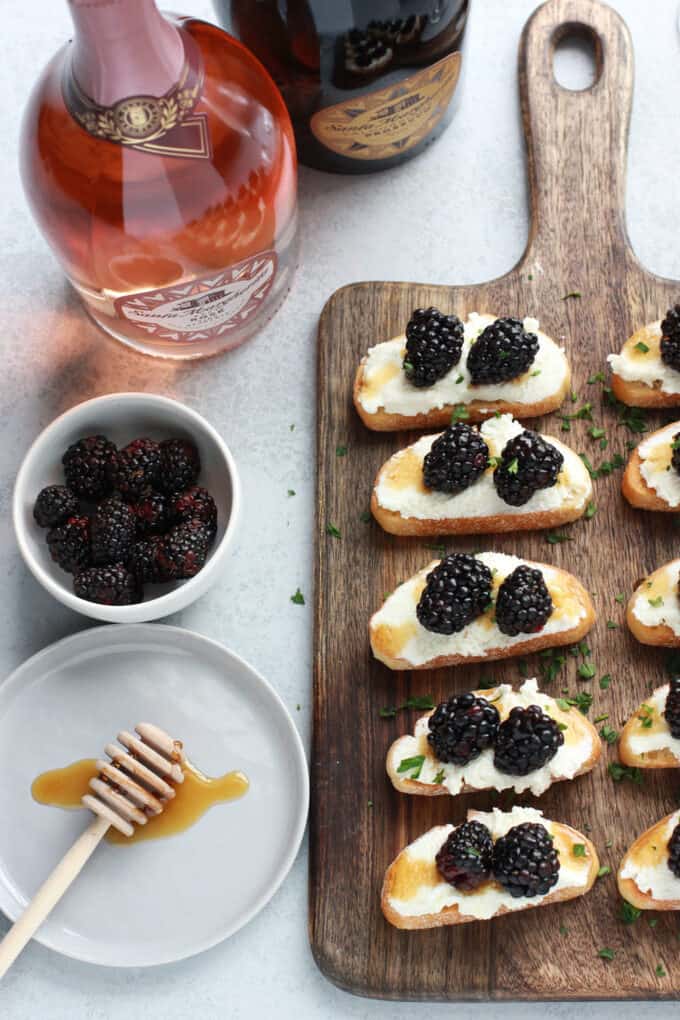 Substitution Ideas
Can't find blackberries? Try it with strawberries or peach slices instead! Be sure to use fresh fruit though. I don't recommend using frozen berries in this recipe.
You can use any kind of artisan baguettes like a rustic French baguette or ciabatta bread.
What to Serve with Crostini
This crostini makes a great appetizer to your favorite pasta dish like this Pasta Alla Norma recipe. You could also add this crostini to your next charcuterie board! Don't miss my tips for making the perfect cheese board. But crostini doesn't have to be limited to an appetizer. This would also be a lovely thing to serve for dessert if you wanted something a little more savory.
How to Store Leftovers
Unfortunately, this crostini is best enjoyed immediately. If you're just making crostini for a few people, I'd recommend cutting the recipe in half. Or, you could go ahead and toast the bread, but wait to add the toppings until you're ready to enjoy it. Otherwise, the bread will start to get soggy over time.
Print
Blackberry Ricotta Crostini
Author:
Prep Time: 5 minutes
Cook Time: 5 minutes
Total Time: 10 minutes
Yield: 6-8 1x
Category: Appetizer
Method: Baking
Cuisine: Appetizer
---
Description
These blackberry and ricotta crostini are a simple and delicious appetizer. Perfect for a party because it only takes a few minutes and pairs effortlessly with your favorite drink!
---
1 crusty baguette, sliced into 1″ pieces
1 tablespoon olive oil
1 cup ricotta cheese
1 1/2 cups blackberries
1 teaspoon honey
1 tablespoon basil or parsley, finely chopped
Sea salt
---
Instructions
Preheat the oven to 350 degrees.
Drizzle the olive oil over the baguette.
Bake the bread for 3-5 minutes until lightly browned.
Spread a tablespoon of ricotta on to each slice of bread.
Top with two blackberries per slice.
Drizzle with honey and sprinkle with fresh herbs.
Sprinkle with sea salt and serve immediately.
---
Keywords: Blackberry Ricotta Crostini
Other Appetizer Ideas
What's your favorite summer appetizer?