Vegetarian Tostadas
These oven-baked tostadas cook quickly, which means you can have dinner on the table in just 15 minutes! They're vegetarian, gluten-free, and customizable for the whole family!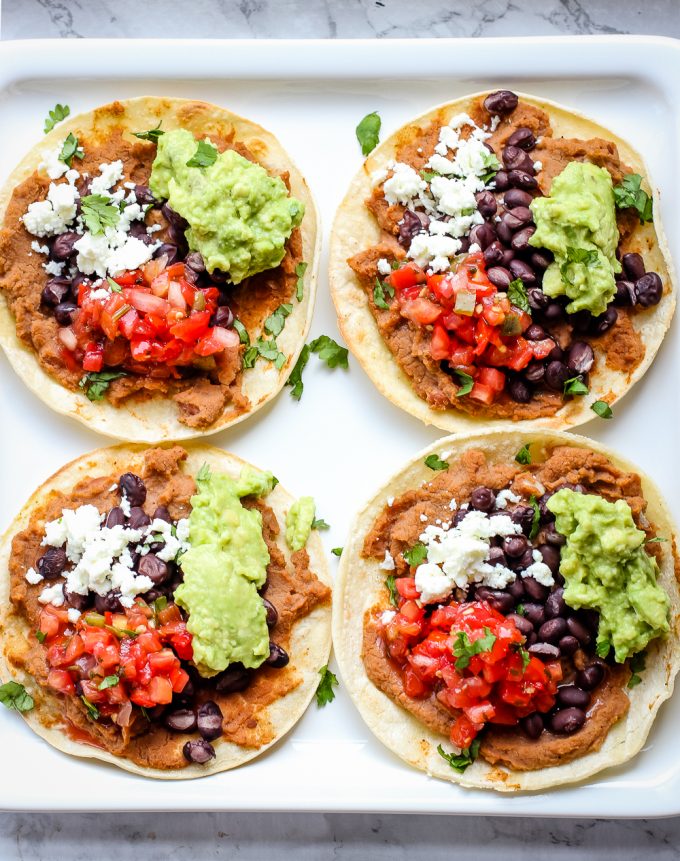 I'm having so much fun with this 15 minute dinner series because we could all use a little extra time in the day, right? I've learned that if I want to make healthy choices consistently, I have to make it easy. And while I know a lot of people enjoy meal prepping, it's just never been my thing. So creating healthy recipes that can be made after a long day has been a fun series to develop!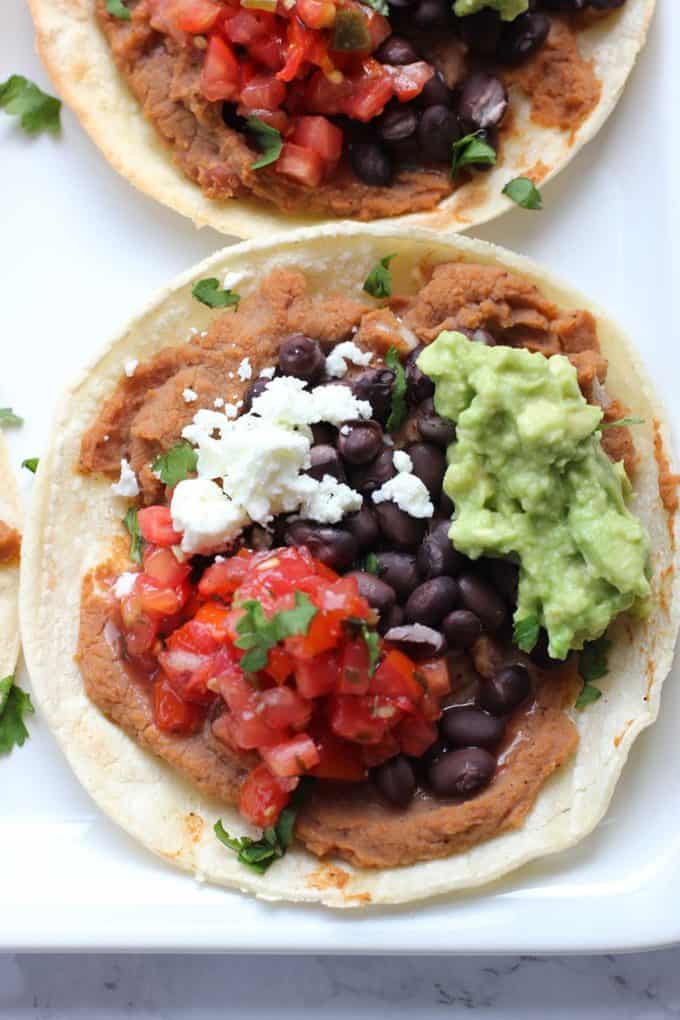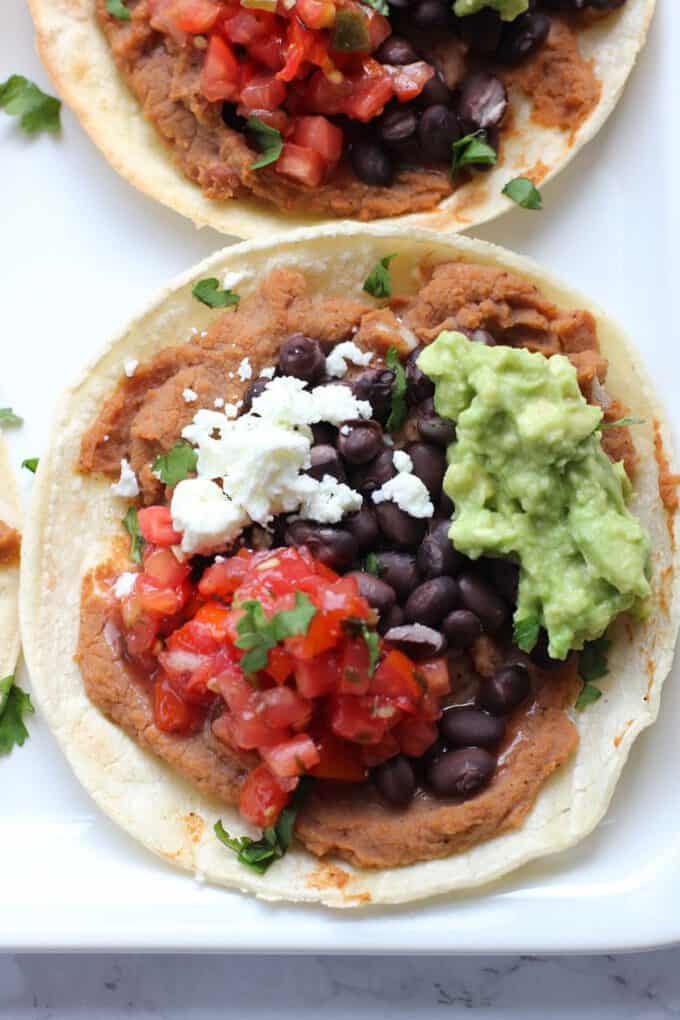 This time, we're keeping it quick and easy with oven-baked tostadas. These are easy to make gluten-free or vegan depending on your dietary preferences, and you can customize the spice level for you and your family! The trick to these tostadas is to set the oven to broil, so they cook quickly! While your tostadas are in the oven, you can prep the rest of your toppings so you can have dinner on the table in just 15 minutes!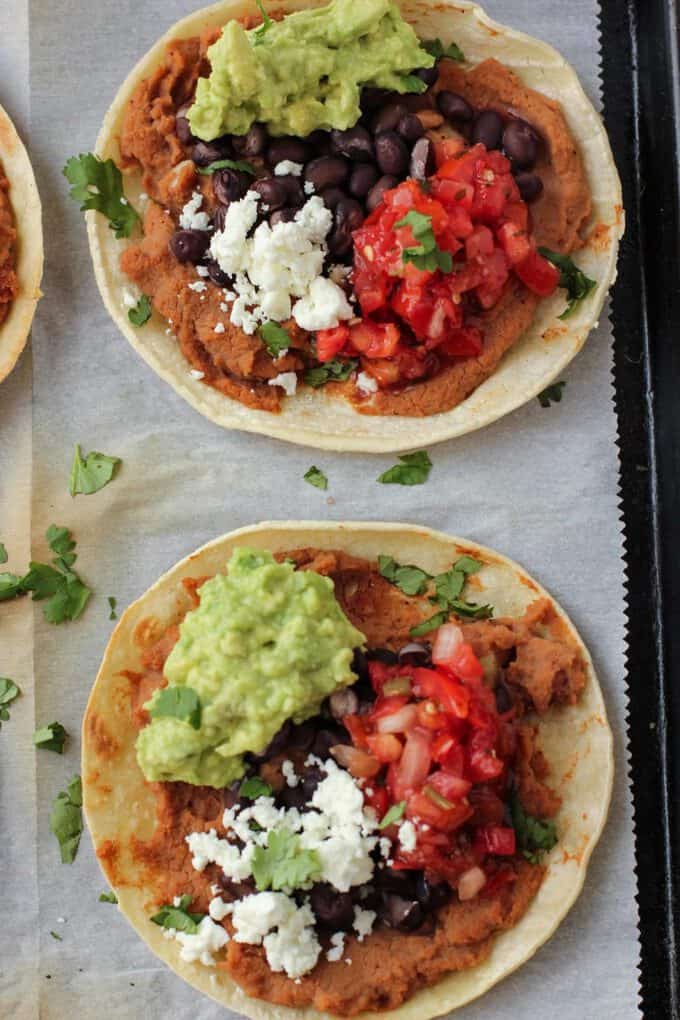 Tips for Perfect Oven Baked Tostadas
This recipe makes 8 tostadas, but if you're only cooking for 2, you can cut the recipe in half. The extra beans can be stored in the fridge for about four days so that you can make a second round of these later in the week!
Watch for hot spots in your oven. You may notice that certain tortillas are browning faster than others, due to uneven heat. If that happens, turn the tray around halfway through cooking.
If you want to add a little extra spice, you can double the chili powder. We used a hot pico de gallo, so the ¼ teaspoon of chili powder was just perfect. These would also be great with fresh jalapeno on top if you want an additional layer of spice.
How to Make Tostadas
Turn the oven to broil and toast the tostadas until crisp. Top with refried beans and black beans and return to the oven.
Once the beans are heated, remove them from the oven and top them with salsa, guacamole, and feta or cotija cheese. Cotija is a crumbly, salty cheese traditionally used in Mexican recipes, but it can be hard to find. It's very similar to feta cheese, so that's what I typically use!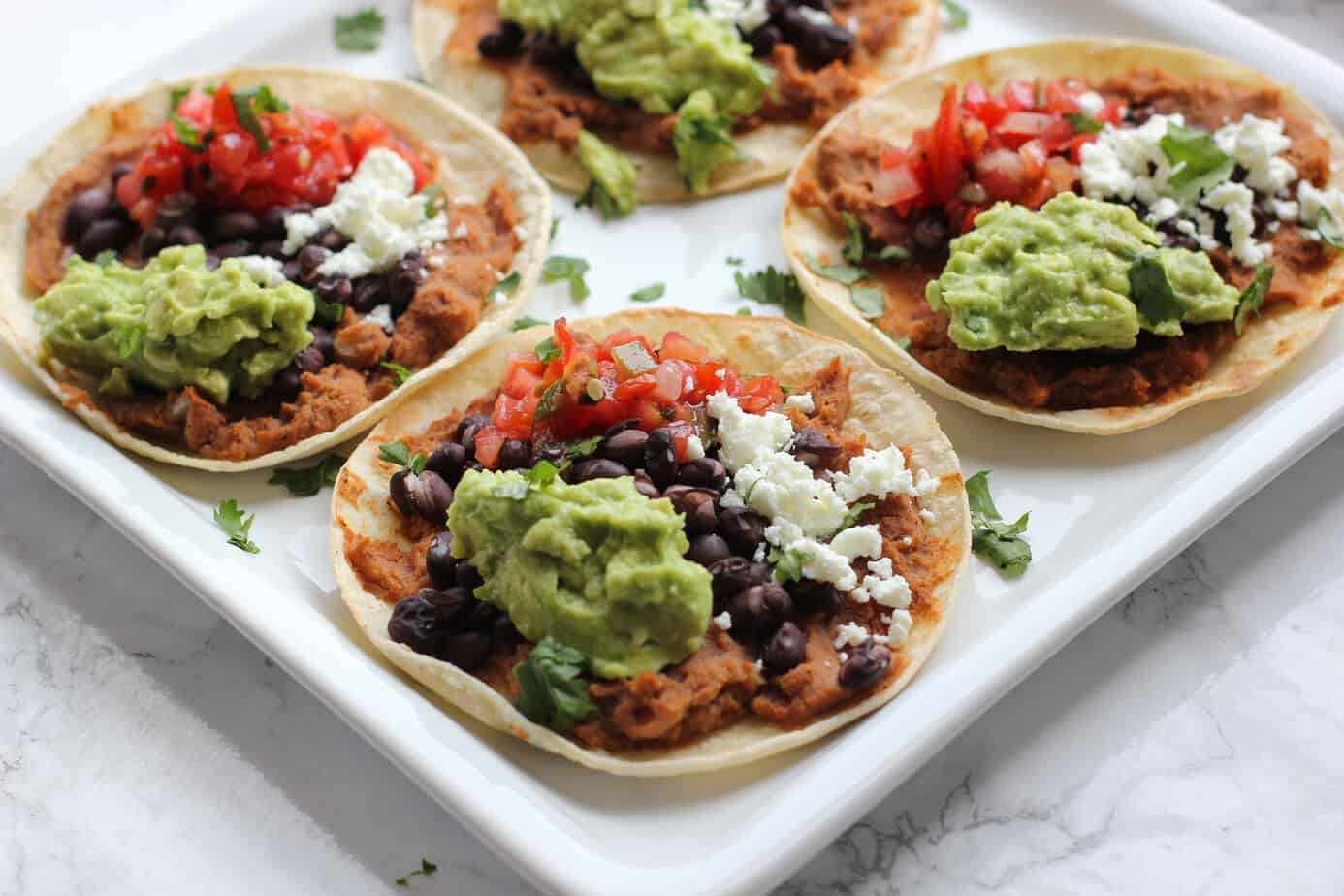 How to Customize Your Baked Tostadas
Gluten-free version: To keep these tostadas gluten-free, use corn tortillas instead of flour tortillas.
Vegan version: Skip the feta and add a little pinch of nutritional yeast and salt on top! Or you can skip it entirely and add a little extra salsa.
Note: Refried beans are traditionally made with animal fat, so be sure to look for a fat-free or vegetarian version.
Print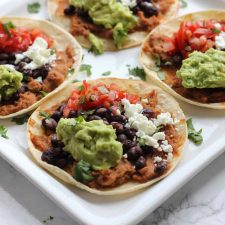 Vegetarian Tostadas
Author:
Prep Time: 5 Minutes
Cook Time: 10 Minutes
Total Time: 15 minutes
Yield: 8 Tostadas 1x
Category: Dinner
Method: Baking
Cuisine: Mexican
---
Description
These oven baked tostadas cook quickly which means you can have dinner on the table in just 15 minutes! They're vegetarian, gluten free, and customizable for the whole family!
---
8 whole wheat or corn tortillas
1 15oz can refried beans (see note)
1/4 teaspoon cumin
1/4 teaspoon garlic powder
1/4 teaspoon chili powder
1 15oz can black beans, rinsed and drained
2 avocados, pitted, peeled, and mashed
1 cup pico de gallo
⅓ cup crumbled feta or cojita cheese
Fresh cilantro, chopped (optional)
---
Instructions
Set the oven to broil.
While the oven heats up, line a baking sheet with foil
Bake the tortillas in the preheating oven for 2-3 minutes. Depending on how quickly your oven heats up, you may need to keep a close eye on these! You want them lightly browned and beginning to crisp.
While the oven heats up, combine the refried beans, cumin, garlic, and chili powder.
Remove the tortillas from the oven and spread about 3 tablespoons of refried beans on each tortilla.
Add ¼ cup of black beans on top.
Place in the oven and broil for 3 on the medium rack minutes until the edges of the tortillas get crispy and the beans are heated through.
Remove from the oven and top with mashed avocado, pico de gallo, feta, and cilantro.
---
Keywords: Vegetarian Tostadas
Looking for a side dish for these tostadas? Try this Mexican Street Corn Salad!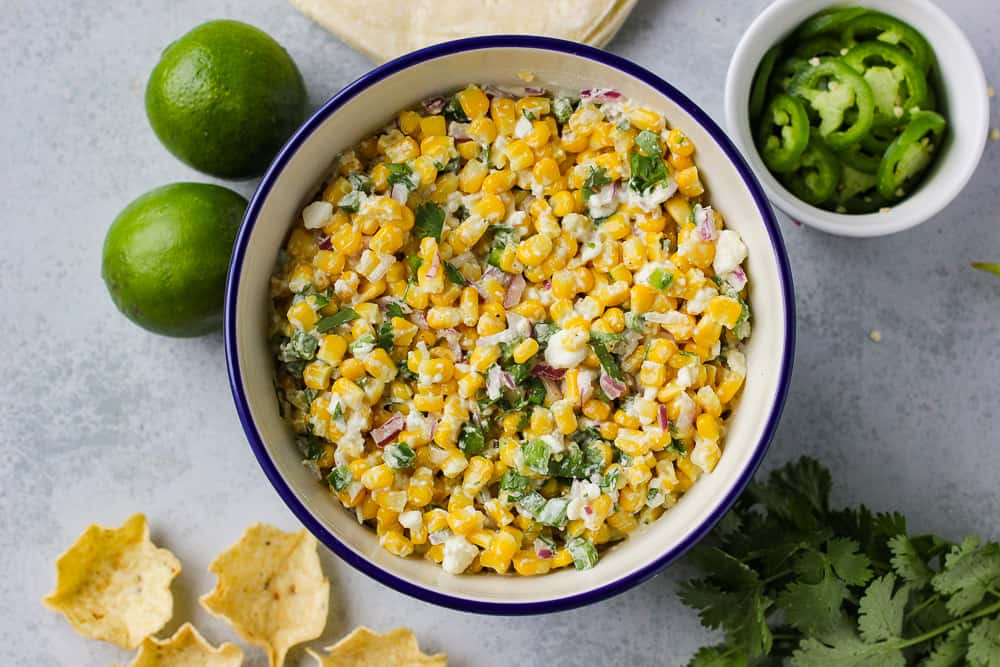 You might also enjoy these sweet potato and black bean enchiladas!
Do you like spicy food, or do you like to keep it mild?