15 Minute Chickpea Gyros
These chickpea gyros with homemade tzatziki sauce are ready in just 15 minutes! You only need a few fresh vegetables and a handful of pantry staples to get dinner on the table in minutes.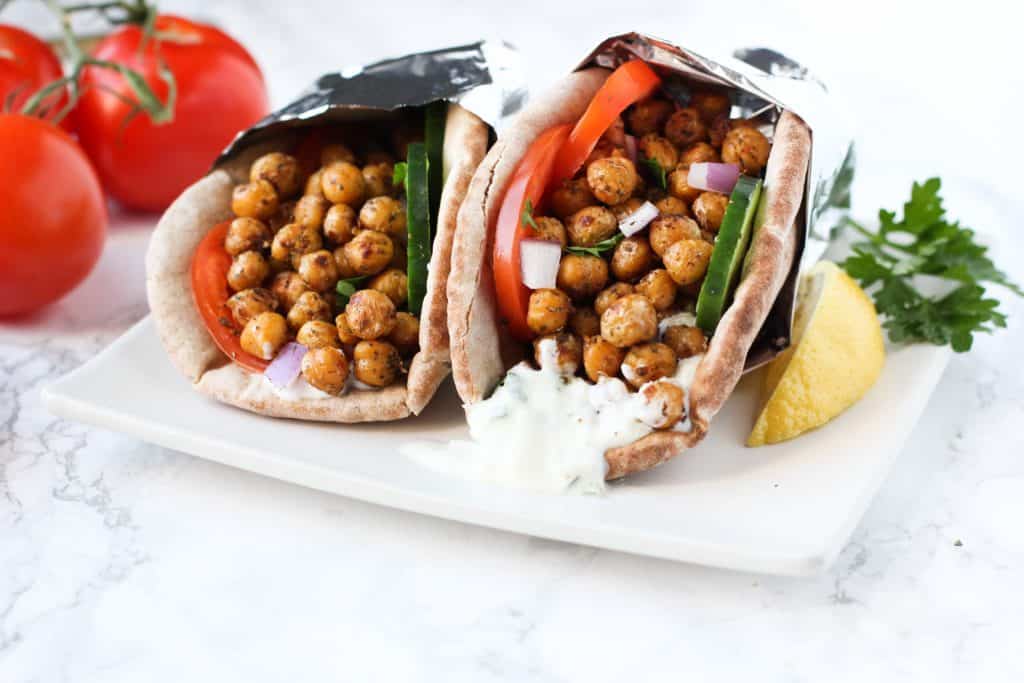 I'm so excited about these chickpea gyros. Alex and I both love roasted chickpeas, but it can take up to 45 minutes to get them crispy in the oven. This pan frying method only requires a bit of olive oil but you still get deliciously crispy chickpeas in a fraction of the time!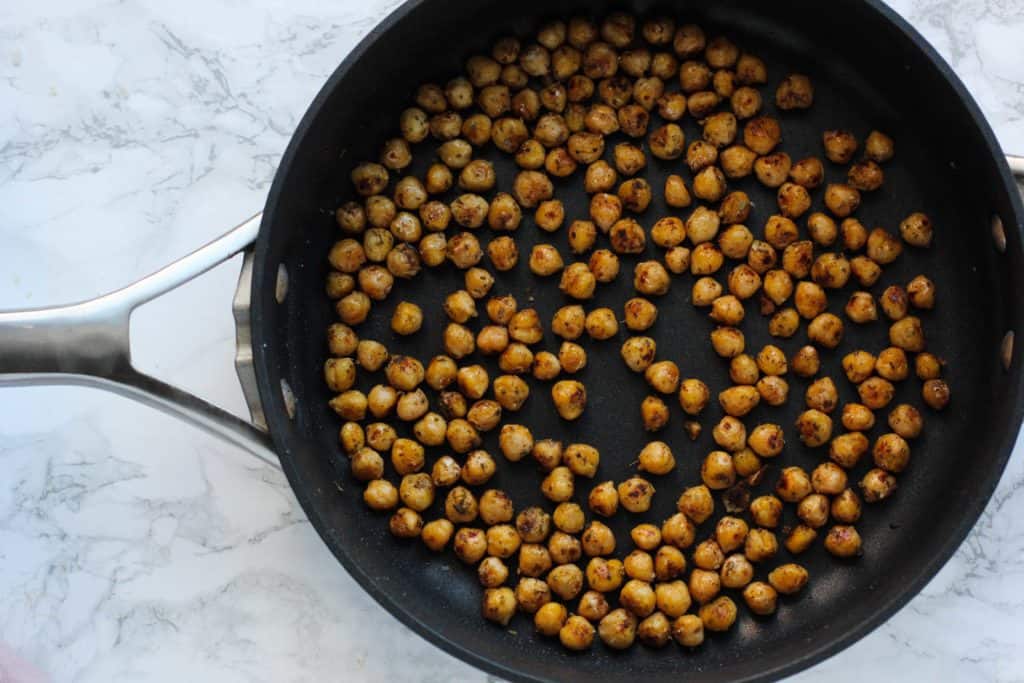 Be sure to rinse, drain, and dry the canned chickpeas before adding them to the pan. I just rinse and drain them in the can then spread them out on a few paper towels to absorb any extra moisture. This will ensure your chickpeas get perfectly crispy!
Whole wheat pitas tend to be a bit drier than their white counterparts, so it helps to warm them before you add the filling to avoid cracking the pita. You can either put them in the toaster for a minute or two or pop them in the microwave for 20-30 seconds. Alternatively, you could use pita pockets and stuff all the ingredients inside.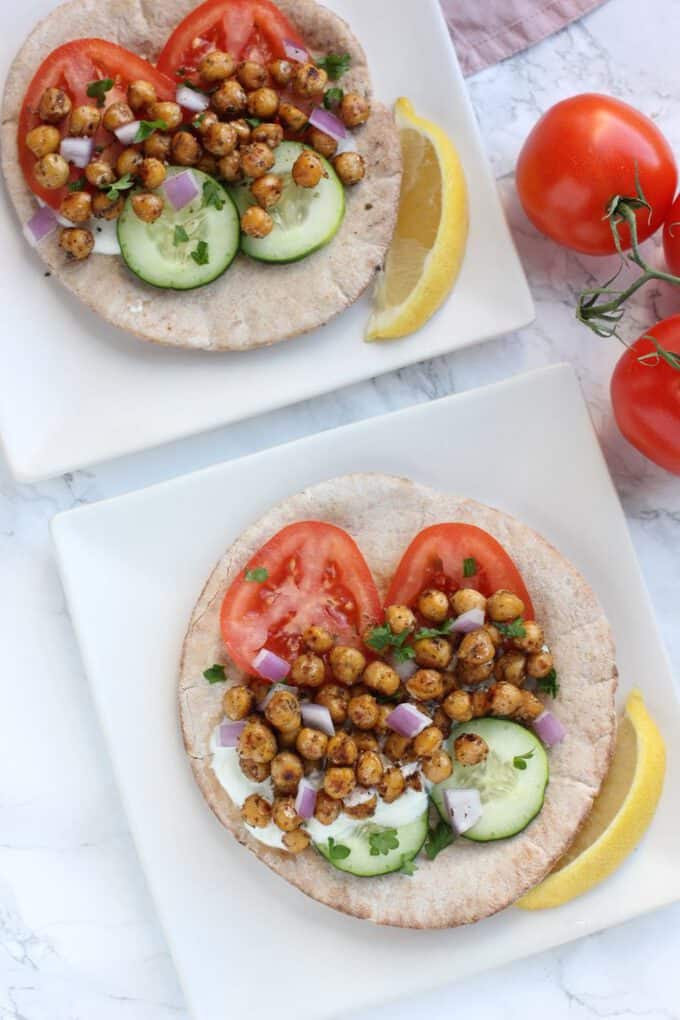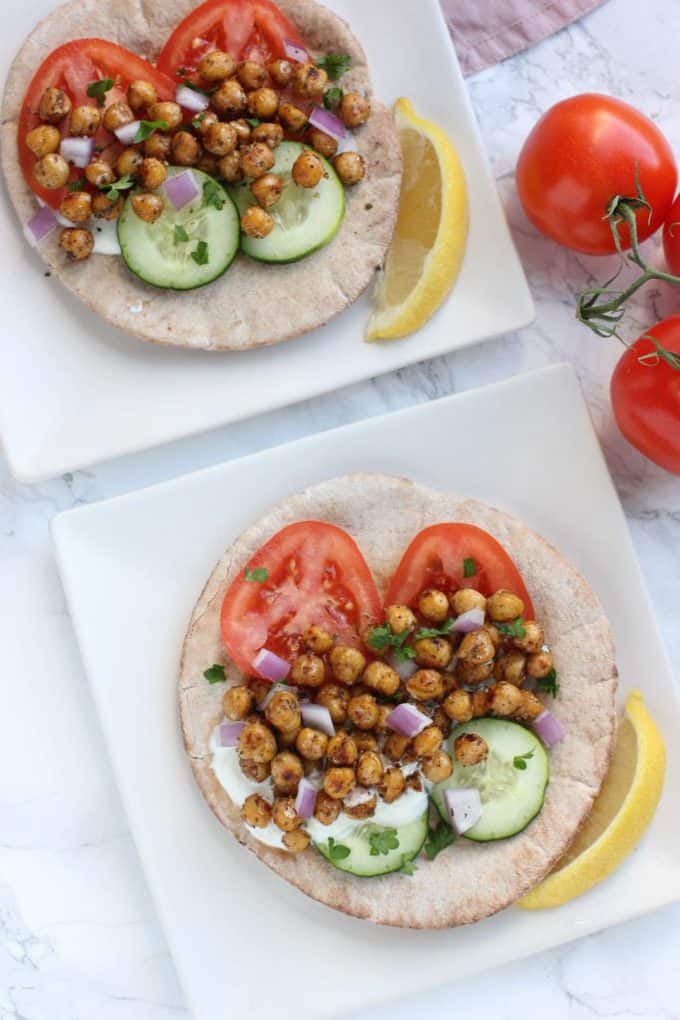 Chickpea Gyro Substitution Tips
You can buy pre-made tzatziki sauce if you prefer, but it only takes a few minutes to make it with Greek yogurt, olive oil, lemon juice, and cucumber.
If you'd like to keep these vegan, you can either use a vegan Greek yogurt or smear each pita with a few tablespoons of hummus instead.
If you hate red onions or you're out of tomatoes, don't stress. The toppings can be customized however you like it. I do recommend using 2-3 crunchy vegetables. You could even toss in some shredded romaine if you have it in the fridge!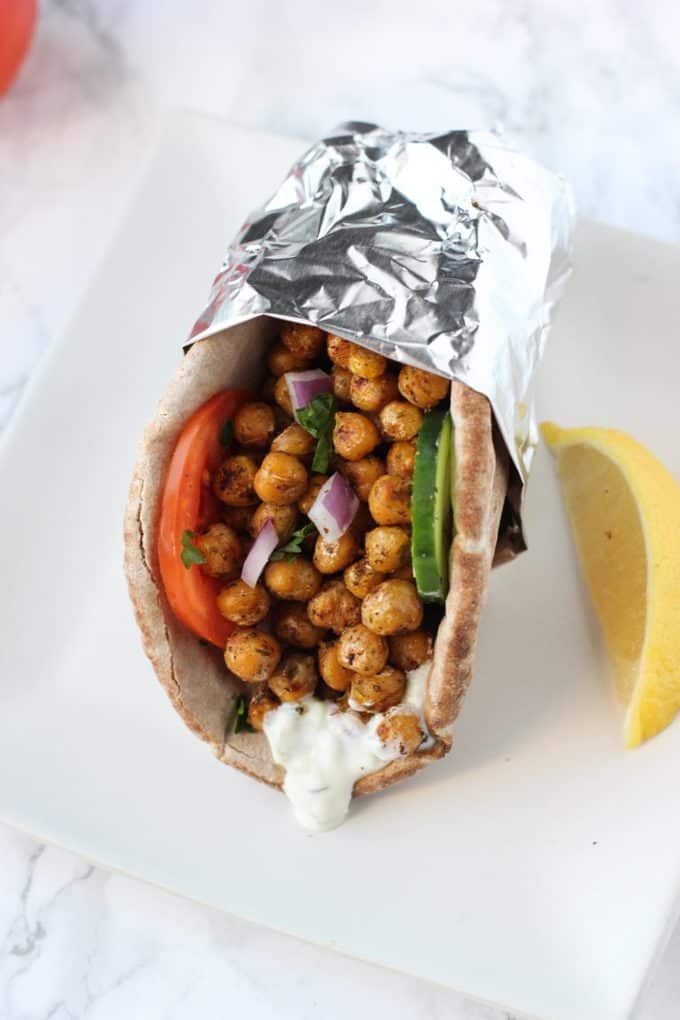 Looking for other ways to use chickpeas? Check out this post for tons of ideas!
Print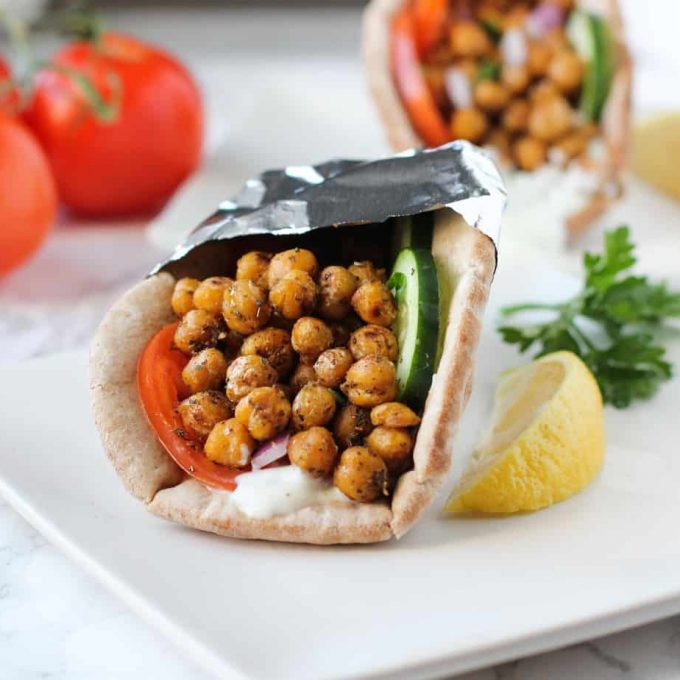 15 Minute Chickpea Gyros
Author:
Prep Time: 5 minutes
Cook Time: 10 minutes
Total Time: 15 minutes
Yield: 2 gyros 1x
Category: Dinner
Method: Stovetop
Cuisine: Greek
---
Description
These chickpea gyros with homemade tzatziki sauce are ready in just 15 minutes! You only need a few fresh vegetables and a handful of pantry staples to get dinner on the table in minutes.
---
1 ½ tablespoons olive oil, divided
1 15oz can chickpeas, rinsed, drained, and dried
¼ teaspoon garlic powder
¼ teaspoon dried thyme
¼ teaspoon dried oregano
¼ teaspoon paprika
2 tablespoons 2% or full fat plain Greek yogurt
1 teaspoon lemon juice
½ small cucumber
1 small Roma tomato, sliced
1 tablespoon diced red onion
2 whole wheat pitas
---
Instructions
In a large skillet over high heat, add 1 tablespoon of olive oil and chickpeas and stir until the chickpeas are well coated with the olive oil.
Immediately add the garlic powder, thyme, oregano, paprika. Continue to cook on medium-high heat for 9-10 minutes, stirring occasionally, until the chickpeas are golden brown.
While the chickpeas are cooking, prepare your toppings.
To make the tzatziki sauce, stir together the Greek yogurt, lemon juice, and remaining olive oil.
Grate one tablespoon of cucumber into the Greek yogurt mixture and stir to combine.
Slice the remaining cucumber into thin rounds.
Once the chickpeas are cooked, assemble each pita with the tzatziki sauce, topped with cucumber slices, tomato slices, and diced red onion.
Add the warm chickpeas and serve immediately.
---
I picked up a bag of whole wheat pitas from Trader Joe's and I keep them in my freezer until I'm ready to use them. Just a few minutes in the toaster or the oven thaws them and also makes them more pliable.
You can double this recipe to serve four people, but be sure to use a skillet that is large enough that your chickpeas can cook in a single layer. This will ensure that they get nice and crispy!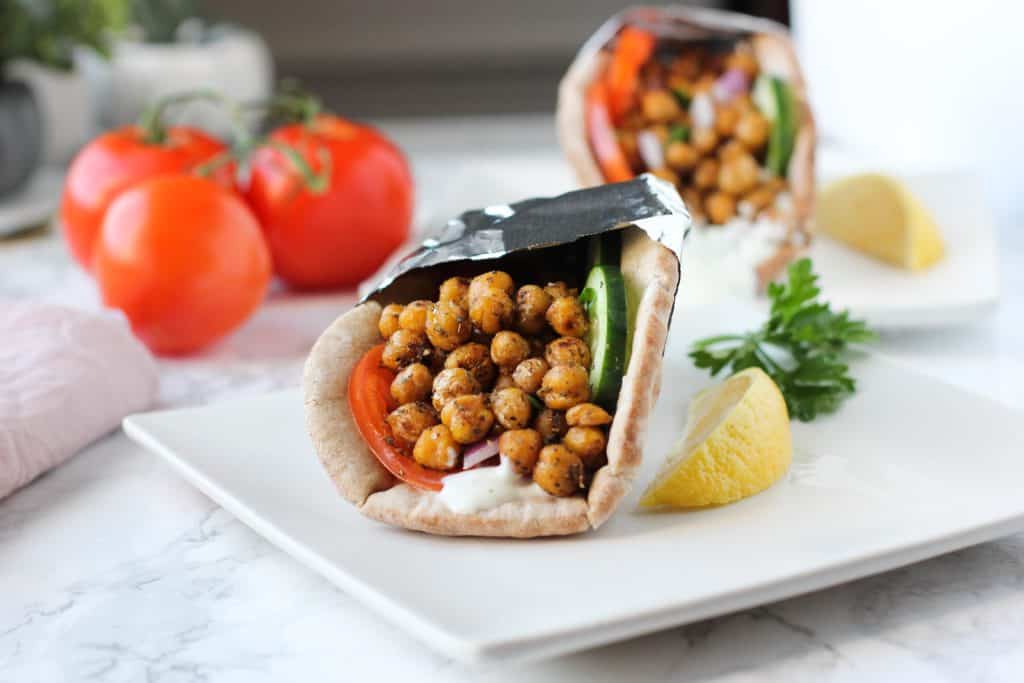 I love that these pitas have 17g of protein, which means they'll keep you full until your next meal! If you're making these for dinner, you could serve these with pita chips and hummus, a small side salad, or a few roasted vegetables. The possibilities are endless!
Looking for more 15-minute dinner ideas? Try one these recipes!