Breakfast Rice Bowl
This post is sponsored by Success rice. All opinions are my own.
This Breakfast Rice Bowl is made with Success Jasmine Rice and a variety of leftover vegetables for a delicious stir fry that is perfect for a morning meal or weekend brunch!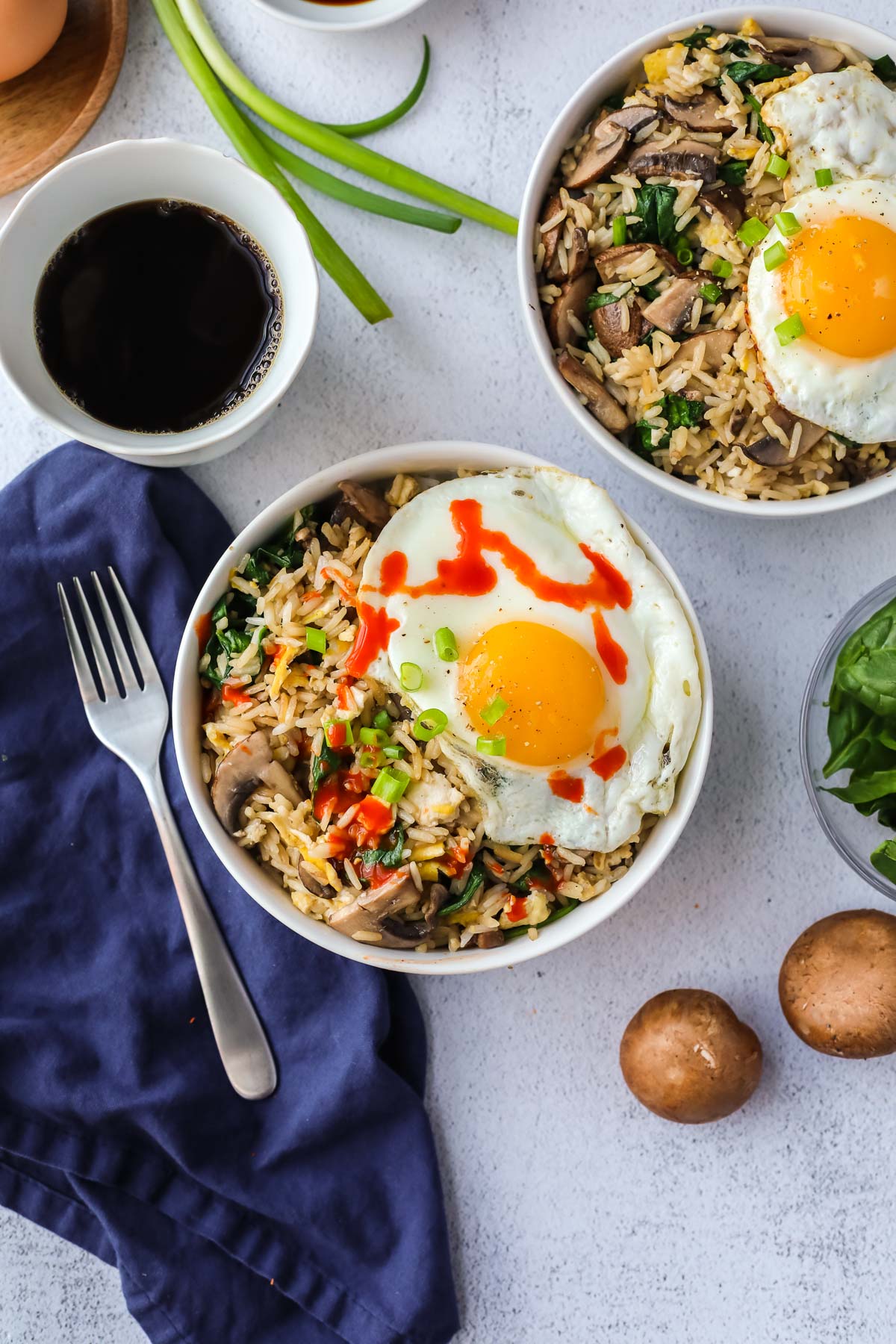 Sustainability and Food Waste
One of my goals this year has been to reduce food waste. It can be a challenge since my job requires making a lot of food. But did you know that food takes up more space in US landfills than anything else? When discarded food is sent to landfills, it rots and produces methane gas, which is the second most common greenhouse gas. Alex and I started composting a few years ago to reduce the amount of food that goes into our trash, but if I can use the food before it spoils, that's even better! Reducing and preventing food waste at home can have a big impact on resource and energy conservation.
Success Rice challenged me to develop a new recipe using Success Rice and ingredients I already had in my fridge, freezer, or pantry. It was such a fun project! I know I'm not the only one looking to reduce food waste, so I hope this idea will be helpful for you, too.
How to Repurpose Leftovers
Some veggies can find their way into a smoothie. Some can be added to an omelet. Bits of leftover fruit can be mixed into muffins or sprinkled into pancakes. And of course, we all love adding leftover vegetables to a stir fry! But why save stir fry for dinner? I thought it would be fun to create a stir fry-style bowl that you could enjoy for breakfast or any time of the day!
I used a few ingredients that I'd typically put in an omelet, like spinach and mushrooms, but I used them in a stir fry with leftover rice. Did you know that cold rice is the best rice to use for a stir fry? It's a great way to repurpose leftover rice from last night's dinner!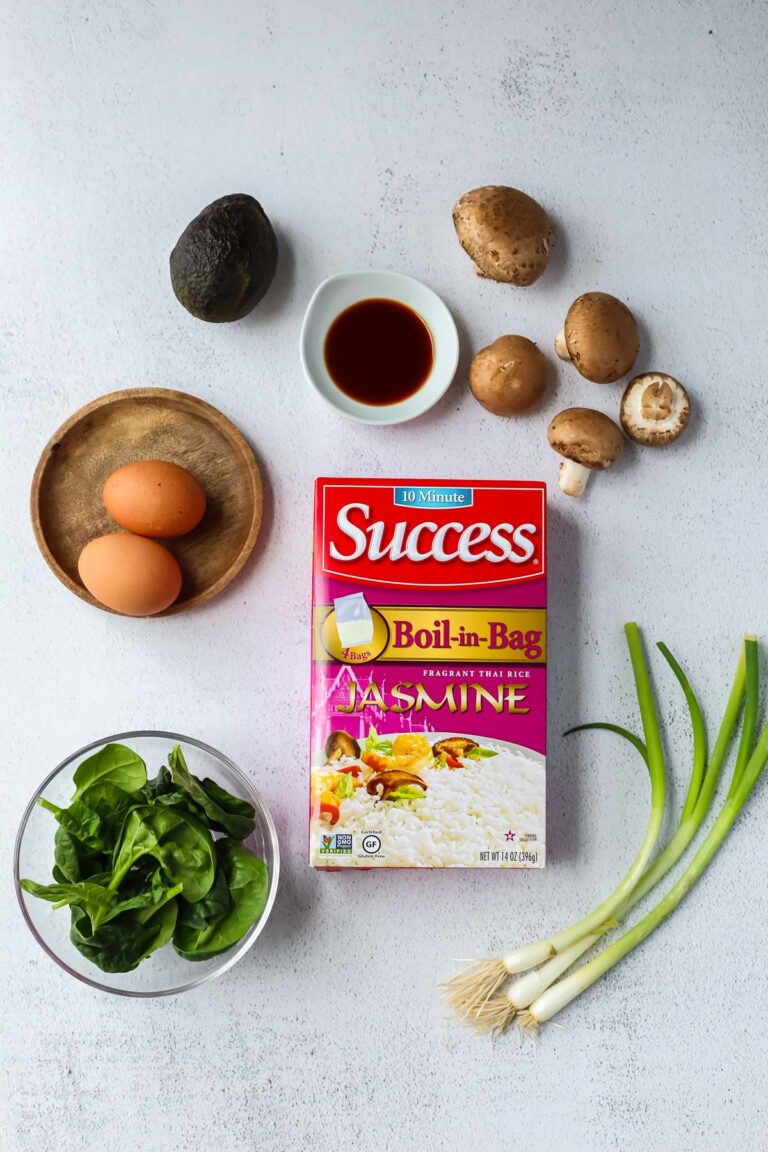 Ingredients & Substitutions
Rice– I used Success Jasmine Rice and I love it because it's a no measure, no mess, boil-in-bag rice. You just drop the bag in a pot of water, let it cook for about 10 minutes, and the rice comes out soft and fluffy every time. I recommend making it the day before because cooled rice is actually the best for a stir fry! But if you don't have any sitting in the fridge, don't worry. You can make it and let it cool while you chop your vegetables.
Vegetables– I used spinach, mushrooms, and green onions but I've included a whole list of other vegetables you can use, with notes on the cooking time so you can mix and match whatever bits and pieces you have in your fridge.
Oil– I recommend using a high heat oil like avocado oil or coconut oil but vegetable oil works fine, too.
Sauce– I kept it simple with soy sauce and a little hot sauce but you can also add a drizzle of sesame oil or a dash of rice vinegar for even more flavor.
Eggs– I scrambled a couple of eggs into the rice and then topped the finished bowls with a fried egg, but you could do just scrambled eggs or just fried eggs.
Additional toppings– Feel free to get creative with toppings like chopped avocado, chives, and fresh herbs.
Other Stir Fry Additions
Here's a list of other vegetables you can add to the mix. I've included how long to cook each vegetable over medium heat, before adding it to the rice mixture. You'll also want to add a little bit of oil to the pan when cooking these vegetables.
Broccoli, chopped into 1" pieces- 3-5 minutes
Cauliflower, chopped into 1" pieces- 3-5 minutes
Bell peppers, chopped into ½" pieces- 2-3 minutes
Carrots, shredded or thinly sliced into ½" pieces- 3-5 minutes
Zucchini, sliced into ¼" rounds- 3-4 minutes
Kale, destemmed and torn into pieces- 1-2 minutes
Red or green cabbage, shredded- 3-4 minutes
Frozen peas- 1-2 minutes
Frozen corn- 1-2 minutes
How to Make Breakfast Rice Bowls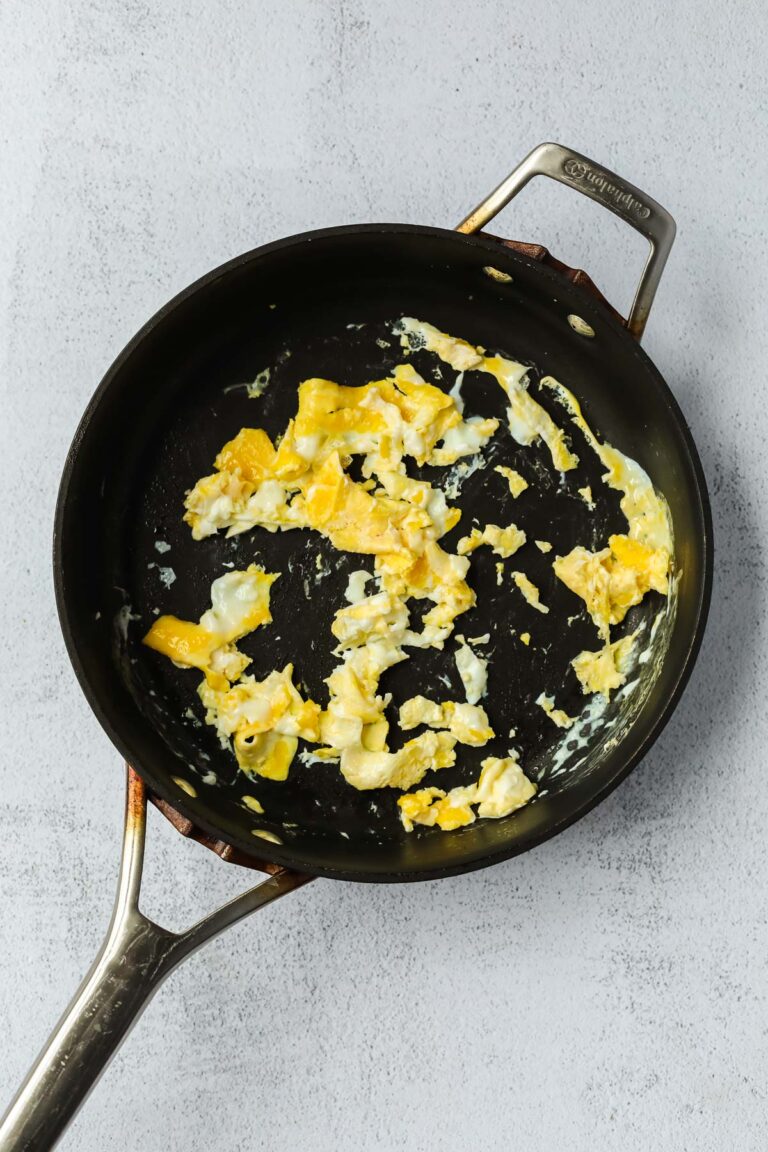 Print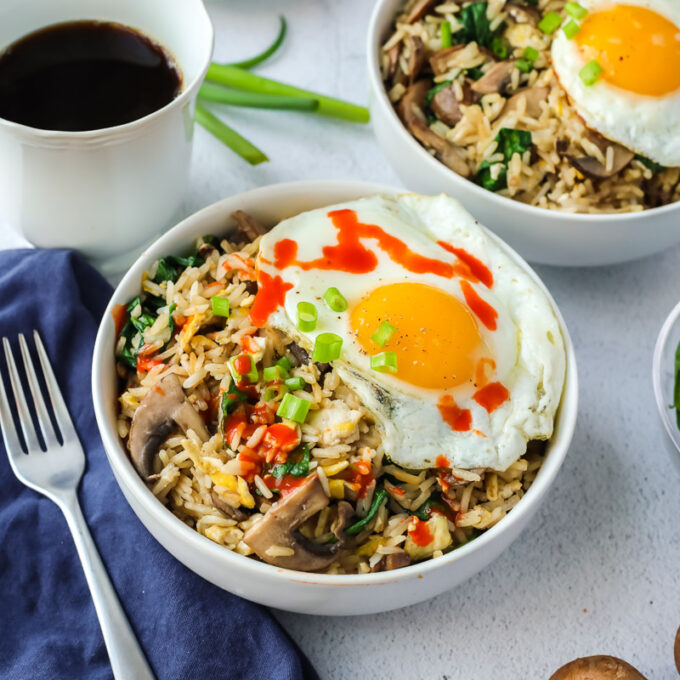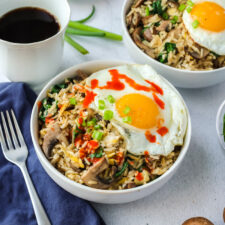 Breakfast Rice Bowl
Author:
Prep Time: 10 minutes
Cook Time: 20 minutes
Total Time: 30 minutes
Yield: Serves 2
Category: Breakfast
Method: Stovetop
Cuisine: American
Diet: Vegetarian
---
Description
This Breakfast Rice Bowl is made with Success Jasmine Rice and a variety of leftover vegetables for a delicious stir fry that is perfect for a morning meal or weekend brunch!
---
1 bag Success Jasmine Rice
3 teaspoons avocado oil or vegetable oil
2 scallions, chopped, white and green parts separated
1 cup baby bella mushrooms, chopped
4 eggs, divided
1 cup baby spinach
1 tablespoon soy sauce
1 tablespoon butter
Avocado (optional)
Hot sauce (optional)
---
Instructions
Cook the Success Jasmine Rice according to package directions then set aside. If you're planning to use the rice immediately, spread it on a baking sheet to allow it to cool completely.
In a small bowl, beat 2 eggs until well combined. 
In a large non-stick skillet, heat 1 teaspoon oil over medium-high heat for 30 seconds.
Add the scrambled eggs and cook, stirring frequently until the egg is mostly set, about 1 minute. Transfer the eggs to a large plate.
In the now-empty skillet, add 1 teaspoon oil.
Add the chopped mushrooms and the white parts of the scallions and cook over medium heat stirring frequently, until the mushrooms just begin to brown, about 4 minutes. Drain any moisture from the mushrooms, then transfer the mushrooms and scallions to the plate with the eggs.
Add 1 teaspoon of oil to the empty skillet then add rice and stir until combined.
Continue to cook the rice, stirring frequently, about 4 minutes.
Add spinach, cooked eggs, mushrooms and scallions, and soy sauce and cook, stirring frequently, until everything is warmed through, about 2 minutes.
Top with the green parts of the scallion.
Top with a fried egg (instructions below) and/or avocado and hot sauce, if desired.
To make a fried egg for topping:
In a small skillet, heat 1 tablespoon of butter over medium heat. 
Pan fry two eggs and add to rice bowls.
---
Keywords: breakfast rice bowl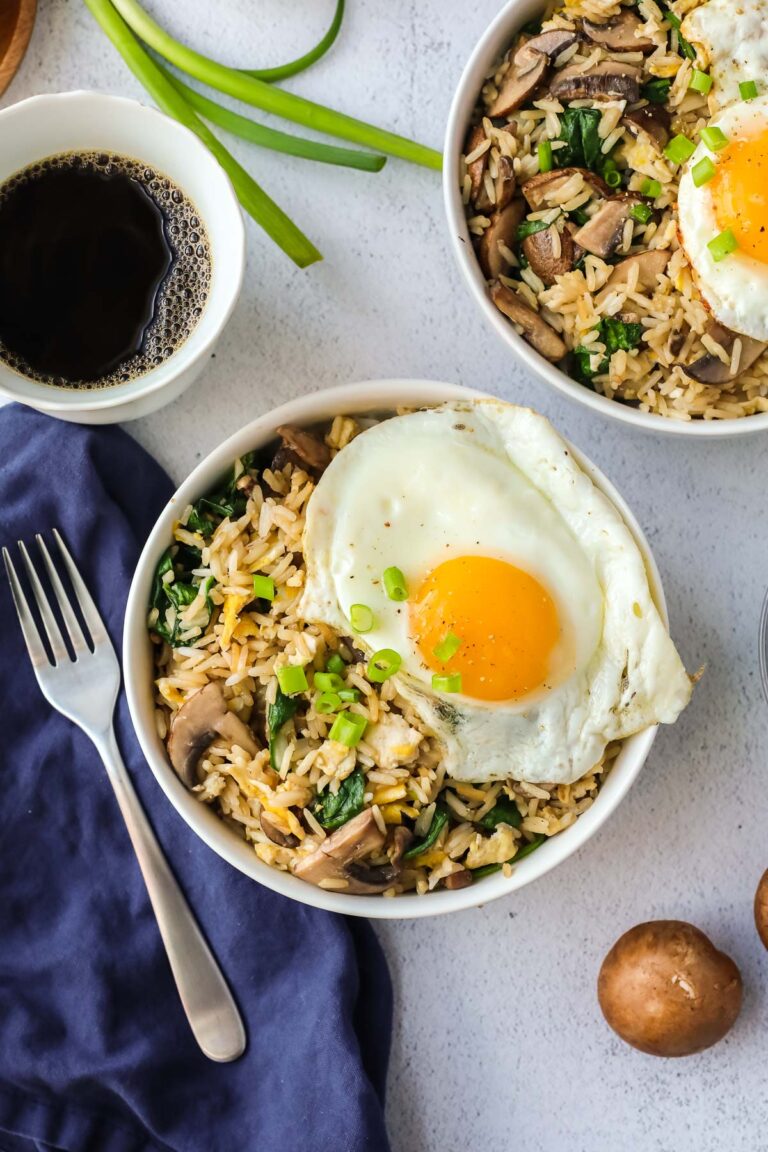 More Success Rice Recipes
I love Success Rice and I've used their rice and quinoa in tons of recipes. Also, Success Rice is 100% recyclable—you can recycle both the bag and the box it comes in! You can toss the box in the traditional cardboard bin and recycle the bag at a store drop-off bin. (You can find those at many major grocery stores.) If you're looking for more ways to use their rice and quinoa, check out these other recipes:
If you want to participate in the Eat Down Your Fridge Challenge, tell me in the comments below how you'll repurpose leftover ingredients!