Miso Glazed Carrots
These roasted carrots are tossed with miso paste, olive oil, and honey for a flavorful side dish that is surprisingly simple to make! Pair these caramelized carrots with your favorite protein for a delicious meal.
Roasted carrots with miso is an easy recipe, perfect for a healthy yet flavorful side dish. The salt and savory flavor of the miso pairs perfectly with the natural sweetness of the carrots, and the roasting process helps to caramelize the carrots and bring out their natural flavors. A little honey helps enhance the sweetness, and the olive oil helps create a perfectly balanced flavor.
Ingredients and Substitutions
One of the great things about this recipe is that it's very versatile. You can use any miso paste that you like — white, yellow, or red. You can also adjust the amount of honey and miso to suit your taste. If you prefer a sweeter and more savory flavor, you can add a little more honey. If you prefer a more balanced flavor, you can use equal parts honey and miso. If you want to make this recipe vegan, you can use maple syrup instead. If you don't have olive oil, you can substitute it with melted butter or avocado oil.
I used rainbow carrots but you can use any carrots you like. This can work with baby carrots, but I do prefer the flavor and texture of regular carrots. If using precut baby carrots, you'll still want to slice them in half or fourths, depending on the size.
Overall, roasted carrots with miso is a simple and delicious recipe that is sure to become a new family favorite. It's easy to make and can be served as a side dish for any meal. Whether you're looking for a healthy and flavorful side dish for a weeknight dinner or a special occasion, this recipe is sure to please.
Benefits of Carrots
Carrots are an excellent source of nutrients. They are a rich source of beta-carotene, a powerful antioxidant that the body converts into vitamin A. Vitamin A is essential for healthy vision, immune function, and skin health. It also plays a crucial role in the growth and development of the body's cells.
In addition to beta-carotene, carrots are also a good source of other vitamins and minerals, including vitamin C, vitamin K, and potassium. They are also high in dietary fiber, which can help to support healthy digestion and prevent constipation.
One of the most well-known benefits of carrots is their ability to support good vision. The high levels of beta-carotene found in carrots can help to protect the eyes from damage caused by free radicals, which can lead to age-related vision loss.
Overall, carrots are a nutritious and tasty food that can have a variety of health benefits. They are a good source of vitamins, minerals, and fiber, and can help to support healthy vision, skin, and overall health.
What is Miso?
Miso is a traditional Japanese seasoning made from fermented soybeans. It is commonly used in soups, marinades, and sauces to add a savory, umami flavor to dishes. This fermented soybean paste can be made from just soybeans or soybeans and other grains such as rice or barley. The color, flavor, and texture vary depending on the ingredients used, the fermentation process, and the aging time. Miso paste can be found in most Asian grocery stores and larger supermarkets.
What can I substitute for miso?
If you do not have miso paste or cannot find it, there are several possible substitutes you can use:
Soy sauce: While it doesn't have the same fermentation flavor, soy sauce can be used as a substitute in a 1:1 ratio.
Worcestershire sauce: This sauce can be used as a substitute in a 1:1 ratio, but it will add a slightly different flavor profile to the dish. Remember that most Worcestershire contains fish, so look for a vegetarian-friendly brand such as Annie's.
Sambal Oelek: This is a chili paste that can be used as a substitute for the saltiness and umami flavor of miso paste, but it will add a spicy kick to the dish.
How to Make Miso Glazed Roasted Carrots
How to Store Leftovers
These carrots are best served right out of the oven. But if you do have leftovers, I recommend reheating them in the oven or air fryer. The air fryer is my preferred method because it only takes a few minutes. But you can reheat them in the oven as well. In a pinch, you can microwave them, but they tend to get a bit soggy when microwaved.
More Carrot Recipes
Print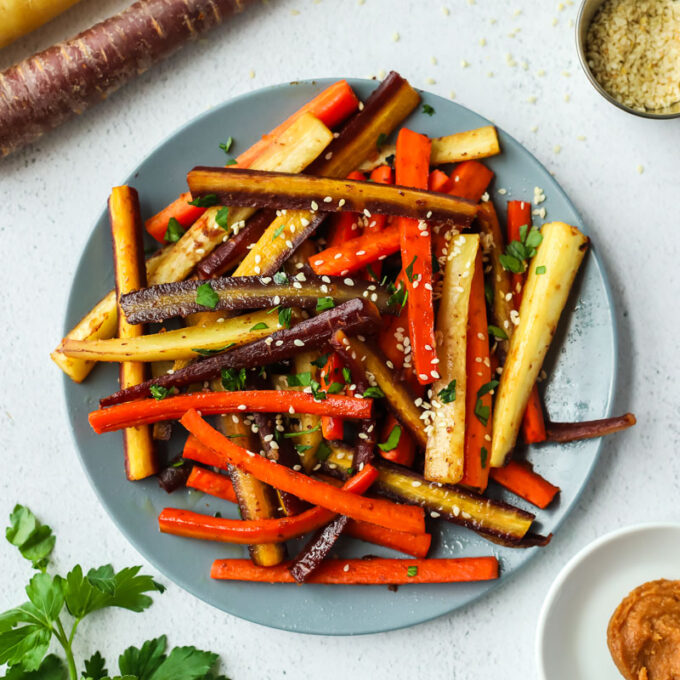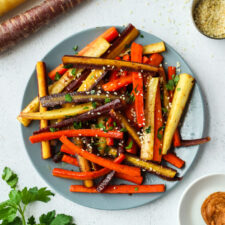 Miso Glazed Carrots
Author:
Prep Time: 10 minutes
Cook Time: 20 minutes
Total Time: 30 minutes
Yield: Serves 4
Category: Side Dish
Method: Oven
Cuisine: American
Diet: Vegetarian
---
Description
These roasted carrots are tossed with miso paste, olive oil, and honey for a flavorful side dish that is surprisingly simple to make! Pair these caramelized carrots with your favorite protein for a delicious meal.
---
1 pound carrots, peeled and cut into 4" sticks
1 tablespoon miso paste
1 tablespoon honey or maple syrup
1 tablespoon olive oil
1 teaspoon sesame seeds (optional)
Fresh parsley for garnish (optional)
---
Instructions
Preheat your oven to 400F degrees.
Toss the carrots with olive oil, honey, and miso until evenly coated.
Spread onto a single layer on a baking sheet.
Roast for 20-25 minutes or until tender and caramelized.
Sprinkle with sesame seeds and parsley, if desired.
---
Keywords: miso roasted carrots
What to Serve with Miso Glazed Carrots
Looking for the perfect main dish to pair with these carrots? Try them with my farro risotto or as a side dish with this Penne Rosa recipe. These miso carrots are so versatile you can pair them with nearly any main dish or protein you like.