Carrot Top Hummus Recipe
Don't let your carrot tops go to waste! Use this parsley-like herb in this carrot top hummus for a deliciously fresh flavor!
A few months ago, I had a revelation about carrots. "Regular" carrots seem to have so much more flavor than baby carrots! I posted about this on Instagram and it turned out that I'm not the only one that feels that way. Although baby-cut carrots are simply a trimmed down version of their larger counterparts, they're often made from sub-par carrots.
After discovering this, I've realized how much tastier freshly cut carrot sticks are and now I find myself peeling and chopping carrots every week. The extra effort is worth it because I find myself snacking on carrot sticks much more frequently and they almost never go to waste! I recently grabbed a bundle at the farmer's market and I decided I couldn't let the carrot tops go to waste either.
How to use carrot tops
I'm sure I'm not the only one who has searched for recipe ideas for carrot tops. This time of year, they're abundant and there is no need to let them go to waste! You can blend them into hummus, like in the recipe below, or you can use them to make pesto!
What do carrot tops taste like
Upon researching (and sampling) I found that these greens tasted like a sweeter type of parsley. Before using, rinse well and shake off excess water. Pat dry with a towel.
I'm happy to report that this recipe turned out to be delicious and now I always have a use for my carrot tops!
Print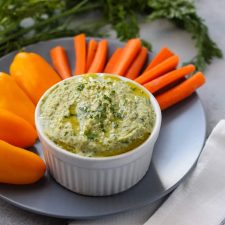 Carrot Top Hummus Recipe
Author:
Prep Time: 10 minutes
Cook Time: 0 minutes
Total Time: 10 minutes
Yield: 1 1/2 cups 1x
Category: Hummus
Method: Blended
Cuisine: Middle Eastern
---
Description
Don't let your carrot tops go to waste! Use this parsley-like herb in your next batch of hummus for a deliciously fresh flavor!
---
1 15oz can chickpeas, rinsed and drained
1 tablespoon lemon juice
3 tablespoons olive oil
2 tablespoons tahini
1 cup loosely packed carrot top greens
1/2 teaspoon salt, or to taste
---
Instructions
Heat the chickpeas in the microwave for 30 seconds. (This is optional, but warm chickpeas are easier to blend.)
In a food processor or blender, add the chickpeas and lemon juice, blending for 30 seconds.
While the food processor is running, drizzle the olive oil and tahini.
Stop the food processor and scrape down the sides using a rubber spatula or spoon.
Add the carrot top greens and continue to blend for 1 minute or until smooth.
Store in an airtight container in the refrigerator.
---
Keywords: carrot top hummus
How to serve carrot top hummus
Try serving this hummus with chopped, raw vegetables like carrots, bell peppers, or cucumbers.
You can also use this hummus as a sandwich spread.
For an easy appetizer, serve it with pita chips or naan.
Looking for other hummus recipes? Here are a few of my favorites:
Have you ever tried cooking with carrot top greens?