Farro Risotto Recipe
This Farro Risotto is a healthier twist on traditional risotto! Made with farro instead of arborio rice, this risotto is hearty and delicious. This recipe is only 6 ingredients and you can customize it with any vegetables you like!
Earlier this week, I bought farro without really knowing what I was going to do with it. My original plan was to use it in a salad but when I came home from work on Wednesday, the idea of eating a salad wasn't really getting me excited. (What? Not excited about salad? I know.) My thoughts wandered to risotto and I figured… why not? Farro has more protein and fiber than rice so it seemed like a fun alternative! Luckily, it all worked out and we ended up with a delicious and filling risotto for dinner!
What is Farro?
Farro is an ancient grain, full of protein, fiber, and nutrients! The taste is a little heartier and chewier than brown rice. Because it is a type of wheat, it is not gluten-free. There are a few different types of farro:
Pearled Farro: This is the most common type of farro and it's the type that we'll use in this recipe. It's a bit less nutritious because it's had the bran removed, but it has the shortest cook time.
Semi-pearled farro: As the name suggests, this type of farro has had part of the bran removed. It takes a bit longer to cook than pearled farro and it has more of a nutty flavor.
Whole farro: This type of farro includes the whole wheat bran, which makes it the most nutritious but it also takes the longest to cook. This type of farro typically needs to be soaked overnight before cooking.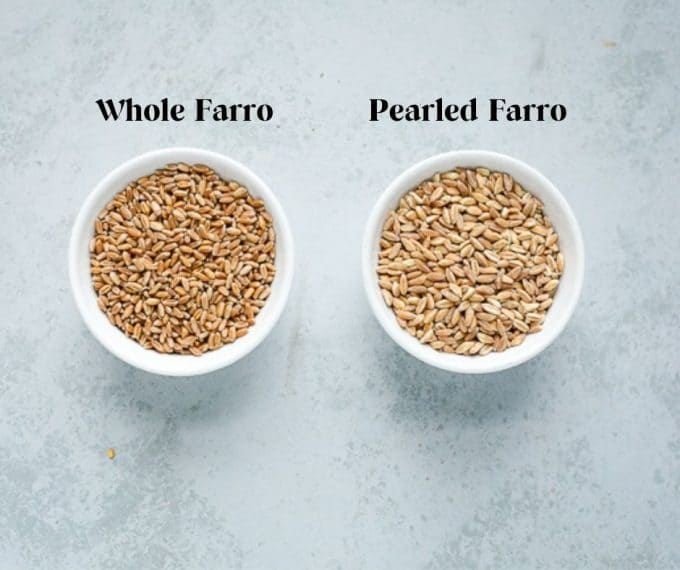 Where to Buy Farro
You can usually find farro near the rice and grains at the grocery store. You can also find farro on Amazon! This recipe users pearled farro because that's the easiest one to find at the grocery store!
What is Farro Risotto?
Technically this recipe is not risotto, since risotto uses arborio rice. But farro risotto, sometimes called farrotto, is a twist on this recipe, using farro instead of rice. The great thing about farro is that it contains more protein and fiber than rice, so it's a great source of plant-based protein. Since this is a vegetarian recipe, I like using farro since it keeps me full!
Can You Substitute Rice for Farro in Risotto?
Yes! Although we do have to make a few tweaks in order to make a creamy risotto without rice. It's important to use pearled farro which has the bran removed. It cooks quickly, which is necessary for this recipe. We also grind the farro slightly, which helps break down the starch so we can get a creamy consistency similar to risotto.
How to Make Farro Risotto
The first step is to pulse the grains in a blender or food processor. This helps break down the starches to give you a creamier final dish.
Once the onion has softened, toast the farro for a minute or two before adding the broth.
Slowly add the broth, stirring frequently, to release the starch from the farro.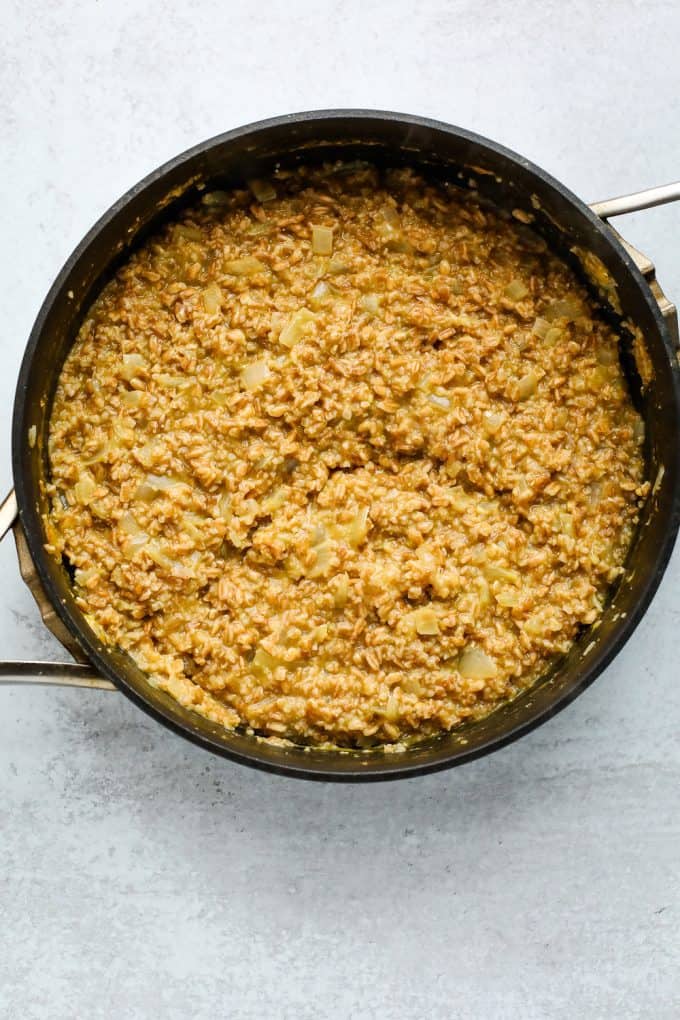 Then add the Parmesan cheese to create a creamy consistency.
Then top with pine nuts and serve! I also like to add a sprinkle of parsley for a little pop of color!

Farro Risotto Variations
Add mushrooms for a meaty, earthy flavor! Simply add 2 cups of sliced button or baby bella mushrooms with the garlic in step 4.
Eat your veggies by adding 2 cups of frozen peas! Once all of the broth is nearly absorbed, add the peas and continue to cook until heated.
Add blanched asparagus. Simply add chopped, blanched asparagus when stirring in the parmesan cheese.
More Risotto Recipes
Print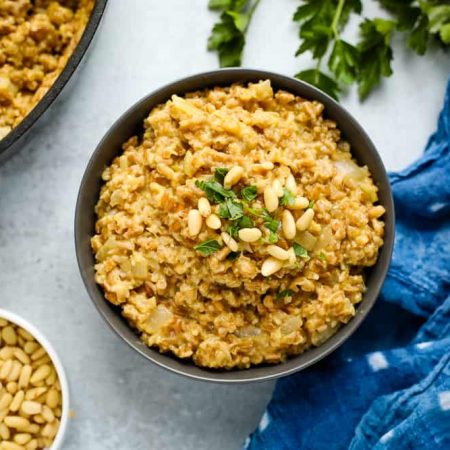 Easy Farro Risotto
Author:
Prep Time: 5 mins
Cook Time: 25 mins
Total Time: 30 mins
Yield: 4 1x
Category: Dinner
Method: Stovetop
Cuisine: Vegetarian
---
Description
This Farro Risotto is a healthier twist on traditional risotto! Made with farro instead of arborio rice, this risotto is hearty and delicious!
---
2 tablespoons butter
1 small white onion, chopped
3 cloves garlic, minced
1 1/2 cups pearled farro
4 cups vegetable broth (I like "not chicken style" broth)
1/2 cup shredded parmesan cheese
2 tablespoons pine nuts (optional)
---
Instructions
In a blender or food processor, pulse the farro grains 4-5 times until slightly broken down.
Heat the butter in a large skillet or dutch oven over medium heat.
Add the onion and cook for 3-5 minutes or until it begins to soften.
Add the garlic and continue to cook for 1 minute.
Add the farro and stir until the grains are coated, about 1 minute.
Add 1 cup of broth and stir continuously until the farro absorbs the water, about 2-3 minutes.
Add the additional 3 cups of broth and cover. Continue to cook over medium heat for 15-20 minutes, stirring frequently, until all the broth has been absorbed and the farro has softened.
If the farro begins to stick to the bottom of the pan, add a splash of water.
Once the farro has softened, add the parmesan cheese and stir until the cheese has completely melted.
Remove from heat and divide into bowls.
Top with pine nuts and serve!
---
Keywords: vegetarian farro risotto
More Farro Recipes
Have you ever tried farro?