Penne Rosa Recipe
This Penne Rosa recipe is a twist on the Noodles & Company dish made with a creamy, spicy sauce and filled with plenty of vegetables. It's easy to make and perfect for a weeknight dinner!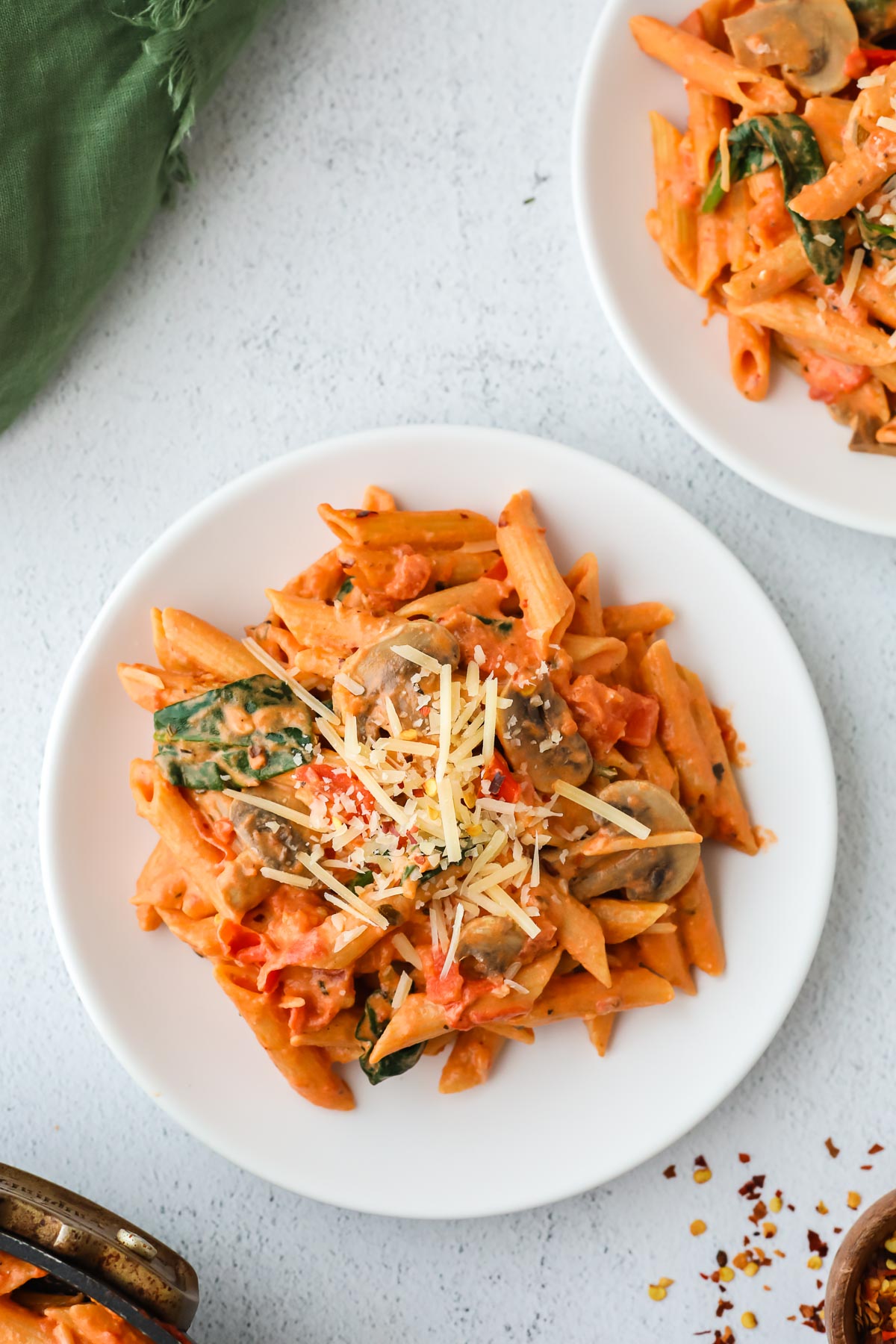 I used to go to Noodles & Company a lot when I was in college. I always debated between the Bangkok Curry Noodles and the Penne Rosa. (The Bangkok Curry is no longer on the menu but I have a copycat curried noodle recipe here!) The spicy tomato cream sauce served over penne pasta would often win out.
I realized it probably wouldn't be too hard to make at home — and I was right! This copycat recipe is fast and easy to make and I think it's even more delicious than the restaurant version! This Penne Rosa tastes like comfort food to me but it would also make a great date night dish. You can even double the recipe if you want to make a big batch! Plus, the leftovers reheat well so it's great for lunches!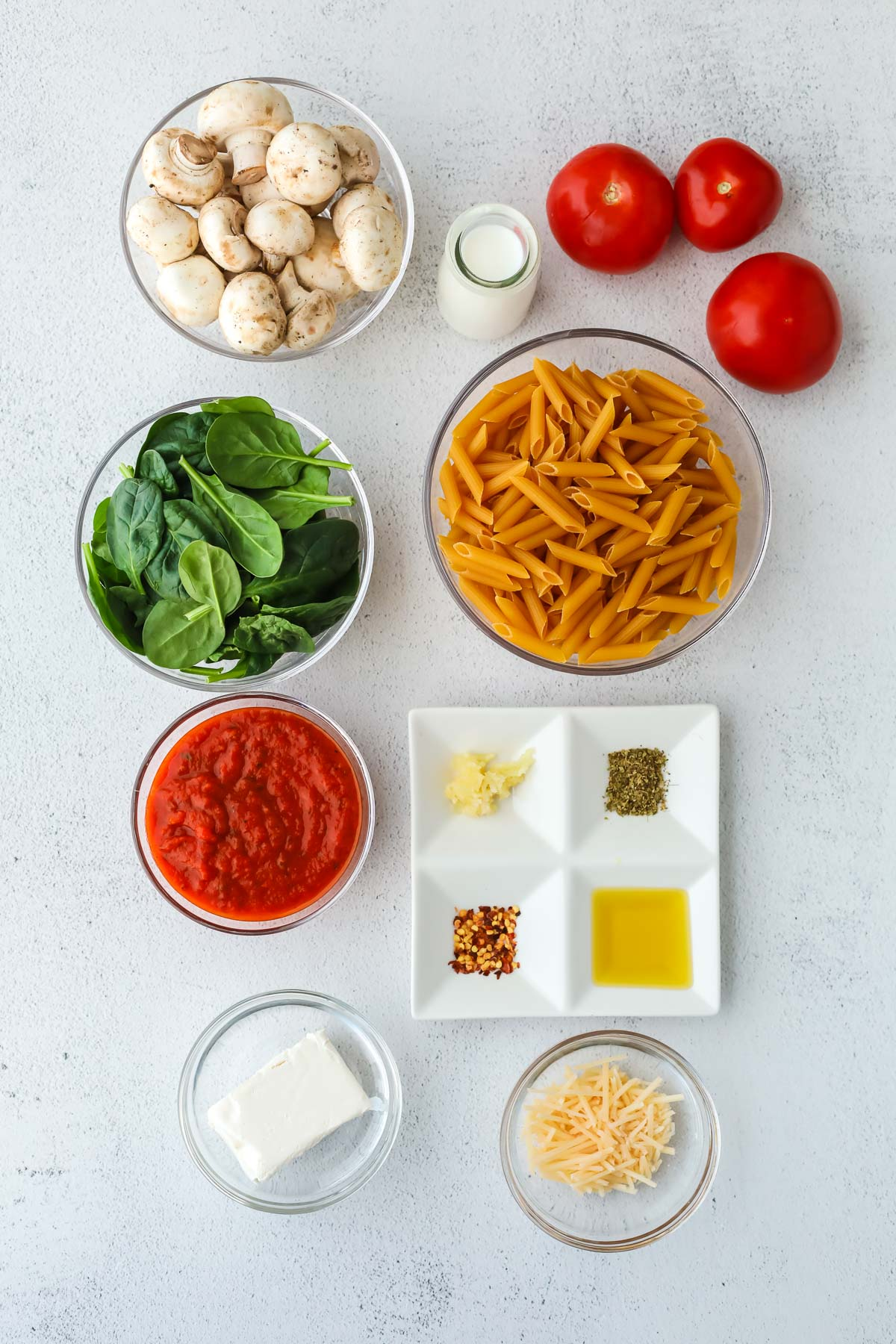 Ingredients & Substitutions
Pasta– Obviously, penne pasta is best for this Penne Rosa recipe, but you can really use any short tubular pasta. Try ziti, rigatoni, or even rotini in this pasta dish. I used whole wheat pasta for more protein and fiber.
Cream cheese– The original recipe uses heavy cream but I liked adding just a touch of low fat cream cheese. It made the base taste rich and creamy, but it kept the dish lower in fat and calories overall.
Marinara sauce– I used tomato basil pasta sauce for this dish. Feel free to use your favorite jarred pasta sauce, but I'd recommend a neutral flavor like tomato basil or basic marinara. If you want to make your own sauce, try my delicious meatless spaghetti sauce! It's great in this recipe.
Tomatoes– I used fresh tomatoes but you can substitute with canned diced tomatoes if that's what you have on hand. I've also tested this with cherry tomatoes and it worked great! You'll want about 3/4 cup of chopped tomatoes.
To make this recipe vegan: Substitute vegan cream cheese such as Kite Hill Vegan Cream Cheese and use almond milk in place of dairy milk. You can either skip the Parmesan cheese or use vegan Parmesan cheese instead.
To make this recipe gluten-free: Simply swap in your favorite gluten-free pasta in place of the whole wheat noodles.
How to Make Penne Rosa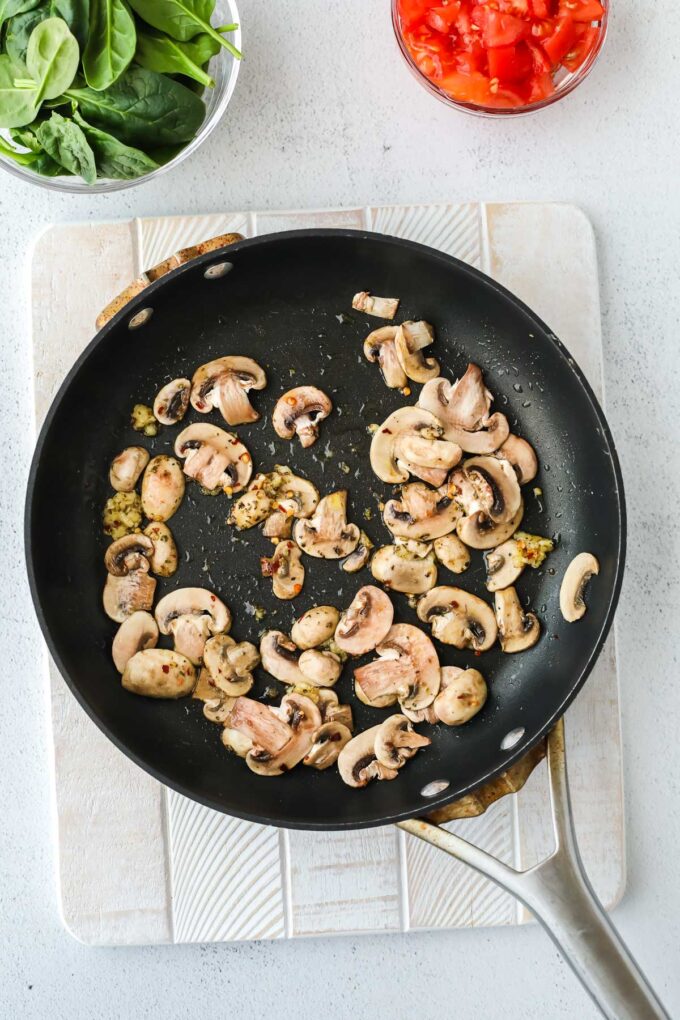 Frequently Asked Questions
Is Penne Rosa healthy? Yes! When made with whole wheat pasta, this recipe has a lot of protein and fiber, plus it is packed with mushrooms and fresh spinach. It's a great meatless meal. While the Noodles & Company dish uses heavy cream, I used low-fat cream cheese, so even though the creamy tomato sauce tastes rich, it's actually low in fat!
Can I freeze this recipe? I wouldn't recommend freezing the leftovers, as the sauce doesn't freeze well. But it will stay fresh in the fridge for up to 3 days. To reheat, divide into portions and microwave on 50% power, stirring every minute, until heated through.
Can I add protein to this dish? At Noodles & Company, this recipe would sometimes be served with their Parmesan crusted chicken or grilled chicken. But to keep this recipe vegetarian, I skipped the meat. Of course, you can add your favorite protein or even toss in a can of white beans if you want to add additional protein to this meal!
Can I make this kid-friendly? Yes! To make Penne Rosa kid-friendly, I recommend skipping the red pepper flakes. You can always add them to your own plate once you've dished up the recipe! The red pepper flakes are the only ingredient that makes this recipe spicy, so it's easy to make this recipe mild.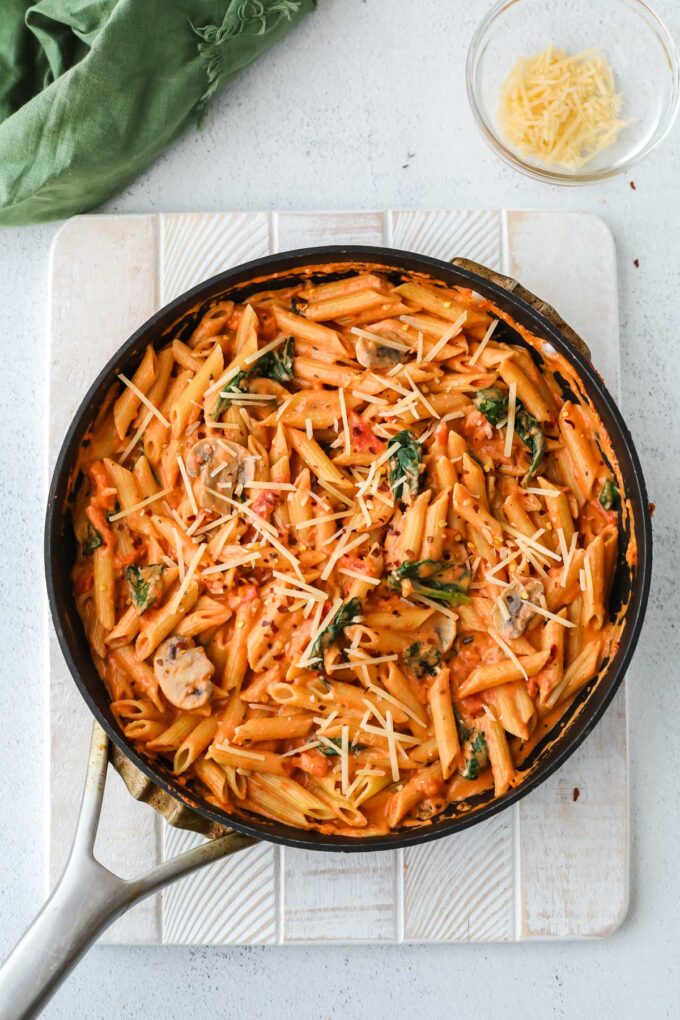 What to Serve with Pasta
If you're looking for a good side dish, I recommend a leafy green kale salad or a batch of air fryer broccoli. You could also pair it with a crusty loaf of sourdough bread or any of the recipes on this list of the best pasta side dishes!
More Pasta Recipes
Print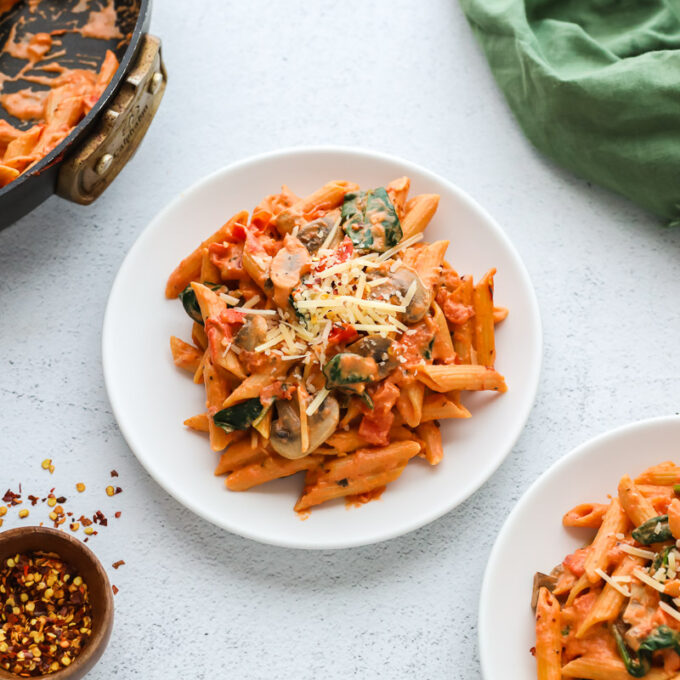 Penne Rosa Recipe
Author:
Prep Time: 10 minutes
Cook Time: 15 minutes
Total Time: 25 minutes
Yield: 2–4 Servings 1x
Category: Dinner
Method: Stovetop
Cuisine: American
Diet: Vegetarian
---
Description
This Penne Rosa recipe is a twist on the Noodles & Company dish made with a creamy, spicy sauce and filled with plenty of vegetables. It's easy to make and perfect for a weeknight dinner!
---
8oz whole wheat pasta
1 tablespoon olive oil
1/4 teaspoon oregano
1/4 teaspoon red pepper flakes
2 garlic cloves, minced
4oz sliced button mushrooms (about 1 cup)
2–3 small Roma tomatoes, chopped
1 cup marinara sauce
2 cups baby spinach
2 oz cream cheese
1/4 cup milk
2 tablespoons grated Parmesan cheese
---
Instructions
Cook the pasta according to package directions, then set aside.
While the pasta is cooking, add the mushrooms to a large skillet and cook over medium heat for 5 minutes, stirring occasionally until the moisture is released.
Add the olive oil, red pepper flakes, oregano, garlic, and tomatoes and cook over medium heat for 3 minutes.
Add the spinach and continue to cook for 1 minute.
Add the marinara sauce and cream cheese and continue to cook until cream cheese is melted.
Remove from heat and stir in milk and pasta. Mix until the pasta is evenly coated.
Sprinkle with Parmesan cheese.