Vegan Butternut Squash Pasta
This delicious butternut squash pasta is rich and creamy but completely plant-based! This hearty pasta recipe can be made in just 15 minutes.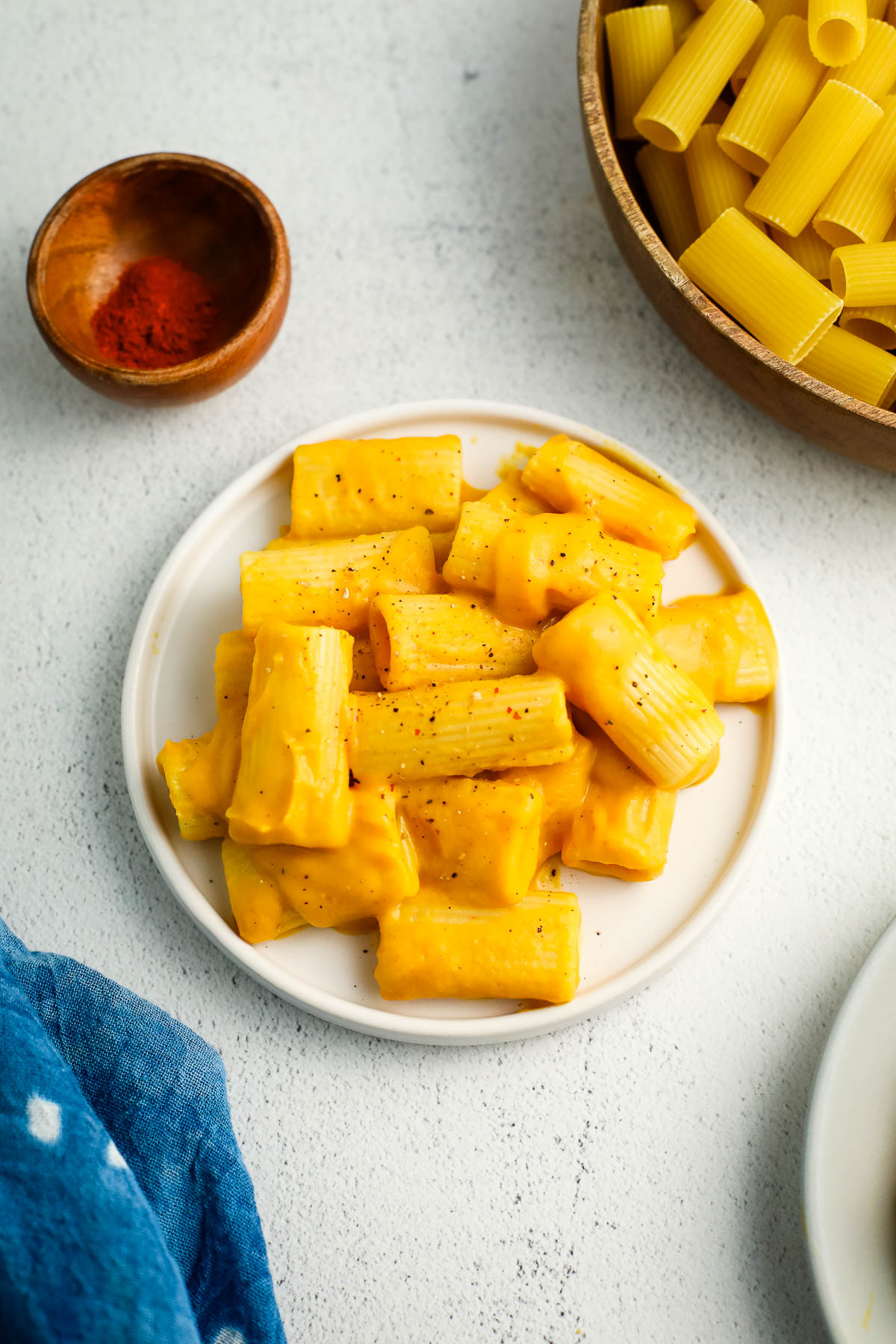 This creamy and flavorful pasta dish is a perfect plant-based alternative to traditional macaroni and cheese, and it's a hit with vegans and non-vegans alike. If you like this sauce, you should also try my vegan vodka sauce!
Butternut squash provides a rich, sweet taste and a creamy texture that makes it the perfect base for a vegan cheese sauce. To make this recipe, cook the butternut squash until it's tender, then blend it with non-dairy milk, a few spices, and nutritional yeast to create a velvety cheese sauce.
Cook your favorite pasta and toss it with the cheese sauce until it is coated. This vegan butternut squash macaroni and cheese is a delicious and satisfying meal that's perfect for a cozy night in or as a comforting side dish for a holiday gathering.
Ingredients and Substitutions
Pasta– I recommend a short pasta like macaroni, rigatoni, penne, or rotini. These types of noodles are better at gripping the sauce compared to long noodles like spaghetti. Because we need the starch from the pasta water, I don't recommend using chickpea pasta or other gluten-free pasta in this recipe.
Pasta water– This helps create a velvety sauce that will cling to the pasta. Be sure to reserve the pasta cooking water before draining the noodles.
Butternut squash– I used frozen cubed butternut squash that can be steamed in the bag, but you can use a whole butternut squash if desired.
Almond milk– I used almond milk, but any non-dairy milk is fine.
Olive oil– This helps create a thick, rich sauce.
Nutritional yeast– This is the secret to a cheesy-tasting sauce. If you're curious to learn more about nutritional yeast, check out this post.
Spices– I used a combination of onion powder, garlic powder, smoked paprika, salt, and pepper. Don't skip on the seasonings, and be sure your spices are fresh.
Benefits of Butternut Squash Pasta
I love butternut squash because it's a nutrient-dense food that is low in calories and high in fiber. It's also high in potassium, vitamin A, and vitamin C. Butternut squash is high in antioxidants, including beta-carotene, which may help to protect cells from damage caused by free radicals.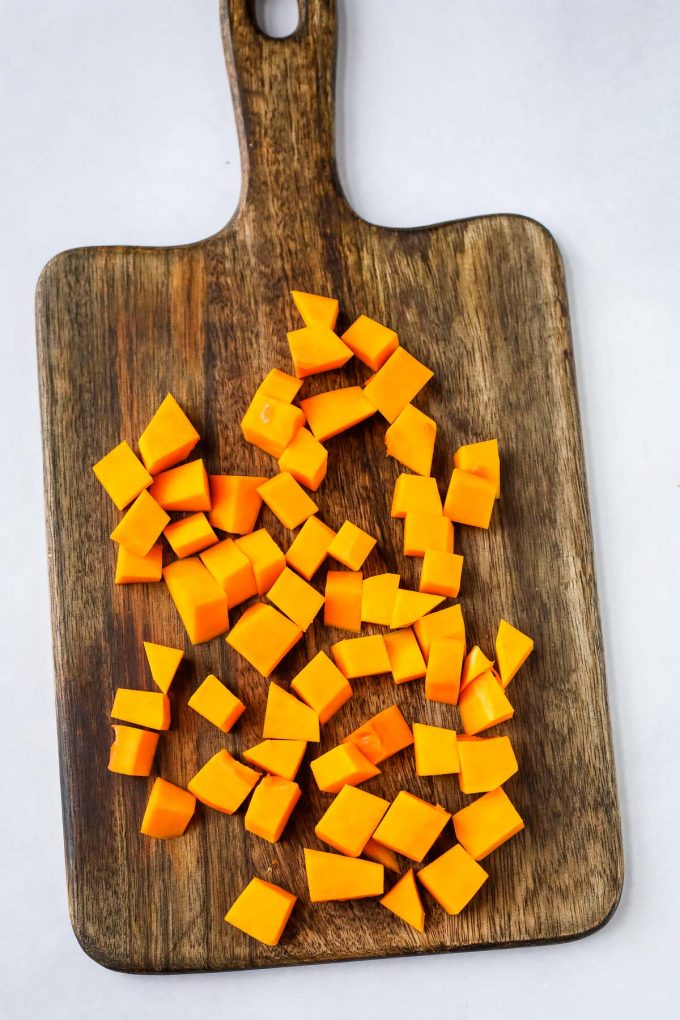 How to Peel and Cut Butternut Squash
Butternut squash can be difficult to cut, which is why I typically buy pre-cut squash for this recipe. But if you're working with a whole squash, here's what you'll need to do:
Start by cutting off the top and bottom of the squash.
Using a vegetable peeler, remove the skin from the squash. Be sure to use a firm and steady grip, and peel in downward strokes to avoid cutting too deep.
Once the skin is removed, cut the squash in half lengthwise.
Use a spoon to scoop out the seeds from the center of each half.
To cut the squash into cubes, cut each half into 1/2-inch slices, then cut each slice into 1/2-inch cubes.
How to Steam Fresh Butternut Squash
To make this recipe quick and easy, I used pre-cut frozen butternut squash or steam-in-a-bag cubed squash. But you can still make this recipe with whole butternut squash, following the directions below.
Peel and remove the seeds from the butternut squash. Cut the squash into small cubes, about 1/2 inch to 1 inch in size.
Fill the pot or pan with enough water to reach the bottom of the steamer basket, but not to touch the bottom of the basket. Bring the water to a boil.
Once the water is boiling, carefully place the steamer basket filled with about 2 1/2 cups (1lb) of the cubed butternut squash over the boiling water.
Place the lid on the pot or pan, and reduce the heat to medium-low. Allow the squash to steam for 15-18 minutes or until it becomes very soft.
Carefully remove the steamer basket from the pot or pan, and allow the squash to cool for a few minutes before transferring to the blender.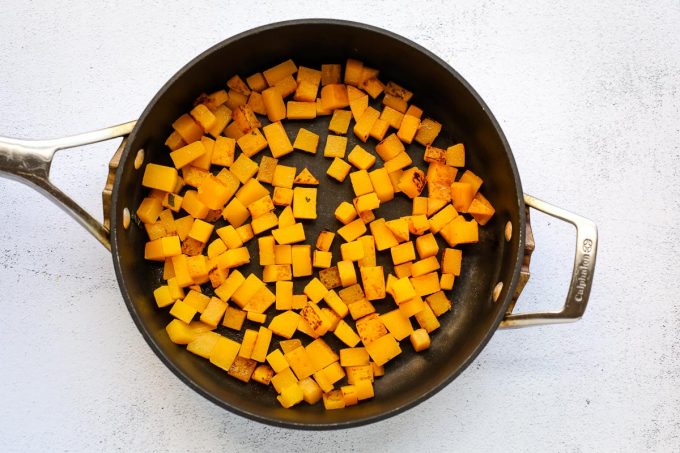 How to Make Butternut Squash Pasta
Frequently Asked Questions
Can I make this without a blender? You could use a food processor or an immersion blender if needed.
Can I use dairy milk? Yes, you can use regular milk with this recipe if you like!
Where can I buy nutritional yeast? You can often find it in the natural food section at large grocery stores, but you can also order it on Amazon.
Does it taste like cheese? The nutritional yeast adds a "cheesy" flavor, but the butternut squash flavor comes through as well. If you want more of a traditional cheese flavor, I'd try my vegan macaroni and cheese.
More Butternut Squash Recipes
Print
Vegan Butternut Squash Pasta
Author:
Prep Time: 5 minutes
Cook Time: 10 minutes
Total Time: 15 minutes
Yield: Serves 2-3 1x
Category: Dinner
Method: Stovetop
Cuisine: American
Diet: Vegan
---
Description
This delicious butternut squash pasta is rich and creamy but completely plant-based! The best part is, it can be made in just 15 minutes!
---
8 oz rigatoni (or other short pasta)
1 cup pasta water, reserved
1 lb frozen cubed butternut squash (See note if using fresh butternut squash)
1/2 cup almond milk (or other neutral non-dairy milk)
2 tablespoons olive oil
1/2 cup nutritional yeast
1 teaspoon onion powder
3/4 teaspoon garlic powder
1 teaspoon smoked paprika
1 teaspoon salt
1/2 teaspoon ground black pepper
---
Instructions
Cook the pasta according to package directions, reserving 1 cup of pasta water before draining the pasta.
Steam the squash according to the package directions until the squash is very soft.
Transfer to a blender and add the olive oil, onion powder, garlic powder, smoked paprika, almond milk, nutritional yeast, salt and pepper.
Add the reserved pasta water, starting with 1/2 cup of water, and blend. For a thinner sauce, continue to add pasta water until you reach your desired consistency.
Toss with the pasta and serve immediately. For extra cheesy flavor sprinkle additional nutritional yeast on top.
---
---
Keywords: vegan butternut squash pasta