How to Make a Smoothie Without Yogurt
If you want to make a super creamy smoothie without yogurt, follow these tips! Whether you need to make a plant-based smoothie or you just ran out of yogurt, there are plenty of ways to make a tasty smoothie without it!
I love making smoothies. From sippable drinks to spoonable smoothie bowls, I have a smoothie nearly every day! They're a great way to get in fruits, veggies, healthy fats, and protein. While some of my smoothie recipes call for yogurt, many don't require it. There are plenty of other ways to create a delicious, creamy smoothie.
Can I make a smoothie without yogurt?
Absolutely! The trick is to find other ingredients that can add creaminess to the smoothie. Things like frozen bananas, avocados, and even frozen cauliflower can help create a rich, thick texture without any yogurt. For example, my avocado smoothie tastes like a rich, creamy pudding, but it doesn't include any yogurt! The creaminess comes from the banana and avocado.
Can I use dairy-free yogurt?
If your goal is simply to create a vegan smoothie, you could swap in plant-based yogurt to easily make just about any smoothie vegan! I like Silk's almond milk yogurt and Kite Hill's dairy-free yogurt, but there are tons of great brands on the market! I look for dairy-free yogurt that is low in sugar. Ideally, it's great to grab a dairy-free yogurt that contains protein, although most plant-based yogurt has much less protein than its dairy counterparts.
The Best Yogurt Substitutes
Avocado– This is a great way to add creaminess without added sugar.
Banana– A banana, frozen or at room temperature, helps create a super creamy texture.
Riced cauliflower– Believe it or not, riced cauliflower can create a thick and creamy texture. Just be sure it's unseasoned with no salt or flavors added.
Soy milk– Soy milk tends to be a bit more creamy than almond milk and it's also a great way to add protein.
The Best Smoothies Without Yogurt
Here's a list of smoothies that don't contain any yogurt. They're made with other creamy ingredients like bananas, cottage cheese, cauliflower, or avocado. No matter your tastes or dietary restrictions, there's a smoothie here for everyone!
Photo Credit: iheartvegetables.com
This "Avocolada" smoothie is loaded with creamy avocado, sweet pineapple, and coconut water! It's a delicious drink for breakfast or an afternoon snack!
Photo Credit: iheartvegetables.com
This smoothie bowl is loaded with salty peanut butter, sweet strawberries, and riced cauliflower which makes this smoothie extra thick and creamy. You'd never guess there is a vegetable in the base of this tasty smoothie bowl!
Photo Credit: iheartvegetables.com
Cauliflower and avocado team up to create a creamy smoothie without any yogurt! Bonus, this recipe is low in sugar.
Photo Credit: iheartvegetables.com
If you enjoy açaí smoothie bowls, you'll love this triple berry smoothie bowl that you can make at home! Filled with blackberries, raspberries, and frozen açaí berry puree, this creamy smoothie only takes a few minutes to make and you can customize it with your favorite mix-ins!
Photo Credit: iheartvegetables.com
This chocolate avocado smoothie is so rich and creamy, you'll think you're eating dessert! But this easy smoothie is actually a healthy and delicious breakfast!
Photo Credit: iheartvegetables.com
This peanut butter smoothie bowl is packed with plant-based protein, but it tastes like a bowl of soft serve! If you love creamy smoothie bowls, this one is a must-make!
Photo Credit: iheartvegetables.com
This strawberry banana smoothie is made with cottage cheese for a uniquely creamy texture! It's packed with protein and it's a deliciously filling breakfast for busy days.
Print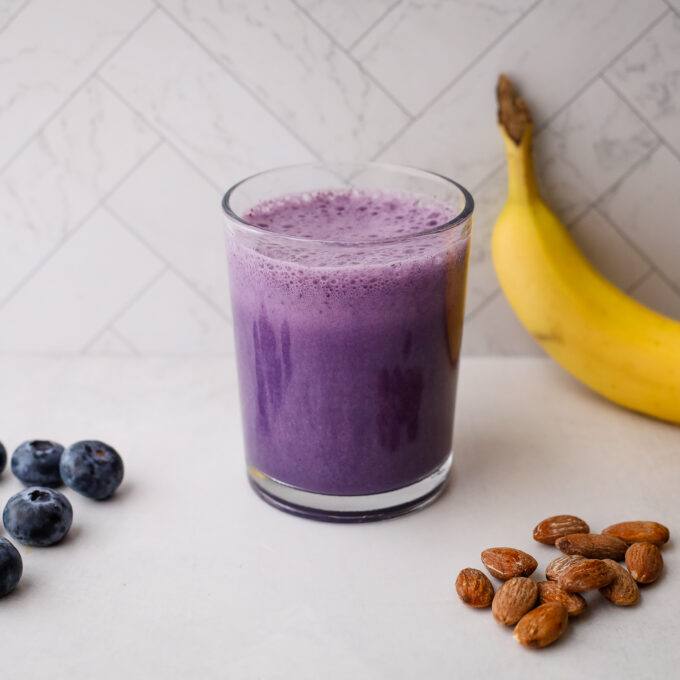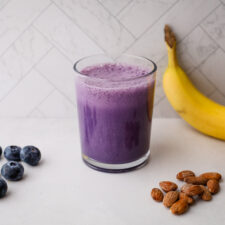 Smoothie Without Yogurt
Author:
Prep Time: 5 minutes
Cook Time: 0 minutes
Total Time: 5 minutes
Yield: 1 1/2 cups 1x
Category: Breakfast
Method: Blender
Cuisine: American
Diet: Vegan
---
Description
Here's a basic recipe for a smoothie without yogurt. You can add additional mix-ins for protein, fiber, and greens if you like!
---
1 cup frozen berries (blueberries, raspberries, strawberries, blackberries, or a combination of each)
1 frozen banana
1/2 cup almond milk or soymilk
1 tablespoon peanut butter or almond butter
Optional mix-ins
1 scoop vanilla protein powder (optional)
1 tablespoon chia seeds
1/2 cup spinach
---
Instructions
Add all the ingredients to the blender and blend until smooth.
For a drinkable smoothie, add additional almond milk until you reach a desired consistency.
---