Chocolate Avocado Smoothie
This chocolate avocado smoothie is so rich and creamy, you'll think you're eating dessert! But this easy smoothie is actually a healthy and delicious breakfast!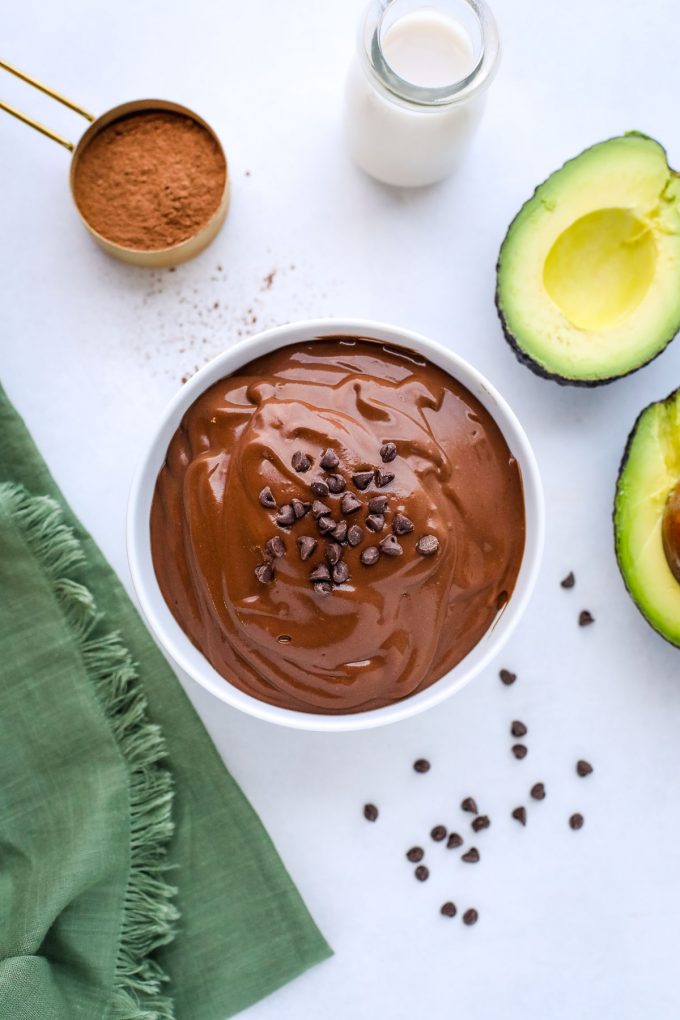 Why I Love This Recipe
The avocado creates a rich and creamy texture and the healthy fats make this recipe super satisfying. I used cocoa powder and maple syrup to create a rich and creamy chocolate flavor, but you can also substitute chocolate protein powder if you want to give this smoothie a protein boost! It only takes a few minutes to make this recipe but it will keep you satisfied all morning long.
Chocolate Avocado Smoothie Ingredients
Avocado– Be sure your avocado is soft and ripe.
Banana– For a thicker smoothie, slice the banana, then freeze overnight.
Almond milk– This helps make the smoothie blendable.
Ice– This helps create a thicker texture.
Cocoa powder– Unsweetened cocoa powder gives this a rich chocolate flavor.
Maple syrup– This adds sweetness to the smoothie. You can substitute with honey, if you don't need to keep this recipe vegan.
Is Avocado Healthy?
Avocados are naturally high in fat and calories, but the unsaturated fat in avocado is the healthy kind of fat. So while you'll want to enjoy avocado in moderation, it's a great way to add healthy fats to your smoothie. This can help your smoothie feel more satisfying and prevent you from being hungry an hour later.
Are Smoothies Good for You?
Have you seen the pictures on Instagram of a smoothie from a popular smoothie shop that is jam-packed with sugar? Or maybe you're just skeptical that something so tasty could be healthy for you! It is important to consider what's in a smoothie. Some smoothies are loaded with fruit juice so it tastes sweet, but you're hungry 15 minutes later. But not all smoothies are a sugar bomb! This creamy avocado smoothie is sweetened with banana and a touch of maple syrup, so you can control exactly how much sugar is in there. Plus, this works great with protein powder for a smoothie that will stick with you!
Tips for the Perfect Smoothie
To make your smoothie extra thick, freeze the banana and avocado before blending. If you don't have a high powered blender, slice the banana and avocado before freezing, so it'll be easier to blend!
If you have trouble blending your smoothie, add an extra splash of almond milk to get things moving. Add a little bit at a time until it begins to blend. Adding too much liquid will water down the smoothie.
Add the sweetener to taste. You may need a little more or a little less depending on the sweetness of your banana.
If you want to make your smoothie spoonable, check out my tips for super thick smoothie bowls!
Substitution Ideas
For more protein, swap out the cocoa powder for chocolate protein powder and adjust the sweetener as needed.
You can swap the almond milk for any type of milk you prefer.
You can use maple syrup, honey, agave, or any liquid sweetener. You can also substitute stevia if you want a lower calorie option.
More Avocado Recipes
If you have leftover avocado, here are some tasty recipes to try:
Print
Chocolate Avocado Smoothie
Author:
Prep Time: 5 mins
Cook Time: 0 Minutes
Total Time: 5 mins
Yield: 1 1x
Category: Breakfast
Method: Blending
Cuisine: Smoothie
---
Description
This chocolate avocado smoothie is so rich and creamy, you won't believe it's healthy! But it's packed with chocolate flavor and totally vegan.
---
1 small ripe banana
1/2 avocado
1/2 cup ice cubes
1/3 cup almond milk
1/4 cup cocoa powder
1–2 teaspoons maple syrup or to taste
---
Instructions
Add the avocado, banana, ice cubes, almond milk, and cocoa powder and blend until smooth.
Add sweetener, if desired.
Add other toppings if you like!
Notes
Give it a taste and decide if you want a little sweetener in there or not. Depending on how ripe your banana was, you may need to add a bit of sweetness.
Keywords: Avocado Smoothie
More Smoothie Recipes