Summer Tomato & Corn Pasta
This tomato and corn pasta dish is the perfect summer recipe! Sweet corn, juicy tomatoes, and creamy ricotta come together to make a simple, delicious meal.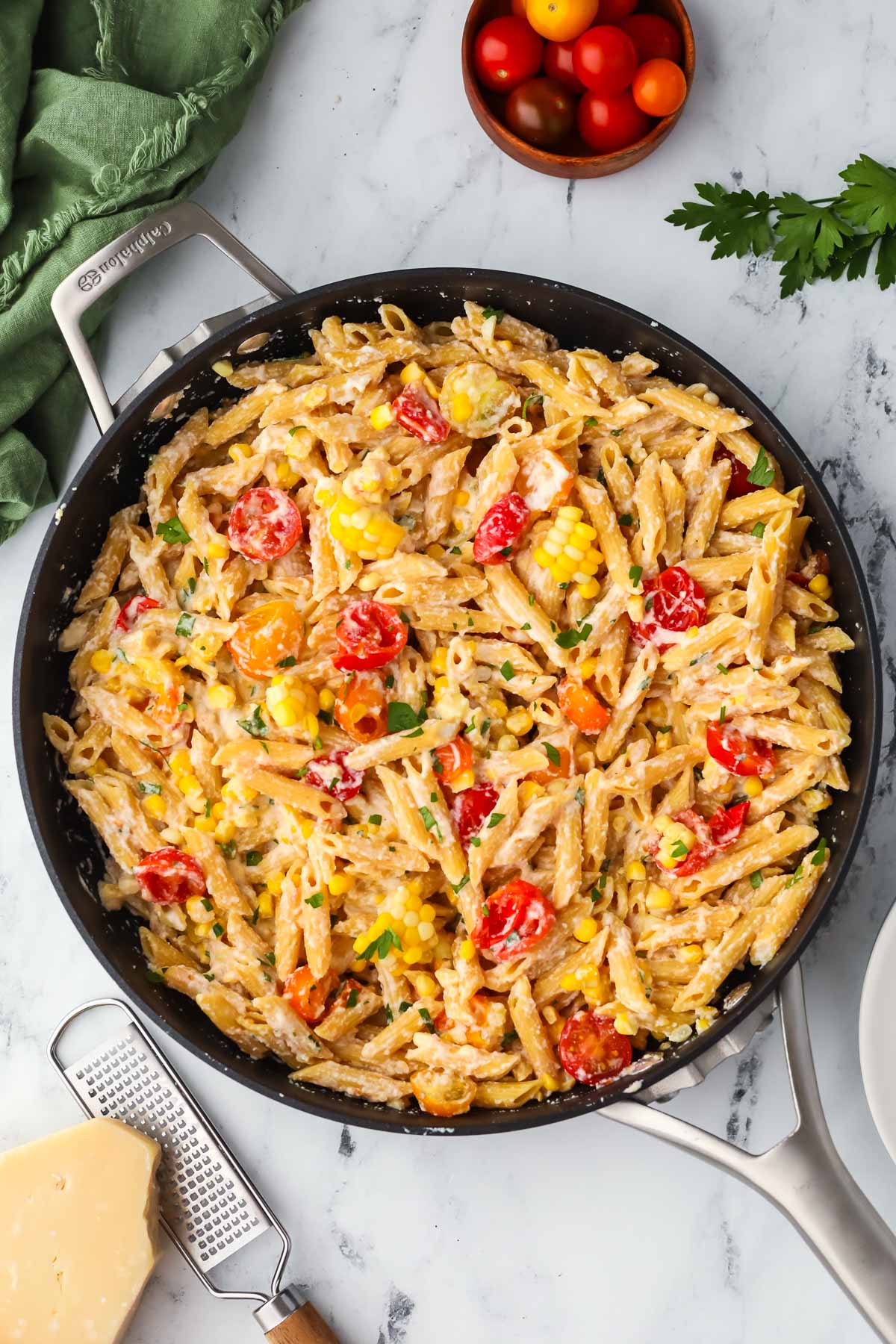 There's nothing better than tomatoes in the summertime, and this pasta recipe is the perfect way to make the most of them! I love the sweet, crunchy corn mixed with creamy ricotta and tender pasta. This recipe is easy to make, and it's a great way to let summer produce shine!
Ingredients & Substitutions
Pasta– I recommend using whole wheat pasta so this recipe has enough protein and fiber to keep you full. I used Barilla's Protein Plus pasta, which has extra protein and fiber. It's one of my favorite types of pasta because the texture is very similar to regular pasta. I also like chickpea pasta, if you want even more protein and fiber, but since the pasta water won't be as starchy, the sauce might be a bit thinner.
Tomatoes– I used cherry tomatoes, but if you're using slicing tomatoes or Roma tomatoes, be sure to chop them into 2″ pieces before adding to the skillet.
Corn– I highly recommend corn on the cob, but you can use frozen or canned corn in a pinch.
Lemon juice– A squeeze of lemon juice or lime juice enhances the overall flavor of the pasta.
Herbs– You can use cilantro, parsley, or basil, whatever you're in the mood for!
Ricotta– I recommend whole milk ricotta, which is the creamiest. If you want a lighter option, you can use part-skim but don't use fat-free ricotta cheese. If you don't have ricotta cheese, try this with 6oz cream cheese instead or try a combination of 4oz cream cheese and 4oz cottage cheese, blended until smooth.
Parmesan– This adds a salty, umami flavor to the dish. I prefer buying a block of Parmesan and grating it just before using. This will give you the best texture and flavor.
How to Make Tomato and Corn Pasta
How to Reheat Leftover Pasta
To reheat leftovers, add a splash of water to the pasta, then microwave at 50% power for one-minute intervals, stirring after each interval until heated through. The pasta tends to dry out a bit when reheating, so adding a splash of water can help with the consistency. For the creamiest leftovers, you could add a bit more ricotta. If you plan to reheat leftovers frequently, reserve additional pasta water and add a splash of the pasta water to the pasta before heating.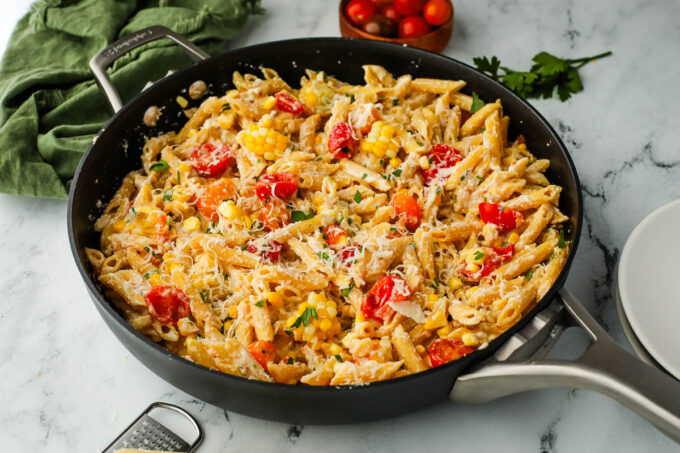 Frequently Asked Questions
When are tomatoes in season? In general, you can expect to find a wide variety of fresh, locally grown tomatoes from late spring to early fall. Obviously, you can find tomatoes in the grocery store year-round but their flavor is best during the summer months.
When is corn in season? Sweet corn is typically in season during the summer months, specifically from late June to early September. Like tomatoes, corn is available year-round but the flavor it best in peak season during the summer months.
How to Pick the Best Ears of Corn
When buying ears of corn, look for fresh, bright green husks that tightly enclose the kernels. Feel for plump, firm kernels that are evenly spaced along the cob. Check the moist and silky silk at the top and ensure the tassel end is slightly brown and sticky. Avoid ears with dry, brown husks, irregular kernels, or damaged silk. Consider the weight, as heavier ears tend to be juicier. Look for even color and a pleasant aroma. Buying from local farmers or markets can ensure the freshest and most flavorful corn.
What to Serve with Pasta
If you're looking for side dish to pair with this pasta, I have a list of the best sides to serve with pasta! Some of my favorites are Wildgrain sourdough bread, air fryer broccoli, and miso-glazed carrots. It would also be delicious with this Romano bean salad.
Print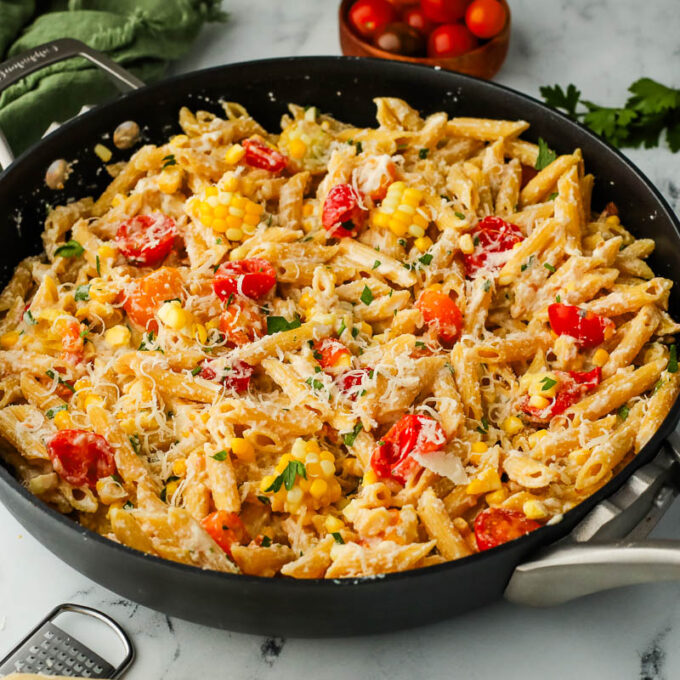 Summer Tomato & Corn Pasta
Author:
Prep Time: 10 minutes
Cook Time: 20 minutes
Total Time: 30 minutes
Yield: 8 cups 1x
Category: Dinner
Method: Stovetop
Cuisine: American
Diet: Vegetarian
---
Description
This tomato and corn pasta dish is the perfect summer recipe! Sweet corn, juicy tomatoes, and creamy ricotta come together to make a simple, delicious meal!
---
12oz whole wheat pasta
4 ears corn, shucked
2 tablespoons olive oil
2 cups cherry tomatoes, halved
3 cloves garlic, minced
1 tablespoon lemon juice
1/2 cup parsley or cilantro chopped
1 cup ricotta cheese
1/4 cup grated Parmesan cheese
Salt and pepper to taste
---
Instructions
Cook pasta according to package directions. Reserve 1/2 cup of pasta water, then drain the pasta.
Bring a large pot of salted water to a boil and add the corn. Cook for 4 minutes, then use tongs to remove the corn from the pot. Allow to cool, then use a sharp knife to cut off the corn from the cob.
In a large skillet, add the olive oil and tomatoes. Cook over medium heat for 5 minutes until the tomatoes begin to release their juices.
Add the garlic and continue to cook for 2 minutes.
Add the cooked corn, herbs, lemon juice, ricotta cheese, pasta water, and pasta to the skillet.
Heat over medium heat for 2-3 minutes, stirring frequently until heated through.
Top with Parmesan cheese and season with salt and pepper to taste.
Keywords: summer pasta, corn and tomato pasta, tomato pasta