Greek Quinoa Salad
This Greek quinoa salad is a protein-packed, gluten-free recipe loaded with vegetables. It's a perfect make-ahead salad recipe and it's hearty enough to be eaten as a main dish!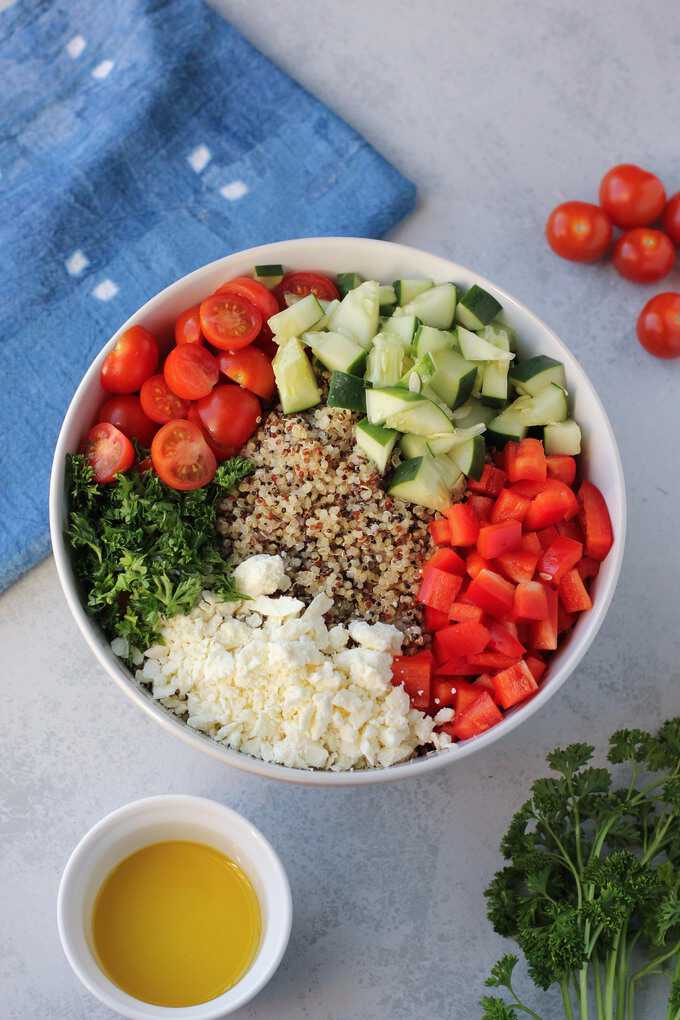 Apparently, I'm on a quinoa kick these days. It started with that Mexican Quinoa Bake and continued through the weekend with this Greek quinoa salad. It makes sense because quinoa is a pretty stellar ingredient and it's super versatile. Plus, it's something I always have on hand from the bulk bins, so it's a great recipe staple.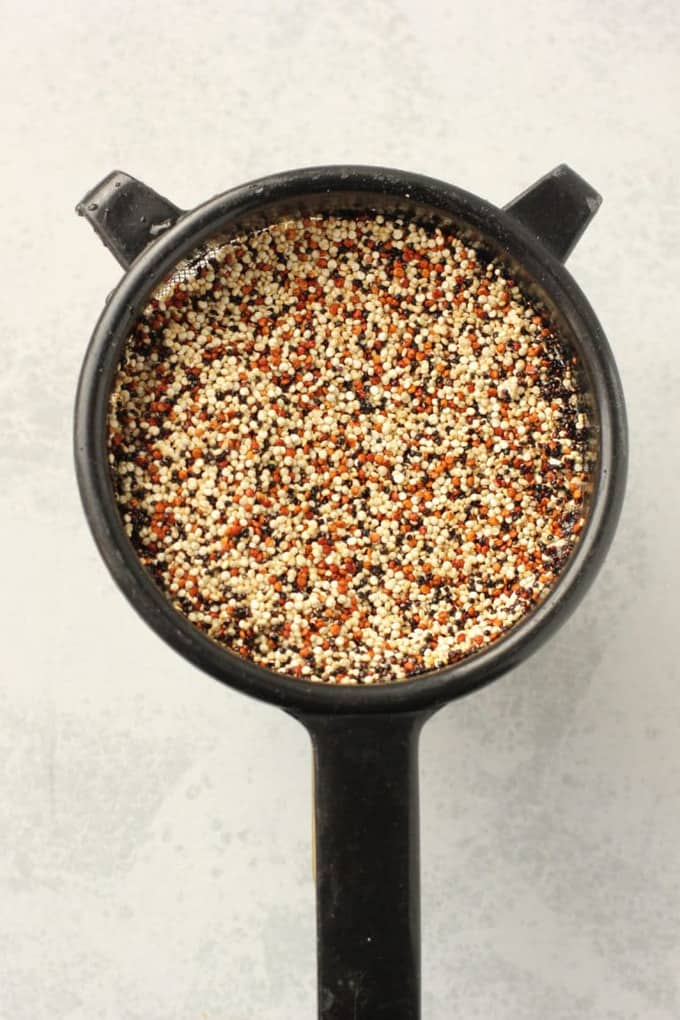 What is Quinoa?
Quinoa is technically a seed although it cooks like a grain. It's gluten free and it's actually a complete source of protein which means it contains all the essential amino acids your body needs. It's pretty affordable, especially if you buy it in the bulk bins, and it lasts for a long time in the pantry!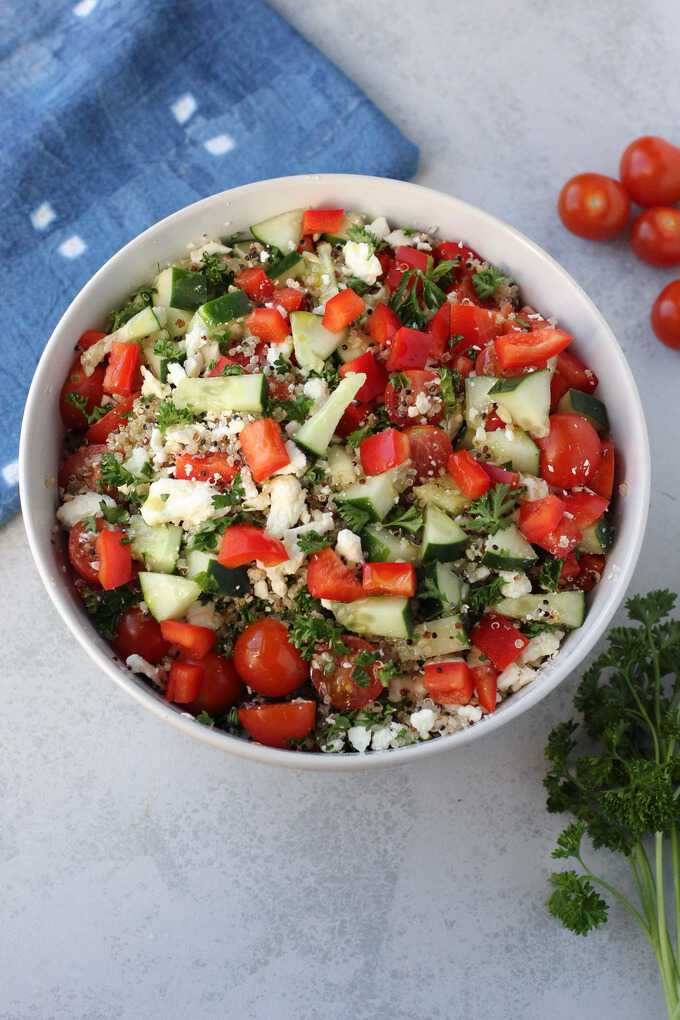 How to Prepare Quinoa
First, be sure to rinse the quinoa. You can make quinoa on the stovetop, as the package will typically suggest, but you can also make quinoa in an Instant Pot or you can cook quinoa in a rice cooker!
This recipe is an easy one to throw together and it's great because it can be served hot, cold, or room temperature. If you wanted to make this a heartier main dish, you could even serve it stuffed in a pita pocket!
Greek Quinoa Salad Ingredients
Quinoa– You can use white, red or tri-color quinoa. The quinoa needs to be cooked before added to the salad.
Tomatoes– I like using cherry tomatoes but you can use larger tomatoes and chop into smaller pieces, if you like.
Feta cheese– A little crumbled feta adds a delicious, salty flavor. For a vegan option, try Violife vegan feta.
Parsley– Fresh parsley is a must. Don't substitute dried parsley.
Bell pepper– I prefer a red bell pepper which is sweeter than a green bell pepper, but you can use a green pepper if that's what you have!
Cucumber– I love English cucumbers which have a thinner skin and less seeeds, but any cucumber will work.
Lemon juice– Fresh lemon juice adds a bright acidity to the dressing.
Olive oil- A high quality olive oil adds flavor and and creates a delicious dressing.
Salt– Don't skimp on the salt! A hearty pinch helps enhance the flavors of this dish.
Substitution Ideas
Feel free to swap out the red bell pepper for any color bell pepper
If you want to make this vegan, try using slivered almonds in place of the feta.
No quinoa? Try making this with couscous instead!
How to Store Leftovers
This salad can be made in advance since you don't have to worry about any of the vegetables wilting or getting soggy. To store leftovers or to make in advance, mix everything together and store it in an airtight container in the refrigerator until you're ready to serve it. Ideally, you'll enjoy it the same day you make it but leftovers will last 3-4 days in the fridge!
Print
Greek Quinoa Salad
Author:
Prep Time: 10 mins
Cook Time: 15 mins
Total Time: 25 mins
Yield: 10 servings 1x
Category: Dinner
Method: Stovetop
Cuisine: Vegetarian
---
Description
This Greek quinoa salad is a protein-packed, gluten-free recipe that loaded with vegetables. It's a perfect make-ahead salad recipe and it's hearty enough to be eaten as a main dish!
---
1 cup quinoa, rinsed
2 cups water
1 cup cherry tomatoes, halved
1/2 cup feta cheese, crumbled
1/2 cup fresh parsley, chopped
1 red bell pepper, diced
1 cucumber, chopped
1 tablespoon fresh lemon juice
2 tablespoons olive oil
3/4 teaspoon salt or to taste
---
Instructions
Bring the quinoa and water to a boil, cover and simmer for 15 minutes, or until the water is absorbed. Fluff with a fork, and let cool to room temperature.
In a large bowl, combine the quinoa, tomatoes, feta, parsley, pepper, and cucumber.
Drizzle with lemon juice and olive oil, sprinkle with salt and combine.
Keywords: Greek quinoa salad
Since this salad doesn't contain any leafy greens, you don't have to worry about it getting soggy. I love packing this for lunches so it's a perfect meal prep recipe!
Looking for some other quinoa recipe ideas? Try one of these recipes!
If you're a quinoa fan, what's your favorite recipe?
This post was originally published May 2014. Updated March 2019.