Fattoush Salad Recipe
Fattoush salad is a middle eastern dish made with vegetables and toasted pita bread. It's a delicious and filling recipe that can be made quickly and easily!
What is Fattoush Salad?
Fattoush salad is a relatively common dish in the Middle East that originated in Norther Lebanon. It's made with vegetables such as tomatoes and cucumbers and mixed with toasted pita bread. It originated in Lebanon and there are many variations of this type of dish. Since I love panzanella salad, I knew I was going to love Fattoush salad!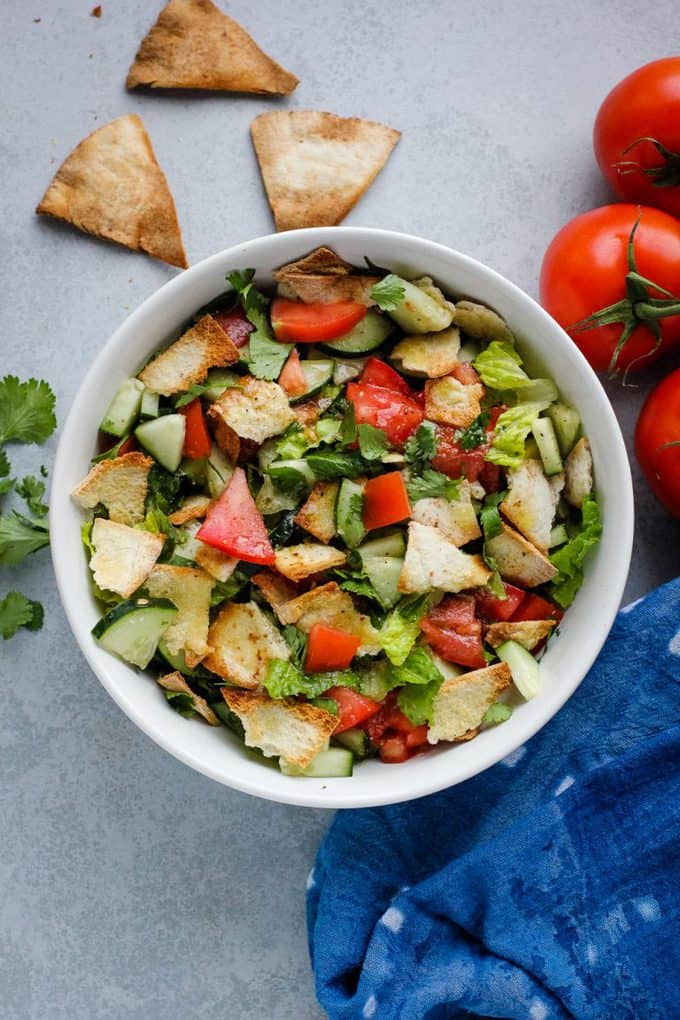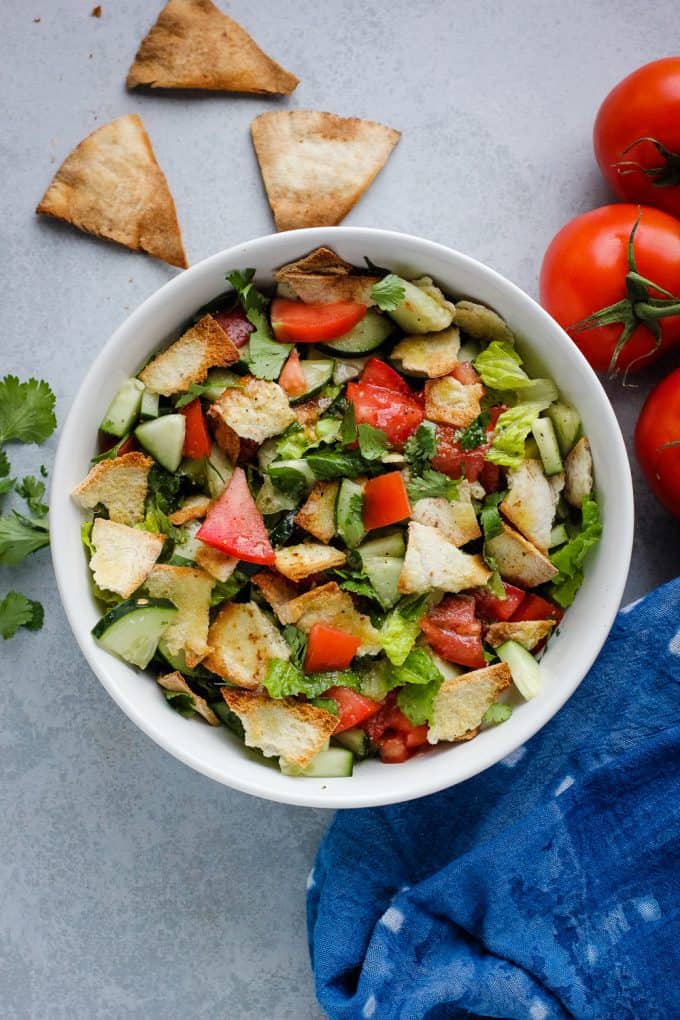 Ingredients in Fatoush Salad
Pita Bread– I like to use traditional pita bread, cut into a single layer and then sliced into triangles. By toasting the pita with a little olive oil, it helps prevent the pita from getting soggy in the salad.
Olive oil– This is essential for the pita as well as the dressing. I recommend using a high quality olive oil like California Olive Ranch, for the best flavor.
Lemon juice- This adds a nice bright acidity to the dressing and helps enhance the flavor of the vegetables.
Za'atar seasoning– If you're not familiar with this seasoning blend, I encourage you to add it to your pantry! It's a blend of spices that adds a lovely flavor to the dressing. I've included a homemade blend below.
Garlic powder– I actually prefer garlic powder over fresh garlic when used in a dressing like this. The flavor is a bit more mild.
Cucumber– You can use a regular cucumber or an English cucumber. English cucumbers have thinner skin and smaller seeds.
Tomato– I like using large slicing tomatoes but you can use cherry or grape tomatoes, sliced in half, if that's what you have on hand.
Cilantro– I love the fruity herbal flavor this adds to the dish but if you don't like cilantro, you can use parsley.
Romaine lettuce– This helps add bulk to the salad and makes it easy to enjoy more veggies!
How to Prepare Pita for Fattoush Salad
To prepare your pita triangles, cut them into triangles and peel apart the two layers of pita so that each chip is just a single layer. Brush olive oil on each triangle before toasting in the oven. This light layer of oil will help prevent the pita from getting soggy in the salad.
Once the pita is nice and crispy, you can break the chips into smaller pieces for the salad. If you're short on time, you can use storebought pita chips, but I do think these homemade chips taste the best.
Fattoush Salad Dressing
There are lots of variations of fattoush salad dressing. Some are a simple blend of olive oil, lemon juice, and spices. Some versions of this salad include lots of herbs, and some have a hint of sweetness. I kept this version pretty simple with just olive oil, lemon juice, and za'atar seasoning. Za'atar seasoning is one of my favorite spice blends! It may sound exotic but you can usually find it in the spice section of most large grocery stores. It's delicious on pita or mixed into hummus. Try this za'atar hummus recipe and you'll be hooked on the flavor!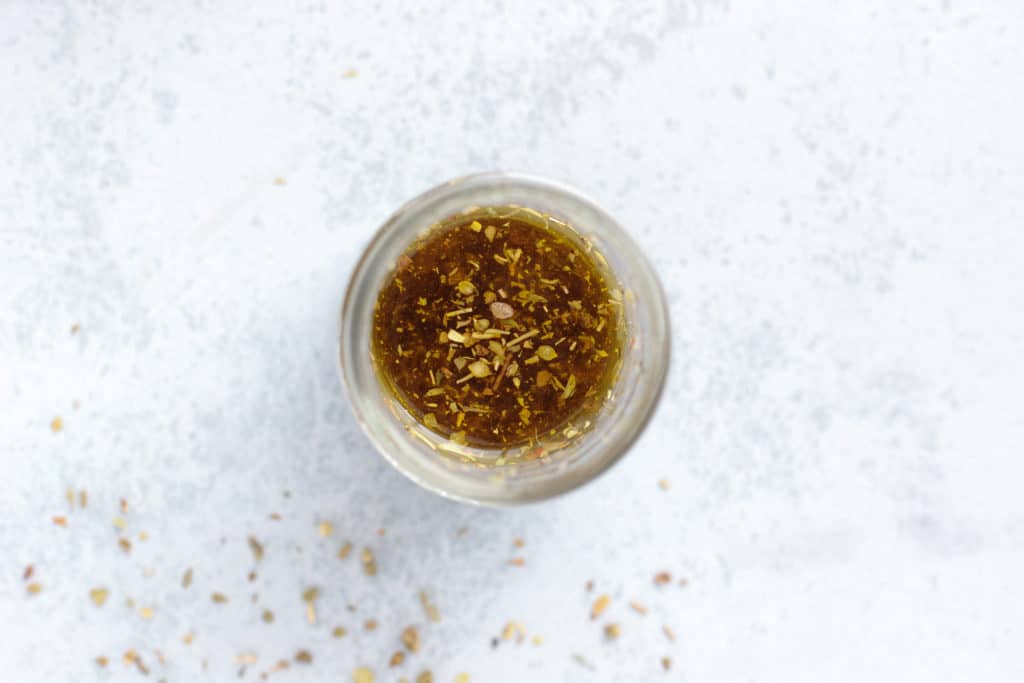 Za'atar Seasoning Substitution
If you don't have any za'atar seasoning in your pantry and you just can't wait to make this salad, you can make your own seasoning blend!
To make a za'atar seasoning substitute, combine:
1 tablespoon oregano
1 tablespoon sesame seeds
1 tablespoon sumac
1/2 teaspoon ground coriander
1/2 teaspoon salt
Can I use Pita Chips for Fattoush Salad?
This wouldn't be the traditional method but you can use pita chips if you want to speed up this recipe. That said, making homemade pita chips ensures you get a nice, crispy pita that has a light layer of oil on the outside, which helps prevent the pita from getting soggy. If you're using pita chips, be sure to enjoy the salad immediately, as they'll get soggy faster.
Substitutions & Variations
If you don't like cilantro, feel free to use parsley or fresh mint as a substitution. It will still add a fresh, herbal flavor.
If you love olives, try adding a handful of sliced kalamata olives. It will add a nice briny, salty flavor.
If you wanted to turn this fattoush salad into a full meal, try topping this salad with roasted chickpeas for added protein!
You could also top this salad with crispy halloumi cheese for a delicious meal!
What to Serve with Fattoush Salad
Try pairing this salad with these easy chickpea gyros or these chickpea salad sandwiches! This would also be the perfect side dish to serve with these grilled halloumi sandwiches.
Print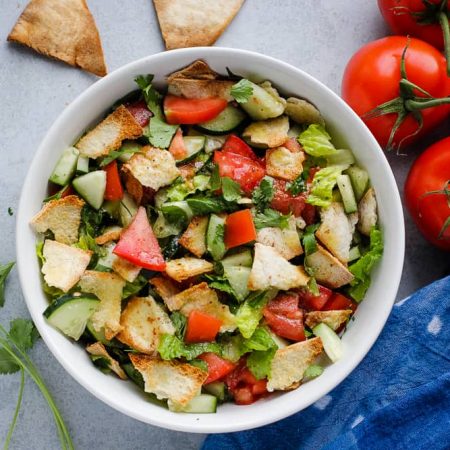 Easy Fattoush Salad
Author:
Prep Time: 10 minutes
Cook Time: 15 minutes
Total Time: 25 minutes
Yield: 6 cups 1x
Category: Salad
Method: Baked
Cuisine: Middle Eastern
Diet: Vegetarian
---
Description
Fattoush salad is a middle eastern salad made with vegetables and toasted pita bread. It's a delicious and filling recipe that can be made quickly and easily!
---
2 round pieces of pita bread
3 tablespoons olive oil
2 tablespoons lemon juice
1/2 teaspoon za'atar seasoning
1/4 teaspoon garlic powder
1 cucumber, chopped
1 tomato, chopped
1/4 cup cilantro
4 cups chopped romaine lettuce
---
Instructions
Preheat oven to 375 degrees.
Use kitchen shears to cut the pita bread around the perimeter so you have two circles for each pita bread.
Slice each pita round into 8 triangles.
Spread the pita into a single layer on a baking sheet.
Brush 1 1/2 tablespoons of olive oil over the pita triangles.
Bake for 10-14 minutes until the pita is crisp.
While the pita is baking, whisk together the remaining olive oil, lemon juice, za'atar seasoning, and garlic powder.
Once the pita is crispy, let cool slightly then gently break into smaller pieces.
Add the cucumber, tomato, cilantro, romaine, and toasted pita chips into a large bowl.
Drizzle with dressing and toss to combine. Serve immediately.
---
Notes
If you're making this salad in advance, wait to add the pita chips and dressing until just before serving.
Keywords: Easy fattoush Salad
If you're looking for other salad ideas, try this avocado Panzanella salad. It's made with toasted bread and plenty of vegetables!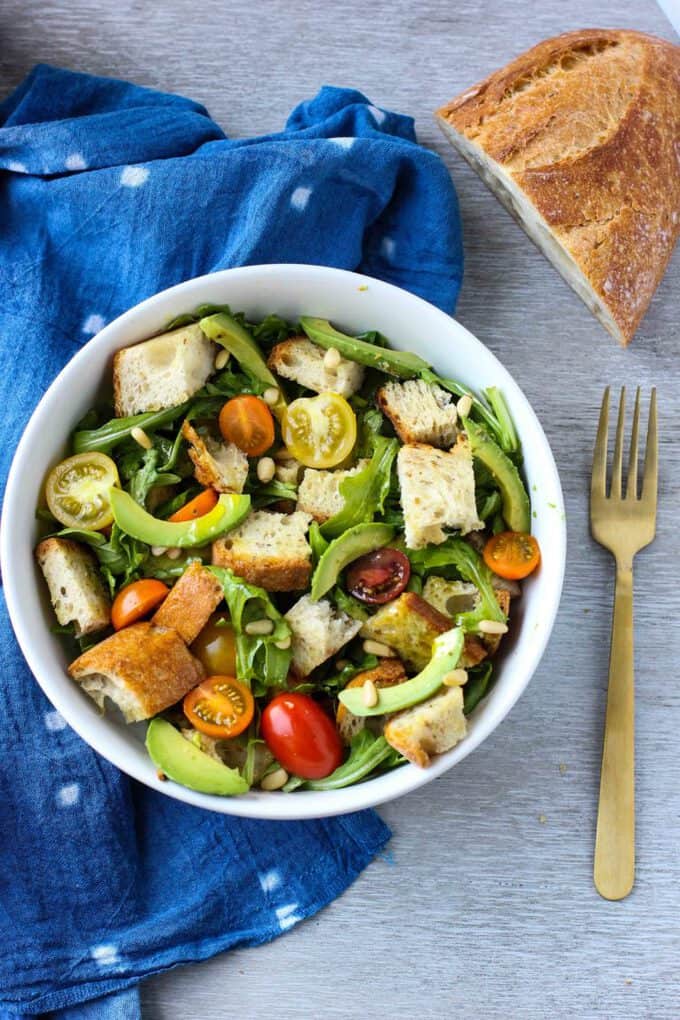 What's your favorite kind of salad?