Garlic Dipping Sauce
This simple garlic dipping sauce is great for drizzling on roasted vegetables or as a dip for pizza crusts and breadsticks!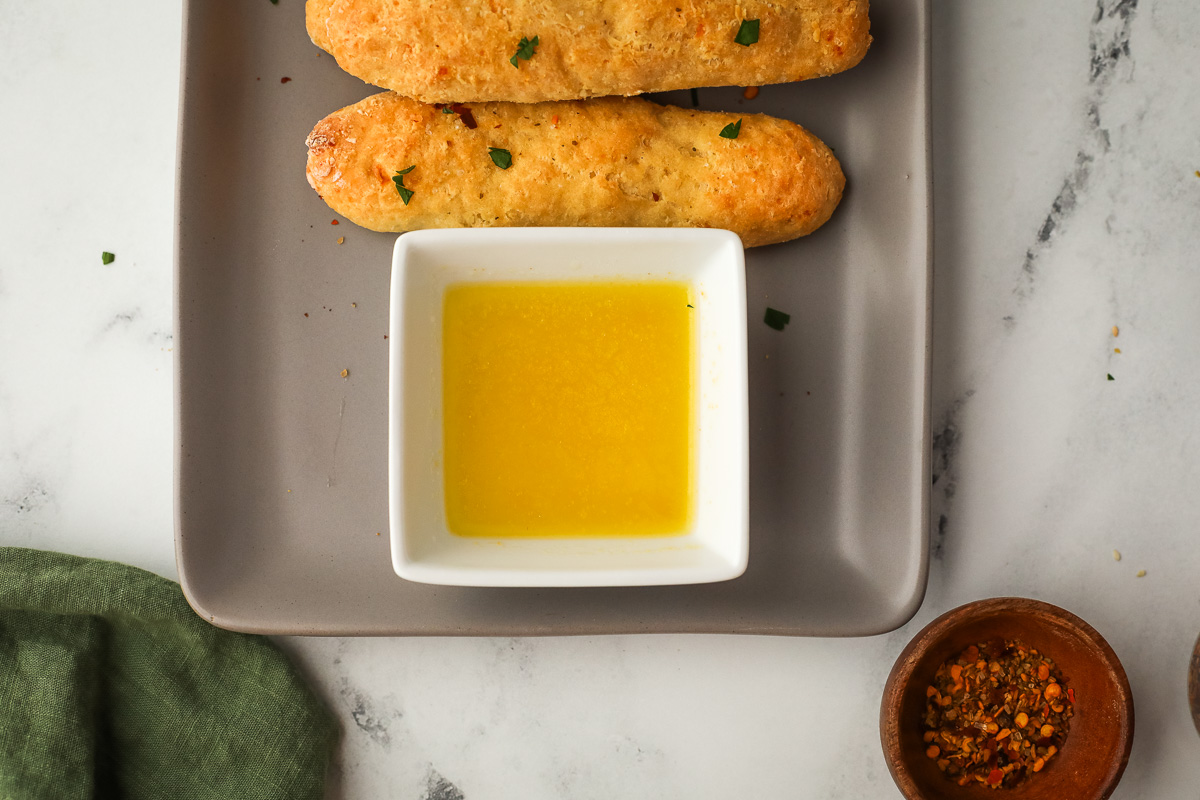 Let me start by saying I'm not claiming this creamy garlic dip is a healthy recipe. But I do think this garlic dipping sauce is better than the kind in the little plastic tub that comes free with certain pizzas. While this sauce is mostly made of butter, at least it's made with real ingredients. And consuming a little bit of this garlic dipping sauce in moderation can fit into a healthy meal, especially if you're drizzling this over your favorite roasted vegetables. If you love the flavor of this garlic dipping sauce, be sure to try this lemon butter pasta sauce!
While this isn't meant to be a copycat recipe for any particular garlic dipping sauce, I think it's a great replacement for some of the popular sauces at places like Papa John's and Domino's. And the best part is, this recipe is made with just a few ingredients.
Ingredients & Substitutions
Butter– I used regular butter but you can use vegan butter if you want to keep this recipe vegan. Miyoko's makes a great vegan butter substitute.
Olive oil– A little olive oil helps keep this sauce liquid so it doesn't firm up when the butter cools.
Garlic– Fresh garlic is a must for a strong punch of flavor.
Garlic powder– This helps add even more garlic flavor without being too sharp.
Salt– I used unsalted butter but if you're using salted butter, adjust this to taste.
Tips & Tricks
I used pre-peeled garlic to save time, but I don't recommend pre-minced garlic. I prefer to use a rasp-style grater to ensure that the garlic is very finely grated.
If you want a more mild garlic flavor, try roasting the garlic first. It adds a delicious depth of flavor and tames the bite of fresh garlic.
If your microwave smells like garlic after making this sauce, place baking soda in a small bowl and leave it in the microwave overnight. It will absorb any leftover odors.
How to Make Garlic Dipping Sauce
Frequently Asked Questions
What is garlic dipping sauce made of? This sauce is made from olive oil, butter, garlic powder, fresh garlic, and salt. You can add additional seasonings like crushed red pepper flakes, oregano, rosemary, or other Italian seasonings, if you like!
What is Papa John's garlic dipping sauce made of? I don't know the exact recipe but Papa John's garlic dipping sauce probably consists of a blend of garlic, margarine, and vegetable oil. It also might incorporate Parmesan cheese for a savory and slightly tangy flavor, along with salt and pepper for seasoning.
What is in Domino's garlic sauce? Domino's garlic sauce is similar to Papa John's, and although I don't know the exact recipe, it's probably made with similar ingredients like as garlic, margarine, vegetable oil, and seasonings.
What is Middle Eastern garlic sauce made of? Middle Eastern garlic sauce is typically made with fresh garlic cloves, lemon juice, and oil. The garlic provides a strong flavor, while the lemon juice adds tanginess and helps with emulsification. A neutral vegetable oil is used as the base ingredient, creating a smooth and creamy texture. Additional ingredients like salt may be added for flavor balance. You could add a little lemon juice to this garlic dipping sauce, if you want to give it a little tangy flavor.
Ways to Use Garlic Sauce
This garlic sauce is great as a side dip for pizza, especially for the crust. It also makes a great accompaniment for breadsticks, naan, garlic bread, enhancing their taste with a buttery garlic flavor. If you haven't tried my cottage cheese breadsticks, it's a great higher-protein option to satisfy a bread craving! This sauce can also be used as a dip for roasted vegetables like broccoli, zucchini, or green beans.
How to Store Leftover Garlic Sauce
To store leftover garlic dipping sauce, transfer it to an airtight container and refrigerate promptly. I recommend using it within 3 to 5 days. I do not recommend freezing this sauce.
More Dip Recipes
If you like this sauce, be sure to try some of my other dips and sauces! This pesto dip is great with raw vegetables and this dill pickle dip is perfect with crunchy potato chips. If you're looking for more of a pizza flavor, try my tasty vegetarian pizza dip!
Print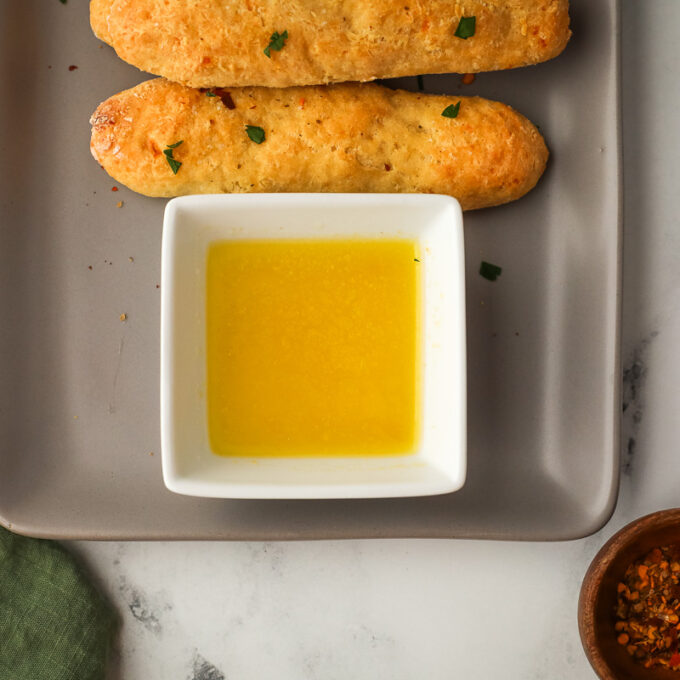 Garlic Dipping Sauce
Author:
Prep Time: 5 minutes
Cook Time: 30 seconds
Total Time: 5 minutes
Yield: 1/2 cup 1x
Category: Sauce
Method: Microwave
Cuisine: American
---
Description
This simple garlic dipping sauce is great for drizzling on roasted vegetables or as a dip for pizza crusts and breadsticks!
---
8 tablespoons unsalted butter
6 large cloves of garlic
1 teaspoon garlic powder
1/4 teaspoon salt
1 tablespoon chopped fresh parsley (optional)
---
Instructions
Use a rasp-style grater to grate the garlic into a paste or use a garlic press to press the garlic into a paste. If you do not have either of these tools, you can use a sharp knife to finely mince the garlic.
Add the garlic paste and 1 tablespoon of butter to a microwave-safe bowl.
Microwave for 30 seconds or until the butter is melted.
Stir in the remaining butter, garlic powder, salt and parsley.
---
Keywords: garlic dipping sauce, garlic butter sauce