Vegetarian Pizza Dip
If you love pizza, this sharable pizza dip is a must-make! It's cheesy and delicious, making it the perfect dip for breadsticks, pita chips, or pizza crust!
We recently had friends over for a party, and I decided to make a few different dips. I wanted something savory and cheesy, so I made a pizza dip! It was easier to make than I expected, and I loved the flavor. I used cream cheese and cottage cheese as the base, then mixed in sauce, mozzarella, and spices. By mixing the mozzarella into the base, rather than adding it as a layer on top, it made this dip easy to scoop up with chips or baguette pieces.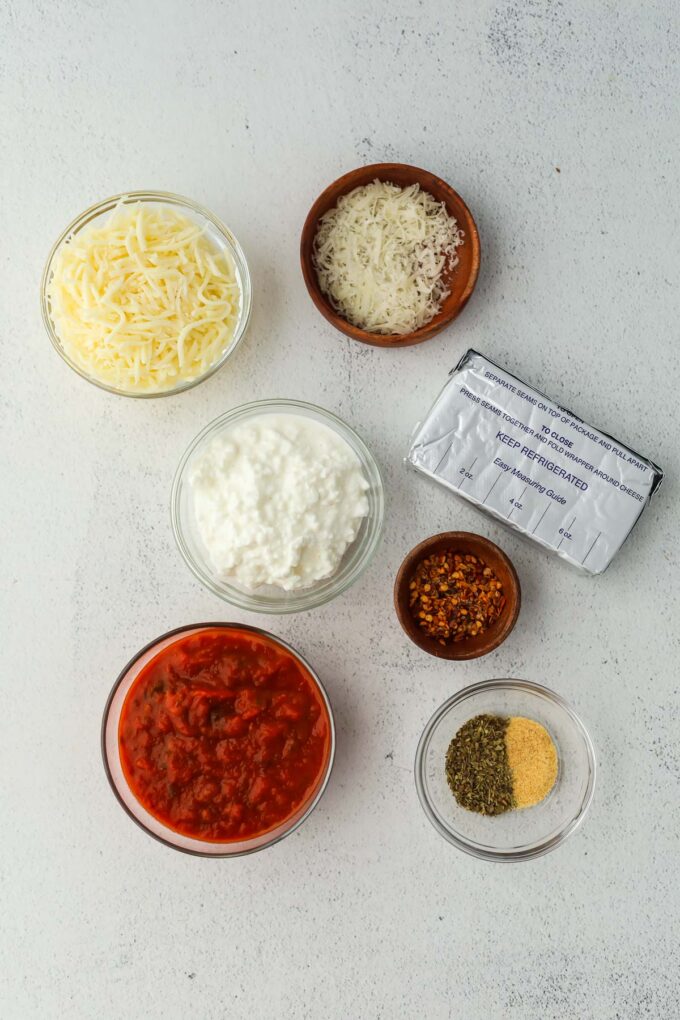 Ingredients & Substitutions
Cream cheese: This provides a creamy and tangy base for the dip. It adds richness and helps bind the other ingredients together. I used low-fat cream cheese, but you can use full-fat if you like.
Cottage cheese: This is a great way to make the dip super creamy while adding a little extra protein! If you don't have cottage cheese or prefer a different texture, you can substitute it with additional cream cheese or ricotta cheese.
Sauce: I recommend using a high-quality pizza or pasta sauce. I used Rao's Tomato Basil pasta sauce and it worked great! Any flavorful pizza sauce will work great. You could even make your own! This San Marzano tomato sauce would be perfect.
Italian seasoning: This helps bring out the pizza flavors with a blend of herbs and spices. Italian seasoning typically consists of basil, oregano, thyme, and rosemary. If you don't have Italian seasoning, you can substitute it with a combination of the individual herbs, adjusting the amounts to your preference.
Mozzarella: Mozzarella cheese provides a classic pizza taste and helps create the cheesy pizza flavor. You can substitute it with another melty cheese, like provolone if desired.
Garlic powder: This is an easy way to add a garlicky flavor to the dish. If you prefer fresh garlic, you can substitute it with minced garlic cloves. Use 1-2 cloves, depending on your taste preferences.
Parmesan: I liked topping the baked dip with Parmesan for a little extra salty flavor, but you can skip it if you don't have it.
Red pepper flakes: I love spicy crushed red pepper flakes on my pizza, so I added a little on top of this pizza dip for a mild spicy flavor. You can skip it if you don't like the heat!
How to Make Pizza Dip
Best Ways to Eat Pizza Dip
There are plenty of ways you can serve this dip! Try it with pita chips, Dutch oven bread or pieces of crusty baguette. Or you can bake a pizza crust and cut it into strips for dipping. If you're short on time, try my air fryer flatbread. For a lighter option, try serving it with slices of bell peppers!
How to Store Leftovers
To store leftover pizza dip, allow it to cool to room temperature. Transfer the dip to an airtight container and place it in the refrigerator. It can be stored in the refrigerator for 3-4 days. When ready to serve, reheat the dip in the microwave or oven.
Frequently Asked Questions
What is pizza dip made of? This pizza dip is a mix of pizza sauce, cream cheese, cottage cheese, mozzarella, and Parmesan, plus a little seasoning to give it more pizza flavor.
How do you make the best pizza dip? I think the trick is to use a high-quality sauce for the best flavor. I actually used Rao's tomato basil pasta sauce, which worked great!
How long does pizza dip last in the fridge? This dip should last up to 4 days, but it will probably get eaten before then!
Is mayo good for pizza dip? I don't recommend using mayonnaise in this recipe. I think the cream cheese is a better base.
What other dips should I make? Check out my list of vegetarian dip recipes for plenty of ideas!
Print
Vegetarian Pizza Dip
Author:
Prep Time: 5 minutes
Cook Time: 15 minutes
Total Time: 20 minutes
Yield: 3 cups 1x
Category: Side Dish
Method: Oven
Cuisine: American
Diet: Vegetarian
---
Description
If you love pizza, this sharable pizza dip is a must-make! It's cheesy and delicious, making it the perfect dip for breadsticks, pita chips, or pizza crust!
---
8oz low-fat cream cheese
2/3 cup cottage cheese
1 cup pizza sauce
1 cup shredded mozzarella
1 teaspoon Italian seasoning
1/2 teaspoon garlic powder
2 tablespoons shredded Parmesan cheese
Baked pizza crust. pita chips, breadsticks, or sliced bell peppers for serving
---
Instructions
Preheat the oven to 400 degrees.
Place the cream cheese in a microwave and oven safe dish. Microwave for 30 seconds to soften.
Combine the cream cheese with the cottage cheese, pizza sauce, seasoning, mozzarella, and Parmesan. Stir until completely mixed. 
Bake for 15-20 minutes or until bubbling.
Remove from oven and allow to cool for 5 minutes.
Top with additional Parmesan cheese and crushed red pepper flakes if desired.
---
Keywords: vegetarian pizza dip