Pesto Dip
This delicious pesto dip is filled with flavor, but it's only 2 ingredients! You'll be surprised that this rich and creamy dip is secretly healthy!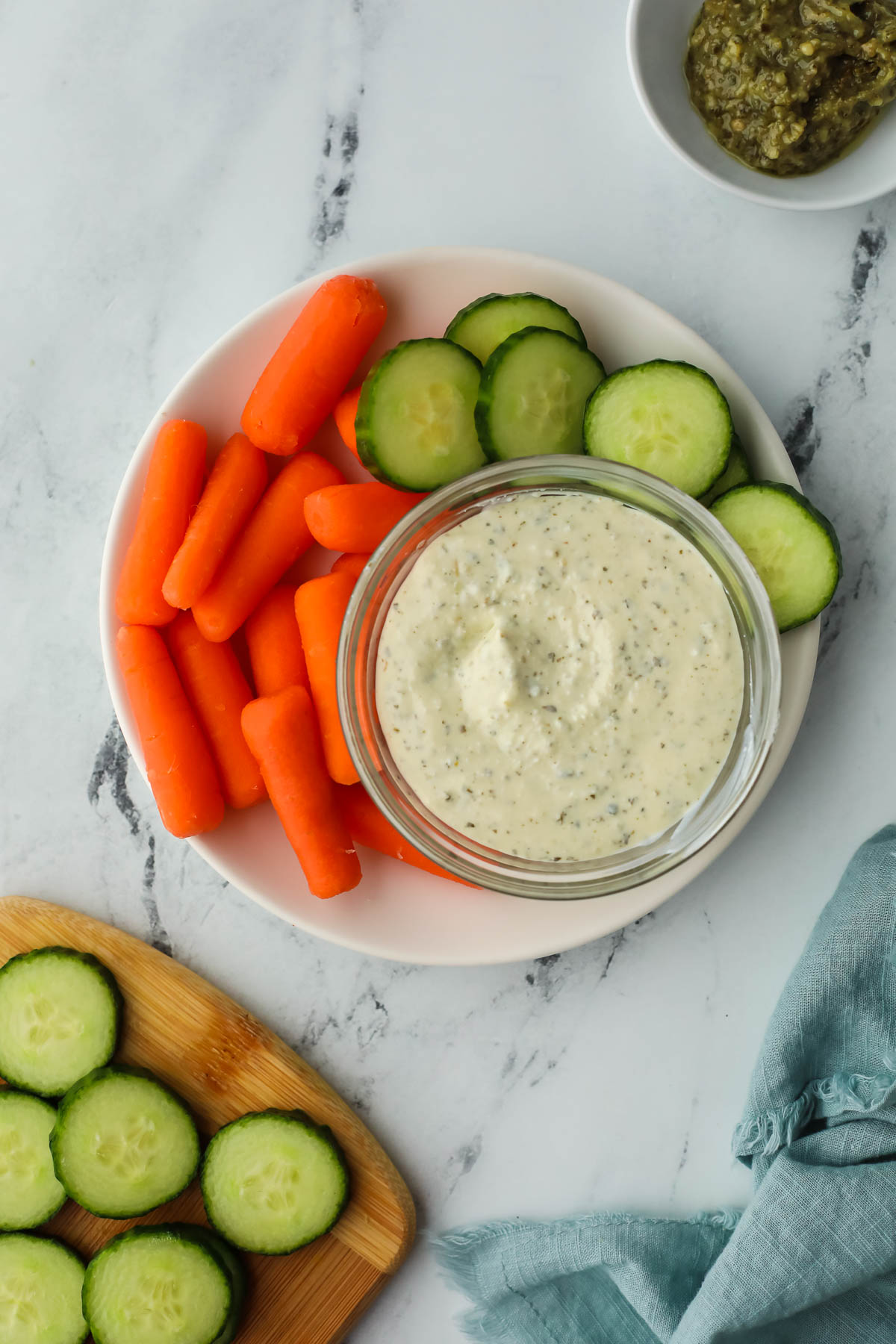 I'm always looking for new dip ideas for my veggies, and a friend told me about the unexpected combination of cottage cheese and pesto. I had to try it, and I was amazed at how delicious yet easy it was! Blended cottage cheese is the perfect creamy base, and store bought pesto helps this come together quickly!
If you like this dip recipe, be sure to try my curry dip, jalapeño dip, and my caramelized onion dip!
Ingredients & Substitutions
Cottage cheese– I used low-fat cottage cheese, but you can use any kind you like. I recommend the Good Culture brand because it is relatively low in sodium.
Pesto– I used store bought pesto because it was fast and easy! I'll share my favorite brand below. You can use homemade pesto if you like!
My Favorite Storebought Pesto
The real trick to this simple dip is using prepared pesto. My favorite store bought pesto is Buitoni's Pesto, which has a great flavor that tastes homemade. America's Test Kitchen recommended it and I'm glad I tried it! It has a really well-balanced flavor, and it works great in this dip.
Is Cottage Cheese Healthy?
Yes! Cottage cheese is a great source of protein and it's relatively low in calories. As a vegetarian, I love finding ways to add a little extra protein into my dips and sauces, which is why I love this recipe so much! You can use low-fat cottage cheese, to make this dip even lower in fat and calories. I recommend checking the sodium of the cottage cheese and look for a brand that doesn't have a lot of added salt.
How to Make Pesto Dip
What to Serve with Pesto Dip
This dip is delicious with raw vegetables like cucumbers, carrots, or cherry tomatoes. It's also delicious with crunchy, salty snacks like pita chips or crackers. You can also use this pesto dip as a sandwich spread or add it to your favorite wrap. It makes a delicious dip for toasted baguette slices, or you can drizzle it on top of your favorite roasted vegetables. Try it with roasted broccoli or butternut squash.
How to Blend Cottage Cheese
Make sure you blend the cottage cheese really well so your dip is nice and smooth. I used a mini food processor. You can also do this with an immersion blender. If you only have a large blender or food processor, you may want to blend 2 cups of cottage cheese before adding the pesto, then divide it in half. You can use one half in the dip and save the other half for pizza crust, pasta, or pancakes!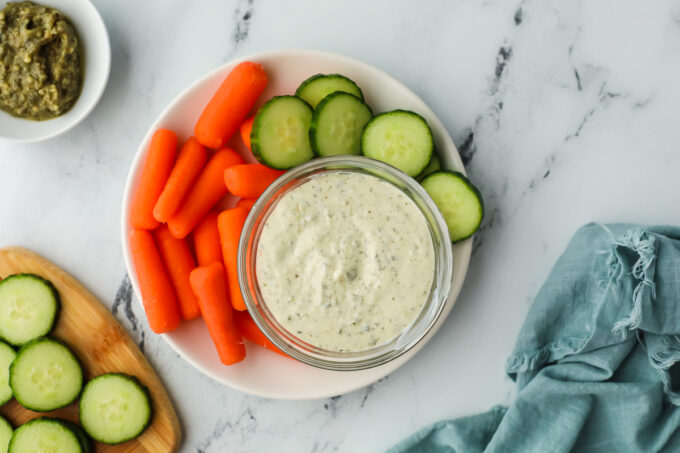 Is Pesto Dip Healthy?
Yes! This dip has a strong flavor which means a little bit goes a long way! It's relatively low-carb and it's also vegetarian and gluten-free. I don't recommend eating the whole bowl in one sitting, but adding a serving or two to your plate can definitely be part of a healthy meal. Plus, cottage cheese is a great source of protein. This dip is a wonderful way to enjoy raw vegetables or add flavor to a wrap loaded with vegetables!
Print
Pesto Dip
Author:
Prep Time: 5 minutes
Cook Time: 0 mintues
Total Time: 59 minute
Yield: 1 cup 1x
Category: Side Dish
Method: Blended
Cuisine: American
Diet: Vegetarian
---
Description
This deliciously creamy pesto dip is only 2 ingredients! You'll be surprised that this rich and flavorful dip is secretly healthy!
---
1 cup cottage cheese
1/3 cup pesto
---
Instructions
Blend the cottage cheese in a blender or food processor until smooth.
Stir in the pesto.
Serve with your favorite veggies or chips.
---