Easy Potato Pizza
This tasty flatbread recipe is topped with ricotta, mozzarella, and red potatoes for a uniquely delicious pizza recipe! This simple potato pizza is perfect for your next Meatless Monday.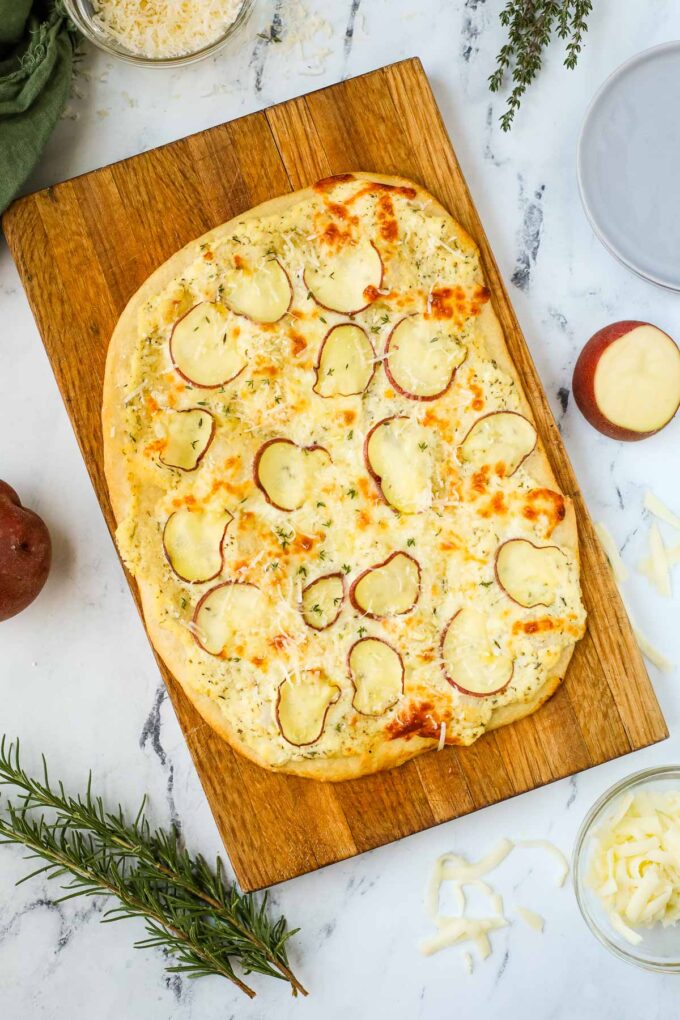 A local pizza place in Richmond makes a potato pizza Alex and I love. We've ordered it so many times that it made me wonder if I could recreate it at home. While the local spot uses crème fraîche, that's not something I typically have in my pantry. So I wanted to create a recipe with basics that I typically have in my fridge. It took a few tries, but I love how this recipe turned out! I should mention that this isn't a traditional Roman-style potato pizza. This is more of an American white pizza with potato on top. If you're looking for a pizza con patate recipe, try this one.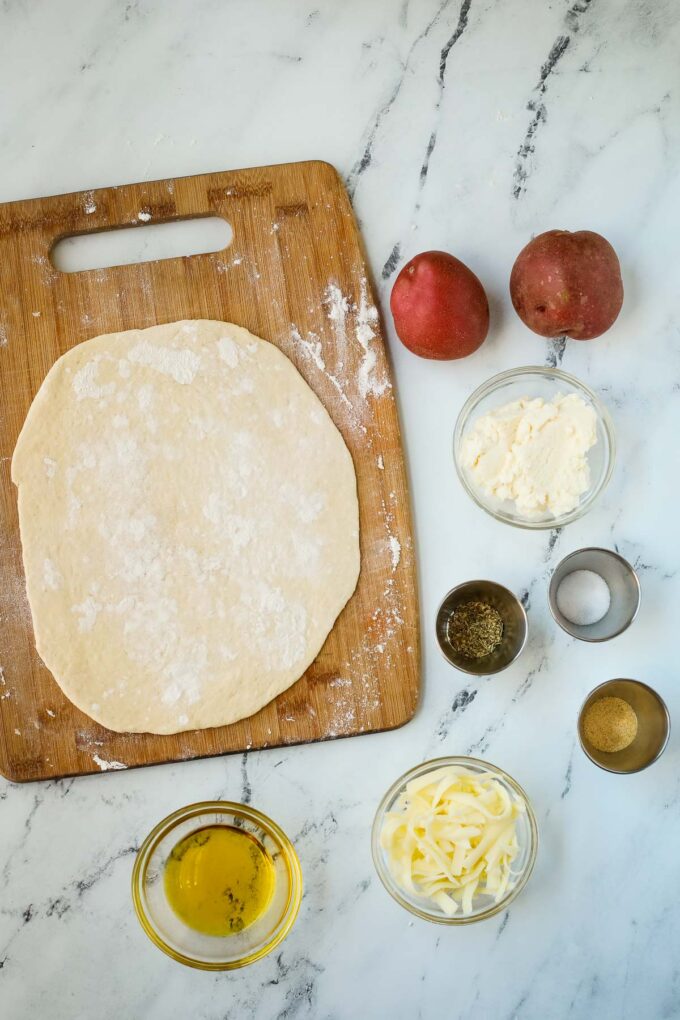 Ingredients and Substitutions
Pizza Dough– I used this flatbread pizza dough recipe which is easy to make! But if you don't want to make your own dough, you can also use storebought dough or prepared flatbread.
Ricotta– I recommend whole milk or part-skim ricotta cheese. Fat-free ricotta lacks flavor and texture.
Olive oil- A little olive oil helps prevent the pizza from drying out and creates a luxurious base.
Garlic powder- This helps add flavor to the ricotta cheese.
Italian seasoning– This seasoning blend includes rosemary, thyme, oregano, and basil. If you don't have Italian seasoning in your pantry, substitute with a pinch of each dried herb.
Mozzarella- I used shredded mozzarella, but fresh mozzarella works great in this recipe too!
Red potato- You want the potato to be very thinly sliced. The pizza cooks fairly quickly so if your slices are too thick, they'll be crunchy. (And you don't want crunchy potato slices on your pizza.)
Parmesan- A little Parmesan cheese adds salty flavor to finish.
How to Thinly Slice Potatoes
For this recipe, you want the potatoes sliced very thinly. I recommend using a mandoline slicer if you have one. This is an easy way to make thin, uniform slices. You can also use the slicing disk on a food processor or a really sharp knife. (Just take your time to make super thin slices if you're using a knife!)
The Best Flatbread Pizza Dough
I used my flatbread pizza dough recipe which is simple to make. All you need is flour, yeast, salt, and water. It needs 7-8 hour to rise, so I typically make it in the morning for pizza night. After it rises, you can freeze extra dough balls. When you're planning your next pizza night, let the frozen dough thaw overnight in the fridge and you'll have pizza dough ready the next day! If you don't want to mess with yeast, try my beer pizza dough or my 2-ingredient high protein pizza dough!
How to Make Potato Pizza
How to Store Leftover Potato Pizza
Store leftovers in an airtight container in the fridge. To reheat, preheat the oven to 250 degrees and bake for 3-4 minutes until warm. Alternatively, you can reheat pizza in an air fryer. Set the air fryer to 300 degrees and place the pizza in the air fryer for 2-3 minutes.
Frequently Asked Questions
Can I use storebought dough? Absolutely! Storebought or homemade dough are both totally fine. You can even use a pre-made crust. When using pizza dough, let it come to room temperature before rolling out so you can roll it very thin.
Can I make this recipe vegan? You could make this recipe vegan if you substitute vegan cheese for the ricotta and mozzarella. But I'd recommend making my vegan flatbread recipe instead.
Can I make this recipe gluten-free? Yes! Just use a gluten-free pizza dough.
Can I bake this pizza on a pizza stone? Yes, you can. I used a baking sheet, but a baking stone works great too. I recommend greasing the pizza stone or dusting it with cornmeal to prevent sticking.
Can I make it spicy? If you want to add a little heat to this recipe, try adding a drizzle of homemade chili crisp!
What to Serve with Flatbread
Since this recipe is relatively rich in flavor, I'd pair this flatbread with something light and simple like my air fryer broccoli, spicy kale salad, or pesto hummus with sliced vegetables. You could also pair it with a tasty soup like my white bean pesto soup, which has only 5 ingredients! The flavor profile is perfect with pizza. Can't get enough potato? Try this recipe for Potatoes au Gratin!
More Flatbread Recipes
Print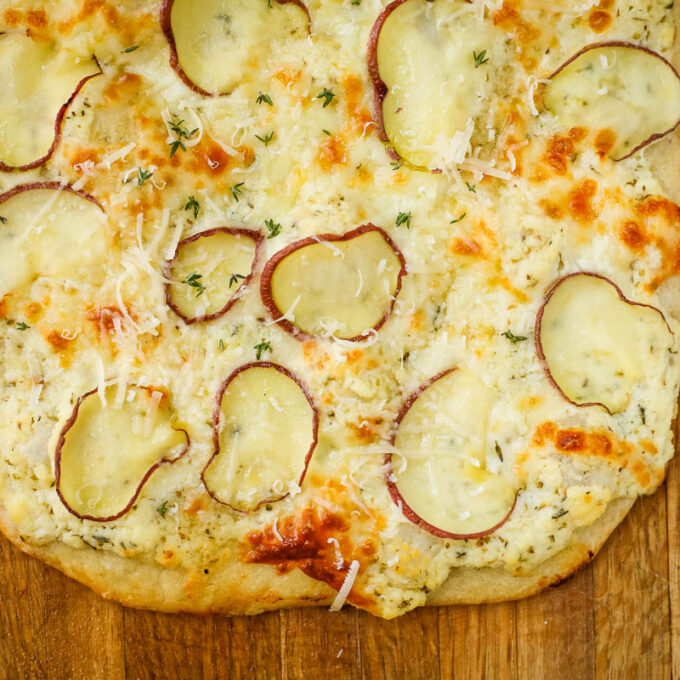 Easy Potato Pizza
Author:
Prep Time: 10 minutes
Cook Time: 15 minutes
Total Time: 25 minutes
Yield: Serves 2
Category: Dinner
Method: Oven
Cuisine: American
Diet: Vegetarian
---
Description
This tasty flatbread recipe is topped with ricotta, mozzarella, and red potatoes for a uniquely delicious pizza recipe! This simple potato pizza is perfect for your next Meatless Monday.
---
1/3 cup whole milk ricotta cheese
2 tablespoons olive oil
1/2 teaspoon Italian seasoning
1/2 teaspoon garlic powder
1/4 teaspoon salt
1/2 cup shredded mozzarella
1 small red potato, very thinly sliced
1 tablespoon grated Parmesan cheese
1 teaspoon fresh thyme (optional)
---
Instructions
Preheat the oven to 450 degrees.
On a floured surface, roll the pizza dough into a thin round. I try to get it as thin as possible for a crispy crust.
In a small bowl, combine the ricotta cheese, olive oil, Italian seasoning, garlic powder, and salt.
Spread the ricotta mixture over the flatbread.
Top with shredded mozzarella and thinly sliced potato.
Transfer the pizza dough to a greased baking sheet.
Bake on the center rack for 10-12 minutes or until the pizza is golden brown and crispy.
Top with Parmesan and fresh thyme, if using.
Notes
I used a mandoline slicer to slice the potato as thinly as possible.