Easy Chili Crisp Recipe
This easy chili crisp oil can be made in just a few minutes! It's an easy way to add a spicy flavor to your favorite dishes!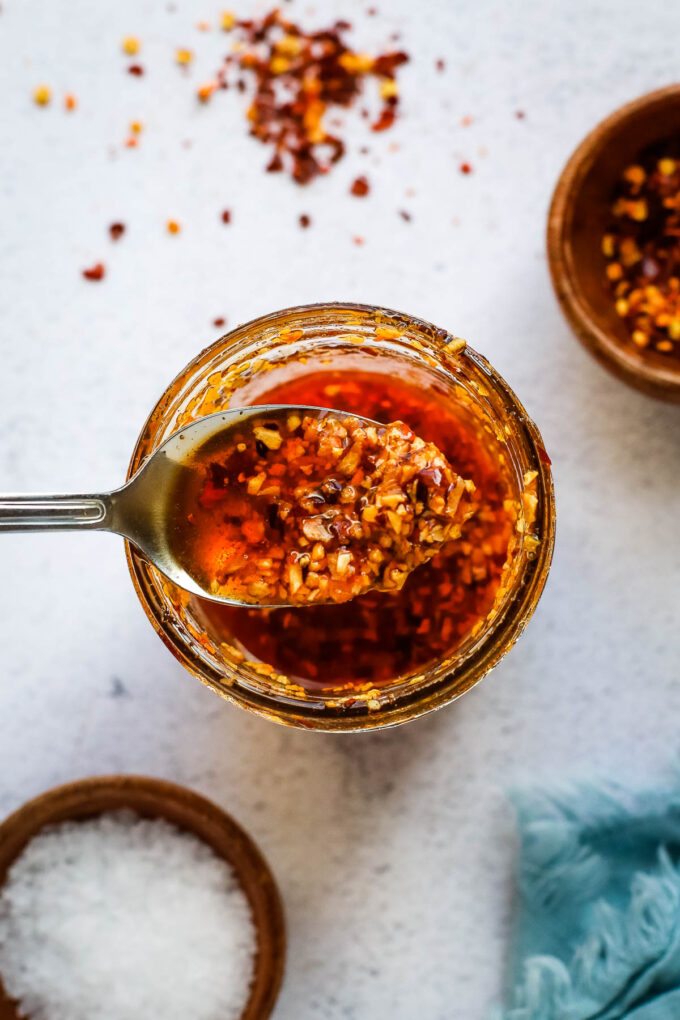 This chili oil recipe is based on the popular Trader Joe's condiment Chili Oil Crunch which skyrocketed into popularity. But Trader Joe's didn't invent this tasty condiment. If you've been to a Chinese restaurant and noticed the little dish of chili oil on the table, that's what inspired the creation of the Trader Joe's product. So I guess this is a recipe based on a product that is based on a classic Chinese restaurant staple!
What is Chili Oil Crunch?
Chili crisp or chili oil crunch is simply oil infused with chili peppers and other seasonings. In this case, the crunch comes from garlic, onion, and flaky sea salt. I love the balance of the different textures and flavors. Sometimes this type of condiment is called chili crisp oil.
Trader Joe's Version
The Trader Joe's chili oil crunch is made with dried garlic and onion, which creates a crunch texture with a bit of heat from dried red bell pepper and chili flakes. While it certainly wasn't the first chili crisp on the market, it's one that most people are familiar with.
Momofuku Chili Crunch Version
David Chang's version of this crunchy, spicy oil is made with Mexican chilis, crunchy garlic, and shallots. I recommend trying it if you can get your hands on it! It's really good, but it's also quite expensive.
Ways to Use Chili Oil Crunch
On rice dishes: Add chili crisp on top of fried rice to add flavor and texture.
In noodle dishes: Toss chili oil crunch with noodles and veggies to turn a few basic pantry staples into a meal.
On top of soups: Drizzle it on top of your favorite soup to add a kick of spicy flavor.
As a marinade: Mix chili crisp with soy sauce to make a simple marinade for tofu, tempeh, or vegetables.
On eggs or toast: Try this over scrambled eggs or drizzled on avocado toast.
As a dipping sauce: Use it as a tasty dipping sauce for dumplings or spring rolls.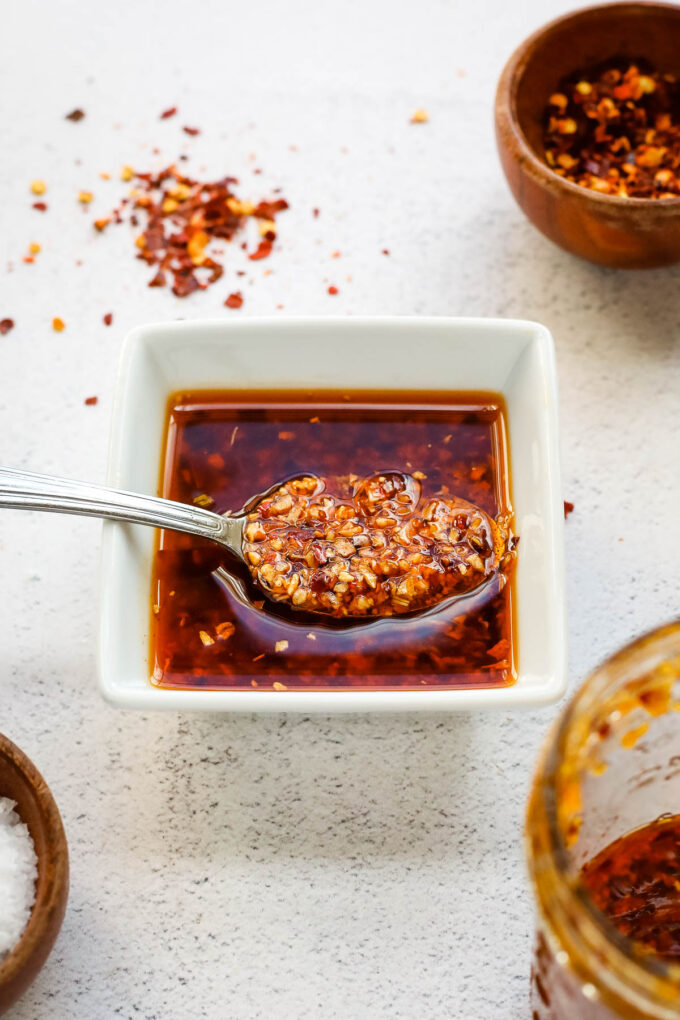 Frequently Asked Questions
What is the difference between chili oil and chili crunch? The main difference between chili oil and chili oil crunch is their texture and the additional ingredients that are added to chili oil crunch to give it a more complex flavor. Chili oil is primarily for adding heat, while chili oil crunch contains crispy bits of minced garlic and onion, so it adds both heat and texture to dishes.
Do I need to fry the onion and garlic? No, in order to save time, I used dried minced garlic and onion. This adds the perfect texture without any additional work.
Can I make it less spicy? Absolutely! You can adjust the spiciness based on the amount of crushed red pepper flakes you add to the sauce.
Can I adjust the salt? Yep! I like to use Maldon flaky sea salt to add additional crunch and texture but you can leave it out entirely if desired.
How long does it last? You'll want to keep this oil at room temperature, as it will solidify in the fridge. It should last up to 2 months. Just be sure to use a clean spoon every time you dish out some of the oil.
Can I use another oil? Yes, any neutral oil is fine. Vegetable oil, avocado oil, or olive oil all work fine.
Print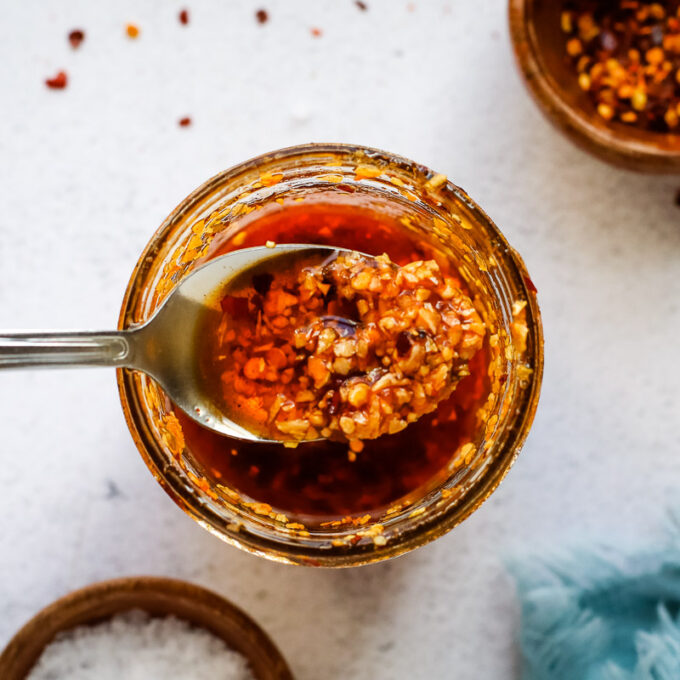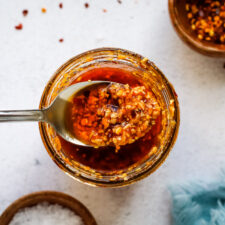 Easy Chili Crisp Recipe
Author:
Prep Time: 1 minute
Cook Time: 4 minutes
Total Time: 5 minutes
Yield: 1/2 cup 1x
Category: Sauce
Method: Stovetop
Cuisine: Chinese Inspired
Diet: Vegan
---
Description
This easy chili crisp oil can be made in just a few minutes! It's an easy way to add a spicy flavor to your favorite dishes!
---
1/2 cup olive oil
1 tablespoon red pepper flakes
1 teaspoon smoked paprika
2 tablespoons dehydrated minced onion
2 tablespoons dehydrated minced garlic
2 teaspoons flaky sea salt (or 1/2 teaspoon table salt)
---
Instructions
Add the olive oil, crushed red pepper flakes, and paprika to a skillet.
Heat over low heat for 3-4 minutes.
Transfer to a jar and add minced onion, garlic, and salt. Stir to combine.
---