Goat Cheese Flatbread
This post is sponsored by 4P Foods. All opinions are my own.
These delicious flatbreads are piled high with a variety of roasted vegetables, tangy goat cheese, and creamy mozzarella! These flatbreads are perfect for a summer appetizer or easy weeknight dinner!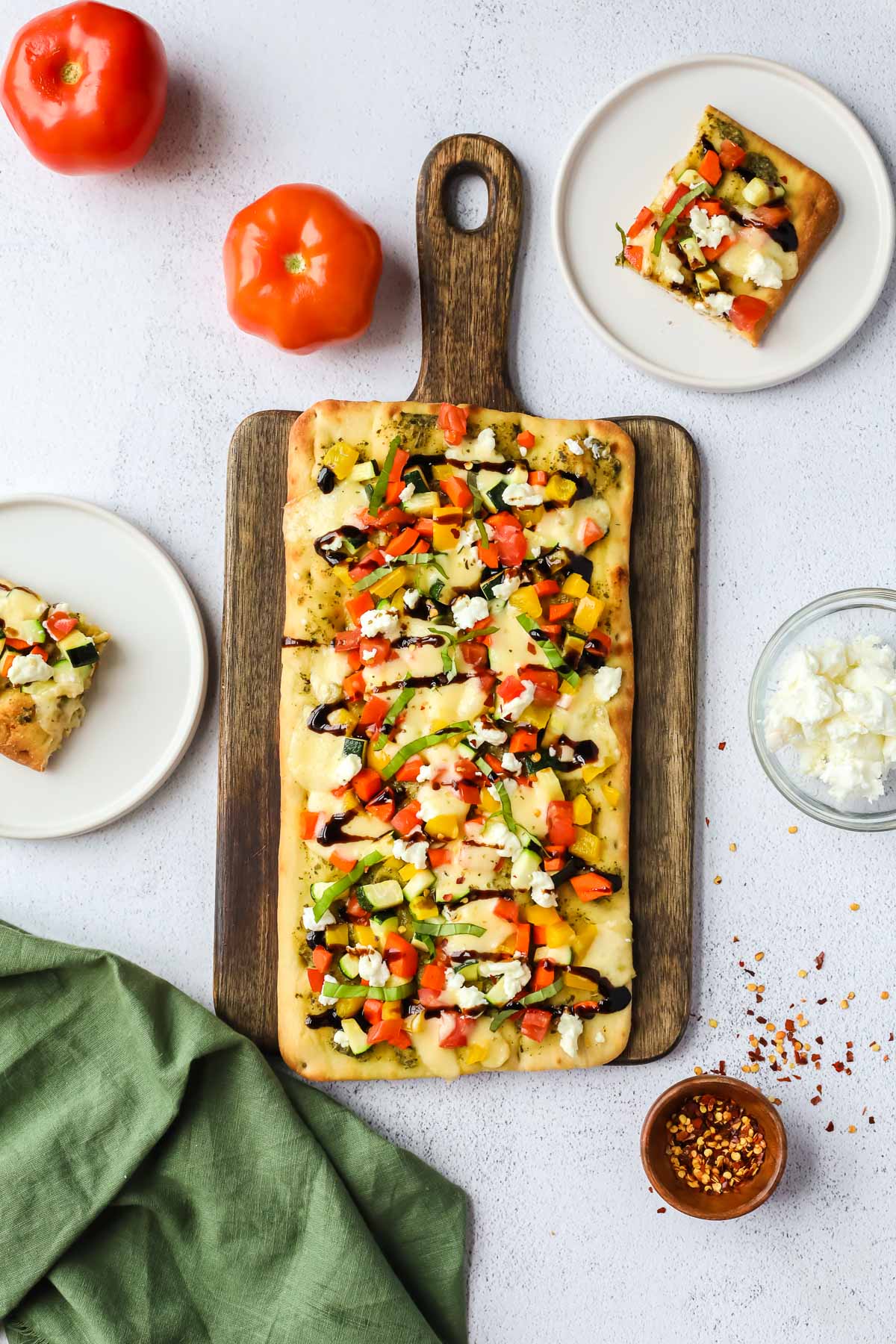 The warmer weather has me craving all the vegetables and lately, I've been hooked on these goat cheese flatbreads! They're perfect for a party but we've also been enjoying them for dinner and I can get these in the oven in just a few minutes. It's easy to swap in vegetables based on what I have in my fridge at the time and the tangy goat cheese and creamy mozzarella make these irresistible.
I used goat cheese, mozzarella, and vegetables from 4P Foods to create these flatbreads! 4P Foods delivers healthy, seasonal food from local and regional family farms. They focus on ethical and sustainable farming and I love that the products get delivered right to my door! I used fresh goat cheese from Firefly Farms, which is based in Maryland, and mozzarella from Mountain View Farms which is in Virginia.

I was truly impressed with the flavor of the cheeses. I couldn't stop talking about how creamy the goat cheese was, with just the right amount of tangy flavor. It really is perfect on these flatbreads! Of course, the carrots, zucchini, and tomatoes were also from local farmers around the region. If you're curious to try 4P Foods, visit their site and check if delivery is available in your area!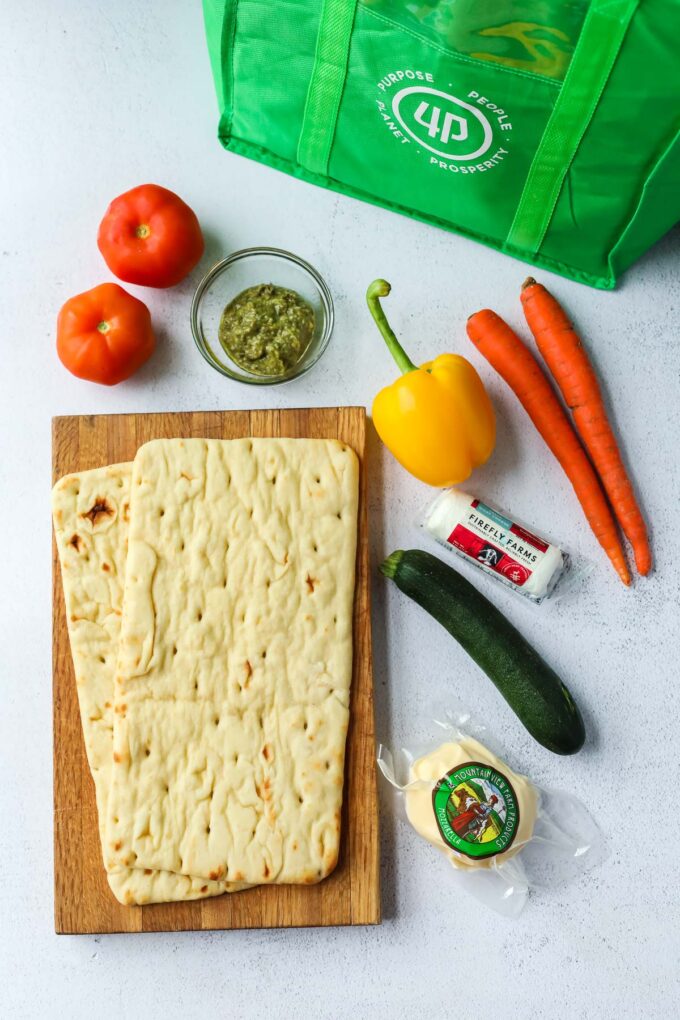 Substitution Ideas
You can easily substitute different vegetables depending on what's in season. The key is to dice the vegetables into small pieces so they roast quickly and are easy to sprinkle onto the flatbreads. Try adding asparagus, broccoli, or cauliflower. Some vegetables, like peas or corn, could be added without roasting first.
The Best Flatbreads
If you want to make flatbread from scratch, you can use my easy flatbread recipe! Just be sure to par-bake it before adding the toppings. If you don't have yeast, you can use my easy 2-ingredient flatbread recipe. Or, if you want to save time, you can use pre-made flatbreads. I used two 4×8" flatbreads and it was perfect.
How to Make Goat Cheese Flatbreads
Frequently Asked Questions
What is balsamic glaze? Balsamic glaze is simply a reduction of balsamic vinegar. You can either reduce it yourself on the stovetop or buy prepared balsamic glaze. It has a slightly sweeter taste than regular balsamic vinegar and it adds a lovely depth of flavor to these flatbreads.
Can I substitute something else for pesto? I love the pesto in this recipe but if you don't have any on hand you could use a traditional pizza sauce or just add a drizzle of olive oil and a sprinkle of Italian seasoning on the flatbread before topping it with vegetables.
Can I make this vegan? If you're looking for a plant-based version, I'd recommend this vegan flatbread recipe!
How should I store leftovers? Store any leftover flatbread in an airtight container in the refrigerator. Store in a single layer, without overlapping the flatbread, to avoid the crust getting soggy. To reheat, preheat the oven to 400 degrees and place the leftover flatbread on a baking sheet. Bake for 3-5 minutes or until the flatbread is heated through. I don't recommend freezing this recipe.
What should I serve with flatbread? I love pairing this flatbread with a simple green salad, and 4P Foods has a variety of greens on their site! Try a salad with white salad turnips or spring radishes. Depending on the season, they also have broccoli and asparagus, both of which would make a lovely side dish! You could roast the then in the oven while the flatbread cooks to add even more delicious vegetables to your plate!
About 4P Foods
4P Foods works with more than 250 family farmers in the mid-Atlantic. I even got to visit one of the farms they partner with! I stopped by Browntown Farms, a lovely family-owned farm that is located about an hour south of Richmond. They grow everything from strawberries to garlic and their passion for creating a sustainable food system was contagious. Seeing the work that goes into every crop made me appreciate that I have access to so many wonderful fruits and vegetables. You can see a little TikTok clip of my farm tour here!
They have a huge variety of seasonal produce but they also have eggs, milk, cheese, pantry staples, jams, meat, and more. Save yourself a trip to the grocery store and have 4P Foods delivered to your door!
Print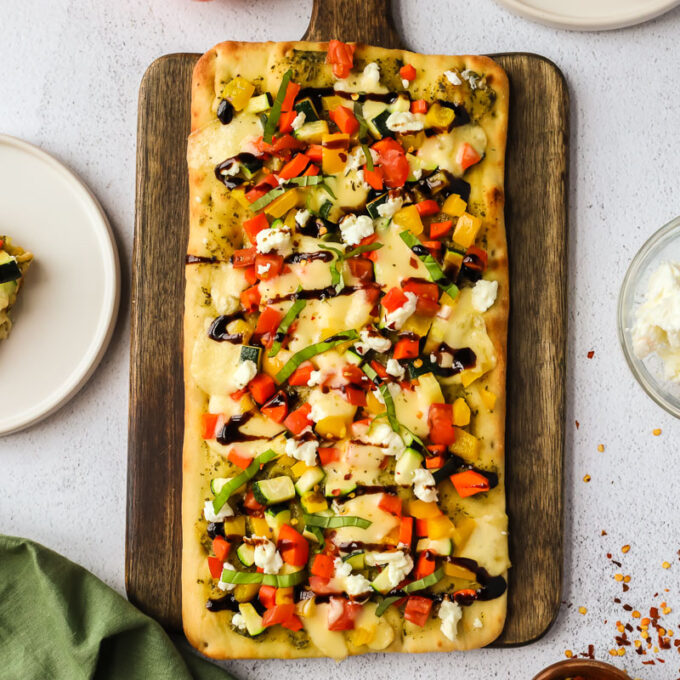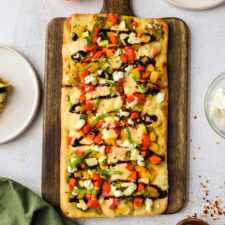 Goat Cheese Flatbread
Author:
Prep Time: 15 minutes
Cook Time: 20 minutes
Total Time: 35 minutes
Yield: 2 flatbreads 1x
Category: Dinner
Method: Oven
Cuisine: American
Diet: Vegetarian
---
Description
These delicious flatbreads are piled high with a variety of roasted vegetables, tangy goat cheese, and creamy mozzarella! These flatbreads are perfect for a summer appetizer or easy weeknight dinner!
---
2 (5 x 10 inch) flatbreads
2 teaspoons olive oil
2 medium carrots, diced
1 medium zucchini, diced
1 bell pepper, diced
1 small tomato, diced
1/4 cup pesto
2 oz goat cheese, crumbled
2 oz mozzarella cheese, torn into pieces
Balsamic glaze (optional)
---
Instructions
Preheat the oven to 450 degrees
Toss the carrots, zucchini, and bell pepper with olive oil 
Spread on a baking sheet in a single layer and roast for 7 minutes.
If you like a crispy flatbread, bake the flatbread (without toppings) for 5 minutes.
Top the flatbreads with a thin layer of pesto
Top with roasted vegetables, goat cheese, and mozzarella cheese
Bake for 6-8 minutes until the crust is browned and the cheese is melted.
Add a drizzle of balsamic glaze, if desired.
---
Keywords: goat cheese flatbread