Grape Smoothie
This tasty grape smoothie is sweet and creamy. It's easy to make and packed with protein! Give this a try when you need a tasty treat for breakfast!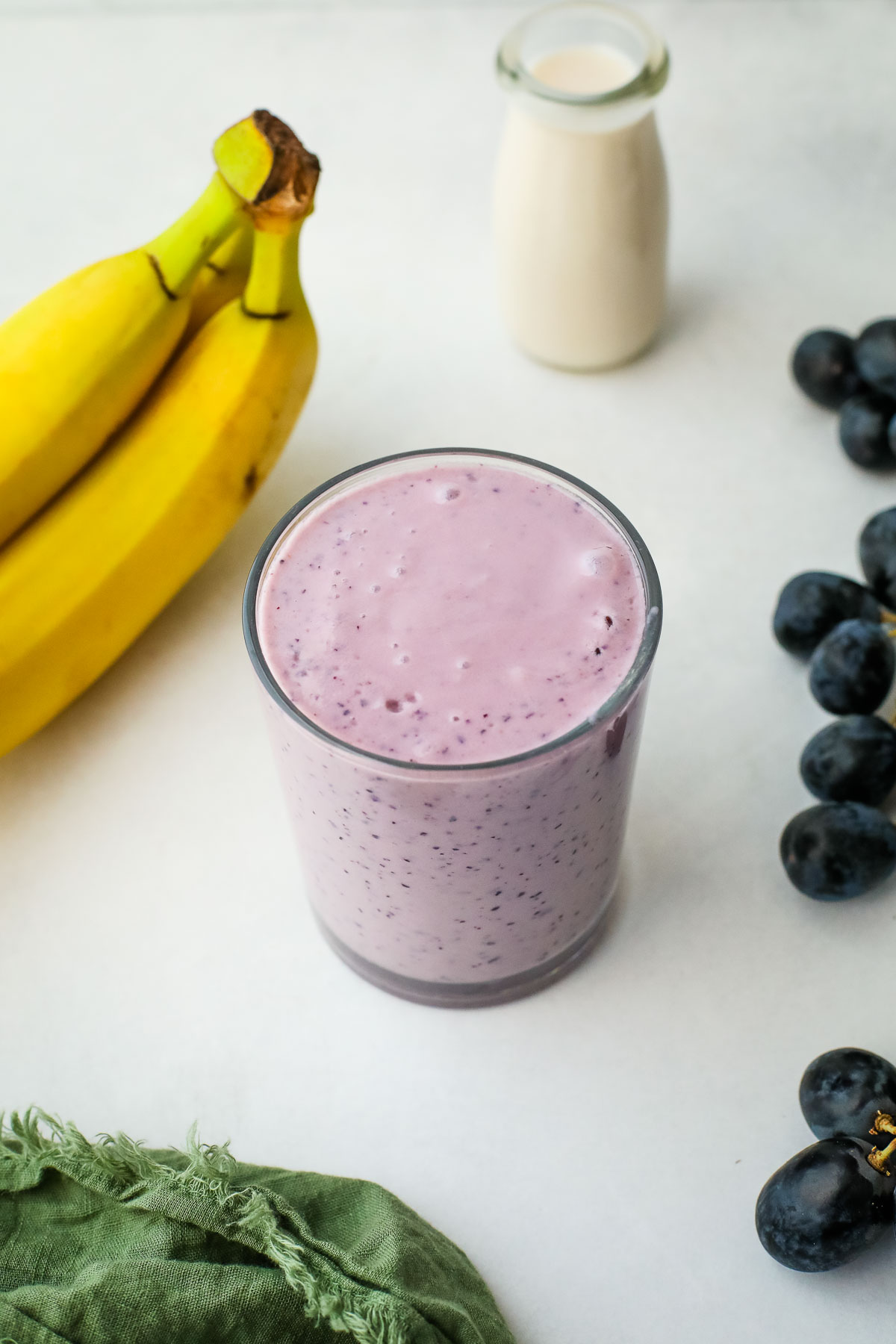 In the summer months, I love keeping grapes in the freezer for a sweet treat — they're like little frozen candies. It got me thinking, why not put grapes in a smoothie? I make smoothies with lots of other frozen fruit, so I figured why not give it a try? It turned out delicious and this might be my new go-to smoothie when I have extra grapes in the fridge! This smoothie is a great source of vitamin C and it tastes like a treat!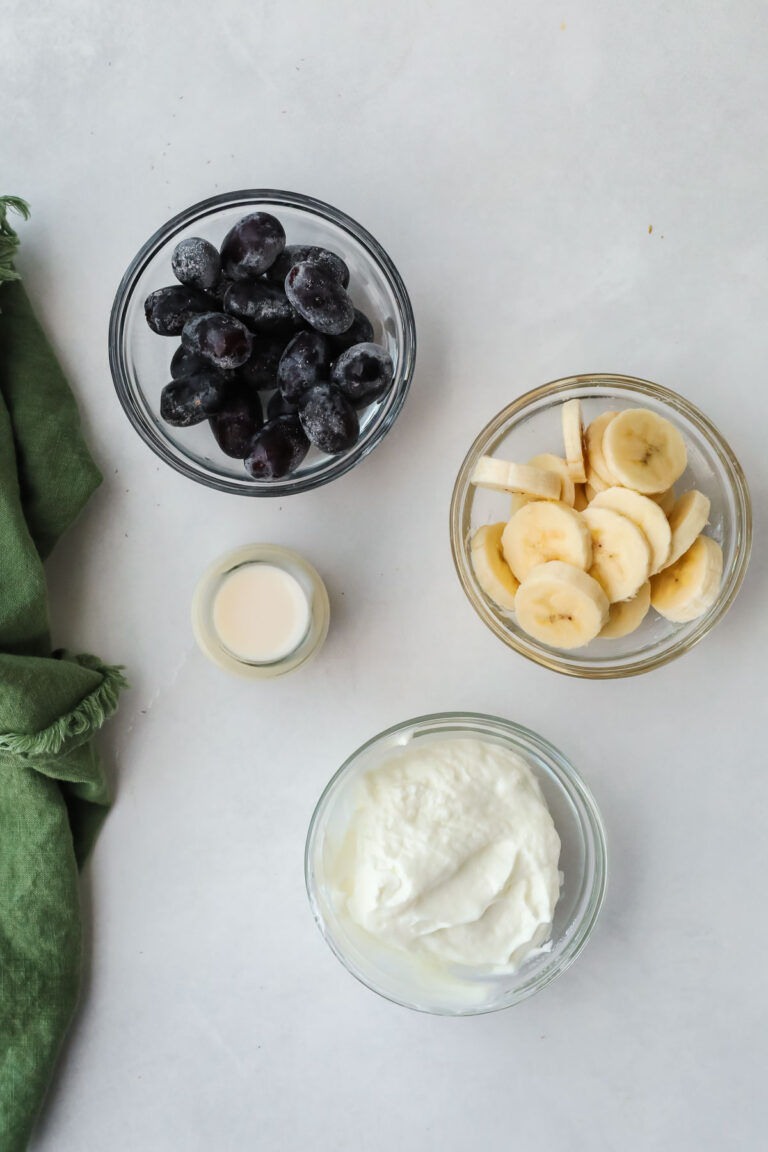 Ingredients & Substitutions
Grapes– I used seedless purple grapes, but red or green grapes work well too. Since my grapes were sweet, I didn't need any additional sweetener, but you can adjust to taste. If you want a thick smoothie, freeze the grapes first. Be sure the grapes are seedless.
Banana– For a thick smoothie, use a frozen banana. For a drinkable smoothie, you can just use a regular banana. If you don't like bananas, try using frozen mango or frozen pineapples instead.
Yogurt– I used Greek yogurt for extra protein, but any type of yogurt is fine. I recommend using plain yogurt since the grapes and bananas have plenty of sweetness. Feel free to substitute plant-based yogurt.
Milk– I used unsweetened vanilla almond milk, but any dairy milk or coconut milk is fine.
How to Make the Best Smoothie
If you want a spoonable smoothie, Here are my tips on how to make a super thick smoothie. If you're having trouble with your blender, read my tips for getting the best results from your blender. I recommend drinking this smoothie right away, but you can also keep it in the fridge for up to 2 hours.
The Best Blender for Smoothies
For the best smoothie, you'll want to use a high-powered blender, like a Vitamix or Blendtec. They can pulverize anything from almonds to ice. These are the blenders that restaurants use because they're quick, effective, and easy to clean. I absolutely love my Vitamix. I've had it for ten years, and I still use it multiple times a week. But I know that might not fit into your budget, so if you're looking for a cheaper option, check out this Kitchen Aid blender!
Tips & Tricks
I recommend enjoying this smoothie right away but if you wanted to make a double batch and save some for later, pour the leftovers into an ice cube tray and freeze. When you're ready to enjoy the smoothie, just blend up the ice cubes and add a little additional almond milk to get things moving.
I love the taste of purple grapes but you can use red grapes or green grapes. As long as you are using seedless grapes, any kind will work
Additional Mix-Ins
Feel free to add protein powder if you want to add even more protein. I recommend blending the protein powder with the almond milk before adding the remaining ingredients. This makes it easier for the protein to blend so you don't have any gritty taste. You can also add spinach to get in some healthy greens. Just blend the spinach with the almond milk before adding additional ingredients. You could also add chia seeds or ground flax seeds for additional protein, fiber, and healthy fat.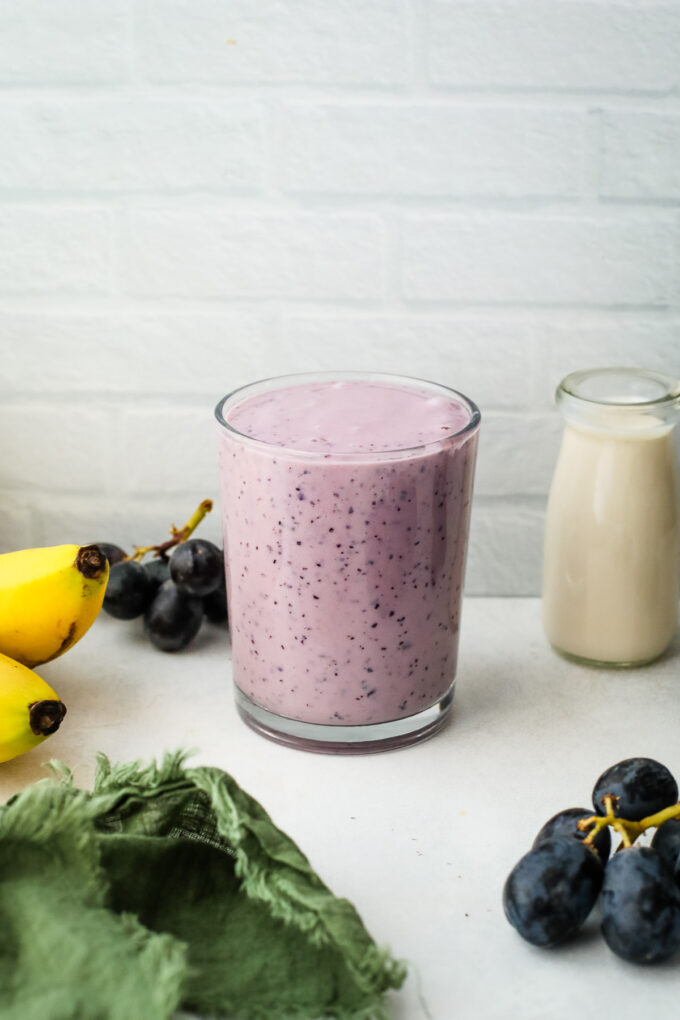 Frequently Asked Questions
Can I make this recipe vegan? Yes! Just use non-dairy yogurt and non-dairy milk.
Can I make it sweeter? Absolutely! If your grapes aren't very sweet, you may want to add a drizzle of honey or maple syrup for sweetness.
Can I double the recipe? Definitely! In fact, sometimes doubling the recipe can make it easier to blend, especially if you want to make a thick smoothie,
Can I add ice? You definitely can, and I recommend adding ice if your grapes and banana haven't been frozen. You may want to reduce the liquid just to prevent the smoothie from tasting watered down.
Can I make it into a smoothie bowl? Yes! Use frozen grapes and frozen banana slices. Reduce the milk to only as much as necessary to get the smoothie moving in the blender. Feel free to add your favorite toppings! I love shredded coconut, granola, and fresh berries.
More Smoothie Recipes
Print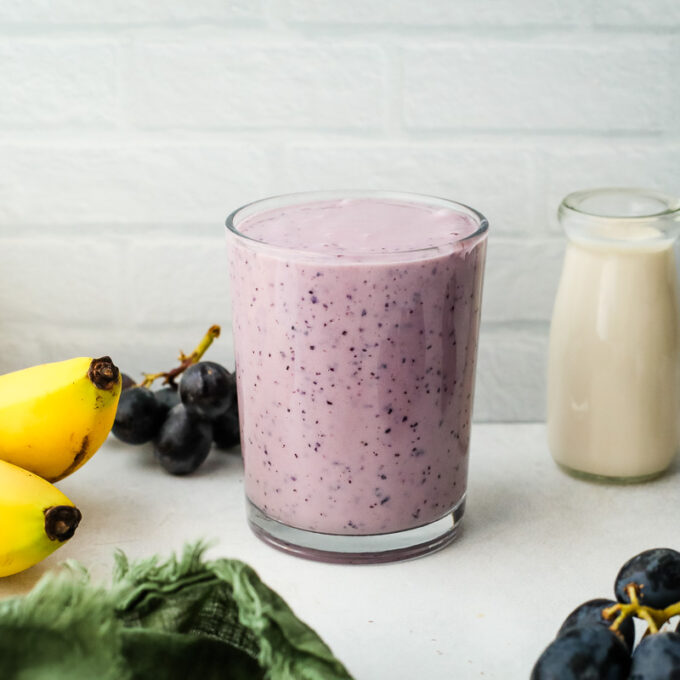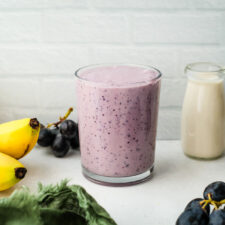 Grape Smoothie
Author:
Prep Time: 5 minutes
Cook Time: 0 minutes
Total Time: 5 minutes
Yield: 1 serving 1x
Category: Breakfast
Method: Blender
Cuisine: American
Diet: Vegetarian
---
Description
This tasty grape smoothie is sweet and creamy. It's easy to make and packed with protein! Give this a try when you need a tasty treat for breakfast!
---
1/2 cup frozen seedless grapes
1 frozen banana
1/2 cup plain Greek yogurt
1/4 cup unsweetened almond milk
---
Instructions
Add all the ingredients to a blender and blend until smooth.
Equipment
---