Caprese Flatbread
This delicious Caprese flatbread is made with juicy tomatoes, gooey mozzarella, and fresh basil for a tasty twist on Caprese salad!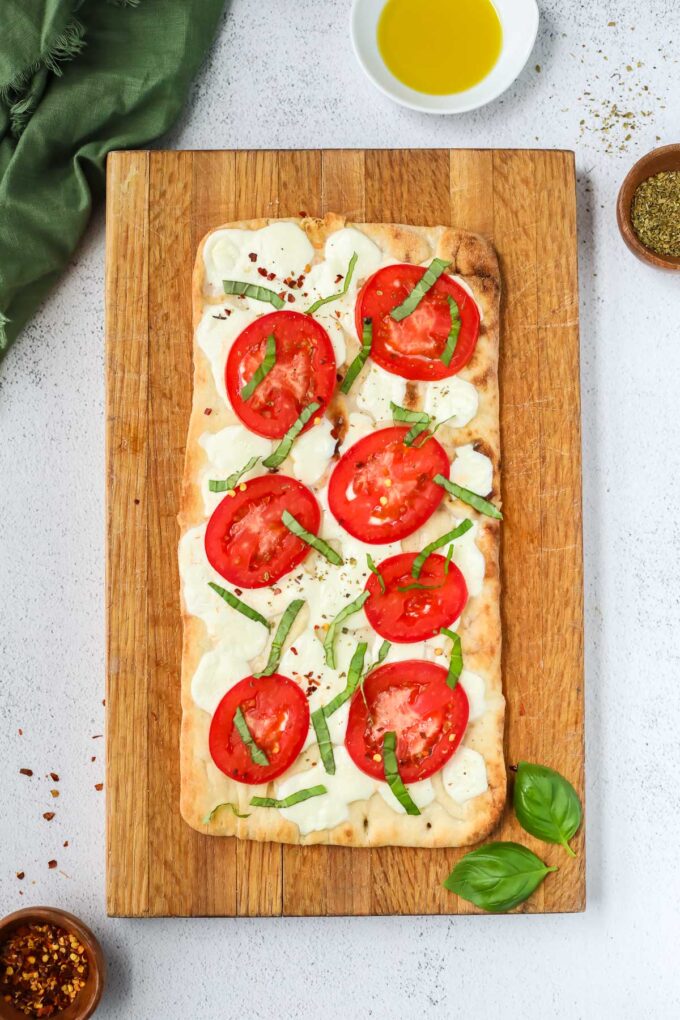 If you've ever had a traditional Caprese salad, you know that the combination of tomatoes, mozzarella, and basil is incredible — especially when tomatoes are in season! I decided to take those flavors that I love in a salad and turn them into a flatbread pizza! If you love this flavor combination, you'll also need to try my Caprese Pasta!
I love the simplicity of this recipe and it's the perfect way to let sweet summer tomatoes really shine! We planted a variety of tomatoes in our garden this year and I can't wait to make this recipe on repeat! It only takes a few minutes to assemble and it's great for a quick meatless meal, but it also makes a nice appetizer for a group!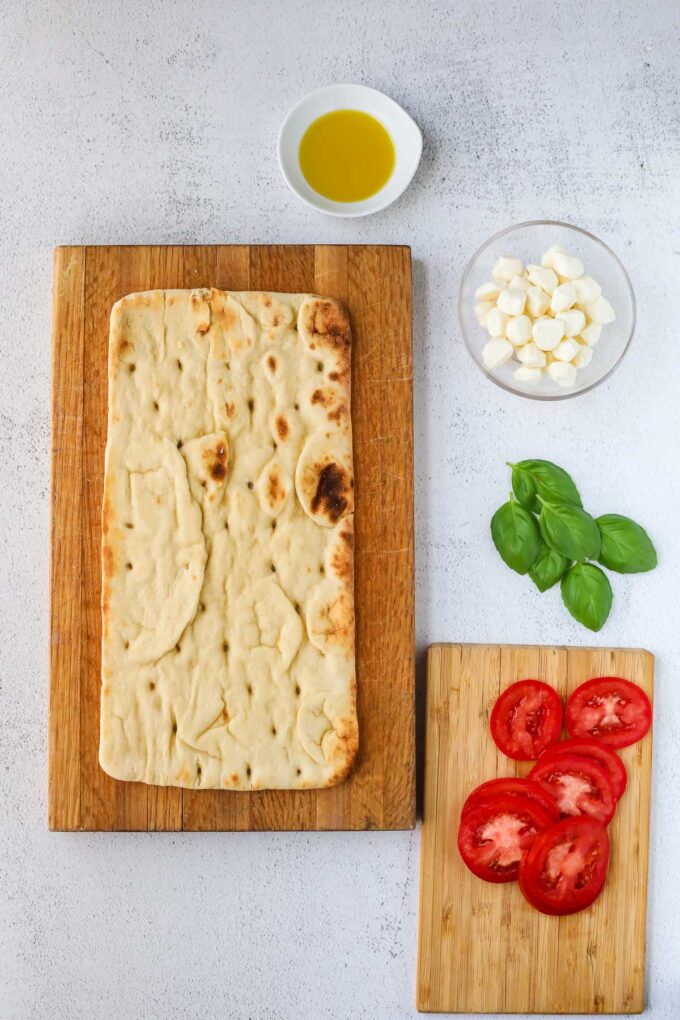 Ingredients & Substitutions
Flatbread– You can use storebought or homemade. I have a few homemade flatbread options outlined below.
Tomato– I recommend using a large Roma tomato but you can also use cherry or grape tomatoes. Just slice them in half before using.
Mozzarella– I prefer fresh mozzarella which holds its shape a little bit and is a more traditional pick for a Caprese recipe versus shredded mozzarella.
Basil– Fresh basil is essential for this dish and it really elevates the flavors!
Crushed red pepper, oregano, olive oil etc.– These are optional but I love the way they add a little punch of flavor and texture!
How to Make Your Own Flatbread
You can use storebought flatbread or make your own! If you want to make a more traditional yeasted flatbread, try my easy flatbread pizza dough recipe. If you don't have yeast but still want to make a flatbread from scratch, try my 2 ingredient pizza dough! You can make this dough using yogurt and self-rising flour. It's quick and easy!
How to Make Caprese Flatbread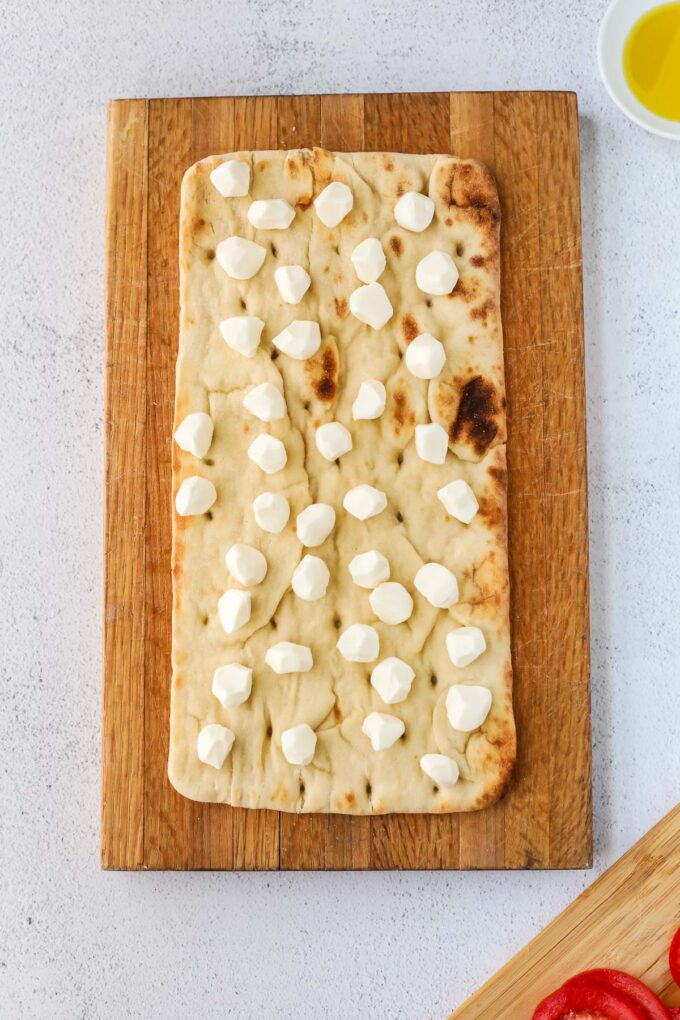 Variations and Additions
This recipe can be tweaked depending on your favorite flavors! Try adding a drizzle of balsamic glaze for a rich, tangy flavor. If you love ricotta, try adding a few dollops of fresh ricotta on top. You can also add a swirl of pesto just before baking if you want to add a stronger basil flavor. The sky is the limit when it comes to this Caprese pizza! Trust me, it will be absolutely delicious.
The Best Tomatoes for Caprese Flatbread
I like using Roma tomatoes because they're not too big and they're easy to slice. But on the vine tomatoes work great, too! You can also use cherry tomatoes or grape tomatoes. Just be sure to slice them in half before adding them to the pizza. The best tomatoes are in-season tomatoes, especially if you can get local heirloom tomatoes. So if you're able to grab tomatoes from your local farmer's market, do that!
How to Store Leftovers
While this pizza is best eaten fresh, you can store leftovers in an airtight container in the refrigerator for up to 3 days. To reheat, preheat the oven to 350 degrees and reheat for 2-3 minutes until warmed. I don't recommend reheating in the microwave, because it can make the flatbread chewy and soggy.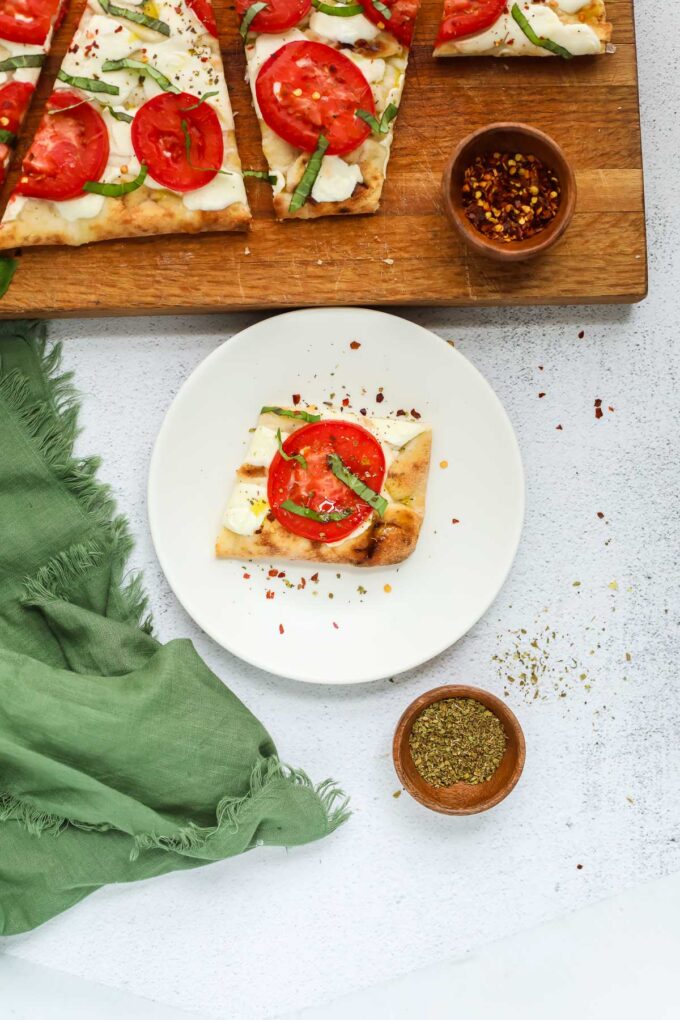 What to Serve with Flatbread Pizza
Looking for the perfect side dish to pair with a slice of this flatbread? Try this Italian Chopped Salad which is one of my favorite sides to pair with a pizza. I also love this lemon kale salad or a serving of my air fryer broccoli.
More Flatbread Pizza Recipes
Print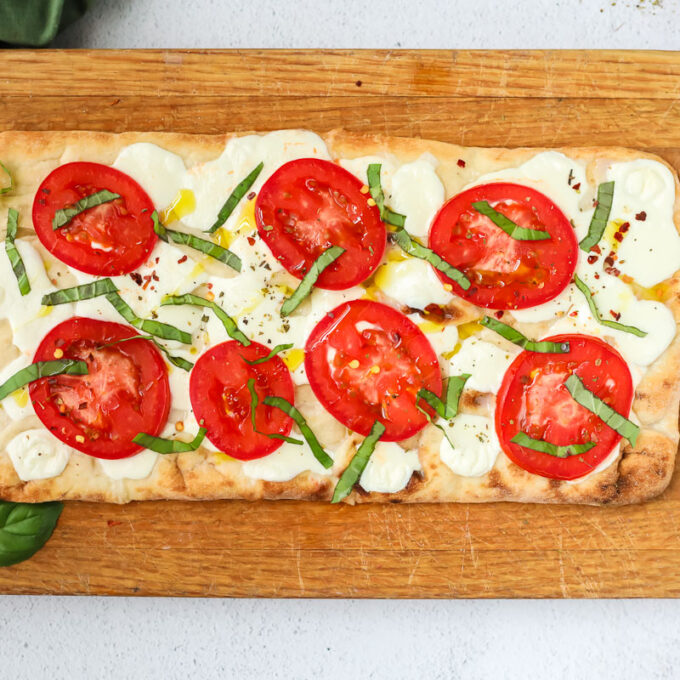 Caprese Flatbread
Author:
Prep Time: 10 minutes
Cook Time: 10 minutes
Total Time: 20 minutes
Yield: Serves 2
Category: Dinner
Method: Oven
Cuisine: American
Diet: Vegetarian
---
Description
This delicious Caprese flatbread is made with juicy tomatoes, gooey mozzarella, and fresh basil for a tasty twist on Caprese salad!
---
1 flatbread pizza crust (about 12" by 6")
1 large Roma tomato, thinly sliced
4 oz fresh mozzarella cheese
6 fresh basil leaves
---
Instructions
Preheat the oven to 425 degrees.
If using flatbread pizza dough, bake the crust for 7 minutes before adding toppings.
Top the flatbread with mozzarella. Add tomatoes.
Bake for 8-9 minutes until cheese is melted.
Remove from oven and sprinkle with basil.
Drizzle with olive oil and sprinkle with oregano and crushed red pepper, if desired.
---
Keywords: caprese flatbread