Basil Pesto Hummus
This basil pesto hummus is a deliciously creamy hummus made with chickpeas, basil, and pine nuts! Try this as a dip for your favorite vegetables, or spread it on a sandwich or pita!
Have you ever been to Zoe's Kitchen? It's kind of a fast-casual Mediterranean style restaurant and I'm obsessed with their basil pesto hummus. Then it occurred to me… why not make my own? So after a few attempts, I finally came up with a recipe that will satisfy my basil pesto hummus cravings! And the best part is, it's pretty easy to whip up!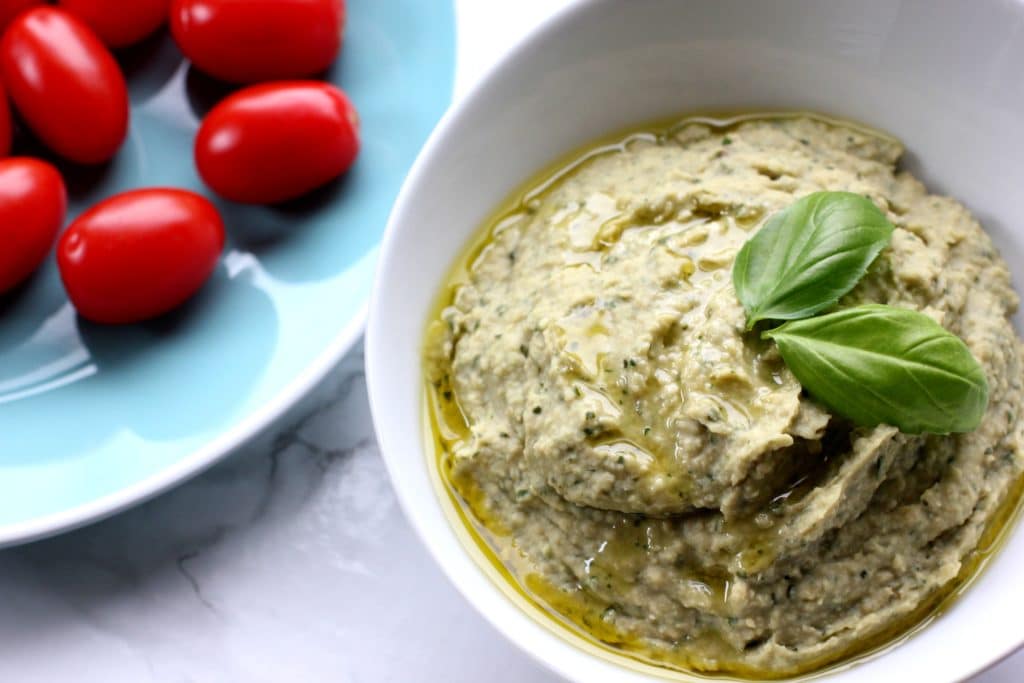 Tips for super smooth hummus
If you want a super creamy, silky hummus, warm the chickpeas up before you blend them. Heat them in the microwave for 30 seconds before you blend them and you'll be amazed at the difference! I learned this trick from America's Test Kitchen and my hummus has been creamier ever since! (Just make sure not to microwave a metal can!)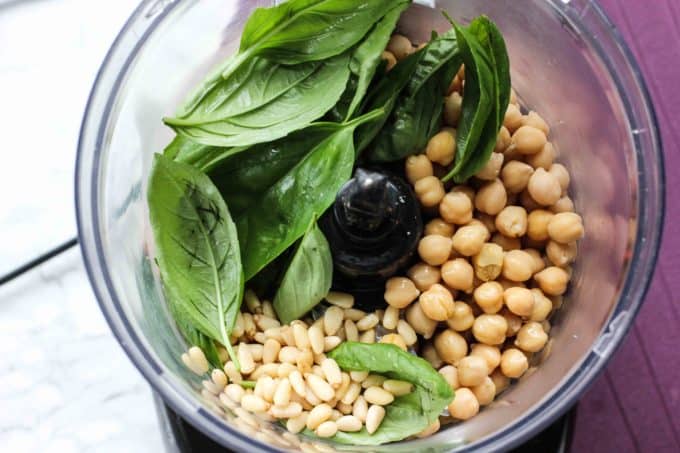 Once the chickpeas are warm, blend everything in a food processor until it's smooth and creamy. The basil will turn your hummus green! Feel free to add additional water, 1 tablespoon at a time, until you reach your desired consistency.
Pesto hummus substitution ideas
If you don't have pine nuts, you can substitute walnuts.
I typically used canned chickpeas, but you can use dried chickpeas if you prefer. Just be sure to cook them until very soft!
Feel free to substitute 1/4 teaspoon of garlic powder for the 2 cloves of fresh garlic.
Do not try to substitute dried basil. Fresh basil is a must!
The best way to blend hummus
When making hummus, I like using a food processor. It's the best way to get a smooth consistency. You can make it in a blender, but I'd recommend boiling the chickpeas for 15 minutes, before blending. This helps soften the chickpeas to give you a smoother consistency. If you're using a bullet-style blender, you'll need to add additional liquid in order to blend.
Print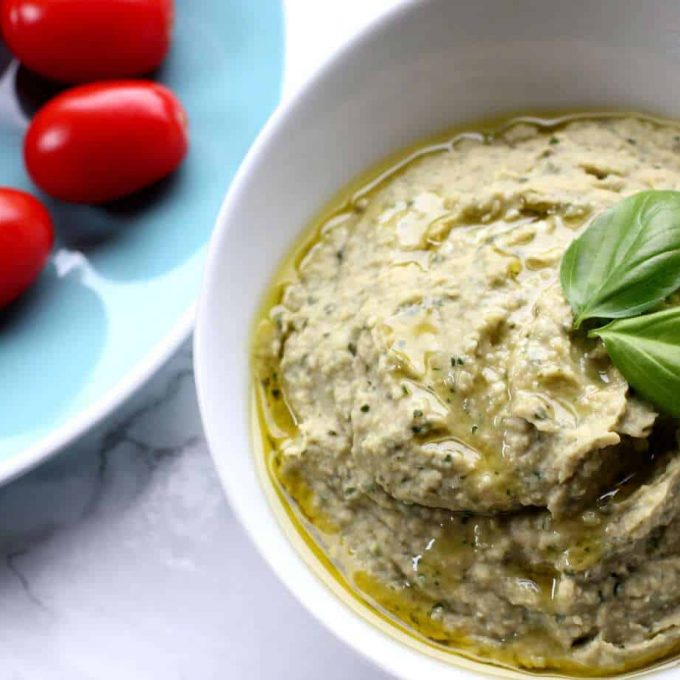 Basil Pesto Hummus
Author:
Prep Time: 10 mins
Cook Time: 0 minutes
Total Time: 10 mins
Yield: 1 cup 1x
Category: Side Dish
Method: No Cook
Cuisine: Mediterranean
---
Description
This basil pesto hummus is a deliciously creamy hummus made with chickpeas, basil, and pine nuts! Try this as a dip for your favorite vegetables, or spread it on a sandwich or pita!
---
1 15oz can chickpeas, drained, reserving 1/4 cup of the liquid from the can
1/2 cup fresh basil leaves, loosely packed
2 tablespoon olive oil
2 cloves garlic, peeled
1/2 teaspoon balsamic vinegar
1 tablespoon pine nuts
1/4 teaspoon salt (or to taste depending on the saltiness of your chickpeas)
---
Instructions
Drain the chickpeas but reserve 1/4 cup liquid from the can
Transfer the chickpeas to a microwave safe dish, and warm them in the microwave for 30 seconds.
Put the chickpeas, liquid, basil, olive oil, garlic cloves, pine nuts, and balsamic vinegar into a food processor.
Blend until smooth then add salt to taste.
Just before serving, you can drizze add a little olive oil or basil on top.
---
How to serve basil pesto hummus
Try using this hummus as a dip for carrots, cucumbers, and tomatoes.
Enjoy it as a dip with your favorite pita bread or pita chips.
Spread it onto a sandwich, then pile on your favorite vegetables.
Add a dollop of hummus to mixed greens for an easy salad topping.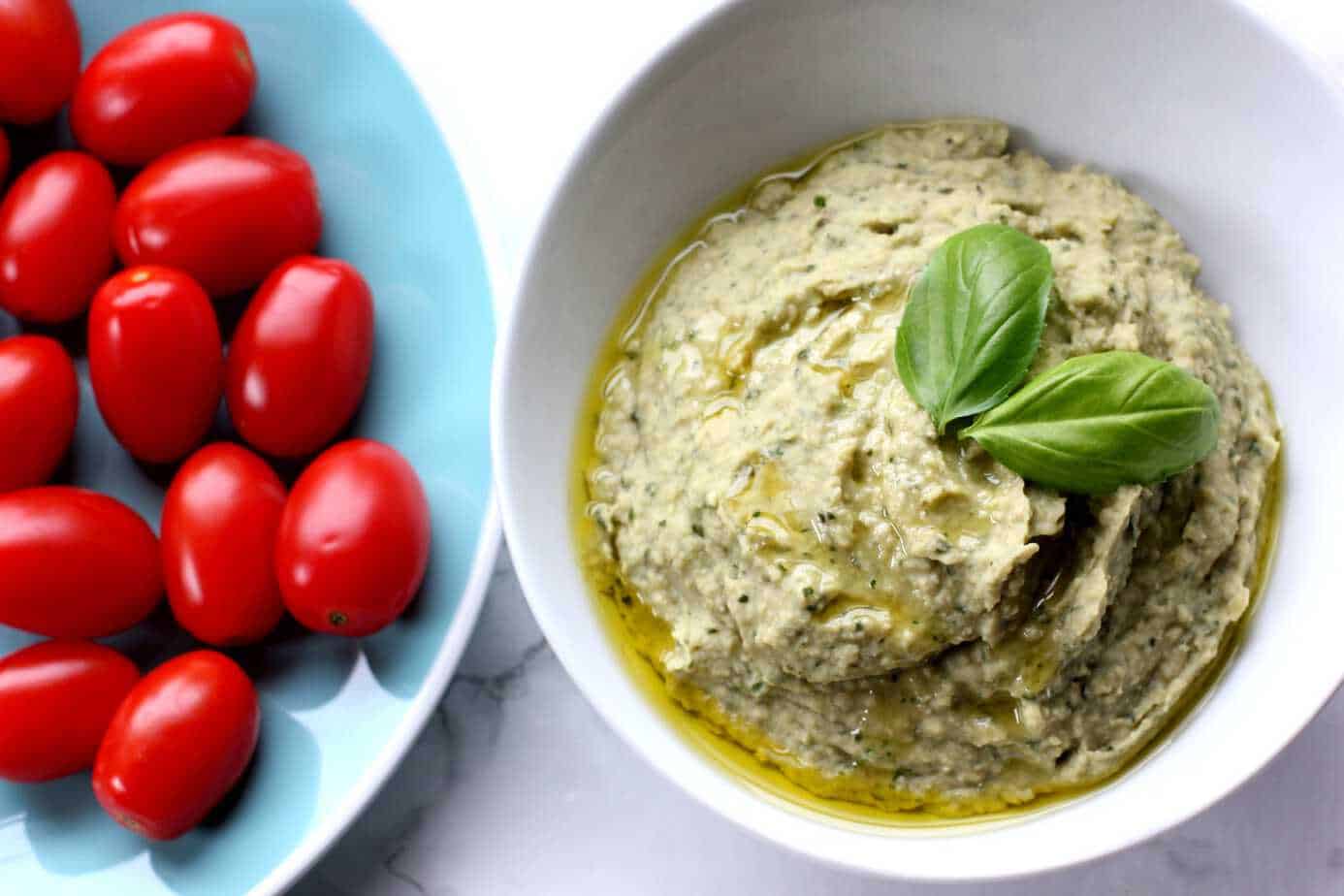 What to Serve with Pesto Hummus
I served this basil pesto hummus with cucumbers and carrots but it would also be good scooped up with pita chips, massaged into a kale salad as a dressing, or eaten with a spoon. You can even use it as a sandwich spread! I might have to make another batch this weekend…
Looking for other hummus recipes? Try this za'atar spiced hummus!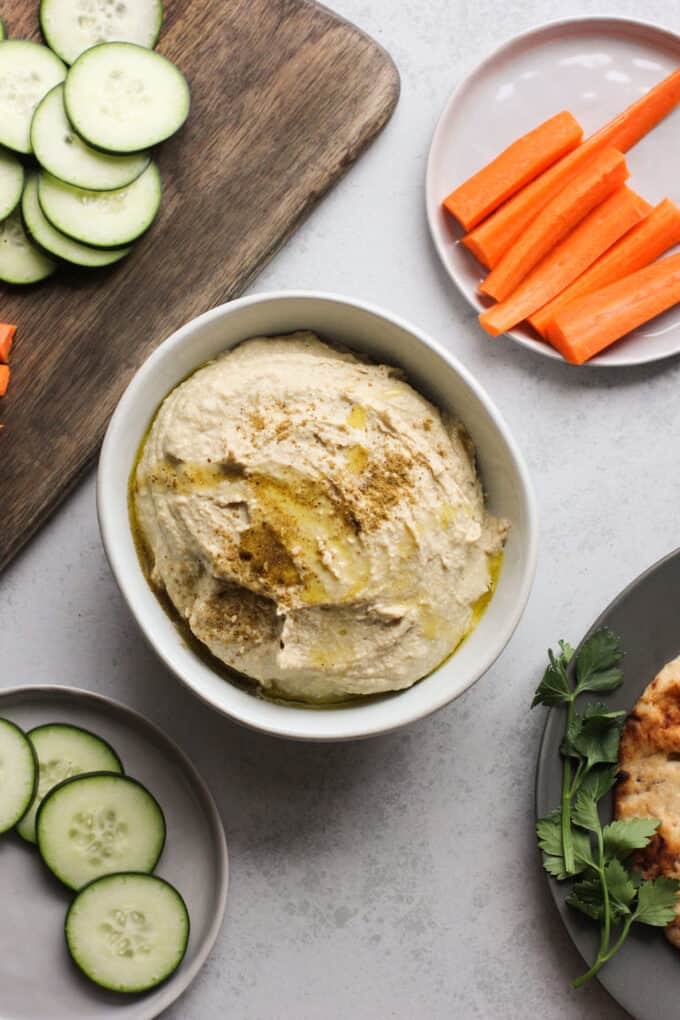 If you have carrots in your kitchen, try this easy carrot top hummus recipe!
What's your favorite kind of hummus?