Pickle de Gallo
This pickle de gallo recipe is a twist on classic pico de gallo! This one is made with pickles, cucumbers, pepper, and onion for a uniquely delicious dip!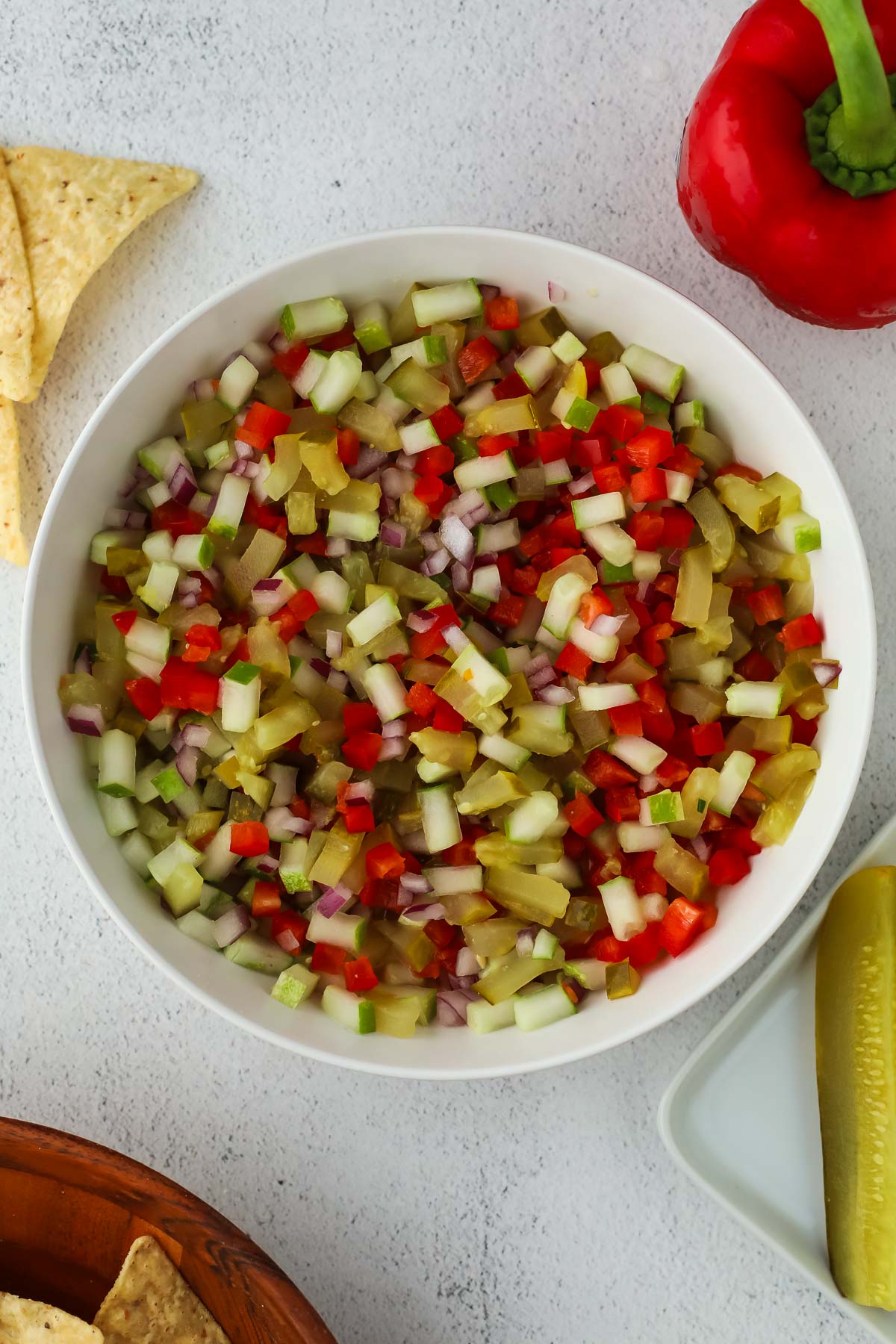 If you love pickles, you have to try this recipe! While traditional pico de gallo typically features fresh ingredients like tomatoes, onions, peppers, and cilantro, pickle de gallo incorporates diced dill pickles, cucumber, pepper, and onion. This unique fusion creates a tangy, briny, and refreshing salsa that any pickle lover will enjoy. It can be used as a tasty topping for tacos, nachos, burgers, or you can enjoy it with your favorite chips!
Ingredients & Substitutions
Dill pickles– Diced dill pickles infuse the dish with their tangy and briny flavor, adding a unique twist to a typical salsa.
Cucumber– Diced cucumber adds a cool and crisp texture to the dip. They help balance the flavor by adding a mild flavor so the dip isn't too salty from the pickles.
Red bell pepper– Diced red bell pepper brings a subtle sweetness and vibrant color to the dish. You can substitute with yellow or orange pepper, if desired.
Red onion– Diced red onion contributes a savory and sharp flavor. You can substitute with shallots if you want a more mild taste.
Garlic powder– Provides a hint of savory flavor without overpowering the pickle and vegetable combination. You can substitute this for fresh garlic if you want a stronger flavor. (Be sure to let the dip sit in the fridge for a couple of hours before serving.)
Pickle juice- The pickle juice from the pickle jar adds a tangy and briny taste that ties the flavors together and forms the base of the salsa.
Salt– Use sparingly due to the saltiness of the pickles and pickle juice.
What to Serve with Pickle de Gallo
This pickle dip is delicious with tortilla chips or pita chips, but if you want something a little healthier, try this pickle de gallo with one of these ideas:
Vegetable Chips: Serve this pickle de gallo dip with air-fried sweet potato chips or zucchini fries.
Cucumber Slices: Use cucumber rounds for a refreshing and crunchy option.
Bell Pepper Strips: Bell pepper strips provide a naturally sweet and vibrant scoop for salsa.
Celery Sticks: The crisp texture of celery pairs well with the freshness of this salsa.
Jicama Slices: Jicama's mild and slightly sweet flavor makes it an ideal vessel for salsa.
Radish Rounds: Thinly sliced radishes offer a peppery contrast to the tangy pickle dip flavors.
Endive Leaves: The boat-like shape of endive leaves makes them great for holding pickle de gallo.
How to Store Leftover Pickle De Gallo
To keep leftover Pickle de Gallo fresh, transfer it to an airtight container right after serving. Refrigerate promptly and enjoy it within 3-5 days.
More Dip Recipes
If you like this dip, be sure to try my dill pickle dip! If you're looking for a more traditional salsa, try my 5-minute blender salsa. For another veggie-packed dip, try this Mediterranean salsa.
Print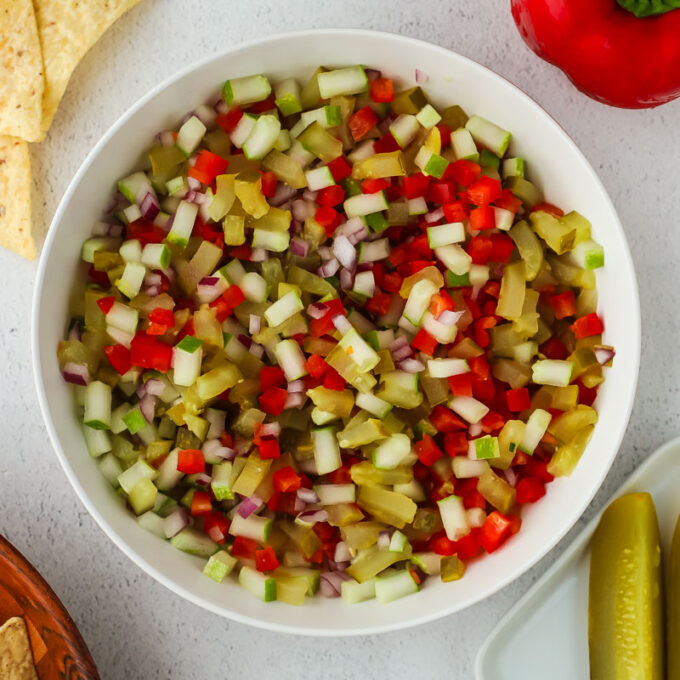 Pickle de Gallo
Author:
Prep Time: 5 minutes
Cook Time: 0 minutes
Total Time: 5 minutes
Yield: 2 cups 1x
Category: Snack
Method: No Cook
Cuisine: American
Diet: Vegan
---
Description
This pickle de gallo recipe is a twist on classic pico de gallo! This one is made with pickles, cucumbers, pepper, and onion for a uniquely delicious dip.
---
4 dill pickles, diced (about 1/2 cup)
1 small cucumber, seeds removed and diced (about one cup)
1 red bell pepper, seeded and diced
1/4 cup diced red onion
1/4 teaspoon garlic powder
1/4 cup pickle juice from the pickle jar
Pinch of salt, to taste
---
Instructions
Add all the ingredients to a large bowl and stir to combine.
Let it sit in the fridge for a 1-2 hours before serving for the best flavor.
Serve it with tortilla chips, bell pepper strips, pita chips, or kettle chips.
Keywords: pickle de gallo