Black Bean Soup
This hearty black bean soup is packed with vegetables and spices for a flavorful meal! It's filled with plant-based protein, making this vegan soup super satisfying.
I love black bean soup because it's easy to make and super filling! Made with tender black beans, vegetables, and spices, this soup is both nourishing and satisfying. It's also a great way to use up any leftover vegetables you may have in your refrigerator. Plus, it's easy to make and customize to your liking by adding your favorite toppings or extra ingredients. Whether you're a vegan looking for a protein-packed meal or want a cozy and comforting dinner, this black bean soup recipe might become a new favorite.
Ingredients & Substitutions
Olive oil– A little olive oil helps enhance the flavors of the mirepoix. If you're following an oil- free diet, you can sauté the vegetables in a little bit of broth instead.
Onion– I've tested this recipe with a yellow onion and a red onion and both work great!
Celery– This is an easy way to add more veggies to the soup!
Carrots– Carrots add a subtle sweetness and help bulk up this soup with more vegetables.
Bell pepper- I recommend using a green bell pepper, but you can use a different color bell pepper if that's what you have on hand.
Jalapeño– I recommend testing the jalapeño before adding it to the soup as some are spicy and some are mild. Adjust the amount based on taste.
Garlic– I cheat and use pre-peeled garlic, pressed through a garlic press. It's an easy way to get lots of minced garlic!
Chipotle peppers in adobo sauce– These are typically sold in the Mexican section of the grocery store in a small can.
Spices– Be sure your spices are fresh! The smoked paprika, cumin, bay leaf and oregano add a lot of flavor to this dish.
Broth– I prefer a "not-chicken" style broth like Edward & Son's. It tastes like chicken broth but it's vegetarian.
Black beans– This recipe calls for canned black beans because that's the quickest and easiest option. But if you have a little extra time, consider making this recipe with dried beans!
Cornstarch– This helps create a thicker broth. You'll need to whisk it with water, then blend it with some of the black beans.
How to Make Black Bean Soup
How to Make This Soup with Dried Beans
This recipe calls for canned black beans because that's the quickest and easiest option. But if you have a little extra time, consider making this recipe with dried beans! I tried it and I love the texture and flavor of these black beans. If you want to make this recipe with dried beans, here's what you need to do:
Rinse the beans: Start by rinsing 3 cups of dried black beans under cold running water. This will remove any dirt or debris that may be on the beans.
Place the beans in a pot: Add the drained and rinsed beans to a large pot with 5 cups of water. Add 2 bay leaves and 1/8 teaspoon of baking soda.
Bring the beans to a boil: Place the pot over high heat and bring the beans to a boil. Add 1 teaspoon salt.
Reduce the heat and simmer until tender: Once the beans are boiling, reduce the heat to low and let them simmer until they are tender. This will take about 1 hour but could take up to 1 1/2 hours, depending on the size and age of the beans.
Once the beans are tender, you can add them to the soup!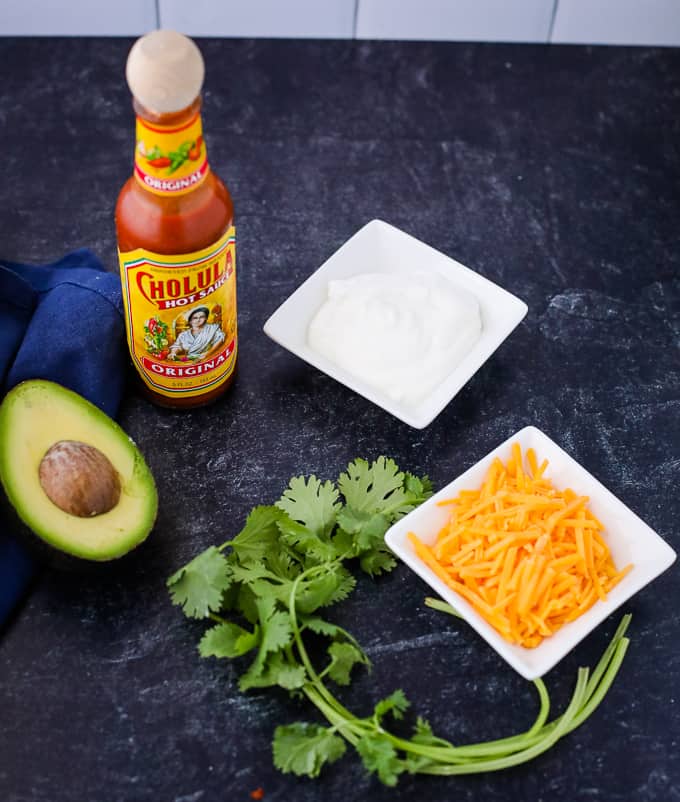 Black Bean Soup Toppings
This soup is delicious as is but I highly recommend adding a few toppings for texture, color, and even more flavor! Here are a few ideas to get you started:
Avocado or guacamole will add a creamy, rich flavor and help balance out the spiciness of the soup.
Chopped cilantro or green onions can add a bright, fresh flavor to the soup.
Greek yogurt can add a creamy, tangy flavor to the soup and also help tame the heat if it's too spicy.
A sprinkle of cheese, such as shredded sharp cheddar or crumbly queso fresco, can add a savory and creamy element to the soup.
Crushed tortilla chips add a crunchy texture to the soup and are especially good if you like a little bit of texture in your soup.
Adding a spoonful of salsa to the soup adds a spicy kick and some extra flavor.
If you like things spicy, a few drops of hot sauce can add a lot of flavor to the soup.
Health Benefits of Black Beans
One of the reasons I love this soup is because it's filled with plenty of vegetables. But the veggies aren't the only nutritious part of this soup! Black beans are also a great thing to add to your diet. Black beans are an excellent source of fiber with about 15 grams of fiber per cup. They're also a good source of plant-based protein with about 15 grams of protein per cup. This makes them an excellent choice for vegetarians like me looking to boost their protein intake. Black beans also have a low glycemic index, meaning they don't cause a rapid increase in blood sugar levels. Looking for more ways to use black beans? Try my Instant Pot Black Beans and Rice or my refried black beans!
How to Store Black Bean Soup
Black bean soup can be stored in the refrigerator for up to four days or in the freezer for up to three months. Let the soup cool before storing it. Do not store hot soup in the refrigerator as it can raise the temperature of the refrigerator and potentially spoil other foods. Transfer the soup to an airtight container. If storing in the freezer, leave a little bit of headspace in the container to allow for expansion as the soup freezes. To thaw frozen soup, transfer it to the refrigerator the night before you plan to eat it. Alternatively, you can place the container in a bowl of cold water to thaw it more quickly.
What to Serve with Soup
This soup is very filling so it can easily be a main dish! Just pair it with a simple side dish, some cornbread or your favorite chips and street corn dip! Another option is to enjoy this soup as a side dish on taco night. Try it with my buffalo chickpea tacos or serve it with my slow cooker enchilada casserole!
Frequently Asked Questions
Do I need to use cornstarch? The cornstarch is optional, but it does help thicken the broth and make this soup feel extra hearty and creamy. But if you don't have any cornstarch or don't want to use it, you don't have to. Blending some of the beans will also help thicken the soup.
Is this soup spicy? This soup does have some heat thanks to the jalapeño and chipotle peppers. If you don't like things spicy, skip the jalapeño and reduce the chipotle peppers to just one pepper. Keep in mind that jalapeños can vary greatly in spiciness. It can be smart to taste a little piece to see how spicy it is and adjust as needed.
Print
Vegan Black Bean Soup
Author:
Prep Time: 10 minutes
Cook Time: 35 minutes
Total Time: 45 minutes
Yield: 8 cups 1x
Category: Soup
Method: Stovetop
Cuisine: American
Diet: Vegan
---
Description
This hearty black bean soup is packed with vegetables and spices for a flavorful meal! It's filled with plant-based protein so this vegan soup is super satisfying!
---
1 tablespoon olive oil
1 medium red or yellow onion, chopped
2 stalks celery, chopped
2 large carrots, peeled and chopped
1 large green bell pepper, chopped
1 jalapeño, diced
6 cloves garlic, minced
2 chipotle peppers in adobo sauce, chopped
1 1/2 teaspoons smoked paprika
1 teaspoon dried oregano
1 1/2 teaspoons ground cumin
4 cups vegetable broth
1 bay leaf
2 (15oz) cans black beans, drained and rinsed
2 tablespoons cornstarch (optional)
2 tablespoons water
1/2 teaspoon salt or to taste
---
Instructions
In a large pot, add the olive oil and heat over medium heat for 30 seconds.
Add the onion, carrot, celery, bell pepper, and jalapeño. Sauté for 12 minutes, stirring frequently, until vegetables are softened.
Add the garlic, chipotle peppers in adobo sauce, smoked paprika, oregano and cumin and continue to sauté for 2 minutes.
Reserve 1/2 cup of black beans and set aside.
Add the remaining black beans, bay leaf, and vegetable broth to the pot. Bring to a boil then reduce heat to low.
Simmer for 20 minutes.
In a small bowl, whisk the cornstarch (if using) and water together. Add the reserved 1/2 cup of black beans. Blend the black bean and cornstarch mixture in a blender or food processor. Or use an immersion blender to combine.
Add the blended beans back to the pot. (This will help thicken the broth.)
Add salt to taste.
---
Keywords: black bean soup
More Black Bean Recipes
Short on time? Try my 5 ingredient black bean soup! Or make a batch of my slow cooker black beans and enjoy them in tacos, salads, and soups! If you want to turn them into a burger, try my chipotle black bean burger.