I bought a juicer a couple of years ago and while I don't juice every day, I try to pull it out every week or two. I'm not going to debate whether or not juicing is the right thing for you (you can read all about that in this post) because I just want to focus on cost. Juicing is trendy but love it or hate it, let's see what it does to your bank account: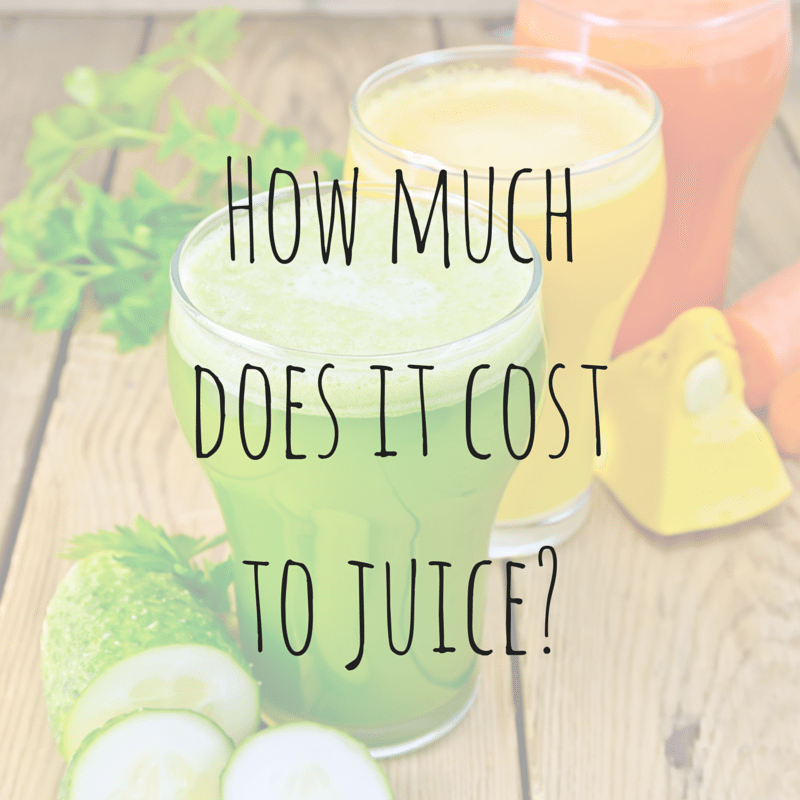 Store bought juice can run you upwards of $9 a bottle.
I've tried Daily Greens, Suja, & Lumi. They're all great for convenience but it's hard for me to justify spending more on a bottle of juice than I do on a whole meal. So for me, juicing only really makes sense to do at home.
I bought the Hamilton Beach Big Mouth Juicer from Amazon a little while back. (Oops, I took a picture of the Spanish side of the box!)

I really like it because it wasn't super expensive and it works well for me. You can get it for around $50. So the juicer itself is an initial investment but what about the ingredients? How much does it take to make juice?
Here's an example with prices based on the produce I buy from Relay Foods:
   1 cucumber- $1.00
   1/2 bunch of kale- $1.00
   1 lemon $0.50
   1 tbsp fresh ginger $0.25
   3 whole carrots $0.50
Total for a 12oz glass of juice: $3.25.
Here's another combo that I make regularly:
   1 cucumber- $1.00
   3 stalks celery $0.75
   1 small apple $0.50
   1/2 bunch of kale – $1.00
   1 lime- $.50
Total for a 12oz glass of juice: $3.50
The trick is to combine ingredients that will give you lots of health benefits and still fill up your glass. For example: Kale is great for you, but it'll take an entire bunch of kale to get a couple ounces of juice whereas a cucumber might be a little less "potent" but will give you about 1/2 cup of juice. I try to combine juicy ingredients with less juicy ingredients in order to fill my glass without breaking the bank. Fruits and veggies that will give you lots of juice are things like cucumbers, celery, apples, lemons, and oranges. Things like kale, spinach, or broccoli won't give you as much, so it's best to combine those with juicer ingredients. For me, I know the combinations of fruits and vegetables that I like will cost around $3-$4 in order to make a large glass. That might still sound like a lot but I typically use produce that I know I won't necessarily be able to use before it goes bad. I love having kale in the fridge to make salads but sometimes I can't use up a whole bunch in time. For me, juicing has become pretty cost effective because I rarely load up on produce for the sake of juicing.
If you're still on the fence about juicing check out this post:
Do you think juicing is worth the cost?