The Most Comfortable Shoes for Walking All Day
I recently went on a quest to find shoes that were cute but truly comfortable. I don't mean the kind of shoe that is like "not bad" for a cute shoe. I'm talking about the kind that you could literally walk in for days without any pain at all.
I'm holding a very high bar for the shoes on this list. If I spend the day wearing a pair of cheap Target flats, I'll have pain in my foot for the rest of the week. Maybe I'm getting old or maybe I just have sensitive feet, but this led me on a journey to finding some truly comfortable shoes.
To start, I asked for lots of recommendations. Then I started buying, trying, and returning quite a few pairs of shoes. I'm clearly not a fashion blogger and while I did look for the cutest styles I could find, I really prioritized comfort first and style second. But luckily, there really are lots of cute styles that met my requirements for comfort!
There are two shoe brands that come up frequently when you're searching for comfortable shoes: Rothys & Tieks. So let me just get it out of the way and tell you that these were not the most comfortable shoes. I've tried two pairs of Rothys (returned both) and I've owned a pair of Tieks for years. They're not bad for a work shoe but neither of them has any real support. As I said, I'm holding a high bar here. Those didn't make the cut.
Most Comfortable Sandals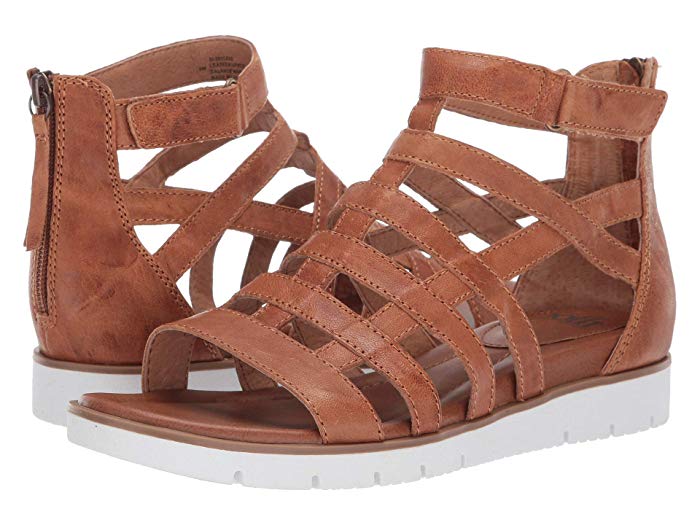 These gladiator sandals from Sofft are my #1 pick.
They're SO comfortable. The sole is more like a sneaker which gives you lots of cushion and support. The footbed is soft and the leather is high quality so you don't have to worry about blisters. The gladiator style gives you a little extra stability so your foot isn't sliding around in the shoe. I've worn these for weeks, even on a walking tour and I've had no issues at ALL. I'm usually between a 7.5 and an 8. I went with an 8 and I have a little wiggle room but I wouldn't have wanted a smaller size. These are the sandals I'm going to be recommended to everyone I know!
Other Comfortable Sandal Options
These slip-on sandals from Vionic
are my second choice for a comfortable sandal. They're extremely lightweight and the footbed has a lot of arch support. The strap on the back of the shoe keeps it from sliding around. These are a little less "sporty" so they're a better option for a skirt or dress when you're going to be on your feet a lot. I ordered a 7.5 wide and they're a little bit
too
wide, but they're comfortable so I'm keeping them! I'd say these run true to size.
Most Comfortable Pointed Toe Flat
I'm
obsessed
with
these leopard flats from Dr. Scholl's
. I've already gotten tons of compliments on them and they're dressy enough to wear to work. They come in wide widths, which is nice because most pointed toe flats are too narrow for me. The footbed has the kind of cushioning and support you'd expect from Dr. Scholl's.
These flats also one of the cheaper shoe options. I snagged this pair for about $50. They come in other colors although I don't love the other patterns nearly as much as the leopard. I'm already planning to order a backup pair for when these wear out. I got them in a 7.5 wide and they're absolutely perfect.
Other Comfortable Pointed Toe Flat Options
I also tried the Aston from Dr. Scholl's but they ran laughably large. I should have listened to the reviews. I'd go a whole size down if you want to try them. They seemed comfortable but I didn't want to mess with trying another size, so I decided to send these back. If you do get these, size down!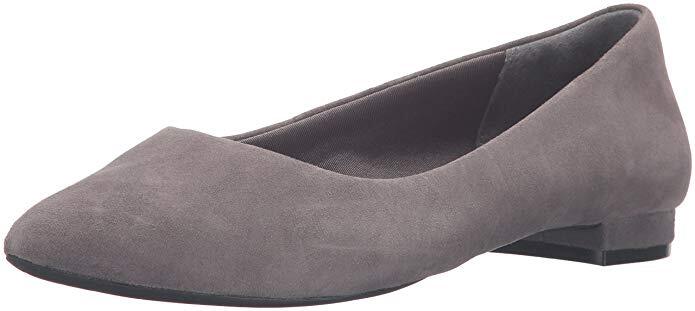 I was impressed with the Rockport Total Motion Adelyn flats. They have amazing support and they come in a lot of cute patterns. The inside of the shoe is more like a sneaker, but you'd never know it from the outside! Unfortunately, I seem to be stuck in between sizes. I've tried 7.5, 7.5 wide, and 8. None of them were quite right for me, which was a bummer. If you have a more narrow foot, I think these run true to size.
Most Comfortable Rounded Toe Flat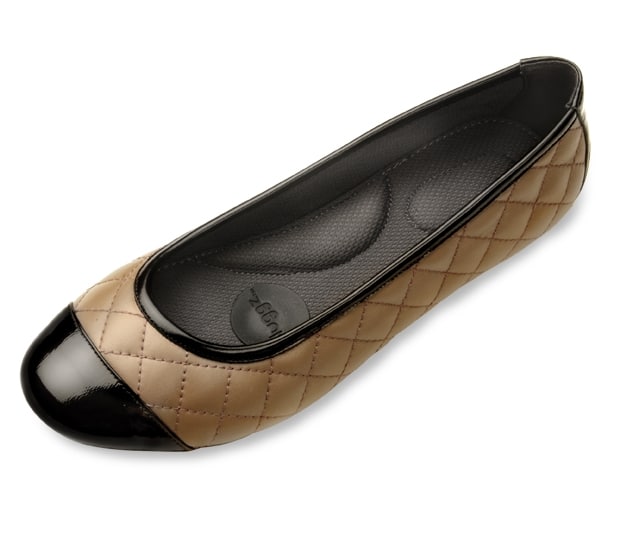 I got a pair of these quilted leather Pluggz about 6 years ago and they became my go-to shoe when I had work events where I'd be walking a lot. They're not the cutest but they really are comfortable. I bought a second pair in linen because I've almost worn out the leather ones. I also have a pair of their black suede loafers that I've been wearing for years and they still look as good as new! I'd recommend the loafers because I think they're a little more comfortable, but both styles are good options if you're looking for a rounded toe style.
Most Comfortable Sneaker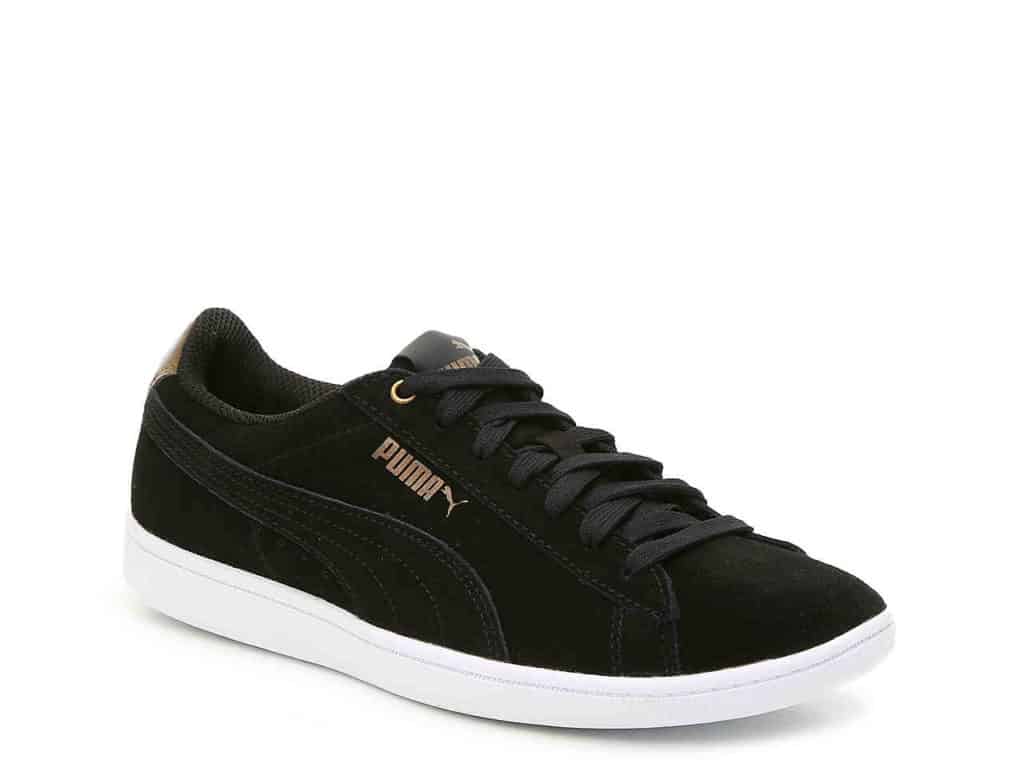 I've also invested in quite a few shoes that are one step back from a running shoe. I'm not sure exactly what category these would fall into but they're the kind of shoes you can wear with jeans and not look like a tourist. I have
these suede Pumas
in black and light pink. (The pink is my favorite but it does get dirty easily.) These shoes are so soft and cushiony. It's like walking on a cloud. I bought the pink ones first and loved them so much that I bought a second pair in black since I knew those would hold up longer. I love bringing these with me on vacation or wearing them to run errands. I have these in a size 8.
Other Sneaker Options
I had a slightly older style of these Addidas Gazelles but they weren't quite a supportive as the Pumas. I also love a classic pair of Converse because you can wear them with literally anything, but they don't have a lot of arch support, so I don't usually pack them for long trips.
How to Save Money on Comfortable Shoes
One problem I noticed is that many comfortable shoes were really expensive. Spending $100 on a pair of sandals felt like a big investment. I decided it was worth it because I didn't want to deal with foot pain for the rest of my life, but still. If you're on a budget, here are a few tips:
Once you settle on a pair to get, check other retailers. I found that Zappos was usually the cheapest but sometimes it was better to go through the brand website or Amazon.
Sign up for emails to get coupons! I signed up through the Soffts website and got a 20% off coupon.
Depending on the shoe, you might even be able to snag them on a site like Poshmark or even eBay. It doesn't hurt to check!
Have you found comfortable shoes that you love? Leave your recommendations below! I love trying new styles!