Vegetarian Baked Beans
These vegetarian baked beans are cooked in a sweet sauce for a classic taste that pairs perfectly with your favorite veggie burger! Enjoy these at your next picnic or cookout!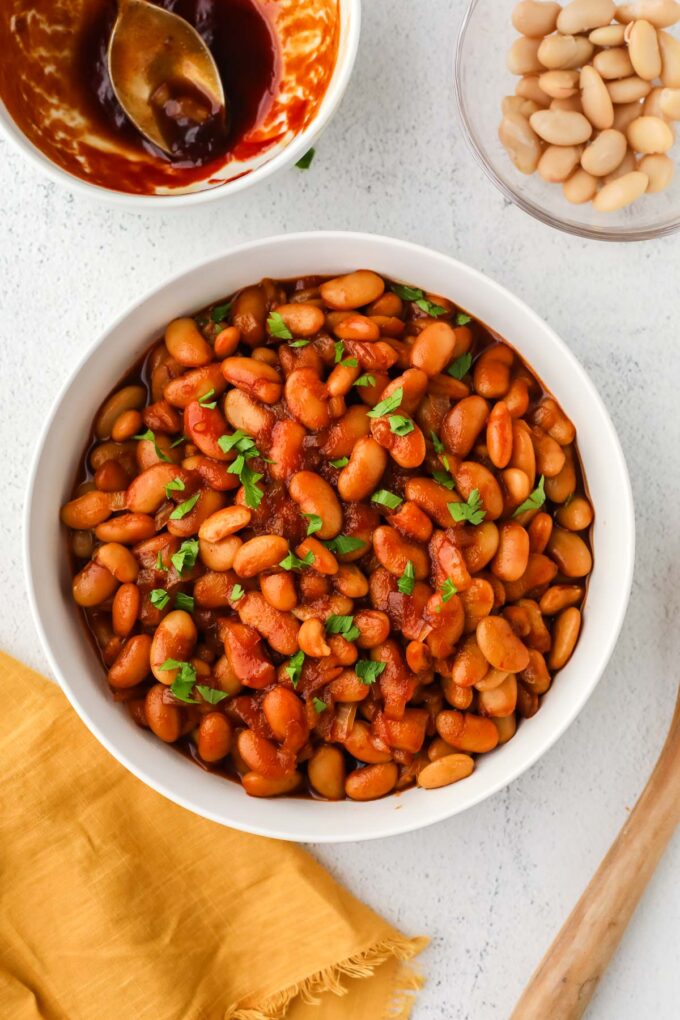 I grew up in the Midwest so canned baked beans were a staple in our house! Anytime we were having burgers on the grill, it was paired with corn on the cob and sweet baked beans. While I still love the classic canned beans, I decided to try making a version from scratch and I really loved how they turned out!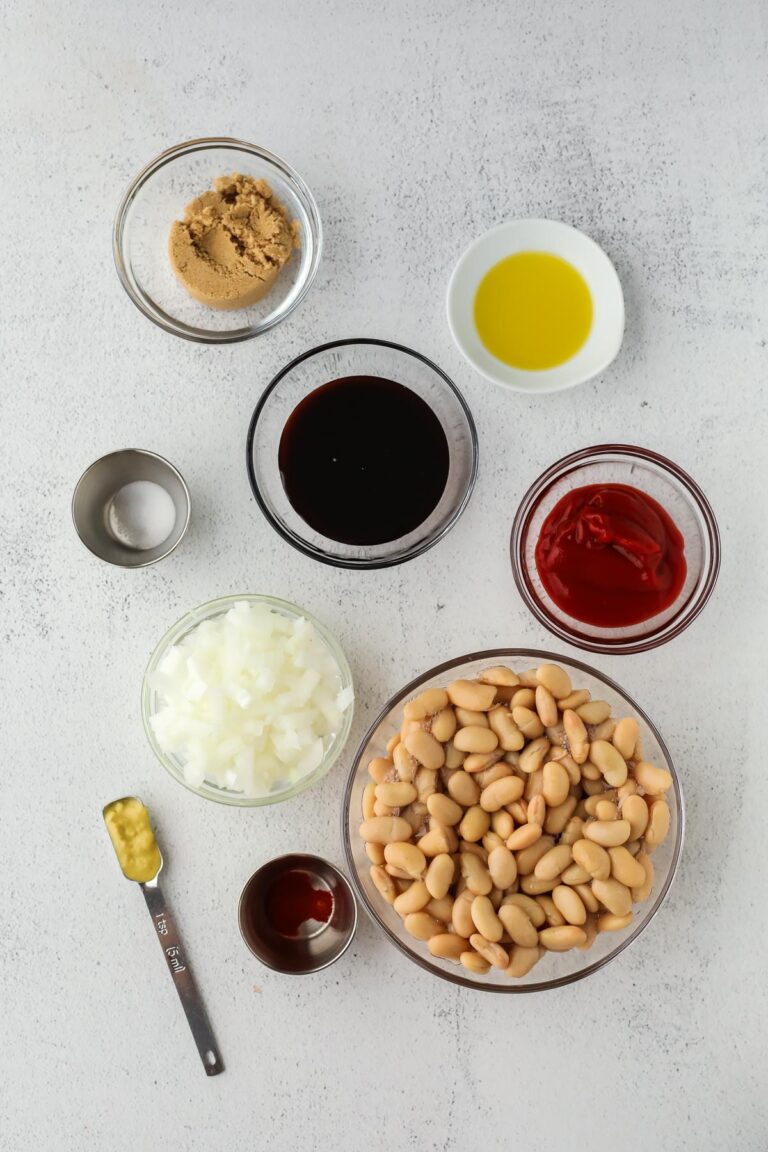 What are the best beans for baked beans?
Most canned baked beans are made with navy beans, which are small white beans. Those work great in this recipe, but it was difficult to find canned navy beans at most grocery stores. I didn't want you to have to search high and low for navy beans, so I created a version using cannellini beans. These are a bit larger than navy beans but their taste is pretty similar. If you can find canned navy beans, go for it! But cannellini beans or great northern beans are a perfect substitute.
Can I use dried beans?
Absolutely! Just be sure they're fully cooked before proceeding with the recipe. This recipe uses two 15-ounce cans of beans, which is about 3 cups of cooked beans. Dried navy beans were easier to find than canned navy beans, so if you wanted to use navy beans, cook the dried beans then use 3 cups in this recipe.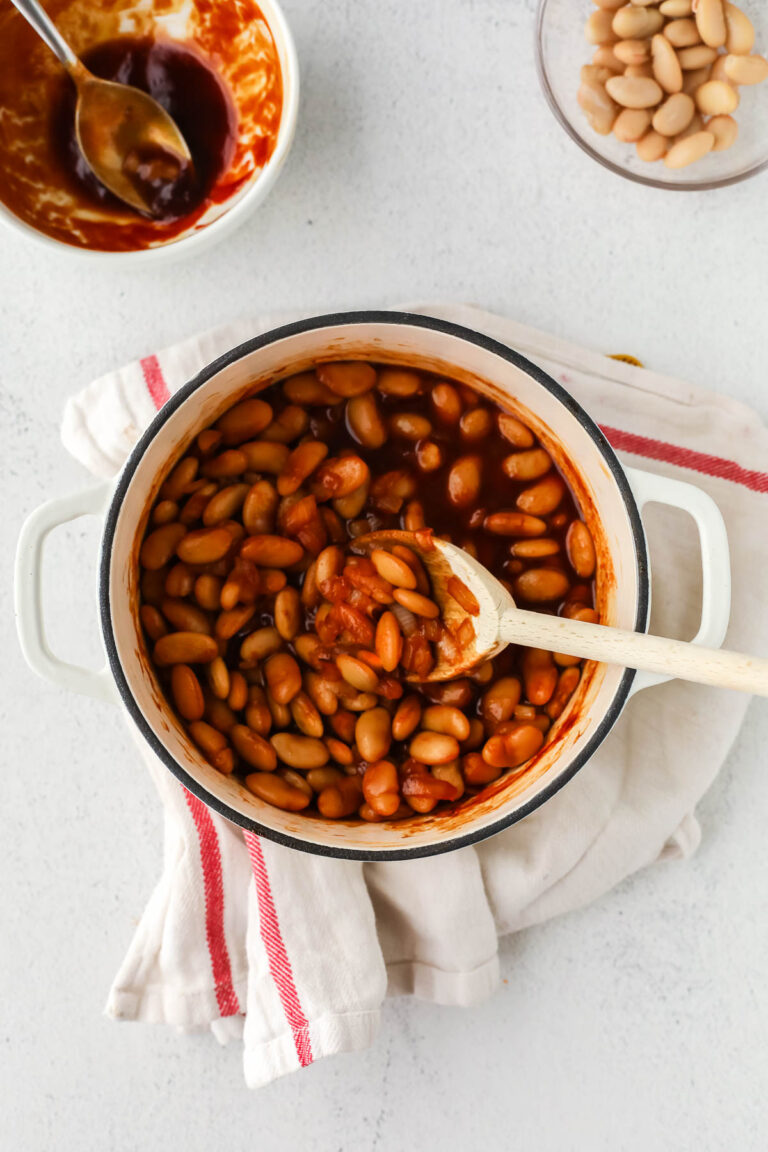 Can I reduce the sugar?
You certainly can! I wanted these beans to be similar to my favorite canned beans, so they are quite sweet. You can reduce the brown sugar and molasses for a less sweet flavor. I recommend using at least 2 tablespoons of brown sugar, to make sure that these still taste like a classic baked bean.
Substitution Ideas
For the most authentic taste, I recommend using molasses. But if you don't have any in your pantry, you can substitute with additional ketchup or use a combination of additional ketchup and barbecue sauce.
If you don't have smoked paprika, you can use regular paprika, but you'll miss out on some of the spicy, smoky flavor. (Smoked paprika is one of my favorite spices, so I'd encourage you to add it to your pantry if you don't already have it!)
If you can't find cannellini beans, white kidney beans or navy beans will work great.
The Best Pot for Baked Beans
I have a small dutch oven that works perfectly for this recipe but any oven-safe dish will work fine. I prefer pots with a lid so it's easier to transport and store, but since this recipe is baked uncovered, you can use any small casserole dish.
How to Store Leftovers
Leftovers should be stored in an airtight container in the fridge for up to 4 days. To reheat, microwave on 50% power, stirring every minute, until heated through. You can also reheat these beans on the stovetop or in the oven. To reheat on the stovetop, transfer to a shallow skillet and warm over medium-low heat, stirring frequently until evenly heated. To reheat in the oven, set the oven to 300 degrees and place the beans in an oven safe casserole dish. Reheat for 10-12 minutes or until heated through. I recommend the microwave or stovetop, as the oven may dry out the beans slightly.
Frequently Asked Questions
Are these baked beans vegan? Yes! This baked bean recipe is also vegan and gluten free.
Can I make these in advance? Yes, you can. Follow the instructions above for storage and reheating.
Can I double the recipe? Yes. You may need to cook the beans just a few minutes longer.
Do I have to use canned beans? No. You can use dry beans but you'll need to soak them and cook them before using them in this recipe.
My beans are too sweet. What can I do? Add a splash of apple cider vinegar and/or a splash of soy sauce. These flavors can help balance beans that are too sweet.
What to Serve with Baked Beans
Looking for more quick and easy recipes for your picnic or barbecue? Try pairing these beans with my Chipotle Black Bean Burger or Pinto Bean Burger! Or if you're looking for more side dish recipes to add to your cookout, try my Street Corn Salad and my Sweet Potato Fries! All of those recipes are great for a vegetarian-friendly barbecue! Looking for more ways to add beans to your plate? Try my slow cooker black beans!
Print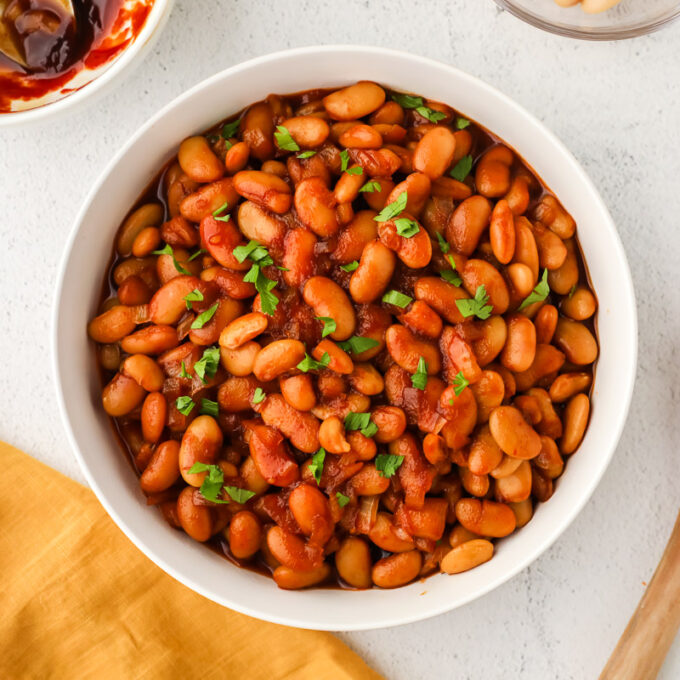 Vegetarian Baked Beans
Author:
Prep Time: 10 minutes
Cook Time: 30 minutes
Total Time: 40 minutes
Yield: About 3 cups 1x
Category: Side Dish
Method: Oven
Cuisine: American
Diet: Vegetarian
---
Description
These vegetarian baked beans are cooked in a sweet sauce for a classic taste that pairs perfectly with your favorite veggie burger! Enjoy these at your next picnic or cookout!
---
1 tablespoon olive oil
1 medium onion, diced
4 garlic cloves, minced
1/4 teaspoon smoked paprika
1/4 cup brown sugar, lightly packed
1/3 cup ketchup
1/4 cup molasses (or substitute with an additional 1/3 cup ketchup)
1 teaspoon Dijon mustard
2 15oz cans cannellini beans, drained and rinsed
---
Instructions
Preheat oven to 350 degrees.
In a large dutch oven or oven-safe pot, heat the olive oil over medium heat for 30 seconds.
Add the onion and cook for 5 minutes, stirring occasionally, until the onion begins to soften.
Add the garlic and continue to cook for 1 minute.
In a small bowl, combine the smoked paprika, sugar, molasses, ketchup, and Dijon mustard.
Add the sugar mixture to the cannellini beans then transfer the pot to the oven.
Bake uncovered for 25 minutes until sauce is thickened.
---
Keywords: vegetarian baked beans