Watermelon and Feta Salad with Avocado
This watermelon and feta salad with avocado is the perfect summer side dish. It only takes a few minutes to assemble and it's a delicious combination of salty and sweet flavors!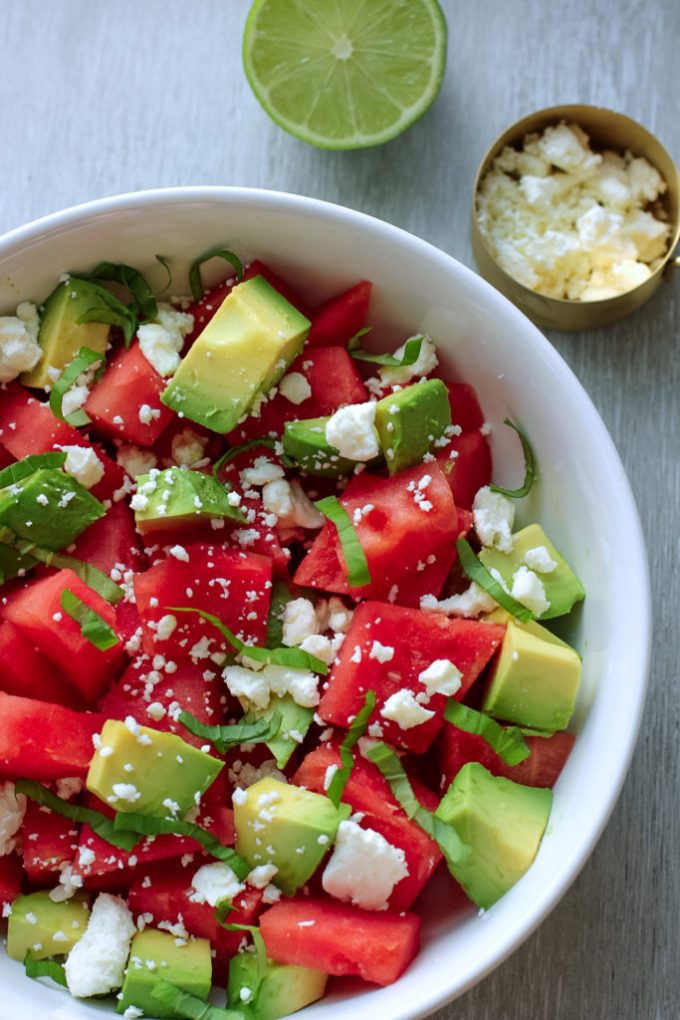 Last weekend the weather was just about perfect! The early morning light and the warmer evenings are getting me excited for picnics and outdoor parties, so I must have had that on my mind when I came up with this recipe.
When I saw watermelons on sale and I couldn't resist grabbing one. I knew it wouldn't be quite as sweet and juicy as the ones we'll get later this summer, but I still had to get one. I'd been thinking about a watermelon and feta combination for a while but it finally happened this weekend.
I remember as a kid, my grandma would sprinkle salt on top of her watermelon. I thought it was the strangest thing, but now it makes sense. The salt amplifies the sweetness! In this recipe, the salty feta brings out the sweetness of the watermelon just perfectly. The avocado adds a creamy texture and the basil enhances the overall sweetness of the dish.
Watermelon Salad Ingredients
Watermelon– Obviously, you need watermelon! Read on for my tips on how to pick out a perfect watermelon.
Feta- I love the saltiness the feta adds to this recipe. If you can't find feta, you can try this with queso fresco instead!
Avocado– The creamy avocado is such a fun addition to this recipe. If you buy a lot of avocados, store them in the fridge. They'll ripen more evenly and last much longer!
Basil– A little fresh basil adds a lovely flavor to this recipe but if you don't have any on hand, try mint instead!
How to Pick a Watermelon
The watermelon should feel heavy for its size. Pick it up and see how it feels!
When you tap the bottom of the watermelon it should have a hollow sound.
The spot on the bottom should be a creamy yellow, which indicates it's ripe.
You can also add a squeeze of lime, if you like. It's totally optional but it helps the avocado from turning brown. I wouldn't make this watermelon and feta salad too far in advance since the avocado is best when it's freshly chopped, but the lime will give it a longer shelf life if you're bringing it to a picnic or event.
Print
Watermelon and Feta Salad with Avocado
Author:
Prep Time: 15 Minutes
Cook Time: 0 Minutes
Total Time: 15 minutes
Yield: 8 cups 1x
Category: Salad
Method: Chopped
Cuisine: Salad
---
Description
This watermelon, avocado, and feta salad is the perfect summer side dish. It only takes a few minutes to assemble and it's a delicious combination of salty and sweet flavors!
---
6 cups seedless watermelon, cut into 1" cubes
½ cup crumbled feta
2 avocados, diced
2 tablespoons chopped basil (about 8 leaves)
1 lime (optional)
---
Instructions
Don't stress about how to measure your watermelon cubes, since they won't fit neatly into a measuring cup. You can pretty much eyeball it. For reference, I used ½ a small icebox size watermelon in the pictures above.
Toss the watermelon and feta in a large bowl until mixed.
Add the avocado and gently mix. You want to be careful not to smash the avocado.
Sprinkle with basil.
If not serving right away, squeeze a bit of lime juice on top to prevent the avocado from browning.
---
Keywords: Watermelon and Feta Salad
If you're trying to judge how much watermelon you need, the photo above is only showing half the recipe. This one is easy to split if you're not looking to feed a crowd, but it doesn't take any extra effort to make a full batch! I ended up snacking on this salad for breakfast because I took the photographs early in the morning. Honestly, this would be a perfect brunch dish!
If you have leftover watermelon, try freezing some and making this watermelon mojito smoothie!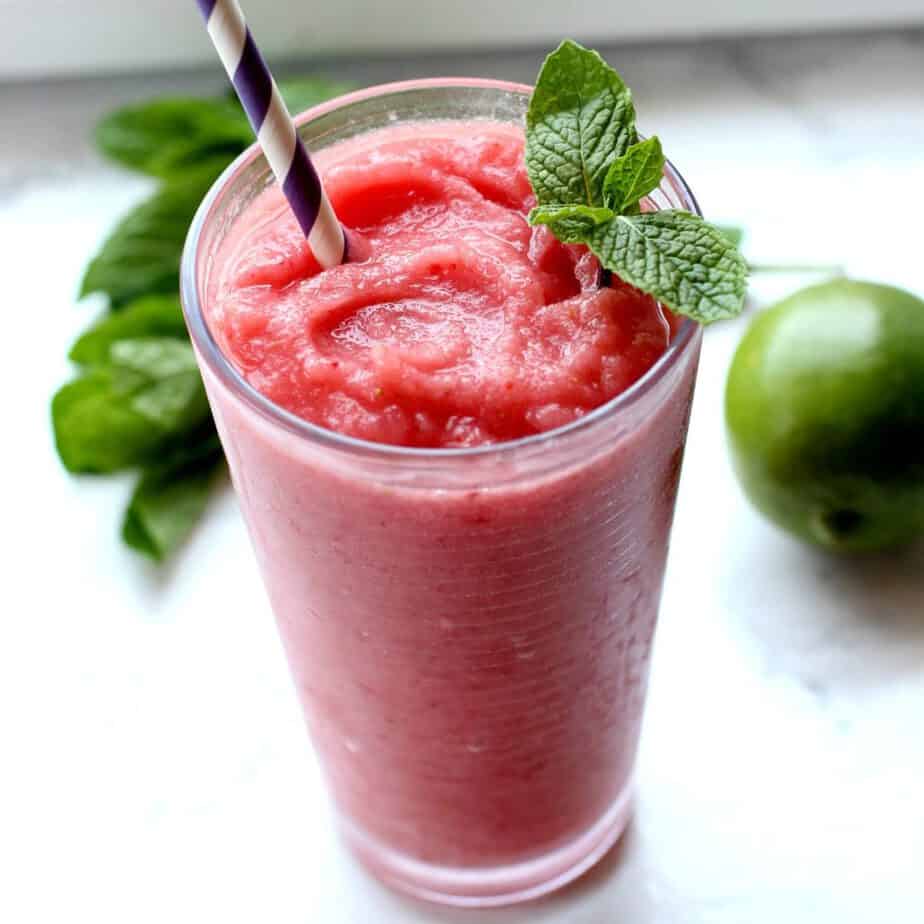 Don't have any watermelon? Try this avocado and grapefruit salad instead! It's a more traditional salad, served on a bed of greens, but it has tons of tart flavor! If you love avocado and fruit together, definitely give that recipe a try!
What's your favorite way to enjoy watermelon?