Vegan Tempeh Sandwich
This tasty vegan sandwich is made with marinated tempeh, fresh sprouts, and creamy avocado for a simple, yet delicious lunch! This simple sandwich contains 32g of protein!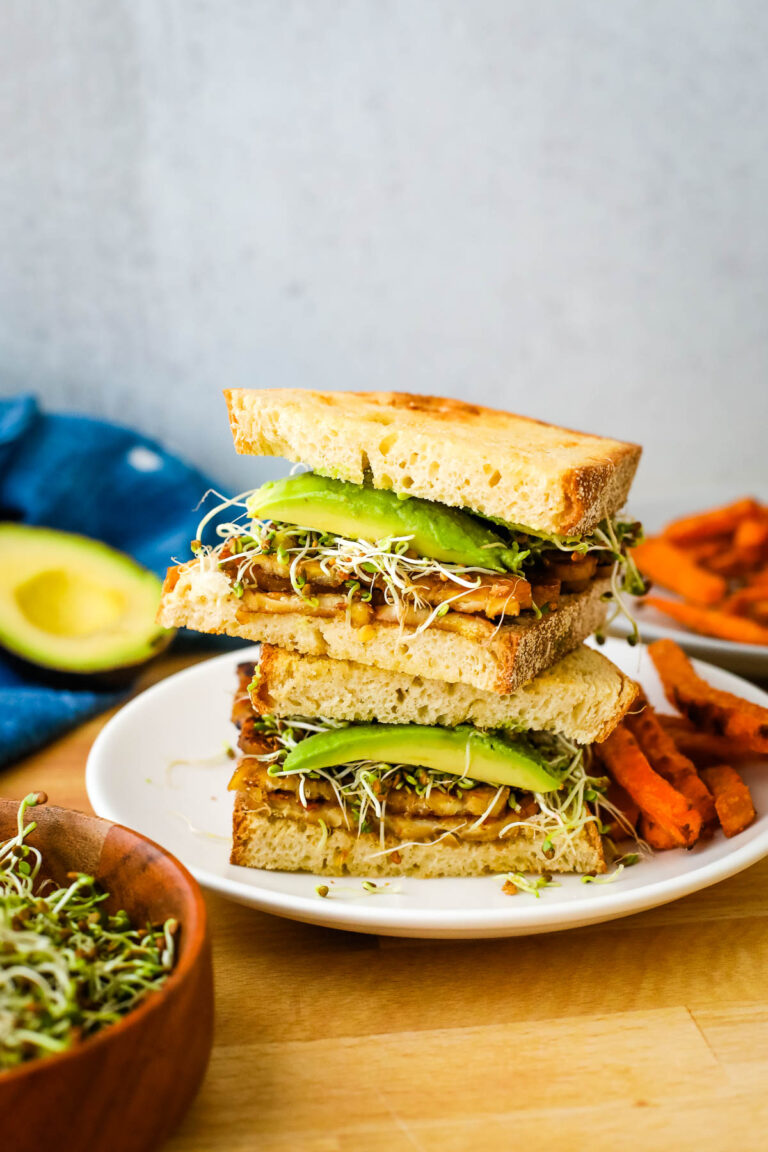 As a vegetarian, it can be hard to find sandwich recipes that are filling and satisfying. Lately I've been trying to add a little more protein to my lunch and this tempeh sandwich has quickly become a favorite! I love that it only requires a few ingredients and it's easy to keep tempeh in my fridge when I need it!
Ingredients and Substitutions
Bread– I enjoyed this sandwich on toasted sourdough bread, but you could eat this as a wrap or even a lettuce wrap if you wanted to make it lower in carbs.
Tempeh– I like the Lightlife brand of tempeh, but they also have great tempeh at Trader Joe's!
Sprouts– I used clover sprouts but any kind of sprouts or microgreens work well. You could swap it out for spinach or lettuce, if you don't have sprouts.
Avocado– This adds healthy fats to the sandwich and makes it super satisfying. If you don't have avocado, you could swap it for hummus.
Maple syrup– This adds a little sweetness to the tempeh.
Soy sauce– You can use soy sauce or liquid aminos. Look for low-sodium soy sauce if sodium is a concern.
Vegan Worchestire sauce– This is optional but it adds a savory, umami flavor to the tempeh. Keep in mind that traditional Worchestire sauce contains fish so if you use it, be sure you grab a vegan version like Annie's.
Avocado oil– You'll need a little oil to cook the tempeh. You could substitute with vegetable oil.
What is Tempeh?
Tempeh is made from fermented soybeans, similar to tofu. But the great thing about tempeh is that it already has a firm texture, so unlike tofu, there's no "pressing" required. It has a mild, slightly nutty flavor and it can be sliced, diced, or crumbled in lots of different recipes. It's a great plant-based protein source and it's also high in fiber and other nutrients. The tempeh recipe in this sandwich is based off of my tempeh bacon recipe, which is one of my favorites!
If you're looking for more ways to enjoy tempeh, try my sweet and sour tempeh or my tempeh lettuce wraps. These are a great way to get in lots of plant-based protein!
How to Make Tempeh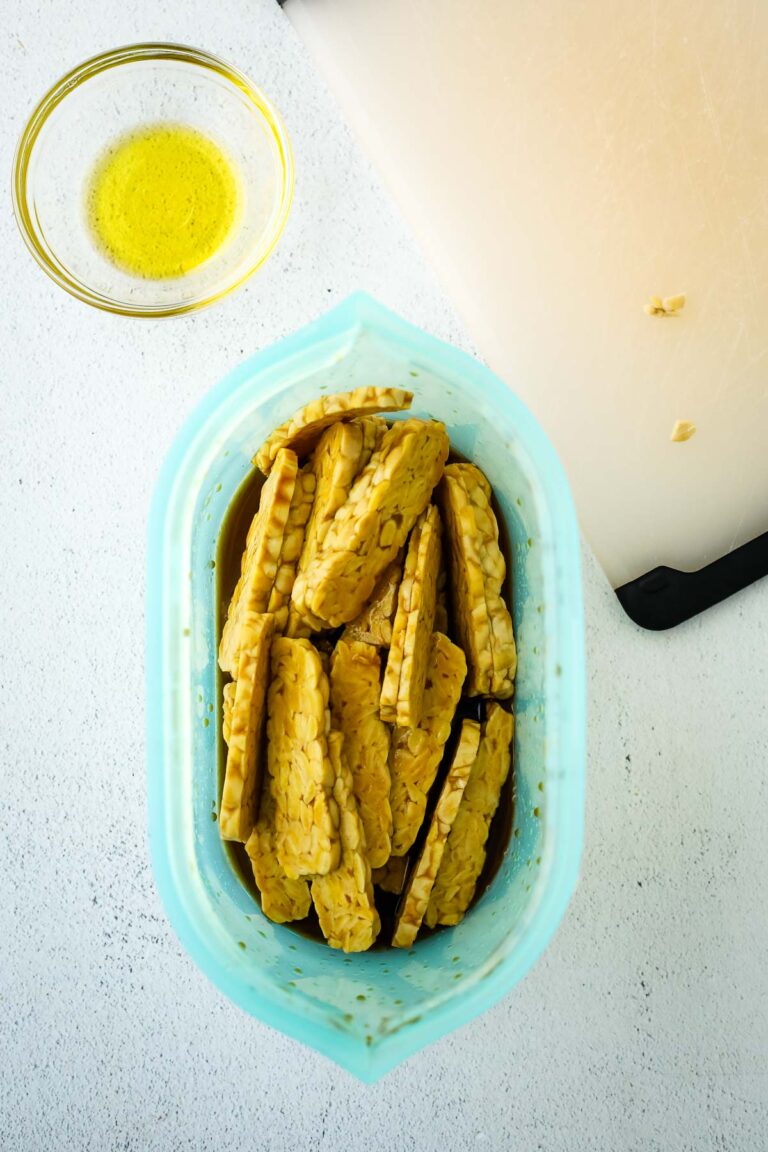 Tips & Tricks
I like marinating my tempeh in one of these large reusable silicone food bags. I can give the tempeh a gentle shake to make sure it's evenly coated with the marinade. But any shallow dish or container will do, just make sure you stir it well to get the sauce all over the tempeh.
Tempeh can have a slightly bitter taste. If you're sensitive to that, steam it for 10 minutes before marinating. It will help tame the bitterness and allow the tempeh to better absorb the marinade. I don't normally do this because I'm impatient, but if you're sensitive to the flavor of tempeh, try steaming it!
Additional Sandwich Toppings
I've made this sandwich in a variety of ways based on what I have in my fridge. Try it with sliced tomato to add more veggies or add a smear of vegan chipotle mayo to add a little spice. You could add thinly sliced red onion for a sharp bite, or top it with your favorite vegan cheese, if that's your thing!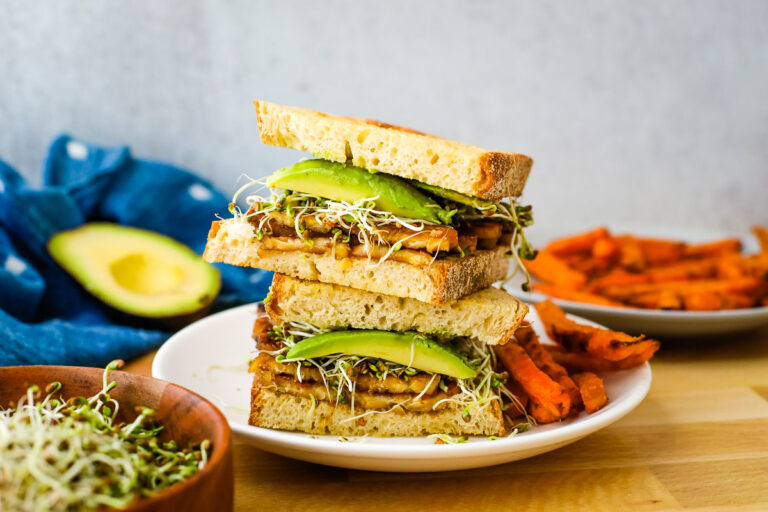 More Vegetarian Sandwich Recipes
I know it can be difficult to come up with meatless sandwiched ideas, but I've put together a pretty extensive list! This broccoli sandwich is an easy way to add more veggies to your plate! If you love falafel, my easy falafel sandwich is a must-make. And if you love cheese like I do, my grilled halloumi sandwiches are a unique twist on grilled cheese!
Print
Vegan Tempeh Sandwich
Author:
Prep Time: 5 minutes
Time to Marinate: 1 hour
Cook Time: 10 minutes
Total Time: 1 hour 15 minutes
Yield: 2 sandwiches 1x
Category: Dinner
Method: Stovetop
Cuisine: American
Diet: Vegan
---
Description
This tasty vegan sandwich is made with marinated tempeh, fresh sprouts, and creamy avocado for a simple, yet delicious lunch! This simple sandwich contains 32g of protein!
---
8oz tempeh, thinly sliced
3 tablespoons soy sauce
1 tablespoon maple syrup
1 teaspoon vegan Worcestershire sauce
2 teaspoons avocado oil
4 slices sourdough bread
1/2 cup clover sprouts or microgreens
1/2 avocado, thinly sliced
---
Instructions
In a large shallow bowl or silicone bag whisk together the soy sauce, maple syrup, and Worcestershire sauce.
Add the tempeh and use a spatula to gently coat it with the marinade.
Marinate for at least an hour or overnight.
Heat the oil in a pan over medium heat and spread the tempeh in a single layer.
Cook for 5-7 minutes over medium heat and let it brown before flipping to the other side.
Cook on the other side for another 3-5 minutes until brown on both sides.
Toast the bread until golden brown.
Build the sandwiches by topping the bread with tempeh, sprouts, and avocado.
---
Keywords: Vegan Tempeh Sandwich