5 Ingredient Potato Soup
This easy potato soup is vegetarian & gluten-free! You only need 5 ingredients to make it and it's budget-friendly, too! Try this for your next weeknight meal.
It was a bit chilly this weekend here in Richmond, so it was the perfect excuse to make a huge batch of soup. This 5 ingredient potato soup is one of the easiest soup recipes on my blog and it's the ultimate comfort food. The basic recipe is one of our favorites but I'll also share a few of my variations!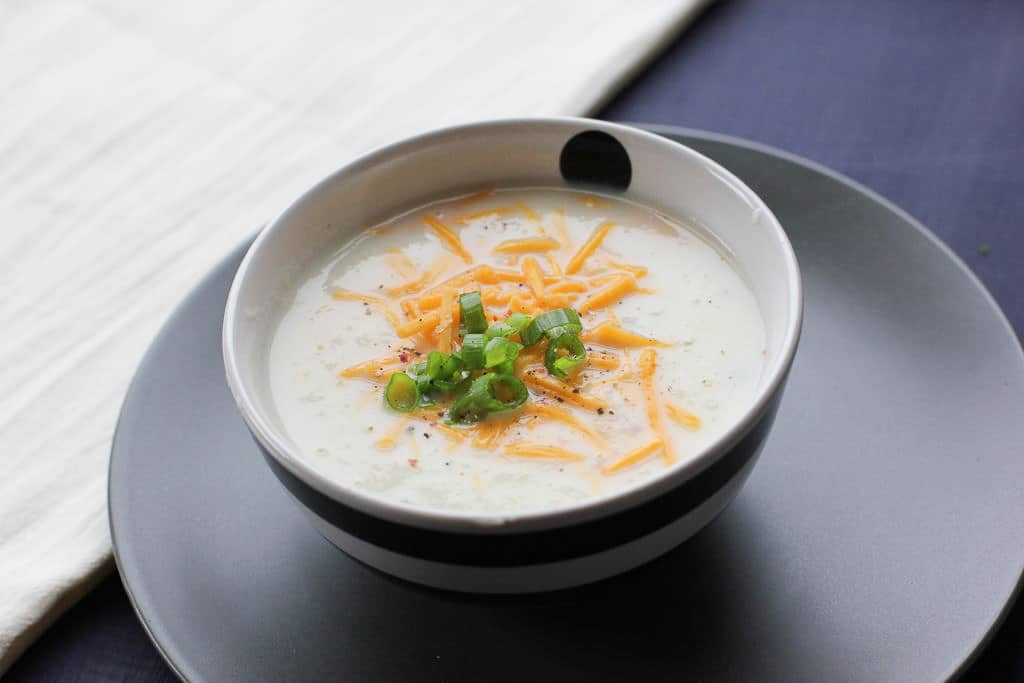 Yes, you really only need 5 ingredients for this potato soup, most of which you probably have on hand. If you do have to take a trip to the grocery store, you'll still be able to get all the ingredients for somewhere between $7-$10 making this a pretty budget-friendly recipe!
How to Store Leftover Potato Soup
Like a lot of soup recipes, this one reheats really well! Store potato soup in the refrigerator, keeping the toppings (cheese, onions, etc) separate. When you're ready to enjoy it, reheat in the microwave or on the stovetop and then add any toppings you like. I wouldn't recommend freezing this recipe since it contains milk and milk doesn't tend to freeze very well.
The Best Potatoes for Potato Soup
Make sure you're using russet potatoes for this soup. Russet potatoes have the most starch, and they give this soup the creamy, velvety texture. Sweet potatoes, red potatoes, or Yukon gold potatoes will give you different results. Russet potatoes are sometimes called "baking" potatoes.
Vegan Substitution Options
To keep this recipe dairy-free, use almond milk or soy milk in place of regular milk. Soy milk will give you a richer texture but both will work! Be sure not to use a sweetened or almond-flavored version. The Spruce Eats has great tips for substituting plant-based milks.
For a really creamy texture, you can use 1 cup of almond or soy milk and 1 cup of Ripple's dairy-free half and half. (It's great in creamy recipes!)
Instead of topping with cheese, try using a tablespoon of nutritional yeast for a cheesy flavor. You can also add croutons for a delicious crunch!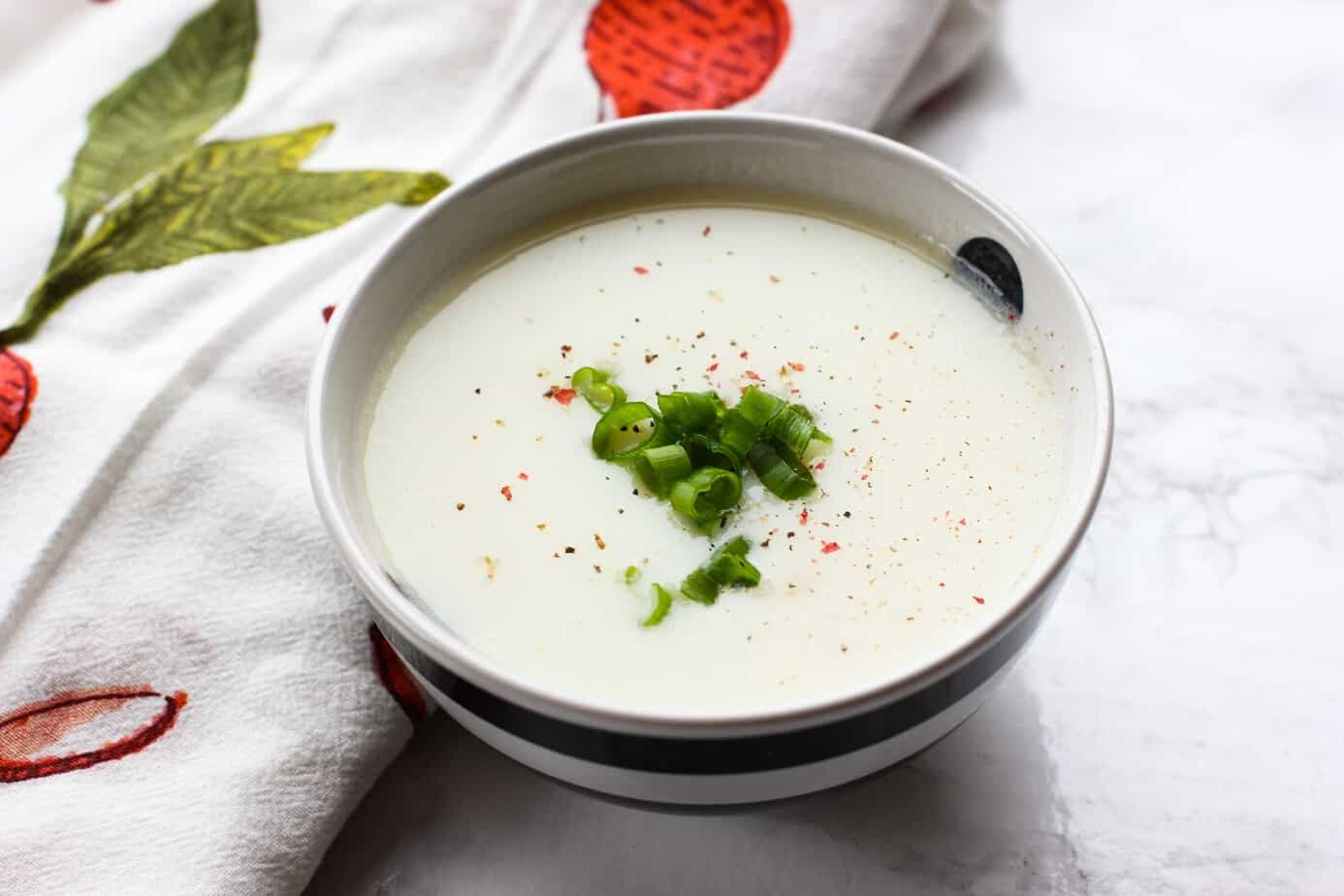 Lower Calorie Option
If you'd like to lighten up this recipe just a bit, try using 2lbs of potatoes and 3 cups of frozen riced cauliflower.
Thaw and cook the riced cauliflower in the microwave. Then, after cooking and draining the potatoes, add the riced cauliflower with the milk and the rest of the ingredients.
You can use an immersion blender to puree the soup. (No one will even know there is cauliflower in it!)
This will lower the calories by about 40 calories per cup!
Print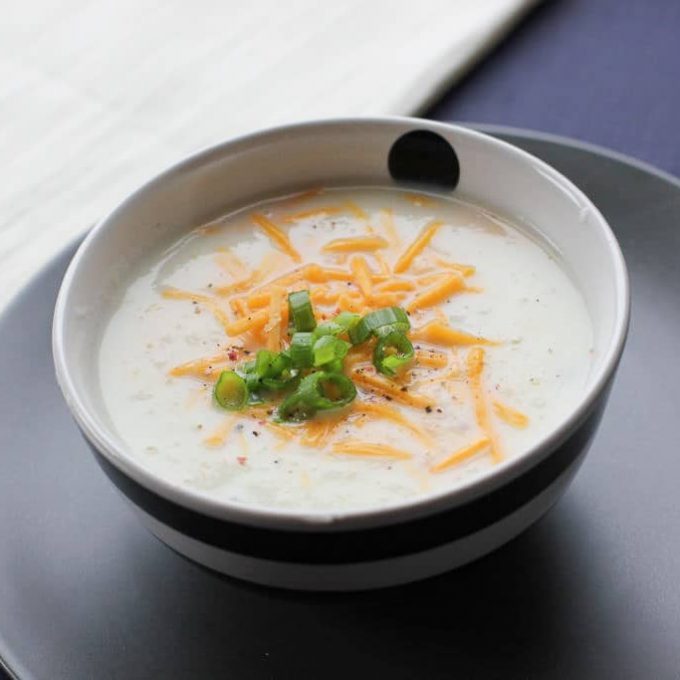 Easy Potato Soup
Author:
Prep Time: 10 minutes
Cook Time: 25 minutes
Total Time: 35 minutes
Yield: 8 cups soup 1x
Category: Soup
Method: Stovetop
Cuisine: Soup
---
Description
This easy potato soup is vegetarian & gluten free! You only need 5 ingredients to make it and it's budget-friendly, too! Try this for your next weeknight meal.
---
3 pounds russet potatoes, peeled and cut into 1" pieces
2 cups 2% milk (see note)
1 cup shredded cheddar cheese
12 green onions, chopped (green parts only)
1 teaspoon garlic powder
1 teaspoon salt, plus more to taste
1/4 teaspoon black pepper
---
Instructions
Fill a large pot of water with just enough water to cover the potatoes and bring it to a boil.
Reduce the heat to a simmer and continue to cook the potatoes for about 15-20 minutes until soft. When poked with a fork, the potato should mostly fall apart.
Remove from heat and drain most of the water, from the pot, leaving just a half inch of water at the bottom of the pot. (This doesn't have to be exact so don't stress!)
Add the milk garlic powder, salt, and pepper, then gently mash the potatoes with the back of a fork until the potatoes start to break down. I like my soup chunky, but if you like it smoother, you could use a potato masher or an immersion blender.
Continue to cook on low heat for 5 minutes.
Divide into bowls and top each bowl with a little cheese, green onions, and additional salt and pepper to taste
---
Notes
We've tried this soup with skim milk, 2% milk, soy milk, and almond milk. 2% milk produced the creamiest result but there wasn't a big difference with skim milk. Soy and almond milk are a bit thinner, but they're both still delicious in this recipe! Just be sure that you use an unsweetened milk substitute with no added sweetener or vanilla flavors.
The nutritional facts below are calculated using 2% milk.
Serving suggestions
What's your favorite kind of cold weather soup?
This post was originally published in January 2013, updated February 2019.